Minimal toe shoes, like Vibram FiveFingers, have caught on among running and fitness buffs, and trendsetters, over the last few years.
Advocates claim the shoes promote a more natural running form and foot strike, thereby reducing injuries and increasing performance, strength, and balance.
But if you're in the Army, forget 'em. Minimal toe shoes are now banned for official Army training, because they "detract from a professional military image."
States All Army Activities ("ALARACT") release 239/2011:
There are a variety of minimalist running shoes available for purchase and wear. Effective immediately, only those shoes that accommodate all five toes in one compartment are authorized for wear. Those shoes that feature five separate, individual compartments for the toes, detract from a professional military image and are prohibited for wear with the IPFU [Improved Physical Fitness Uniform] or when conducting physical training in military formation.
Critics on military and barefoot sites argue the Army is more concerned with image than with the fitness and performance of its military men and women, since the ban only addresses the shoes' style.
"An army that is more concerned with looks versus results IS a matter of national security," wrote defense expert Thomas Ricks on Foreign Policy.
Some are quick to point to the photograph below (by Tech Sgt. Manuel J. Martinez) of a 10th Special Forces Group soldier and his military working dog jumping off a CH-47 Chinook helicopter over the Gulf of Mexico. The soldier is wearing Vibram FiveFingers shoes:.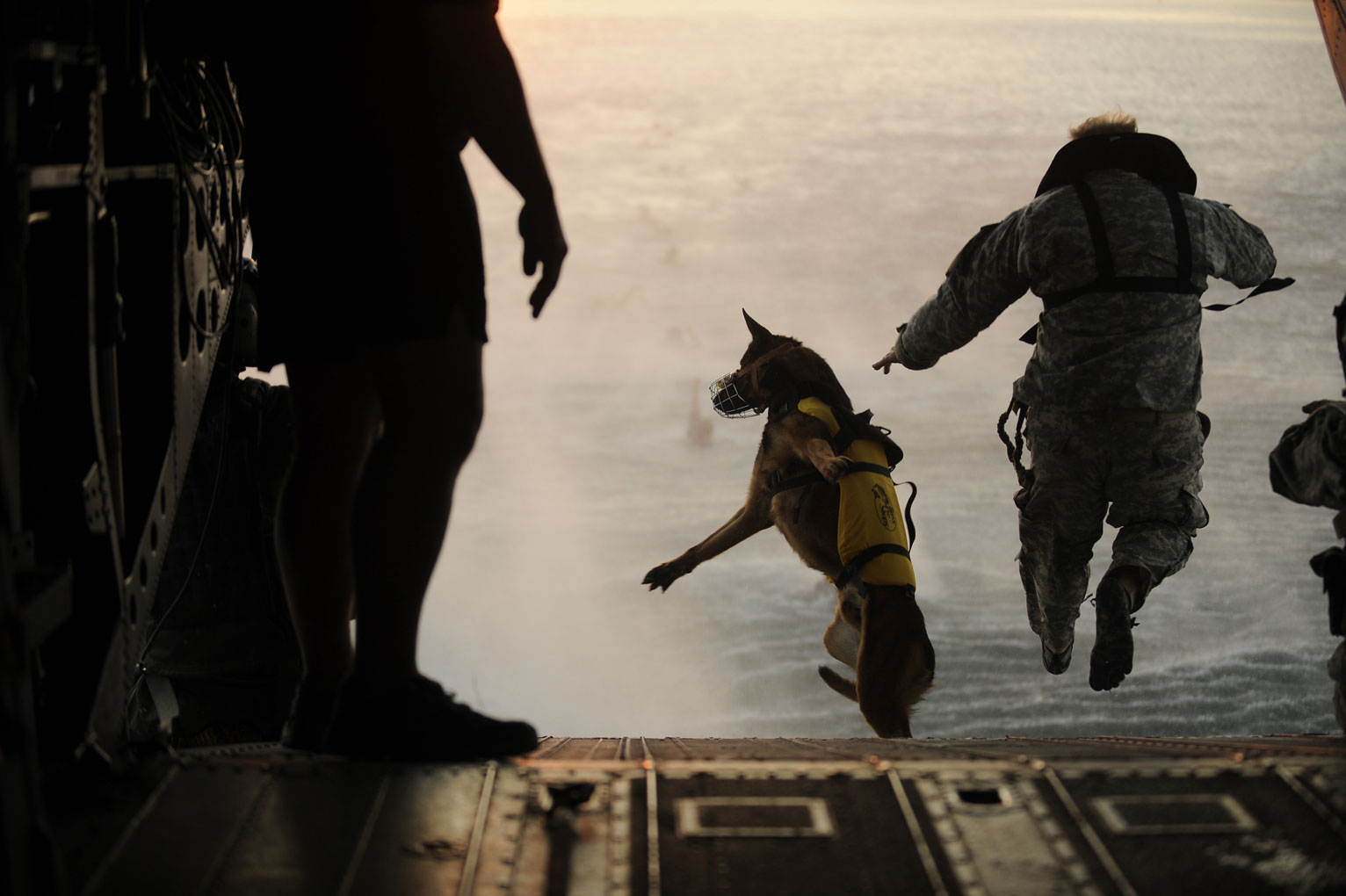 Others agree with the ban and say the outcry is much ado about nothing since minimal shoe proponents can still use them off-duty during non-official training.
What do you think? Is the Army too concerned with looking goofy in these newfangled shoes? Or are they right to expect soldiers to adhere to a professional footwear code?
The full All Army Activities ("ALARACT") release:
ALARACT 239/2011

DTG: R 231424Z JUN 11

UNCLASSIFIED//

THIS MESSAGE HAS BEEN SENT BY THE PENTAGON TELECOMMUNICATIONS CENTER ON BEHALF OF DA WASHINGTON DC//DAPE-HRI//

SUBJECT: REQUEST FOR EXCEPTION TO POLICY TO PUBLISH ALARACT MODIFYING WEAR OF IMPROVED PHYSICAL FITNESS UNIFORM (IPFU)THE PURPOSE OF THIS MESSAGE IS TO MODIFY THE EXISTING WEAR POLICY FOR THE (IPFU).

THERE ARE A VARIETY OF MINIMALIST RUNNING SHOES AVAILABLE FOR PURCHASE AND WEAR. EFFECTIVE IMMEDIATELY, ONLY THOSE SHOES THAT ACCOMMODATE ALL FIVE TOES IN ONE COMPARTMENT ARE AUTHORIZED FOR WEAR. THOSE SHOES THAT FEATURE FIVE SEPARATE, INDIVIDUAL COMPARTMENTS FOR THE TOES, DETRACT FROM A PROFESSIONAL MILITARY IMAGE AND ARE PROHIBITED FOR WEAR WITH THE IPFU OR WHEN CONDUCTING PHYSICAL TRAINING IN MILITARY FORMATION.

HQDA POC FOR UNIFORM WEAR POLICY IS SGM JAMES A. MCGRUDER, JAMES.MCGRUDER@CONUS.ARMY.MIL , DSN 664-0620, (703) 604-0620.

EXPIRATION: THIS MESSAGE EXPIRES UPON NEXT PUBLICATION OF AR 670-1.

EXPIRATION DATE CANNOT BE DETERMINED.
via "Army bans use of 'toe shoes,' citing image concerns" in Washington Post
Also read: