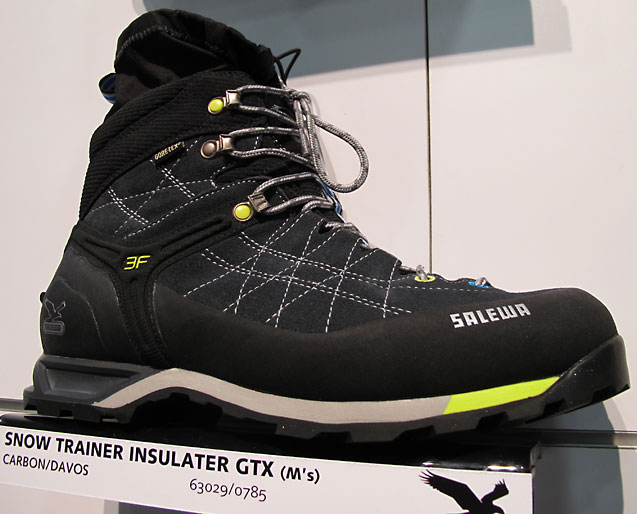 We've all heard the admonition that "cotton kills." So, what's Salewa doing putting cotton in a snowshoe mountaineering boot?
Relax. The small amount of cotton in Salewa's forthcoming Snow Trainer Insulated GTX boot is in the bottom of its Icefriction outsole. Woven with Kevlar and embedded in circular patterns, the cotton-Kevlar combo is underfoot to provide grip on snow and ice, according to Salewa.
Made by Vibram exclusively for Salewa, the patented, micro-porous Icefriction sole also has aluminum flakes, which the company claims retain heat to help melt ice and snow underfoot.
Designed for snowshoeing and winter trekking, the Snow Trainer Insulated GTX has a full suede upper with integrated gaiter and a Gore-Tex Insulated Comfort lining. It's snowshoe compatible with a crampon attachment shelf at the heel to make stepping in easy.
Founded in 1935 in Munich, Salewa is part of one of the largest outdoor companies in Europe. Its parent company Oberalp also owns Dynafit, Silvretta, Pomoca, and Wild Country. In Europe, Salewa sells a full line of outdoor clothing, sleeping bags, tents, packs, climbing equipment, snowshoes, and more.
Salewa is less well known in North America, where it only started selling footwear in 2010. North American backcountry enthusiasts now can check out Salewa's mountaineering, hiking, and approach footwear, including the Snow Trainer for snowshoeing and cold hikes next winter.
You'll have to go abroad for matching Salewa mountaineering snowshoes, poles, and full Salewa kit though.
Snow Trainer Insulated GTX
Available: Fall, for winter 2012-13
MSRP: $279
Have you used Salewa footwear, apparel, or gear? Tell us about it below, or share a gear review.