Two climbing companies vie for "lightest helmet ever" honors. A single climbing rope sports two diameters, plus touch-sensitivity. Double-axel cams fit into tight, tricky placements. A crevasse rescue device (no Z-pulley needed). Plus, bags to keep all that climbing gear organized.
Here are a few highlights of 2013 climbing gear that will be shown at the Outdoor Retailer trade show later this week.
"Lightest Ever" Helmets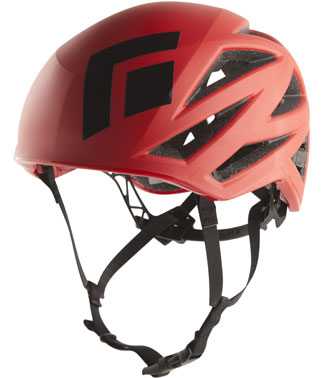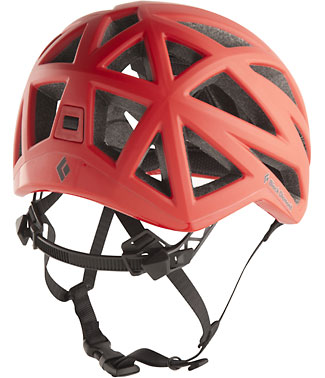 Black Diamond Vapor (6.6 oz)
Weighing just 186 grams (6.6 oz) and featuring massive ventilation ports and an adjustable padded suspension system, the Vapor might be the lightest, most comfortable, most breathable climbing helmet ever made, says Black Diamond. A sheet of Kevlar and carbon rods are sandwiched between layers of co-molded EPS foam to minimize weight without sacrificing protection. Large ventilation ports provide ventilation and airflow. Suspension features internal padding and a ratcheting adjuster that tucks away. Two sizes. Weight: 6.6 oz / 186 g (S/M). $139.95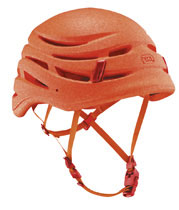 Petzl Sirocco (5.8 oz)
Hold up on that lightest helmet award, Black Diamond. With a maximum weight of 165 grams (5.8 oz) Petzl claims its full-foam Sirocco helmet will be the lightest on the market. Made of expanded polypropylene (EPP) foam, monobloc construction minimizes helmet weight while retaining excellent impact resistance due to EPP's mechanical properties, says Petzl.
The Sirocco has a textile adjustment system with magnetic buckle that lets you attach the chinstrap with one hand. Ventilation is distributed around the helmet. It was named one of ten GOLD award winners at the OutDoor Show in Germany in July.
Climbing Hardware

Black Diamond Camalot X4
With an ultra-narrow head and internal cam springs, the Camalot X4 offers more expansion range than any other small cam to fit into tight, tricky placements, says Black Diamond.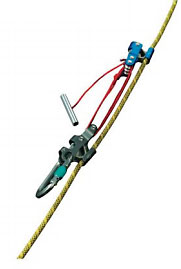 The Camalot X4 (above) features a double-axle design and patent-pending Stacked Axle Technology. Its armored cable stem is designed to be flexible yet extremely durable. A lightweight, color-coded Dyneema sling makes for easy identification on your rack. The Camalot X4 will come in six sizes (.1, .2, .3, .4, .5, .75). Weight: 2.9 oz (.4 size). $69.95
Mammut RescYou
No need for complicated installations and maneuvers like Z-pulley systems in the event of a crevasse rescue. Mammut's RescYoudevice (right) can be used to rescue yourself or other climbers. After braking a fall into a crevasse, attach the device to your climbing harness (for self rescue) or to a fixed point (for rescue of another person). The two rope clamps are clipped to the rope and the compact six-fold pulley, which connects the two rope clamps, is operated. $125
Touch-Sensitive Ropes
Edelrid Snipe
Edelrid's Snipe 9.8 / 10.0 mm, the first rope with two diameters, provides belayers with both visual and touch-sensitive cues.
Both ends and the middle 7 meters of the single rope have a thicker mantle or sheath to make it more durable and abrasion-resistant. And at 10 mm instead of 9.8 mm thick, the belayer not only sees but feels that the end of the rope is approaching when lowering a climber, increasing safety, says Edelrid.
Mammut Sensor

Mammut also adds visual and touch-sensitive cues to its 10.0 Sensorrope. In addition to different colored yarn in the middle and ends of the rope, a thicker yarn is used so belayers can identify these sections by touch. The 10.0 Sensor is equipped with a superDRY finish for resistance to dirt and water. $279.95
Both the Mammut Sensor and Edelrid Snipe were named two of ten GOLD Award winners at the OutDoor Show in Germany.
Rope Bags (keep that gear organized)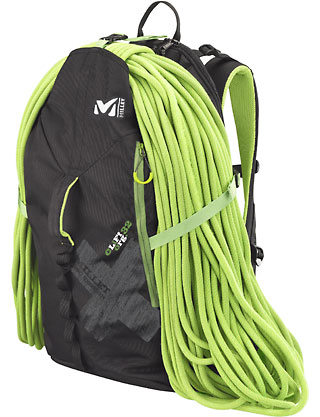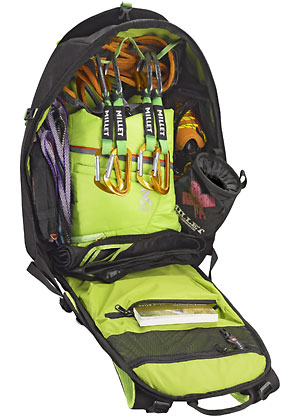 Millet Cliff Org 32
Millet's Cliff Org 32 pack (above) organizes all your climbing gear for trips to the wall and then lets you get at it without digging, thanks to a full back panel opening. Inside features an internal rope bag, mesh pocket for shoes, water bottle holder, daisy chain, zipped pocket for route guide book, and extra zip pocket with key holder. Outside, the back panel features ergonomic foam pads covered with breathable 3D mesh and side compressions straps for hauling an additional rope or transferring the balance of your pack load. $99
Arc'teryx Haku
The nifty Arc'teryx Haku rope bag makes it easy to move your rope between climbs. UKClimbing checked it out at the OutDoor show in this video.
For even more new and noteworthy outdoor gear and apparel, follow our complete Outdoor Retailer coverage.