Several shelters at Outdoor Retailer veered from ultralight into the realm of uber-light (see the two-person Sierra Designs Mojo UFO at 1 pound 11 ounces).
While many super light shelters skimp on headroom and livable space, two from Easton Mountain Products and Brooks-Range Mountaineering combine spacious interiors with high tech materials for insane space-to-weight ratios.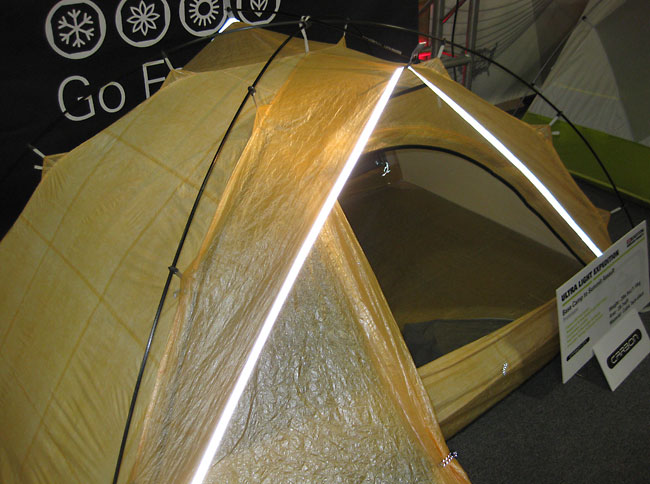 Easton Mountain Products
The Easton Ultralight Expedition tent (above) is constructed from a Cubic-Tech Cuben fiber. Technically a laminated film, this material got its start as sailcloth and combines high tensile strength with extremely low weight.
The Ultralight Expedition is a true four-season shelter that marries impermeable Cuben Fiber with waterproof-breathable eVent membranes to enhance breathability and reduce condensation. And, at a cost of $2,000, the Easton Ultralight Expedition edges out the $1,800 Cuben Fiber Sierra Designs Mojo UFO for jaw-dropping high price.
Ultralight Expedition Specs
Weight: 2 lb 9 oz
Livable Space: 28.7 sq ft
Poles: Easton ION carbon poles
MSRP: $2,000
Available: late Spring 2013
Brooks-Range Mountaineering
Also known for light, functional equipment, Brooks-Range introduced its own new lightweight shelter at Outdoor Retailer. The Stubai, a pyramidal tent with a central pole, is designed for ski touring groups and base camps.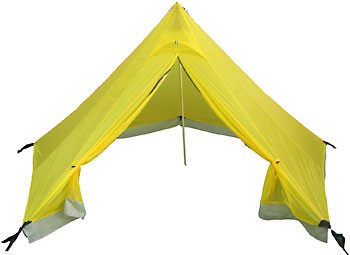 Ceiling vents reduce condensation (and survivability if you're sharing it with three of your ski-touring buddies!). Siliconized nylon construction means light weight and a far lower cost, but a slightly saggier pitch, than with Cuben.
Because the Stubai doesn't have a floor, it's best for use in winter or in areas without a lot of bugs.
Stubai Specs
Weight: 3 lb 3 oz (with pole), 2 lb 6 oz (without pole)
Livable Space: 85 sq ft
Available: February 2013
MSRP: $299