Fires were burning, well-outfitted ski bums were quaffing Sierra Nevada, and the latest outdoor equipment was shining in the mountain sunlight of Outdoor Retailer's All Mountain Demo Day on Tuesday at Utah's Solitude Mountain Resort.
Lightweight racing snowshoes from Easton Mountain Products and Louis Garneau, were among the standouts in a large selection of stellar gear. Both were claiming to offer among the lightest racing snowshoes. (Don't worry; we'll tell you which shoes are "the lightest weight snowshoes known to man.")*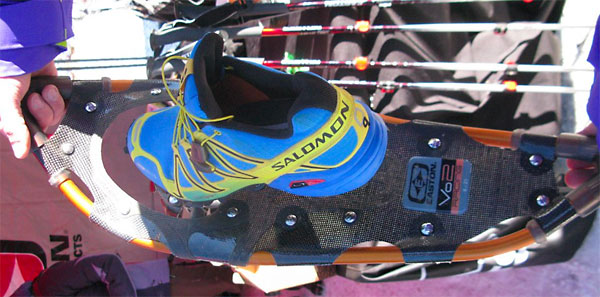 Easton's Vo2 Racing snowshoes utilize a binding system that bolts your choice of standard running shoe directly onto the pivoting binding. It has a luxe carbon fiber deck and a 7075 aluminum articulating frame. The direct-mount arrangement saves weight, but dedicates a specific pair of shoes (like the Salomons above) to your snowshoes.
Shane Hutcheson of Easton demonstrated the Vo2 Racing snowshoe:
Weight: 1.3 lb / 540 g each
Available: Now
Cost: $299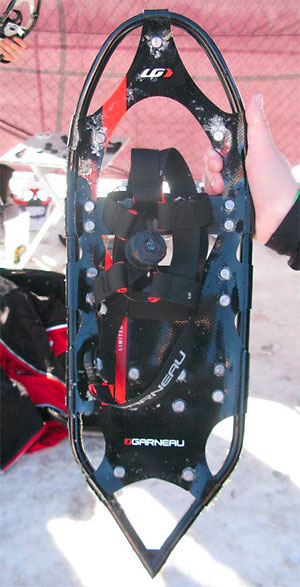 Louis Garneau uses a BOA adjustable binding system, instead of a direct mount, on its Course racing shoes. While slightly heavier, the binding lets you rapidly release from the system and doesn't require you to bolt a shoe onto your snowshoe all winter long.
They're still wickedly light at 700 grams each, and Louis Garneau's product manager, Geoffroy Dassault brags, "These shoes just want to go fast!" He showed off the Courses to us:
Course Snowshoe
Weight: 700 g each
Available: Winter 2014
Cost: $250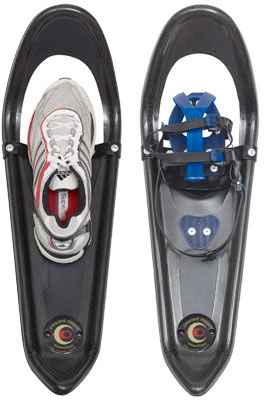 While Easton and Louis Garneau offer some lightweight racing snowshoes, we'd be remiss if we didn't mention Crescent Moon's "the lightest weight snowshoes known to man."
Crescent Moon's Rocket Carbon Fiber comes in at 2.2 lbs per pair, and is made with a carbon fiber and carbon nanotube composite frame that's stronger than steel. You can mount them direct (2.2 lbs/pair) or with a binding (2.84 lbs/pair). That light weight comes with a $449 price tag though.
You can read our coverage of the Rocket's prototype, the Black Kilo, from last winter's Outdoor Retailer: Crescent Moon calls its Black Kilo snowshoe a "complete carbon fiber solution"


Weight: 2.2 lbs per pair (direct); 2.84 lbs (with binding)
Available: Now
Cost: $449