Move from Gym to Crag with the Access Fund
Want to make the transition from rock gym to crag? The Access Fund offers up the advice below for responsible outdoor climbing practices that help preserve climbing access.
The nonprofit Access Fund works to keep climbing areas open and protect the climbing environment. As the national climbing advocacy organization, it envisions a world where climbers are seen as stewards of the land versus simply "users" of the land.
To this end, climbers must understand the balance between recreational access and environmental conservation. When you respect and honor the places and policies where you climb, you help to preserve access for yourself and future generations of climbers.
Follow the Access Fund's advice below to get outside and on rock responsibly. And add your own crag tips below.
In the Gym
At the Crag
Do this Instead
Loud music fuels your climbing session.
Loud music may disrupt others trying to enjoy the outdoors, including landowners.
Leave the speakers at home or at least turn them off when others are nearby
Lowering off the top anchors is the norm.
Top anchors may not be regularly monitored for wear.
Consider rappelling to lessen the impact on anchors.
Janitors clean up your chalk spills and discarded finger tape.
Chalk spills and trash are your responsibility.
Clean up after yourself and pack out your trash.
You stash your pack and unused gear in a locker.
Sprawling gear can crush plant life, trample sensitive soil, and disturb other climbing parties.
Be aware of where you're dropping your gear and contain it as much as possible.
Fixed draws on lead routes are standard.
Landowners may not appreciate the visual impact of fixed draws.
Know the rules before you go, and don't hang draws on your project unless they are allowed.
You do your business in the bathroom.
You do your business in the wild.

The best methods for human waste disposal vary depending on what kind of environment you're climbing in.

Know before you go:
www.accessfund.org/poop or

Human Waste Disposal in the Backcountry: How to pee and poop in the woods

Climbing in large groups is no big deal.
Climbing in large groups is not always appropriate, especially when the crag is crowded or in areas where access is sensitive.
Stay low profile. Climb in pairs at crowded crags and in areas where access is sensitive.
Climbing is inherently dangerous. Gyms implement rules and standards to encourage safety, but it is the climbers' responsibility to double-check gear and partners.

Climbing is inherently dangerous. Outdoors, there are many natural elements that can create unsafe situations. Double-check your gear and your partners.

Climbing is inherently dangerous inside and outside. Be safe, get a mentor to learn the ropes, and double-check your gear and your partners every time.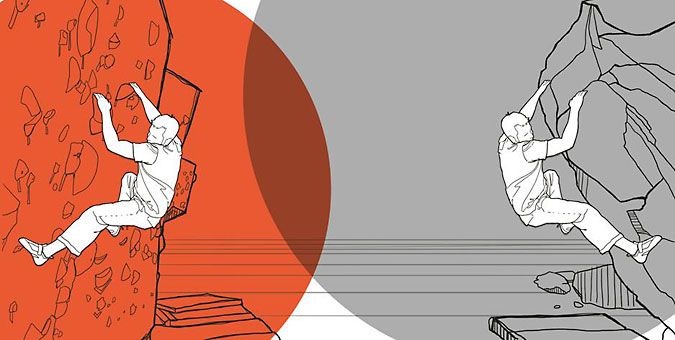 About the Access Fund
The Access Fund is the national advocacy organization that keeps U.S. climbing areas open and conserves the climbing environment. It's also one of the outdoor and environmental nonprofit organizations that Trailspace supports. Founded in 1991, the Access Fund supports and represents more than 2.3 million climbers nationwide in all forms of climbing: rock, ice, mountaineering, and bouldering.