Hiking and Backpacking with Kids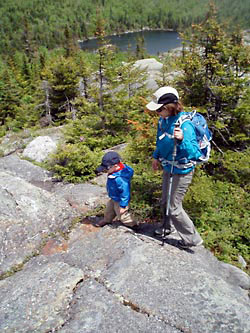 Programs for Getting Kids (and Parents) Outside
Great American Backyard Campout
Held every June, the Great American Backyard Campout is a one-night event for families, children, and individuals to camp out in their backyards or local parks and to discover the fun of being in the great outdoors.
Green Hour
You may not be able to hike the backcountry every day, but you can give kids a "Green Hour," a time for unstructured play and interaction with the natural world. This can take place in a garden, backyard, park, or any place that provides safe and accessible green spaces. Visit the National Wildlife Federation's greenhour.org for ideas for all ages and experience levels.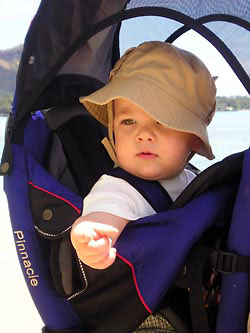 Teach your children the following in case they ever do get lost:
1. Always tell an adult where you are going.
2. Always carry a whistle and a jacket (or trash bag) to keep you warm and dry on a picnic, hike, or camping trip.
3. Hug a tree once you know you are lost.
4. Stay put.
5. Know that your parents won't be angry with you for being lost and that many people are looking for you.
6. Make yourself big.
7. There are no animals that will hurt you. If a noise scares you, yell. If it's an animal it will flee; if it's a searcher you'll be found.
8. Help searchers find you by blowing your whistle three times and by answering their calls. Do this often.
Hiking and backpacking with kids of any age can be a fun and rewarding experience for everyone. Not only will you enjoy passing on backcountry skills and making outdoor memories together, but children who spend regular time outdoors also tend to be healthier, more creative, and respectful of the environment, themselves, and others.
There are many variables when hiking and backpacking safely with kids, but the following general tips should start you out on the right foot. This assumes you're already an experienced hiker or backpacker. If not, gain the proper experience first before taking your kids into the backcountry, or sign up for a guided hike with experienced leaders. While exploring with kids takes a little more preparation, the rewards will last a lifetime.
When taking kids hiking or backpacking, change your focus from how far or how fast you plan to go, to creating a positive experience for everyone. You want to foster a love of the outdoors, not a fear of Dad or Mom's next grueling march.

With proper preparation, skill, and gear you can backpack with babies and small children, but you'll need to tackle some shorter objectives first. Try camping in your backyard first as a shakedown exercise. You'll find out what you're missing with minimum inconvenience and help your child adjust to sleeping outside, without stepping too far outside her or his comfort zone.

Start out on easier trails and shorter loops and work up from there. Trails with rewarding sights and features like streams and waterfalls, boulders to climb, beaches to explore, and views to behold are excellent choices.

Add kid-specific options to your first aid kit, such as infant or child fever reducer, teething ointment, and diaper rash cream.

Dress your child in proper footwear with good traction and layers of clothing appropriate for any conditions you might encounter. Read more>>

Don't forget the 10 Essentials, including sunscreen, DEET-free bug repellent, sunglasses, and hats.

Give your child a whistle to blow in case they get lost. (Whistles are not recommended for small children due to choking hazards.)

Bring snacks, lots of snacks.

Bring water, plenty of water.

Let kids carry their own small packs, even if they only have a small snack to bring. They'll be proud and you'll encourage their independence.

Encourage even the youngest child to walk as much as is appropriate for their age and skill level. With toddlers and preschoolers you'll have to be prepared to carry them at any point.

Be prepared to stop to investigate (yet another) ant or rock on the ground at any point. Share in your kids' natural enthusiasm and observations.

Resist the urge to hurry your child along. Let kids explore at their own level and pace whenever possible. They just might show you something new.

Teach kids to be quiet in the woods as part of trail etiquette and in the hopes of seeing more wildlife.

Teach kids to stay on the trail (for safety and to minimize erosion) and within site of an adult at all times. You may want to dress them in bright colors for visibility.

Teach kids to stop and hug a tree if they do get lost. Have them blow their whistle three times and wait to be heard. Repeat.

Pack everything out. This includes diapers and wipes. Never ever try to bury or burn diapers in the backcountry. Always use hand sanitizer after a diaper change.

Be flexible.

Have fun!