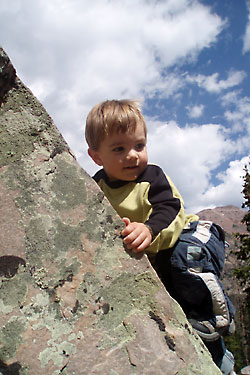 Get two passionate outdoor enthusiasts together and they might become outdoor parents. But there's no need to hang up the backpacks when Junior arrives. The early years are a great time to share the joys of the backcountry with a new generation.
With the right skills, a little extra preparation, and a flexible attitude, babies, toddlers, and kids can be rewarding hiking and backpacking partners. Not only will you connect with nature and each other, you and your kids will be fitter, less stressed, and more creative.
Just remember that like their parents, kids need appropriate outdoor gear for their safety and comfort. Here are a few things to consider when gearing up your little one for a lifetime of outdoor adventure.
Clothing and Outerwear
Dress your child in layers—including baselayer, mid-layer, and outerwear/rainwear, appropriate for any weather conditions you might encounter—just like you would for yourself. Since babies and small children cool off faster and won't have the chance to warm up by hiking, bring extra layers for them.
Also consider bringing extra pairs of synthetic or wool socks (for when feet get wet from puddles), underwear (for accidents), and gloves in colder weather. And always remember hats (sun, rain, or snow), sunglasses (try Julbo's for kids), sunblock, and when necessary, DEET-free insect repellant.
The following companies make clothing for outdoor babies to junior campers:
Browse Kids' Clothing and Outerwear>>
Footwear
If your child will be hiking any distance, he or she needs sturdy, comfortable trail shoes or boots. For small children who aren't carrying a load or hiking far, good quality sneakers or low trail shoes will suffice, as long as they have good traction. Leave flimsy or open-toed shoes or sandals at home. Older kids, especially those carrying a pack or tackling steeper, tougher terrain, will need technical trail shoes and eventually above-the-ankle hiking boots.
Regardless of whether you choose below-the-ankle trail shoes or trail runners or higher cut hiking boots, proper fit is still the most important criteria. The rules for selecting boots for adults (fit, fit, fit) also apply to kids. And just because a shoe is made to look like a cute little hiking boot, doesn't make it a real hiking boot. Buy well-fitting, supportive footwear for your kids (this doesn't have to mean expensive) and they'll be more likely to enjoy climbing rocks and exploring the trail.
Lastly, leave the cotton socks at home. Pair those trail shoes with wool or synthetic socks that wick away moisture and you'll help prevent friction and blisters.
The following companies make technical outdoor footwear for children:
You may not be able to hike every day, but you can give their kids a "Green Hour" every day, a time for unstructured play and interaction with the natural world. This can take place in a garden, a backyard, the park down the street, or any place that provides safe and accessible green spaces where children can learn and play.
Children who regularly spend unstructured time outside:
Play more creatively

Have lower stress levels

Have more active imaginations

Become fitter and leaner

Develop stronger immune systems

Experience fewer symptoms of ADD and ADHD

Have greater respect for themselves, for others, and for the environment
Visit the National Wildlife Federation's greenhour.org for tips and activities.
Backpacks
As soon as your toddler is hiking on her own get her her own backpack. She'll be proud to carry that granola bar in it all by herself and you'll encourage her independence. The littlest hikers just need a small bag, like the Kelty Minnow or Deuter Kids Pack, since they'll carry only a few small, light items, though you'll need to be able to carry that bag when they're ready to be carried.
As kids get bigger and stronger they can start carrying more of their own gear, with teenagers carrying most to all of their backpacking gear. There's a wide range of strength and abilities among kids, but generally kids shouldn't carry more than 15% of their body weight.
Start with a small daypack for hiking (like Lucky Bums Snow Sport Daypack).Then as they, their gear, and their skill level grow, move up to youth and short torso versions of internal (Mountainsmith Youth Pursuit or REI Comet Pack) and external (JanSport Scout or Kelty Junior Tioga) frame packs.
Sleeping Bags
With proper preparation and experience, you can take kids of any age camping and even backpacking. But before you set off on your toddler's first thru-hike, take some test runs in your own backyard or local state park. You'll be able to see what works for you and your child, what you've forgotten, and what you'd leave behind next time, all in a low-risk, comfortable environment.
While infants can share a regular or double-wide sleeping bag with Mom or Dad, older kids who camp or backpack need their own space. Children's sleeping bags come in sizes for toddlers to teens, so you're sure to find the right length. While you might want a bag with some extra room to spare for your growing kid, remember that too much extra space means more space to heat up and a colder bag.
Choose a sleeping bag with a temperature rating at or below the coldest temperature you expect your child to sleep in. Because synthetics are washable and retain their insulating properties when wet, they're the most popular for kids, especially younger campers. Since little kids tend to wiggle out of bags at night, make sure they're dressed warmly, possibly with a hat. Lastly, don't forget a sleeping pad for underneath. It's not just a matter of comfort, but also of heat retention.
Big Agnes's Little Red 15° is an excellent first three-season sleeping bag for toddlers.

Molehill's 48" 0-degree mummy bags are designed for chilly nights in the woods and freezing nights in the mountains.
Food and Water
Always bring plenty of snacks along on hikes and let your kids help select them. Well-timed snack breaks can make all the difference in a kid's mood and the promise of a well-deserved treat at the next trail junction or summit may be all that's needed to propel your hiker onward and upward. While you'll want to avoid overly-sugary treats, be generous and pick out plenty of healthy kid favorites. Dried fruit, granola or cereal bars, your favorite trail mix (have the kids help make it), fig newtons, crackers, cheese, and the occasional chocolate bar are all popular choices.
Whether you're going for a short nature walk or a backcountry trek, you always need to bring plenty of water for everyone. Dehydration is a dangerous condition and can lead to heat stroke and even death. Kids, especially babies and small children, can get dehydrated quickly at any time of year (as can adults). Adults should monitor kids' fluid intake, both by how often kids drink and the frequency and color of their urine. Make sure everyone replaces both fluids and salts/electrolytes lost by regularly drinking water (with occasional handfuls of trail mix or other salty snacks) or a balanced sports drink.
The following products can make staying hydrated fun.
Hydration Reservoirs: Kids love drinking out of hydration reservoirs. Once they're old enough to do so safely get them their own (consider Lucky Bums Little Dipper) or try a hydration pack like CamelBak's Skeeter, Jibber, or Mini Mule, with the hydration bladder included.

Water Bottles: Easier to clean than a reservoir, spill-proof water bottle like Nalgene's Grip-n-Gulp for toddlers, CamelBak's The Better Bottle for older kids, or Sigg's aluminum Kids Bottles with fun pictures, come in various sizes.

You can easily turn a standard water bottles into a hydration system with The SmarTube. SmarTube offers caps that fit bike bottles, small and narrow Nalgenes, military canteens, and other sized bottles, making it a lower-cost option for anyone on a budget.
Other Kids' Gear
Trekking Poles
Little kids may find it fun to walk with Mom's shortened trekking pole, but older kids will probably want their own. Look for compact versions with shorter lengths and sized for smaller hands.
Specially designed for kids, the Leki Pathfinder Jr. trekking poles adjust from 27-43 inches and are made so that even kids can lock the poles securely.

The REI Summit Junior trekking poles adjust from a minimum of 34 to a maximum of 47 inches, have durable plastic handles with an easy-to-hold ergonomic shape and a simple twist-lock mechanism.
Lights
Your child will want to play with your flashlight or headlamp. So give him his own and you won't find yourself in the dark when nature calls at midnight.
Black Diamond's Wiz headlamp is sized for kids, toned down in illumination so parents don't get blinded, turns off after an hour to save batteries, has an easy on/off button, and releases from its elastic strap when under pressure so kids don't get stuck.
Snowshoes
Hiking as a family can be a year round activity. Atlas, Tubbs, and MSR all offer snowshoes for kids, sized for tots on up.
Climbing Gear
Climbing kids even have their own harnesses, helmets, and rock shoes for a safe and comfortable introduction to the sport.
Child Carriers
When backpacking or hiking with an infant or toddler, someone will need to carry the child much of the time. Infants can ride in a front carrier at first, but once your child is comfortable sitting up they're ready for the backpack carrier (refer to your carrier's specific recommendations).
Kid carriers tend to be heavy and your precious cargo is only going to increase in weight, so you'll want to invest in a well-fitting kid carrier. Try kid carriers on with the same attention you would expend towards choosing any new backpack. Try different brands and models with weight (i.e. your child) in it. If one parent will predominantly carry the child, get the carrier that fits that parent best. If you'll be doing equal time, find one that easily adjusts for different torso sizes.
In either case, you want excellent suspension and lots of padding in the hip belt and shoulder straps. Your little one will appreciate accessories like a sun/rain hood for weather protection and possibly a bug net, depending on where and when you hike.
Your partner will probably balk at carrying all the gear when backpacking. So unless you have extra adults to share the load, you'll need some cargo room too. Carriers have various capacities for holding gear and some offer attachable storage for versatility. Like with any pack, don't get more capacity than you need, since that typically means more weight to carry. But honestly assess how you'll use the pack and how much you'll need to carry.
Also, while you'll want to be fully prepared for conditions while hiking or backpacking with a child, this is an excellent time to review your packing list and consider replacing old gear with lighter equivalents. You can also shave a few pounds by leaving any luxuries behind, or at least leave your luxuries behind; Teddy may be coming along for the ride.
Family Tents
That solo ultralight tent isn't going to cut it for family camping. You'll need room for your new tent mate and all of her or his stuff. If you'll solely be car camping, weight won't be a factor and you can pick whatever size and design tent fits your budget, preferences, and needs. But, if you're even considering backpacking with kids—and you should—weight will quickly become a top priority. You'll want a tent that meets your minimum space needs at a minimum weight, since you and another adult will probably be carrying the tent and most of the backpacking gear for years to come.
Consider how much tent space you really need to be comfortable as a family, especially if you'll ever have to wait out weather inside. A vestibule or two will provide space for gear. A gear loft and tent pockets can help organize tight quarters.
Whatever you do, do not buy a tent from your local big box store. Typically these tents are poorly-designed, hard to set up, heavy, and leaky, and when something goes wrong, the stores offer little customer service. No matter your budget, there are far better values for your money from reputable tent manufacturers.
Family camping stalwarts like Eureka and Coleman offer a range of family- and budget-friendly tents, and other outdoor manufacturers are also moving into the base camp and family territory:
Camping Organizers
Keeping your family's various gear and clothing organized while at home and while camping can be tricky. You can use Rubbermaid bins to set up your own back-of-the-car system, or try the following products to get organized at home, in the car, and at the campsite:
Kelty's Binto system features interchangeable, color-coded storage bins and totes for base camp, including the Binto Hauler, which holds three 1,400 cubic inches Binto cubes for ultra-organized hauling, and the Binto Bar, a compactable storage bin with a work space for food prep and three Binto cubes. Kelty also offers padded and insulated Bintos and Totes.

Mountainsmith's Modular Hauler 2, 3, and 4 come with cubes to organize your car's trunk, the garage shelves, closet, or cabin in the mountains. Color-coded cubes enable easy id for gear and come in basic, cooler, breathable, and deluxe mode.

Eagle Creek's mobile storage system starts with either a 60- or 90-liter Toy Chest and gear, mud, half, and wide boxes that make up an integrated packing system.