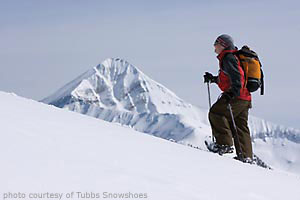 Snowshoes, one of the oldest forms of transportation around, are also one of the easiest to use. If you can walk, you can snowshoe. And since you decide how fast and how far you go, snowshoeing is great exercise for anyone who wants to get out and enjoy the quiet beauty of winter. It's also easy and relatively inexpensive to get started snowshoeing, since the only equipment necessary is a pair of snowshoes and appropriate footwear (although adjustable poles and waterproof gaiters are recommended).
Deciding which snowshoes to buy may not appear simple though due to the wide variety of models available. Read the tips below and you can cut through the confusion and choose the right pair for you.
What Type of Snowshoes?
First, choose the type of snowshoes based on what level of activity and type of terrain you'll be tackling most of the time. Do you plan on walking around the local park or bagging backcountry peaks? Do you want to run on trails for winter fitness or bushwhack through densely wooded forests? Most snowshoes will work in a variety of snow conditions, so you won't be limited to only one activity, but different snowshoes work best in different conditions. Choose based on your predominant activity.
Want to try snowshoes before you buy? Consider taking advantage of local snowshoe demo opportunities, such as Winter Trails Day, an annual January event that offers children and adults new to snow sports the chance to try snowshoeing and cross-country skiing for free.
What Size Snowshoes?
Snowshoes come in a variety of sizes and lengths. The larger a snowshoe's dimensions (length and width), the greater the amount of surface area underfoot, which is the key to not sinking into the snow. The more surface area your snowshoes have, the more flotation you have.
Manufacturers offer some models of snowshoes in several different lengths. What size snowshoes you choose depends on a combination of two factors—your weight and the snow conditions.
Weight: How much do you and the gear you'll typically be carrying weigh? The more you and your gear weigh the bigger the snowshoe you'll need. Every snowshoe manufacturer has a recommended weight range for each model of snowshoes. Consult this information, which usually can be found on manufacturers' web sites, in retailers' product descriptions, or on the snowshoe's hang tags.

Snow Conditions: What type of snow will you typically be traveling over—packed trails or deep, dry powder? Dry, powdery snow requires more flotation, and thus larger snowshoes, than firm or packed down snow.
If in doubt, choose the smallest model that will support you and your gear in the type of snow you'll typically meet. Smaller models have less flotation than larger ones, but are lighter and more maneuverable for hiking through trees or running. Some snowshoes also offer removable tails for added flotation when you need it, giving you more flexibility.
Snowshoe Features
Once you've narrowed your choices down to what type and size of snowshoe you'll need, consider the components and features on different models and decide which you need or prefer.
Frames and Decking: While some manufacturers still offer traditional wooden frame snowshoes (Tubbs's Bear Paw, for example), most snowshoe frames are made from aluminum or plastic materials, with a synthetic decking. Aluminum models are lighter and more durable than wood, and easier to maintain. Plastic models are the lightest of all.

Bindings, which secure your footwear to the snowshoes with adjustable straps, should be easy to use so you can get snowshoes on and off without having to remove gloves or mittens in the cold. Bindings are either pivoting or fixed. Pivoting bindings allow for a more natural gait and an easier time climbing hills or kicking steps. Fixed bindings don't pivot very much, but make it easier to back up or step over obstacles, since the snowshoe's tail won't flop around. Most bindings will work with a wide variety of footwear, however some are designed specifically for larger mountaineering or ski boots, or to snugly fit running shoes. So make sure the bindings will work with your preferred footwear.

Most snowshoes provide some form of cleat, crampons, or traction bar for better grip on steep or icy snow. Heel and toe crampons underfoot allow you to climb or descend steeper slopes by biting into the snow and ice. Traction bars on the underside of the snowshoe decking also help reduce slipping, although they don't have the same ability to grip as crampons. Mountaineering snowshoes offer the most aggressive traction of all.

Some manufacturers, like MSR, offer removable flotation tails, which provide extra flotation for deep powder or when carrying heavier loads. These versatile add-ons allow you to adapt the snowshoes to a wider range of snow conditions and loads.
Now head over to Trailspace's snowshoe user reviews and product descriptions and soon you'll be strapping on snowshoes at the first sight of fresh snow.