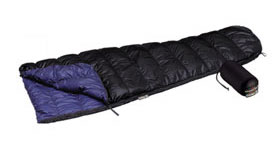 I sleep warm. Usually very warm.
I'm also on a bit of an ounce-counting kick lately, and yet I continue to haul a 3+ pound, 20-degree sleeping bag on just about every trip. My EMS MM 20, has served me well for years, in all seasons, and I always stuff it into my pack without a second thought. Last week I finally realized the obvious: the bag is total overkill for summer trips, and even for late spring and early fall. Even in its advanced stage of loftlessness, I usually end up sleeping with the bag mostly unzipped, my arms and one leg exposed to avoid overheating. Often I just sleep on top of it. I've only used the hood a couple times, in winter.
So this week I went shopping for a new summer bag. I wanted something lightweight, with a high temperature rating and a minimum of features. That meant no hood, no pockets, and possibly no insulation on the bottom. Must-haves were a partial or full zipper for ventilation control, and down fill (mostly because of down's superior packability). I looked at bags from a number of manufacturers, eventually narrowing it down to:
In the end, the extreme light weight and full zip of the MontBell Thermal Sheets won me over. (The reasonable price and ready availability also helped to reinforce my decision.) The new bag should be arriving today and I'm planning on taking it to Utah later this month.
Of course, that light weight comes at a cost. I am a little concerned by the lack of insulation – only 4.6 oz. of 725-fill down. Do I really sleep as warm as I think I do? We'll find out soon.
Update: Read my review of the MontBell bag.