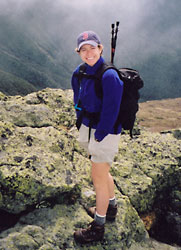 Me and my pack on Mount Monroe, N.H., 2003
Ten years ago I bought a black Kelty daypack at the EMS store in Burlington, Vermont. At the time it was a simple purchase. I needed a backpack for hiking. I tried on various models. I found one that fit and I liked. I bought it. But, I had no idea what adventures were about to ensue with that little black backpack.
Together we've hiked in Denali National Park on my honeymoon, bagged the New England 4,000-footers (at least the ones I didn't backpack over), and carted many pounds of gear for skiing, ice climbing, and various travels. In a decade of service it has been ignobly used as a seat on rocky summits, hauled through thick Maine spruce forests, stuffed into airplanes' overhead compartments, and subjected to heavy hail, freezing rain, snow, and one flash flood.
I love this backpack. I do not say that lightly. I love it for every single outing we've gone on together and every place we've explored—from the familiar rocky peaks of New England to red rock canyons, Hawaiian beaches, and extremely wet Irish hills. I love it for every outdoor experience I've had with it and everything I've gained from those experiences.
Despite my pack's overall stellar performance, by last year it became increasingly clear that it might be time for a new daypack. Signs of its impending demise included decreasing support from the back foam pad and hipbelt, the way the pack now sagged, its relatively heavy weight, and the ripped side pockets.

Normally I'm eager to try out new hiking gear and I don't need a major excuse to do so. In fact, in the pack department I've acquired several internal frames, an ice climbing pack, and a couple hydration packs over the years. But for more than a year I resisted replacing that Kelty pack.
So it felt significant last week when I bought an Osprey Talon 22. Like the Kelty, the Talon's streamlined profile appealed to my own stripped-down approach to things outdoors. It also offered several features that my older Kelty didn't, like hipbelt pockets and a hydration slot, all at a lighter weight (1 lbs 9 oz for the Talon versus 2 lbs 4.3 oz for the Kelty).
I'm very excited about getting out on the trails with my new Talon. I can't imagine what adventures we'll soon have. But, replacing my Kelty pack signifies the end of an era. It was my first "real" daypack and ultimately it became much more to me than a way to carry my gear. It became a symbol of my own self-reliance and hundreds of memories.
I know it may sound a bit much to go on like this about one little pack. I'm sure, or at least I hope, that most of you have had packs you've liked that have taken you wonderful places. If you're lucky you've had at least one you've loved. If so, share your favorite pack memories below.
The Kelty was my pack and you never forget your first good pack.