According to outdoor industry news source SNEWS, "Timberland has begun notifying distributors and retailers around the globe of its intention to discontinue the production of GoLite footwear and Mion footwear beginning with the fall 2008 season."
GoLite's non-footwear products—clothing, packs, shelters, and sleeping bags—will not be affected, and spring 2008 products will still be available for both footwear brands.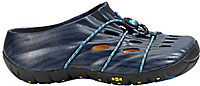 I don't have personal experience with GoLite Footwear, but I'm sorry to hear Mion will end production. They're an innovative, environmentally-committed outdoor footwear brand. I have a pair of their Pen Shell Clogs that are super comfortable and always generate interest from other outdoor enthusiasts when I wear them.
Why can't we stop the Crocs phenomenon instead?