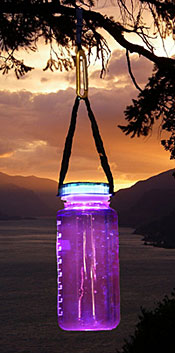 If you've recently opted to replace your #7 polycarbonate water bottles with metal or non-BPA plastic ones, you're probably wondering what you can do with all those old bottles (especially the more memorable ones), beyond recycling them.
Here are two ideas to get the creative juices flowing:
For $19.95 you can buy a solar-powered LED LightCap200 from SolLight and turn any standard water bottle into a weatherproof lantern for the backyard, treehouse, boat, or wherever, no batteries required. If you wanted to string a bunch of Nalgenes around your yard that could get pricey pretty quickly though.
I also came across this idea for using a bottle to store a first aid or emergency kit inside your car or to take along while traveling. Add a light cap and there's no need for a flashlight. Obviously this idea can be extrapolated for storing other non-liquid, non-food items.
Have an idea for turning polycarbonate water bottles into something safe, functional, and affordable? Musical shakers, perhaps? Share it with us.