Bill S offers his point of view on Day One (July 21) of Outdoor Retailer.
(Publication of this blog was delayed a few days due to poor internet access at OR.)
The official opening of the OR Show is the Industry breakfast on day one. Mostly this is a cheerleading session about how great the industry is doing. Well, yes, compared to the rest of the economy, the outdoor industry is doing pretty well, largely because people are turning to places closer to home, involving family, and to a large extent seeking solace in nature. Readers of Trailspace have known this peace in the outdoors, so it is no surprise.
Leki
But on to the products. Early on, I went by the Leki booth. Several new things were here, namely the new SpeedLock, an interesting variant of Black Diamond's FlickLok. There are several significant differences, among them that the clamp (a fiber-reinforced resin) clamps directly onto the next smaller section of the 3-section poles, rather than the split-tube design of other lever-type locks. The poles are slightly heavier than Leki's twistlock versions, plus the SpeedLocks do not have shock absorbers (the rep said "yet," implying they are working on a setup that will work satisfactorily with the SpeedLock. There is a women's version, called the Cressida, which is lighter, thanks to using smaller diameter tubing in all 3 sections.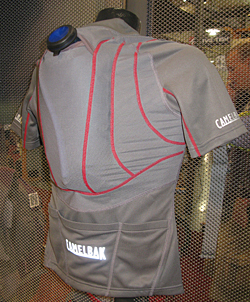 The training section of the Leki website (www.leki.com) has been expanded. Not surprisingly, many of the points made there about proper use of poles (number 1 – use two poles!) are ones the more knowledgeable Trailspace contributors have emphasized in the forums.
CamelBak
I met Alicia at the CamelBak booth to view their "real" packs (designed for pack uses as opposed to being designed primarily as a hydration pack) plus the Velobak (at left), the cyclists' version of the Shredbak.
We also saw Camelbak's new ultraviolet water purifier system. This is designed around the 1-liter version of the Camelback bottle. The battery life is long enough for either the lithium cell or rechargeable version to be practical for extended backpacks.
GoPro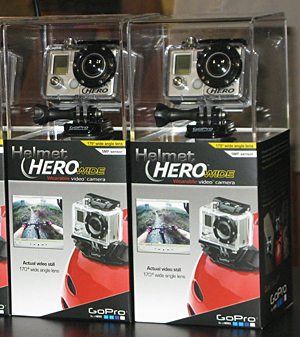 One of the more interesting products is an improved version of the GoPro helmet camera. Well, at this point, "helmet camera" may be a misnomer for this tiny technological wonder. I have a GoPro a couple of generations back that I have used climbing, skiing, bicycling, and hiking. Mine does standard definition TV plus still photos and interval photos.
The new version (due out in stores in October at $299) does full 1080p HD, plus slow motion at a slightly lower resolution. The lens is more wide-angle, which makes the demo ski movie (made by US Ski Team members in their summer training camp on Mt Hood) really fantastic.
The sound has been much improved as well, with an optional wireless mike setup to give high quality sound. A big reason for the sound improvement is that the GoPro normally resides inside a waterproof housing, which tends to muffle the sound. The battery life has also been improved (required by the high demand of HD) by using a rechargeable lithium battery. The limit is mostly set by the 32GB SDHC cards currently available, around 1.5 hours.
SuperFeet
I stopped by the SuperFeet booth to see what is new and found that the old standby "green" is still there, but joined by a veritable rainbow of colors. The rep admitted that part of this is marketing, but there are real differences in the footgear people are using footbeds in these days. For most Trailspace readers using hiking, skiing, and mountaineering boots, trail-running shoes, and other outdoor footgear, the green remains the standard. They work for me, as I have noted many times.
Integral Designs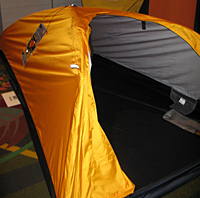 Integral Designs continues to improve their products. There is an interesting new bivy/tent, the Wedge. It is a comfortable 1-person bivy/tent or for two small or very friendly people. The fabric is eVent, which should be very good for a bivy shelter. But, they still do not plan to make the tents out of eVent, thanks to the problem of fire codes in certain states (such as my state of residence, California – Hilleberg does not sell in California due to the same rules).
The Wedge is 2.9 pounds and uses a crossed 2-pole design similar to their Mark tents, which should stand up well to snow loads. Keep in mind, though, that it is designed as a bivy, not a full tent.
McNett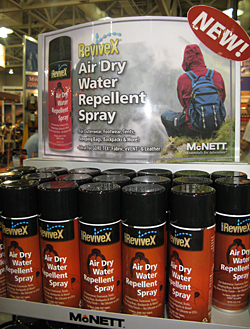 In my brief stop by the McNett booth, I noted that they have expanded their gear repair line. A notable addition is Tenaceous, a tape intended for emergency tent fabric repair. It comes in a container rolled up (not folded, a source of repair failure), and can be removed cleanly when returning home where a more permanent repair can be made. Silfix and the Field Repair Kit are glue-on repairs, with each type aimed toward particular fabrics. Tenaceous comes in colors — no more silver duct tape, which leaves goo that makes permanent repairs difficult.
They have also introduced Revivex Air Dry, for temporary short-term renewal of DWR coatings. It does not replace the regular Revivex, but as a spray-on is intended for a quick renewal. Since it is in a pressurized canister, though, you can't take it on a plane to your hiking trailhead (say to the opposite coast or to a European camping vacation). McNett has continued to expand the section of their website devoted to maintenance and repair of gear, at the same link that has been posted on Trailspace: www.mcnett-outdoor.com/Repair-Guide/122.aspx
SPOT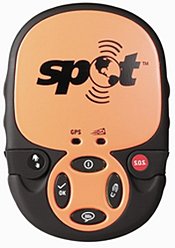 The most interesting new product of the day's rounds was the introduction of the new version of the SPOT emergency locator beacon cum messaging device. In my report of emergency locator devices a few months ago on Trailspace, I listed a number of needed improvements with SPOT.
Most of those are present in the new version — smaller, lighter, more flexibility in non-emergency messaging, better user interface (easier to locate most-used functions, harder to send false emergency signals, more positive indication of GPS reception and message transmission), and most important, much improved sensitivity for the GPS functions and reliability of the message relay.
In this blog, there is not enough space to list the technical details for achieving the performance improvements, but suffice it to say that SPOT has taken advantage of the very rapid improvements in GPS receiver technology. The reduction in size required smaller batteries — now AAA lithium replacing the former AA lithium. Battery life is now 112 days on standby, eight days sending tracking signals, and six days SOS signaling (formerly called "911"). SPOT still will float and withstand immersion to 5 meters underwater.
Modification of the antennas now allows improved functionality when the unit is not in the perfectly horizontal position. The track signal now will include the most recent track locations as well as the current position, which will make tracking more reliable. Trailspace hopes to run a series of tests in the next couple of months. The new version of SPOT is expected to be available in stores in the fall.
As a part of the SPOT introduction, SPOT featured a couple of their "ambassadors." Les Stroud of "Survivorman" fame and Scott Parazynski, a NASA astronaut who has performed several space walks and has summited Everest, were available to answer questions about their uses of SPOT. Scott's presentation included a number of slides of his successful Everest summit.
Of personal interest to me and to the MacLeays was that we each had several acquaintances and friends in common with Scott — sometimes it is a small world indeed!
There was more at OR, lots more. But space (and time to blog and read) says, that's enough for now.