Outdoor Retailer: sifting wheat from chaff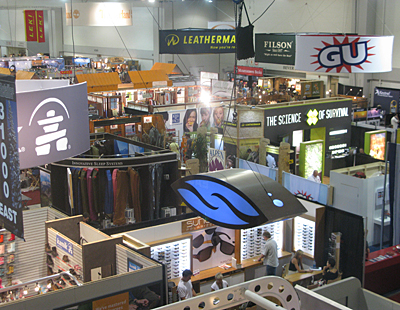 Cutting-edge layering systems. The world's first wicking cotton. Lighter, stronger tents. The greenest snowshoes, boots, backpacks, sleeping bags, and sporks.
The bi-annual heralding of new, better, lighter, faster, stronger, greener outdoor gear is a sure sign that Outdoor Retailer Winter Market starts this week. And the Trailspace team (Alicia, Tom, and Bill) is headed to Salt Lake City to sift the figurative gear wheat from the chaff.
We'll bring you coverage from the pre-show mountain demo day (Wednesday, January 20), through four days of gear announcements and launches, demonstrations, and events (January 21-24).
With more than 700 outdoor brands exhibiting—from old reliables to hot young things—it takes some legwork to identify the truly interesting and useful gear. The number and variety of technical socks (yes, socks) alone boggles the mind: aloe vera impregnated, tri-layer, managed and graduated compression, left and right specific. You'd be hard pressed to find a pair of old school cotton gym socks at Outdoor Retailer. Now take that degree of specificity and apply it to every other outdoor gear category and you'll get an idea of OR's scope.
A few new-for-2010 items already have caught my eye in the flurry of pre-show press announcements, but we'll let you know how they look in person. And, as we each explore the aisles and aisles of outdoor gear, and I inevitably covet some shiny new item, I promise to regularly remind myself it's not about the gear. (But, imagine the mountains I'd tackle in that awesome-looking crossover mountain runner or the places I'd backpack with that solo tent...)
Want real-time updates of our daily show coverage? If you haven't already, you can subscribe to our blog and news RSS feeds, and follow our tweets from the show floor on Twitter. Or read it all on the website.