CamelBak had several new hydration products for 2010.
Wearable Hydration: PowderBak Vest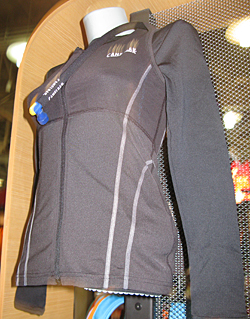 Remember the ShredBak from last winter's Outdoor Retailer? The newest iteration in CamelBak's line of wearable hydration is the PowderBak, a full-zip, cold-weather, mid-layer vest with integrated 72-ounce hydration reservoir. The PowderBak follows the VeloBak, popular with cyclists, and the ShredBak, a winter softshell-inner vest combo.
CamelBak's Seth Beiden said the PowderBak developed from the feedback of ShredBak users who wanted to use that system, without the outer softshell vest. The PowderBak has less compression and a longer length than wearing the tight, inner ShredBak vest alone (because "not all guys wanted to rock the man bra," said Beiden). Dropping the outer softshell also drops the PowderBak's price to $100.
"It will blow the ShredBak out of the water," said Beiden.
Features: Full-zip mid-layer with integrated hydration; made from CamelBak's QuickFit proprietary, self-adjusting compression fabric; HydroPouch: a lift-friendly compartment that supports and stabilizes a 72 oz. baffled low profile reservoir; two-plus hours of hydration while skiing, snowboarding or other cold-weather endurance sports; core-body temperature and insulated neoprene tube cover help prevent reservoir from freezing; available in men's (S-XL) and women's (S-L) sizes; MSRP: $100; Available September 2010.
Winter Hydration Packs: Pit Boss and Roulette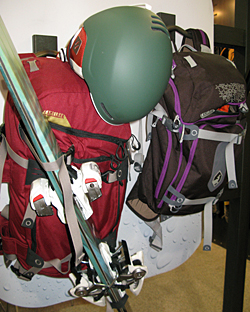 CamelBak has designed two new hydration packs for the backcountry skier and boarder. The Pit Boss (men's) and Roulette (women's) sport carrying straps for your skis or board and a weather-resistant tri-zip design that seals out snow and moisture to protect your gear, like shovel, skins, and probe, while providing easy access — even when your ride is strapped on.
Features: Tri-Zip design; ski and/or board carry straps; front pocket for shovel and skins; external shovel handle attachment; external ice axe and tool loop; internal shovel and probe sleeves; fleece-lined goggle pocket; load-bearing waist belt with camera pocket; glove-friendly buckles and zipper pulls; Therminator Harness with thermal controlled tube routing.
Pit Boss: Cargo capacity: 1,800 cu in; hydration capacity: 100 oz.; weight: 2.65 lbs. without reservoir, 9.68 lbs. with full reservoir
Roulette: designed for women with curved shoulder harness, shorter profile/torso height, shoulder adjustment buckle moved to base of pack away from chest; hydration capacity: 100 oz.; cargo capacity: 1,709 cu in; weight: 2.45 lbs. without reservoir, 9.48 lbs. with full reservoir
MSRP $100; Available September 2010.
Flow Meter and All Clear
The Flow Meter, a small digital device you can splice into your current hydration tube, or buy already integrated in a reservoir, helps you keep track of how much water you've consumed, how fast, and how much you have left.
We'll be posting our own review of the Flowmeter next month on Trailspace. In the meantime, CamelBak reports that the Flow Meter has proven popular with gear junkies and diehard bike racers, particularly mountain bikers. Cyclists can put the Flow Meter on a VeloBak and use for training and racing. One example is of a racer who prerides a race course on training runs to know exactly how much water to carry for his race. After all, if you're a serious racer counting grams on your bike, you can't forget all those ounces of water on your back. The Flow Meter is also being used on the military side, training soldiers to drink and stay hydrated.

Lastly, the All Clear UV in-bottle filter that CamelBak announced at last summer's OR, now will be launched in 2011, to allow for greater improvements.