Outdoor Retailer: Wicking cotton, Gorillapods, and gear advice
PolarMax TransDry
Cotton is well known for absorbing and holding in moisture, making it a poor choice (even a dangerous one) for most active pursuits. Cotton kills, right?
PolarMax is working to change that by introducing 100 percent cotton shirts with 50% untreated cotton and 50% cotton treated with Cotton Incorporated's new TransDry technology. The TransDry treatment (the specifics of which are secret) is supposed to transfer moisture away from the skin or across the fabric's surface for faster drying, while retaining the cotton garment's comfy and soft feel.
I have a sample shirt to test this theory out on, preferably on a hot, sunny day.

The unisex TransDry Crew will be available in mid-summer.
Long sleeve: $39
Short sleeve: $34


Joby Gorilla Gear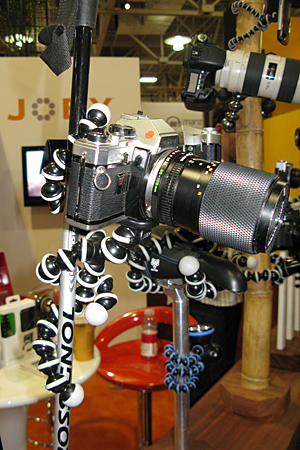 I was drawn to the Joby booth to check out their funky, flexible Gorillapod tripods. You can bend them for a level camera or video camera anywhere outdoors. No need to find the perfect flat rock for a picture. The Gorillapods come in a variety of sizes that can handle small cameras to large video cameras.
Joby also make hands-free Gorillatorch flashlights, with flexible, wrapable, magnetic feet. Hang it from a tree or in a tent. They Gorillatorch is 65 lumens strong.
And while it's not outdoor-specific, iPhone users should check out Joby's Gorillacam iPhone app, a free application the company launched last year. The Gorillacam give your iPhone camera a self-timer, time lapse capabilities, three-shot bursts, a bubble level to adjust your camera (like with a Gorillapod), and the ability to press anywhere on the camera screen to take a picture. I downloaded a copy of the app after seeing it in action at the Joby booth.
iPhone users also can buy the Gorillamobile, which includes a small Gorillapod tripod, which can connect to any camera (up to 11.5 ounces) with the universal adapter screw, or to an iPhone, with the included case.
Kahtoola Microspike sharpening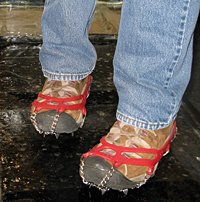 By the way, if, like me, you use your Microspikes traction devices a lot and are wondering what's the best way to sharpen them after several winters of use, I have the answer straight from Kahtoola.
Don't do it.
I was kindly instructed not to try to sharpen the Microspikes myself, but to replace them if they became too blunt for use. Mine are not at that point, but I had been planning some preemptive sharpening after comparing my pair to my husband's brand new ones.
Now, I know I was told not to try it, since filing down the spikes could make them unstable as I remove the material, but I'm still tempted to give it a try. After all, you can sharpen your crampons for ice climbing, why not Microspikes? Has anyone out there sharpened their Microspikes and want to tell us about it?