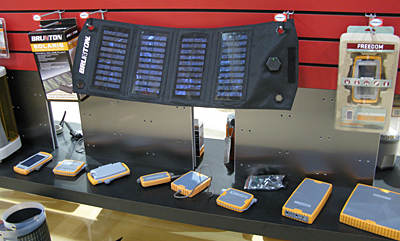 Several sources of solar power panels and solar powered devices were shown at the Outdoor Retailer winter trade show. Many of the newest solar chargers Alicia and I saw are intended for recharging small items like smartphones, iPods, digital cameras, flashlights, and rechargeable batteries. However, larger capacity models also are available from most companies, for those who need greater charging power.
Brunton has several new additions to their portable power line: the Freedom, Restore, and Explorer, all coming out in February. I'll note that my 26-watt Brunton foldable panel has served me well in Antarctica and Africa, along with weekend backpacks locally.
The 5.7-ounce Freedom will be Brunton's most compact offering. Brunton claims the 7.2-ounce Restore is the most efficient and compact integrated solar charger yet. Brunton's Scott Kaier showed us the Restore in the video below.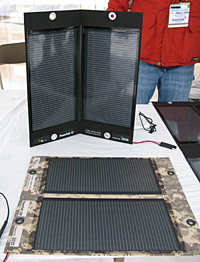 FTL Solar had several foldable panels on display, plus a 285-watt 12-volt awning. Until now, FTL Solar, which claims to be the "world leader" in lightweight solar panels, mostly has sold to the military.
They do offer commercial products, such as parking structure roofs, rooftop building installations, and small and large solar tent structures for governments, businesses, and public and private institutions. They also make units for disaster relief and humanitarian needs.
FTL Solar's main portable units displayed were camo or civilian black with low-reflective power panels, at a cost of $11/watt ($10/watt for the black civilian units). The "sail" (on the tent top) is $22/watt, with a wind rating of 50 mph. FTL Solar panels are offered in PET recycled fabric.
Highgear is offering its very first solar charger, the SolarPod. At $50, it's the least expensive and smallest (4.3" x 3.7" x 0.5" and 2.4 ounces) of the solar chargers we saw.
A carabiner clip allows you to attach the SolarPod to your backpack to charge it while on the trail. It charges in 8 hours in full sun and is designed as an entry-level model for anyone who carries a cell phone or MP3 player, whether they carry their devices on the trail, to the beach, or while traveling, according to Highgear.
The newest small solar charger from SolarFocus is the SolarDuo. It takes 4.5 hours to fully charge two AA batteries in full sun. For comparison, SolarFocus's original SolarMio can fully charge in three hours. SolarFocus says the Duo is suitable for GPS receivers, phones, MP3 players, iPods, and other small devices. The company is also offering the introductory Marrs Mission 1 solar charger as an entry-level product.
All of these solar charger offerings are promising, and some models the thru-hiker, and traveler, may find useful. In the meantime, I will continue to use my Brunton.
Read user reviews and information for solar chargers.