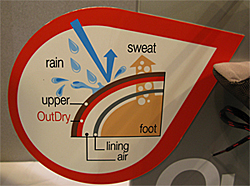 Columbia announced Wednesday it's buying OutDry, an Italy-based developer of waterproofing technology. This news should interest anyone who can't help wondering who (if anybody) will knock Gore-Tex from the summit of waterproof-breathable fabrics.
OutDry's fabric works much like Gore-Tex and similar fabrics: tiny pores in the fabric let molecules of water vapor escape from the inside but shed water on the outside because larger liquid molecules won't fit through the pores. In footwear and gloves, Gore-Tex and its brethren use a liner inside the shell fabric. While this keeps moisture away from the skin, it traps water in the gap between the liner and the shell.
OutDry closes the gap by bonding its waterproof/breathable fabric to the outer shell. Water can pass through a boot's leather or a glove's nylon, but OutDry is designed to stop it cold at the membrane.
This video below explains how OutDry works — the most intriguing part is at the end, where it shows how heavy a soaked boot gets when using traditional waterproof-breathable booties. A boot using OutDry is significantly lighter, the experiment finds (hardly surprising, since OutDry produced the video. The same video was showing at the company's Outdoor Retailer booth).
An OutDry rep told me the technology has the most potential for sealing potential leaks in gloves and shoes (eyelets and seams, for instance), but doesn't significantly improve waterproofing in garments like jackets, which can be sealed with seam tape.
Even so, Columbia has a lot of places it could put this technology to work in its own product line and its Sorel, Montrail, and Mountain Hardwear brands (Mountain Hardwear already uses OutDry in its Epic Gloves and other models). With all that marketplace clout, the OutDry deal adds a beguiling wrinkle to the waterproof-breathable wars.
After all, Columbia recently developed a fabric designed to be significantly more breathable than Gore-Tex (see yesterday's OR coverage), creating the potential for a two-pronged assault on the iconic outdoor fabric.