Outdoor Retailer ended yesterday, and after five days of looking at gear, booths, and trade show hallways, things can get a bit blurry. But, here are a few more pieces of outdoor gear that stood out.
Black Diamond Foldable Z-Poles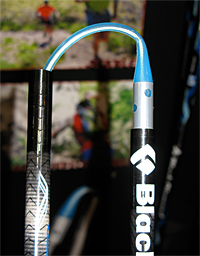 Foldable trekking poles? Yup, three-section foldable trekking poles from Black Diamond. The deployment system has a concealed inner kevlar cord, a push button release to collapse the pole, and one-pull speed cone deployment (like an avy probe) to snap and lock the pole into place. The Z-Pole series has three models:
Ultra Distance: Specifically for thru-hikers, endurance runners, and fast packers, this is the lightest Z-Pole at 8.8 to 9.8 ounces per pair (depending on length). $149.95
Distance FL: Supportive enough for backpacking and stream crossings, has FlickLock adjustability. Weighs 14 to 16 ounces per pair (depending on length). $119.95
Distance: Extremely stable for everyday use. Weighs 11.2 to 13 ounces per pair (depending on length) $99.95
I tried them; they really do fold. Watch the video below for a demonstration. I also noticed Black Diamond added Left and Right to its specific pole straps, so you can quickly tell them apart.
Patagonia Insulation
Patagonia claims its Ultralight Down Shirt is the absolute lightest down shirt on the market today. The piece is filled with 800-fill-power European goose down, weighs 5.5 ounces, and is super light, compressible, and provides incredible thermal efficiency. Women's shown below. MSRP: $250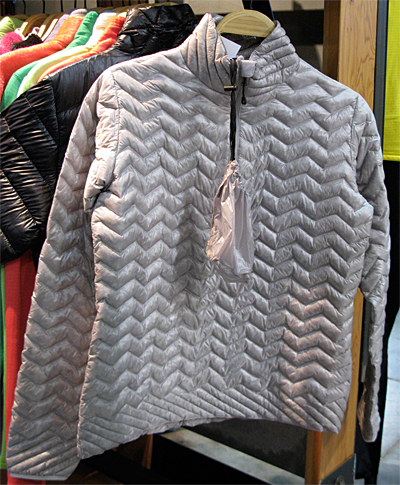 Patagonia's Nano line of light Primaloft One insulation is so popular, they've now added a men's and women's Nano Puff Vest ($129). Also added was a Hooded Guide soft shell vest for women ($125); the men's version is hoodless. Also, for anyone keeping track, 90 percent of Patagonia's spring 2011 line is recyclable and 60 percent is made of e-fibers.
Mountaineering: Freedom of the Hills
Wait, this isn't new, you're probably saying. It's old (well, let's just call it not so new). The outdoor bible Mountaineering: Freedom of the Hills turns 50 years old this fall and The Mountaineers are publishing an eighth edition to be released in September.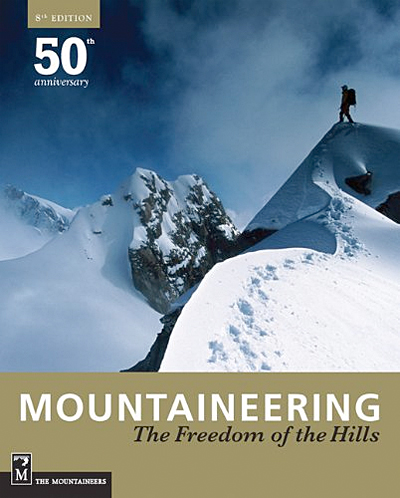 Soto Muka
Soto has a new stove for 2011, but I can't show you any pictures or video of it, though I did see a prototype. The aluminum diecast Muka stove is non-priming and shoots out liquid fuel blended with air (almost like a vapor mist) for about 10 seconds to produce a blue flame upon ignition. No priming is required. A pressure gauge (visible red line on pressure gauge) shows when you have the correct pressure for use. The Smart Pump controls the liquid fuel. The Muka has a very flexible, narrow diameter hose, which stows compactly.
It's supposed to be very, very efficient, not fuel waste from priming. Taiji Iwase of Soto described the Muka as "midway between a gas and liquid fuel stove."
Weight: 5.3 oz (150 g) for body and hose
Dimensions folded: 2.4" x 3" x 3" (30 mm x 75 mm x 75 mm)
Output: 3,000 kcal/h
MSRP: around $138
Duraguides
My family has enjoyed packing along Waterford's Pocket Naturalist Guides to the night sky, animals, and plants. The new Duraguide line of "practically indestructible field reference guides" are a bit lighter and more flexible, and printed on rip-proof, waterproof paper.
Titles include Outdoor Knots, Animal Tracking, Animal Skulls and Bones, and Camping 101 and include more instructional information in addition to identifications.
Weight: 1 ounce
Folded size: 3.5" x 8.24"
MSRP: $7.95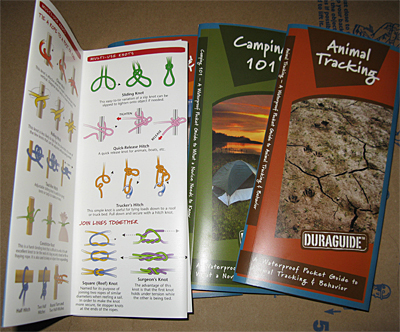 Brooks-Range Multi-Functional Plier
In addition to new adventure racing map tools, snow gauges, and shovels in 14 different colors (including pink, seriously!), Brooks-Range introduced a multi-functional backcountry ski tool for field repairs. It includes: a serrated knife; six screwdriver bits including an 1/8th inch Allen Wrench, #3 Posi for bindings and T20 Torx for DynaFit bindings; a four-size wrench, bottle opener, and pliers. It's made of stainless steel and aluminum. Weight: 6 oz.; Size: 4" (folded). MSRP: $79.95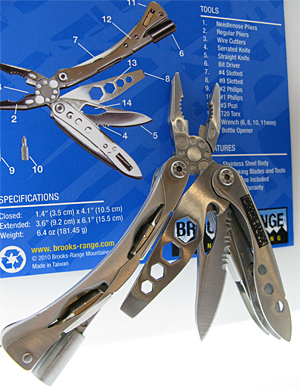 IceHoldz
You can train for ice climbing year-round with IceHoldz indoor holds. The company says the proprietary composite plastic shell, which is filled with a unique glacier blue backing, mimics the qualities of real ice (Dave took some swings on the display to test it out). A 1/4-inch pick presentation is all that's needed for placement. holds come in a variety of shapes and sizes, and most have dry-tooling features. IceHoldz can last for years. If you do need to replace one, pop out the backing, send back the outer shell for recycling, and receive a new shell. Cost: $462 for a basic ice wall package of 13 IceHoldz.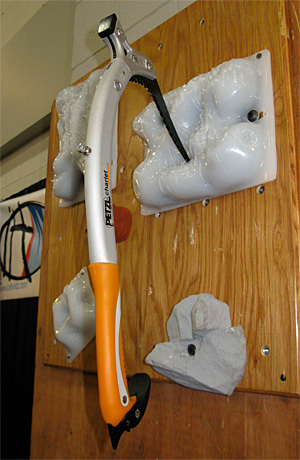 So, what else was there? Lots of barefoot footwear running and hiking styles from Vibram (naturally), but also from Merrell, New Balance, Kigo, and others. We'll bring you more on that topic in coming months. Also, a lot of interest in UV and bug protection. Tons of apparel from light (and heavy) insulation to light windshirts and softshells for high energy mountain activities.
And loads upon loads of different water bottles. Just when you think there's nothing new to be done with water bottles (it just needs to hold water, right?), people put pockets on them, try various one-handed openings, spouts, etc. Rest assured, you can still get an old-school HDPE Nalgene bottle, though it may look a bit flashier than your old one.