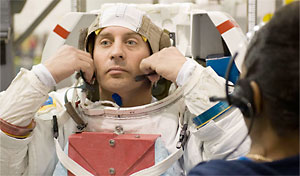 CamelBak bite valves can be found on everything from hydration packs to water bottles for toddlers to NASA spacesuits.
That's right, the next time you take a drink from a CamelBak Big Bite Valve during a hike or run, know that you're hydrating just like an astronaut in space!
According to CamelBak, nearly a decade ago, NASA started receiving complaints from its astronauts that the drinking system they were using was unreliable, bulky, and leaked. Not a great combo for space.
Enter the CamelBak Big Bite Valve, which was integrated into the NASA spacesuit because it was easy to use, self-sealing and, could stand up to extreme conditions. It's the same Big Bite Valve found on CamelBak's packs, water bottles, and accessories.
In this video, CamelBak's Seth Beiden visits NASA's Neutral Buoyancy Laboratory training facility to see the bite valve in hands-free action.