Outdoor Retailer: Design Your Own Headlamp (or at least its looks)
We head to Outdoor Retailer Summer Market this week, and there's so much new backcountry gear to cover we're previewing some that has already caught our eye, like this site to design your own flashy or classy headlamp with Princeton Tec.
Princeton Tec Custom Headlamps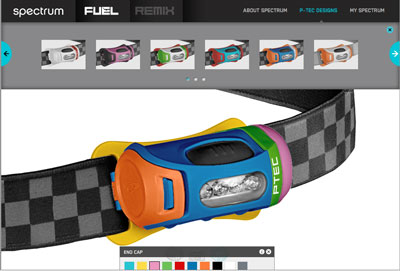 Princeton Tec wants you to know its lights are made in America, and give you a hand (or rather mouse click) in the process.
The company is launching Spectrum, a custom headlamp site that lets you customize the look (but not components, sorry) of your Fuel 4 LED or Remix from six different parts in 10 colors, plus two head straps.
The folks in P-Tec's New Jersey facility then assemble your individual light and ship it to you.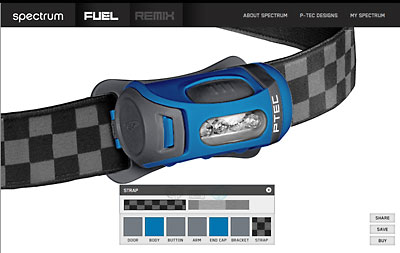 A custom Fuel 4 LED will cost $35 (versus $30 standard MSRP) and a custom Remix will cost $45 (same as the $45 standard MSRP). So you'll pay about the same for the privilege of sporting a pink and green LED headlamp or your alma mater's blue and orange colors.
Do people need this? I initially wondered. Well, no. But, more importantly, will they use it? Despite my initial hesitation, I found myself logging onto the Spectrum site, playing around with different color combinations: Pink or orange end cap? Blue or grey body?
I admit, it was fun coming up with different color options, though, as long as I'm playing gear designer, I would have liked some colored strap options. And how about purple components?
Still, the current number of options can keep one busy for a long while and a custom-color headlamp could be the gift for the gearhead who has it all.
The Spectrum website, currently in beta mode, will launch in September.
We'll get and share full details, plus pictures and videos for closer looks, on much more outdoor equipment and apparel at Outdoor Retailer, August 3-7, in Salt Lake City.
What would you like to see or hear about as we cover the show? Tell us below.
Stay tuned for regular updates and announcements from OR here. Subscribe to our blog and news RSS feeds for real-time updates of our daily show coverage, and follow our tweets from the show floor on Twitter.