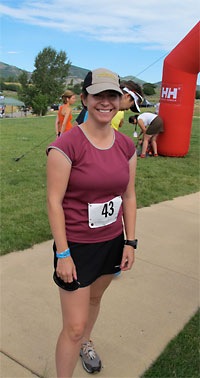 Today we visited the Open Air Demo, undoubtedly the most relaxed part of Outdoor Retailer, before we all head (ironically) indoors for four days of meetings and aisle walking.
But today we were outdoors, and there was sun and plenty of people on the water in canoes, kayaks, and on the popular stand-up paddleboards. We'll have more paddling coverage to come.
I started my outdoor rounds with a benefit trail run for a good cause, GECKO (Giving Every Child Knowledge of the Outdoors). GECKO raises money to help children from all walks of life experience the outdoors through scholarships to leading outdoor education providers like NOLS (National Outdoor Leadership School), HMI (High-Mountain Institute), and WildPagosam.
After the run, in which I was reminded I was now nearly 6,000 feet above my usual elevation, I checked out the outdoor companies in attendance.
ProBar had its yummy new S'mores and Nutty Marshmallow Halo bars out for taste testing, but the 150-calorie "sinfully healthy snacks" didn't last long. Surprise, surprise. Who doesn't like marshmallow and chocolate? As a ProBar rep said, the Halos are ProBar's alternative to a candy bar, except they're organic, vegan, and dairy-free. There's also Rocky Road and Honey Graham Halo flavors. ($1.59 for a 1.3-ounce bar)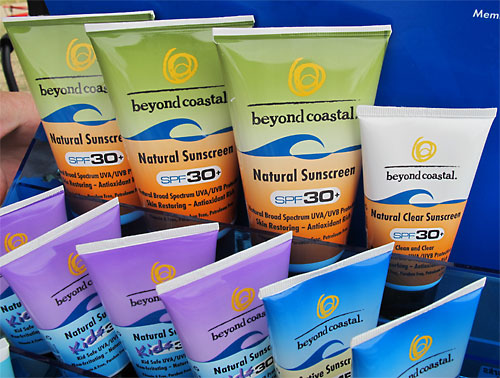 Better have your sunscreen on if you're going to spend the summer day outside, by the water, at 6,000 feet. Beyond Coastal is among the top sunscreen companies in rankings by the Environmental Working Group for the best and safest sunscreens.
What do the FDA's new rules for sunscreen labels mean for Beyond Coastal? Not much, except for packaging tweaks. "We've been playing by the rules for years," a company rep said. "I think it's going to be good for consumers."
As an EMT for 30 years and search and rescuer for 18, Linda Uihlein (above) knows emergencies happen every day. She developed Live by Your Wits, a new outdoor game from Owl's Nest Games, to help people learn to think resourcefully beforehand.
Live by Your Wits comes in three versions: hiking, biking, and kayaking, which can be combined. The game covers different skills, equipment, and outdoor situations, and can be played competitively or cooperatively (for example, another player can share her skill card for building a fire without matches).
Uihlein says one byproduct of the game is that people end up sharing stories about their real-life outdoor experiences, such as the time they actually ran out of water.
Live by Your Wits is made in the United States and includes a recycled cloth game board and tent tokens. It costs $69.95 for the entire game with hiking series cards, and $19.95 for expansion card sets.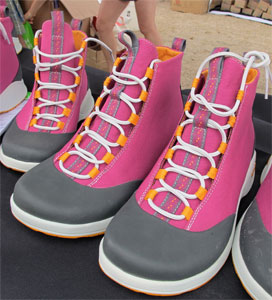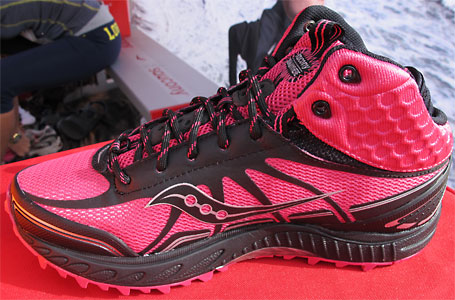 When I said earlier that shoes were getting lighter and brighter, I meant it. As further proof I offer up the bright purple-pink Chaco Tedinho (left) and the Saucony ProGrid Outlaw (right).
The Chaco Tedinho, new for 2012, was inspired by guides who frequently use canvas hi-top sneakers as river shoes. It has a rubber toecap and Vibram outsole for traction. The Saucony ProGrid Outlaw is a 3/4 cut running shoe, and is available now. ($110)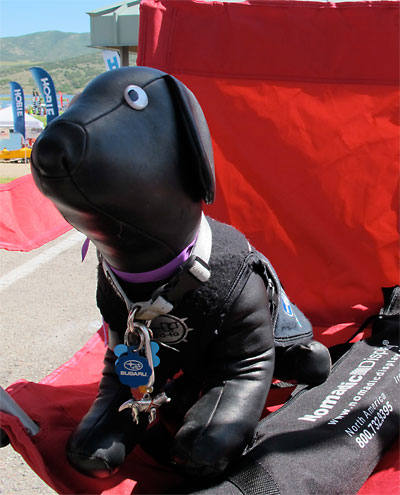 This is LittleDfa. He hails from Lake Wanaka, New Zealand, but has traveled the world — Antarctica, Denali National Park, In-N-Out Burger in Hollywood — on the kindness of strangers, who upload his adventures to twitter. He's wearing his 100 percent Merino Ice Barker Jacket made by his owners, D-Fa Dog.
Stay tuned for regular updates and announcements from OR. Subscribe to our blog and news RSS feeds for real-time updates of our daily show coverage, and follow our tweets on Twitter.