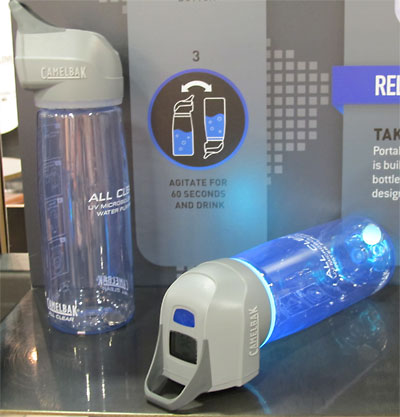 Two years ago at Outdoor Retailer, CamelBak announced its noteworthy All Clear, an in-bottle microbiological UV water purifier. After a lengthy wait and redesign, the All Clear will finally be launched in a new and improved form for 2012.
Jon Austen, CamelBak's director of product management, says the All Clear is designed for simplicity, durability, and energy efficiency.
The purifier's ultraviolet bulb is now housed in the bottle's cap, and is good for 10,000 cycles. That's the equivalent of purifying three liters of water every day for nearly seven years.
By holding down the power button on the cap for two seconds and rotating the All Clear bottle several times, the UV light neutralizes 99.9999 percent of bacteria, 99.99 percent of viruses, and 99.9 percent of protozoa, sterilizing 0.75 liters of water in 60 seconds.
An LCD screen on the cap gives you a 60-second countdown for each cycle and lets you know when your water is safe to drink. To keep it even more simple, directions are permanently printed on each All Clear bottle.
An optional 100-micron screen Pre-Filter can be mounted on the bottle to eliminate large objects like "sticks and crickets," in Austen's words.
The All Clear is aimed at backcountry enthusiasts and global travelers with questionable water sources, and could be included as part of disaster preparedness kits.
Jon Austen gave us a demonstration of the All Clear at Outdoor Retailer.
All Clear UV Features:
High-powered ultraviolet light neutralizes 99.9999% of bacteria, 99.99% of viruses, and 99.9% of protozoa
60 seconds per cycle
Purifies 80 cycles per full charge
UV bulb lasts 10,000 cycles and mounts securely over threads
Kit includes 0.75L Tritan Better Bottle with Classic Cap for use after water has been purified, cover to protect UV bulb when not in use, Recharge Cable (mini USB plugs directly into cap and connects to a wide range of USB compatible wall chargers, laptops, cell phones, solar, etc.)
All Clear Specs:
Weight: 6.9 oz (UV cap only), 3.7 oz (bottle only) 10.6 oz (total unit)
All Clear MSRP: $99
All Clear Pre-Filter MSRP: $15
Available February 2012