A dizzying array of new products were being hawked by young and old-line companies at Outdoor Retailer, including new gear and apparel lines from Eureka!, Wenger, and Brooks-Range.
Eureka!
For Eureka!, founded more than a century ago, adding a range of packs was a natural extension, says company rep Erin Keefe.
Eureka! is already known for its tents and sleeping bags that offer reasonable quality for those on a budget, says Keefe, and the new 2012 packs are intended to meet a price point that many budget-minded customers want.
Named after Adirondack peaks, the line includes four packs for multi-day, weekend, and day trips. Each is made of a 420D polyester mini ripstop body with a 600D polyester oxford bottom and has a built-in rain cover and a boxed and padded hydration sleeve that doubles as a laptop/tablet compartment.
Mt. Isolation: 65 L, 6 lb, $149.99
Sawtooth: 45 L, 3 lb 11 oz, $99.99
Wolf Jaw: 40 L, 3 lb 2 oz, $89.99
Panther Peak: 30 L, 2 lb 6 oz, $69.99
Wenger
In 1893, Wenger was one of two companies (along with Victorinox) contracted by the Swiss government to make knives for its army. While Wenger still makes knives and multi-tools, it's expanded broadly to camping gear for customers who already know and appreciate the quality of Wenger gear, says Kenny Ballard, a Wenger rep.
For 2012, that includes a line of backpacks, tents, and sleeping bags inspired by the grueling Wenger Patagonia Expedition Race (WPER).
The interesting and versatile Chaseral sleeping bag with Climashield XP synthetic insulation is rated from 40°F down to 10° F, by adding a zip-on top. Expect warm temperatures: leave the zip-on top at home. Aren't sure: take it with you. If it's warm, zip the top into its storage pocket and use it as a pillow. Or, if you find your teeth chattering, zip it onto the bag. It also can be used as a lap blanket while sitting around camp. Length is 84 inches, girth is 32 inches, weight is 2 lbs 4 oz ($179.99).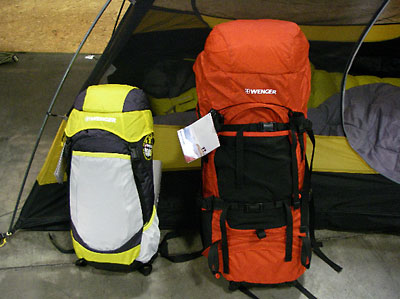 The WPER line also includes the 650-fill down Goms Patagonia 40° (1 lb 12 oz, $124.99); 800-fill down Visp 45°(1 lb 13 oz, $224.99); the expedition-worthy Rathorne 2 tent, built to withstand high wind, heavy snow loads, and driving rain (9 lb 13 oz, $449.99), and three packs.
Almer: lightweight for adventure racing (20 L, $124.99)
Onex: for quicker and less gear-intensive adventures (20 L, $134.99)
Zernez: the "Swiss Army Knife" of alpine packs, with gear loops and suspension to carry everything from skis and snowboard to ice ax and tent (50 L, $179.99)
Brooks-Range
Brooks-Range Mountaineering made its name starting in 1995 (not quite as far as back as Eureka! and Wenger) with rescue sleds, then expanded into other snow safety gear, such as shovels, ice saws, and avalanche equipment.
This small California company has chosen to stay close to its backcountry winter roots while expanding its clothing line for fall.
The new line includes tops for different conditions, from the 800-fill Hooded Down Sweater ($240) to the Isto soft shell ($140) and Brezza lightweight Primaloft One jacket ($100) for high aerobic days.
Katy Gaenicke showed us Brooks-Range's clothing line at Outdoor Retailer earlier this month:
For spring 2012, Brooks-Range also added a 850-flll down Alpini 0° sleeping bag (3 lb, $475) and four lightweight mountaineering and backpacking tents:
Invasion: 4-season, 2-person, single-wall, mountaineering tent with 30 sq ft of interior space and an exo-skeleton pole system (3 lb 7 oz, $700)
Propel: 4-season, 2-person single-wall, based on the Rocket, but made with a lightweight nylon silicone material (2 lb 9 oz, $500)
Propel 2D: for backpackers who prefer a lightweight two-door tent (3 lb 5 oz, $650)
Foray: 2-person, 3-season, double wall tent with removable fly (2 lb 10 oz, $550)