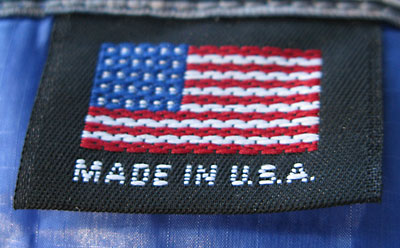 Made in America. For many, that designation is an important criteria when choosing goods, including outdoor gear and apparel. It's a semi-regular topic of conversation in our forums.
Reasons for buying American-made range from the economic to environmental, the ethical to political.
But, supply chains can be far ranging and raise complicated questions. Just look at Patagonia's The Footprint Chronicles, which tracks the impact of individual products—like its Down Sweater and Capilene 2 Lightweight Crew—from design to delivery.
Where and how a product is made and the materials that go into it all matter. So, what if your hiking socks are sewn in America, but the merino wool is shipped from New Zealand? Or your tent is assembled in America, but the silnylon is made in China? Then what do you choose?
Ibex hopes to make the choice simpler by going 100-percent American-made and sourced with its fall 2012 Shak Lite wool garments. From a Montana sheep farm to a finished hoody or half-zip, all Shak Lite 21-micron wool garments will be sourced, processed, and sewn entirely in the United States. That means American sheep, ranchers, cutters, sewers, and designers all have a hand (or hoof) in the process. Read our article "Ibex Offers 100% Made in America Wool" for more.
So, do you choose the more local apparel and gear when possible? What if you have to pay more to do so? Do you look for "Made in the USA" hang tags? (FYI, according to the FTC, those tags are meant to indicate that a product is "all or virtually all made in the United States" and "all significant parts and processing that go into the product are of U.S. origin.)
Share you opinions and experiences with American-made and sourced outdoor gear and apparel below.