New, shiny, whizbang gear tends to get the most attention at the biannual Outdoor Retailer trade show. We admit it, the latest, lightest, most technological products can be eye-catching (it weighs how much?! does what?! costs how much?!).
But often it's the rusty, frayed, and oxidized gear and apparel that deserves a second look. After all, gear is made to be used and get you out there. And it can play a part in our outdoor stories.
At last summer's OR show, climber Jeff Lowe had on view the contents of his pack that spent 20 years frozen in the North Face of the Eiger.
First the backstory:
In 1991, Lowe abandoned his pack and rope on the Eiger's North Face after nine days of solo climbing, when he couldn't find any anchors. Lowe continued climbing unroped to the summit and was rescued by helicopter before a storm.
Last March 2011, while filming for the documentary Jeff Lowe's Metanoia, American climber Josh Wharton recovered Lowe's pack and returned it to Lowe. (You can watch a video of Lowe reopening his pack for the first time.)
While studying the display last summer, volunteers told me that Lowe wondered "who would want this crap?" after inventorying it. Luckily, he was convinced to hang onto the items, and they're now considering the best ways to preserve them.
Here's a look back into Jeff Lowe's pack, because interesting OR gear needn't be shiny or new.
The VauDe pack and a shovel head: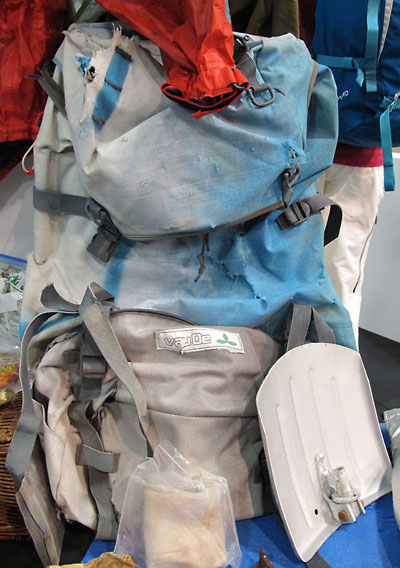 VauDe sleeping bag, which had to be thawed in a 144-degree Swiss sauna for ten hours before traveling back home: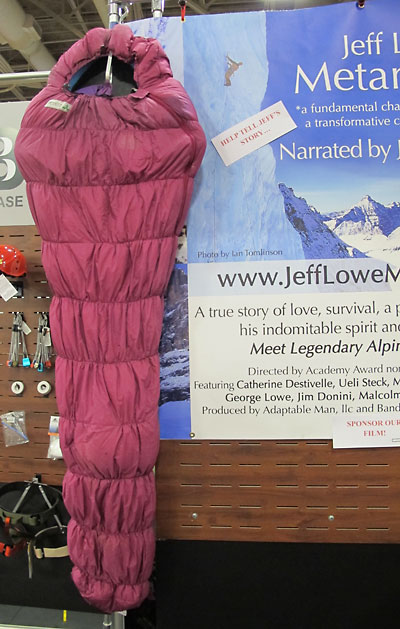 A VauDe prototype jacket designed by Lowe: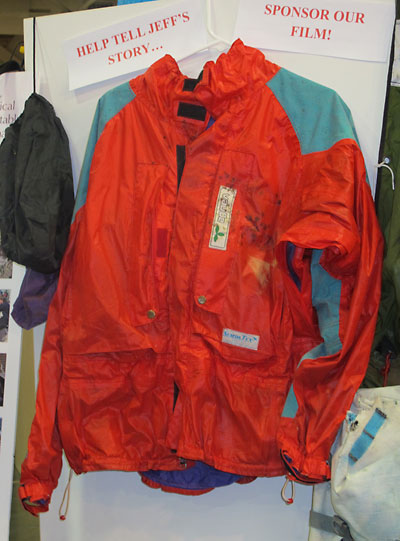 Food bag, with Snickers and Mars bars, plus biscuits. Yum!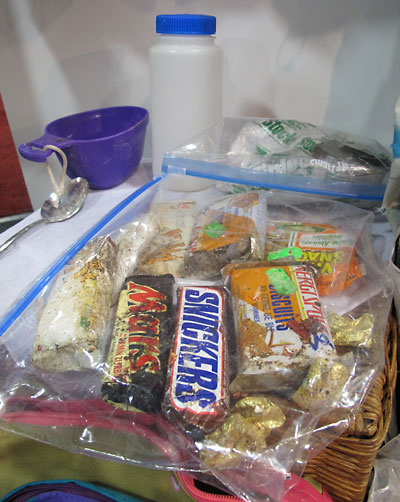 Yup, that's a Nalgene pee bottle below. Plus oxidized cooking pots, a hanging stove made by Lowe, and Scott motorized goggles (with a fan for defogging!)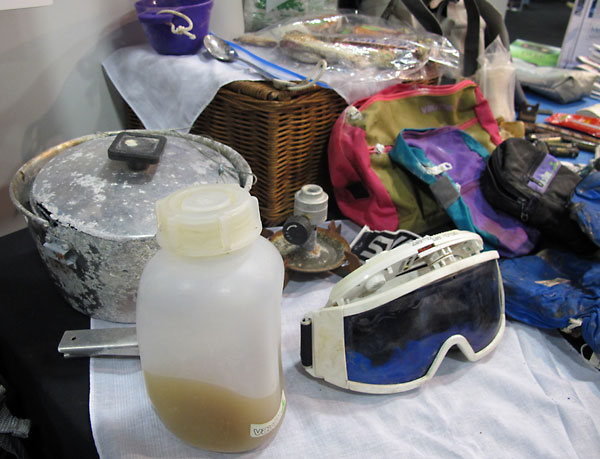 Closeup of the stove: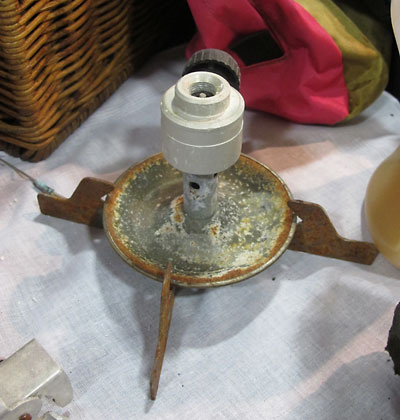 Compass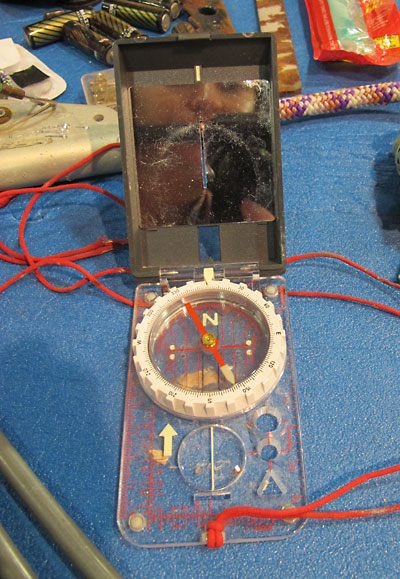 Various gear on a shortened ensolite sleeping pad, including a Black Diamond headlamp, compass, carabiner, glasses case, and Chouinard sewing kit: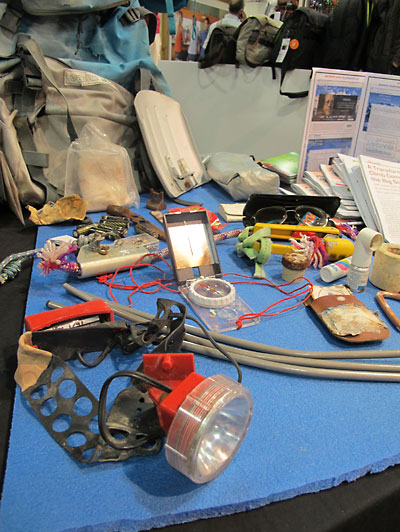 An assortment of gear. Recognize any pieces?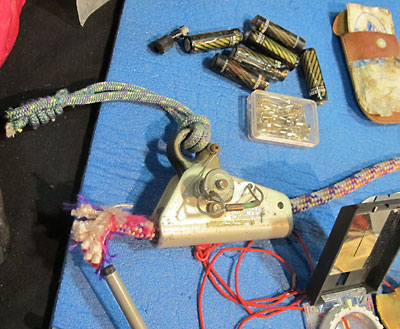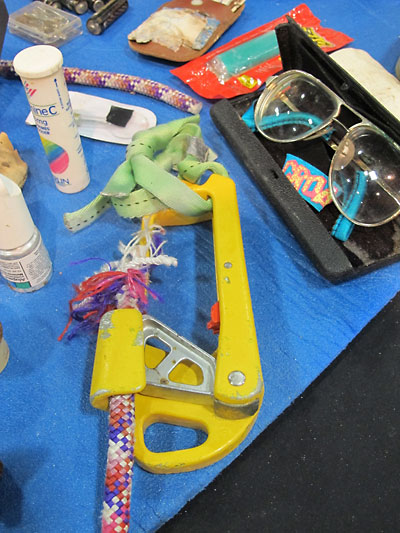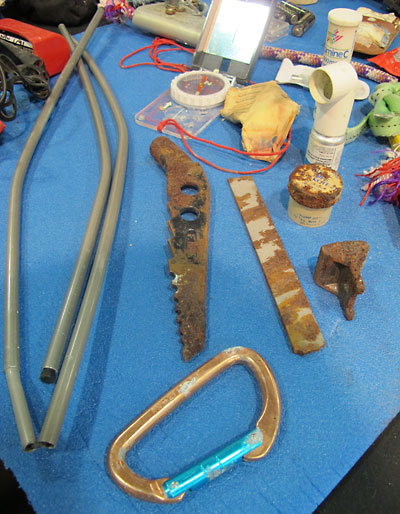 The official gear list at the booth: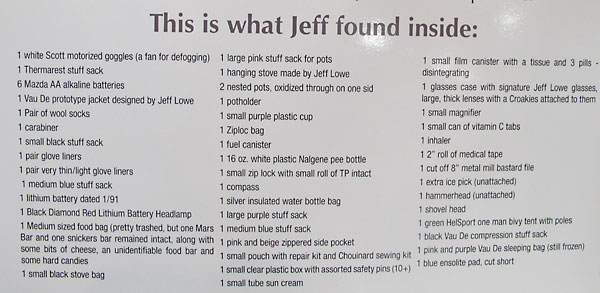 If you're attending Outdoor Retailer this week, you'll have a few chances to see Lowe and his pack contentsat the Lowe Alpine booth (Thursday and Friday, 4-6 p.m.), and at the Saturday screening of 1974 First Ascent of Bridal Veil Falls at 3 p.m. at the Salt Lake City Arts Center. Check with Lowe Alpine for more information.
For more info on Jeff Lowe's Metanoia visit jeffloweclimber.com