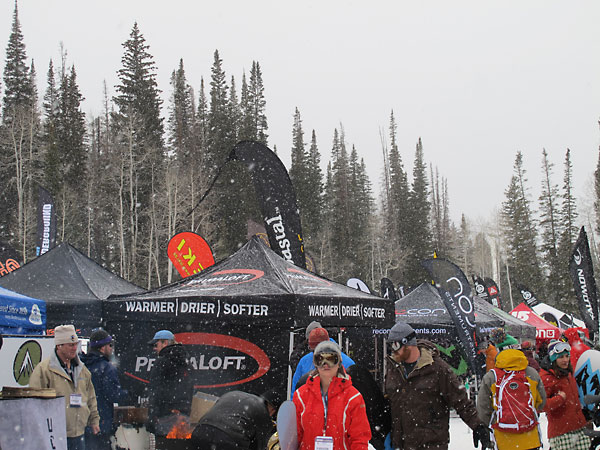 We headed up to Solitude today for the All Mountain Demo day at Outdoor Retailer. Here are some highlights of the latest snow and ice gear we saw from exhibiting brands, including snowsport and mountaineering packs, classic snow tools revisited, traction for winter runs, decadent energy bars, U.S.-made ski socks, and a backcountry pooch.
Deuter
For fall/winter 2012, Deuter has at least eight new packs for the winter outdoor enthusiast. New to the U.S. market are Deuter's Guide Lite 32+ (men's) and Guide Lite 28+ SL (women's, at right) alpine climbing packs. The Guide Lites are designed to be super clean, with no excess features or material, or as Kevin Schaum of Deuter said, with "everything you need and nothing you don't."
Feature include: removable foam mat that doubles as a seat, reinforced ski straps and lashing loops (130 mm), ice axe loops, front carabiner loops, system to carry rope under the adjustable lid.
Guide Lite 28+ SL
Weight: 2 lb 5 oz
Volume: 28 L / 1709 cu in
Carry capacity: 28 lb
MSRP: $149
Guide Lite 32+
Weight: 2 lb 10 oz
Volume: 32 L / 1952 cu in
Carry capacity: 32 lb
MSRP: $149
That's not all. Deuter has the following new alpine and snowsport packs coming out:
Cruise 28 SL and 30 backcountry snowsport packs equipped to carry skis, snowboards, shovel, and probe ($149).
Descentor EXP 18 SL and EXP 22 packs, with removable Shield back system protectors, to minimize injury, for skiers and snowboarders who "like it fast and fun" ($189).
Provoke 14 SL and 16 sidecountry packs that fit a shovel and probe ($99).
MSR
MSR is going back to the beginning with its snow tools.
The company updated its Snow Picket for the first time since 1987, and redesigned one of its earliest products, the classic snow fluke, to make it the lightest available.
With the 6000-aluminum Snow Picket, MSR boosted durability and ease of placement by tapering the ends to penetrate hard pack and frozen snow more easily, placed a strike plate on the drive end, and reinforced the spine.
Snow Picket
Length: 60 or 90 cm
Weight: 14 oz or 20 oz
MSRP: $30 or $40
The MSR Snow Fluke will utilize a deck and frame combination to reduce material and weight, making it the lightest fluke available. It's made with a 7000-series aluminum frame and nylon-supported decking.
Snow Fluke
Weight: 7 oz (small) or 9 oz (large)
MSRP: $40 or $50
Yaktrax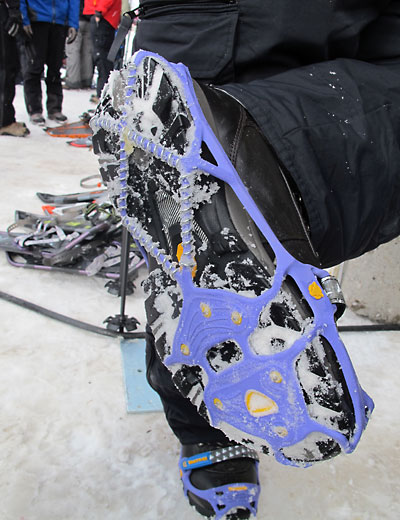 Yaktrax is going after winter runners with its Run traction device (above), which combines six spikes on a plate at the forefoot with Yaktrax's SkidLock coil design at the heel. Different spike plates can be switched out for urban or trail running use. The Runs are left- and right-specific for a more ergonomic stride, have a more durable strap than other Yaktrax models, and will come in four sizes.
Steve Couder, vice president of Yaktrax, said runners had been asking for specific traction features, so Yaktrax decided to make a device specific to them for covering a variety of winter surfaces.
"We had been the be-all," said Couder. "Now we have what runners need, and if others want to wear it too, great."
Weight: 7.8 oz per pair (medium)
MSRP: $40
Available: August 2012
ProBar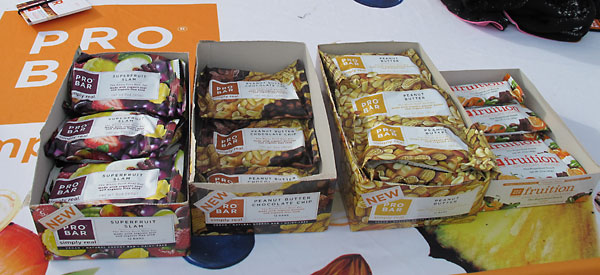 With the addition of four new (and some would say essential) flavors, ProBar has filled in some gaps in the chocolate and peanut butter area. Now you can get its whole food meal bars in Double Chocolate, Peanut Butter, and Peanut Butter-Chocolate Chip, plus Superfruit Slam.
The first three are self-explanatory (and one can only wonder what took so long for these classics to come along). The Superfruit Slam is made with several exotic "super fruits" including organic acai, mangosteen, purple corn, and camu camu. All of ProBar's original meal-replacement bars are made from certified organic, plant-based, non-GMO ingredients.
Now, at 350 to 393 calories per bar, I just wish we could get a half-size version for between meal snacks.
MSRP: $3.29
Available: January 2012
FITS Socks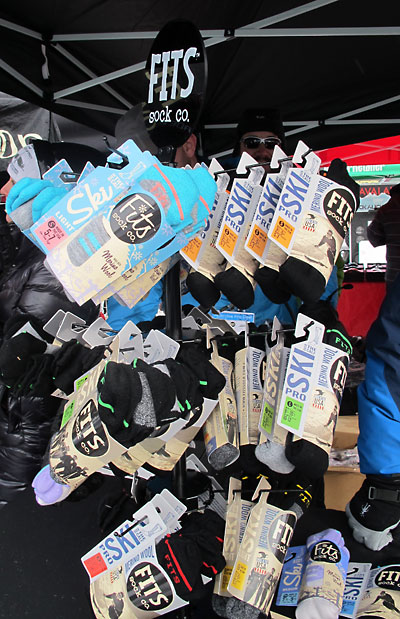 FITS Socks was showing off three models of its newest ski socks: Light, Medium, and Pro. The Crescent Sock Company has been knitting socks in Tennessee since 1902, in what is now the oldest operating hosiery mill in the U.S. A couple of years ago the family-owned company began producing hiking, running, and ski socks under its own FITS label.
"We make the best socks and keep them for ourselves," I heard a FITS employee saying at his booth.
Ruff Wear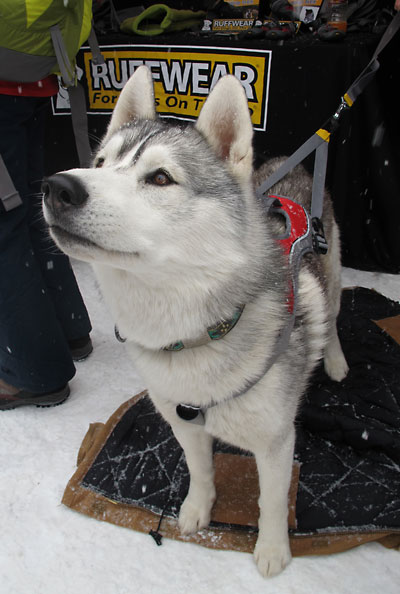 Aww, it's Shazam the sled dog at the Ruff Wear booth. Shazam, 2 years old, was busy giving skijoring demonstrations with his Ruff Wear Omnijore Joring System. Oh, and being petted by all the passersby, like me.