With a wide selection of interesting gear from both cottage manufacturers and well-known outdoor industry powerhouses, Day 1 of Outdoor Retailer Winter Market 2014 didn't disappoint.
SOTO: Origami Inspired Gear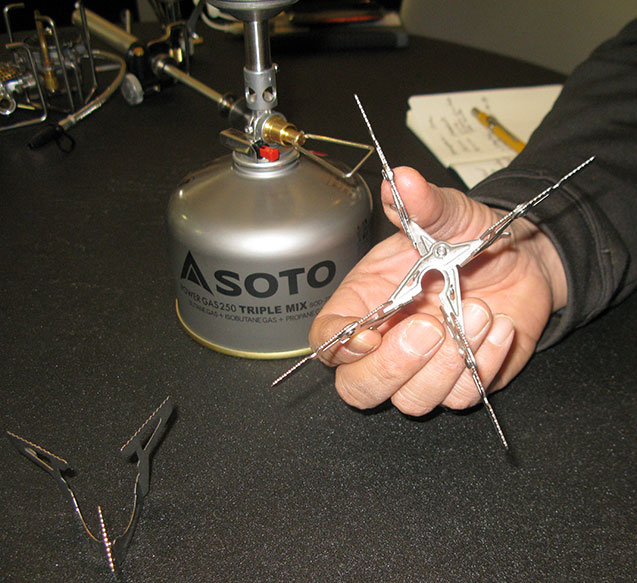 The Soto Windmaster stove is packed with interesting features: A built-in micro-regulator ensures consistent pressure and burning temperature through the life of the cartridge. The stove also includes a piezoelectric igniter whose wire is routed through the interior of the fuel quill. Because the wires aren't exposed and the sparking terminal is built in to the center of the burner head, common points of failure are eliminated. The burner itself has a convex design to foil wind gusts.
The most unique features are the TriFlex (three-legged) and FourFlex (four-legged) detachable pot stands that collapse like paper cranes for easy storage.
Weight: 2.1 oz (stove body); 2.3 oz (pot support)
Boil Time: 4 min 2 sec at an ambient temperature of 68° Fahrenheit.
MSRP: $74.95
Available: Now


MSR Beta Snow Science Saw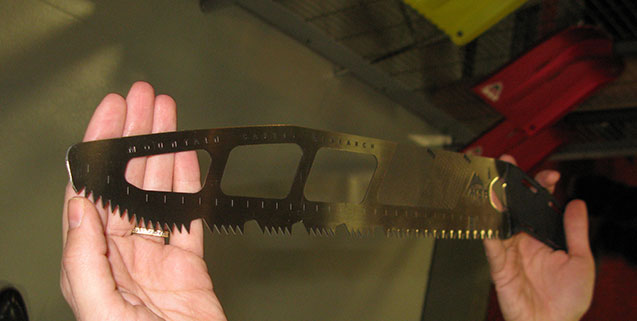 MSR is all about the serious snow tools this winter. In addition to a set of two new shovels and new avalanche probes, MSR introduced two new snow saws: The Beta Snow Science Saw and the Base Camp Snow Saw (check out a video of the Base Camp in action on YouTube).
The Beta Snow Science Saw is for confirmed snow geeks. The front teeth are designed for cutting snow and specially angled to clear debris for clean, fast cuts. The rear teeth are narrower for cutting wood. There are 1 mm and 3mm grid patterns printed on the blade for analysis of ice crystal size, and the blade is ideal for cutting test pits for determining avalanche hazards.
And, of course, there is an integrated bottle opener for refreshment purposes.
Available: Now
MSRP: $49
Crescent Moon Carbon Rocket Snowshoes
The Crescent Moon Carbon Rocket Snowshoes were so fresh from the mold that they attached the logos while I admired these light, durable racing decks. Weighing in at under 2 lbs a pair, these shoes are made from a single sheet of ultralight carbon fiber.
More breaking news from Crescent Moon is the planned launch of a Custom Build program that will empower snowshoe enthusiasts to customize different aspects of their snowshoes, effectively creating one-of-a-kind products uniquely suited to their needs.
Weight: under 2 lbs per pair
Available: Now (very, very limited quantities)
MSRP: $399
Sierra Designs DriDown Rain Jacket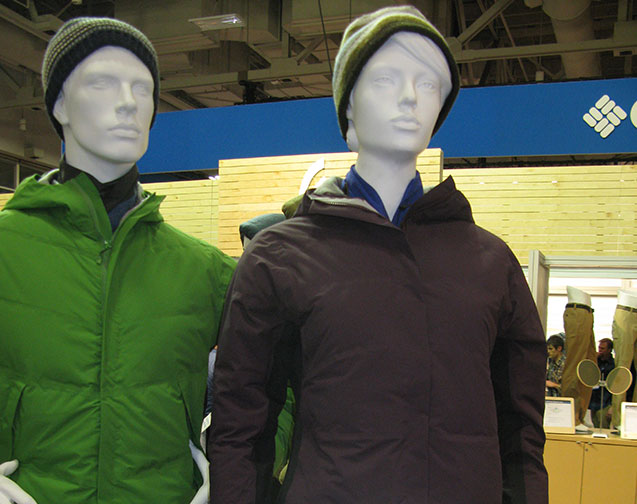 Sierra Designs is rebooting for 2014, wiping nearly all of its old products clean, and starting anew with a pure focus on creating innovative backpacking gear. This reboot has already led to plenty of interesting products, including the Mobile Mummy and the Backcountry Bed (both introduced at last summer's Outdoor Retailer Summer Market show).
This show was no exception, with Sierra Designs releasing a torrent of fascinating tents and jackets. One of the most fascinating is the DriDown Rain Jacket. This garment is designed to protect backpackers in the uniquely unpleasant conditions between rain and snow. It's stuffed with just enough 600-fill power DriDown insulation to keep out the chill, but not too much. The insulation baffles are welded directly to the shell to improve breathability.
Fill: 600 Fill DriDown
MSPR: $299
Available: Fall 2014
Want more from Day 1? Check out our Day 1: Outdoor Retailer album on Facebook.
And follow us here in the blog, on Twitter, Facebook, Google+, and on Trailspace's YouTube channel.