Outdoor Retailer's Demo Day is a time to see the newest (and sometimes most unusual) gear in its natural habitat, this year at Utah's Pineview Reservoir in Ogden Valley.
Standouts included a canoe for one, and outdoor foods. There was a healthy variety of new energy bars on display, but two standouts made novel use of unusual ingredients and new combinations of common foods.
Chapul
Aztec for "cricket," Chapul bars are packed with a novel source of protein—a finely ground flour of whole crickets. Founder Pat Crowley says that using crickets as an ingredient can curtail the "massive and unsustainable use of freshwater resources to grow feed for the millions of cows, pigs, and chickens" that are more commonly accepted sources of protein.
In addition to insect protein being a potential solution to freshwater overconsumption, humans evolved eating insects. Even today 80 percent of countries have insects on the menu in some form, says Crowley.
The Chapul "original cricket energy bar" comes in three flavors: Aztec (dark chocolate, coffee, and cayenne), Chaco (peanut butter and chocolate), and Thai (coconut, ginger, and lime).
Full disclosure: I did not have it in me to eat crickets before noon so I can't report on the taste.
Price: $3 per 1.9-oz bar
Flavors: 3 (Aztec, Chaco, Thai)
Available: Now
Omnibar
Where Chapul sources protein from insects, Omnibars find their kick from a fusion of beef, almonds, dried sweet potatoes, oats, and flax seed—"simple everyday foods," says the brand.
The company originated from a desire to find a unique use for the grass-fed beef from co-founder Cooper Burchenal's family ranch in Montana.
These savory little bars offer a good balance of carbohydrates and protein for sustained energy from a combination of ingredients more commonly found on the dining room table.
Omnibars come in four flavors: Roasted Peanut, Mango Curry, Chipotle Barbeque, and Cranberry Rosemary.
Price: $3 per 2-oz bar
Flavors: 4 (Roasted Peanut, Mango Curry, Chipotle Barbeque, Cranberry Rosemary)
Available: Now
Old Town's Next Canoe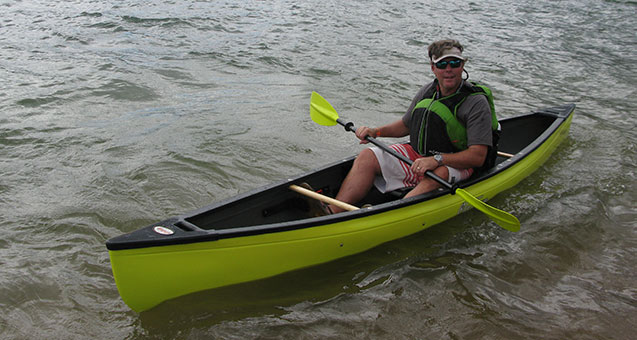 Old Town's newest offering is an interesting fusion of a canoe, which traditionally seats two, and a kayak, which traditionally seats one. The Next is a light (49 pounds), maneuverable open (like a canoe) boat with a full-backed chair and foot braces (like a kayak).
Watching David Hadden, Johnson Outdoors Brand Director of Watercraft, pull the boat into the water with one hand, and paddle a few tight loops, I was filled with excitement imagining all the people with limited time and storage space that could enjoy this solo boat.
Weight: 49 lb
Length: 13'
Width: 29"
Capacity: 450 lb
Price: $999
Available: September 2014