The hundreds of outdoor brands at the Outdoor Retailer trade show can make big claims going in ("it's a game changer!"), but it takes some time on the show floor to suss out what new outdoor gear, apparel, and footwear is worth a second look. And then it takes some field testing to see how that gear performs where it belongs, outside.
But let's not get ahead of ourselves.
Here are a few highlights of new-for-2015 products that caught our own Seth Levy's eye in the first day of Outdoor Retailer.
Hoka Introduces Hikers
Running shoe company Hoka is well known for its unique ultra-cushy running shoes with mega rocker (actually called the Meta-Rocker).
For 2015, the brand is extending its line of innovative trail shoes into hiking boots with its MTN Trek line. The Tor Ultra High WP featuring an eVent membrane is the flagship shoe. The crossover boot retains Hoka's signature thick, supportive soles and distinctive style, but with a supportive upper.
Public Relations rep Maria Hidalgo explained that contrary to popular belief, your foot does not rest on top of Hoka's thick, cushy midsole. Instead, your foot is seated down within the midsole.
In addition to enhancing stability and cushioning, this configuration provides the "rocking, rolling" gait that characterizes the "Hoka Experience."
From Hoka's MTN Run category, comes the new Speedgoat. Inspired by and with input form legendary ultra-runner Karl Meltzer, the trail runner was designed with the challenging conditions of the Speedgoat 50k ultra-marathon in mind.
Recycled Down Debut
Ternua, a Spanish technical apparel brand, says it is the only brand in the outdoor industry using recycled down, which they expect to be a huge trend in the down industry in years to come. Its proprietary Neokdun is made from a 100 percent, recycled down filling.
Ternua makes its North American debut with its Fall/Winter 2015 collection.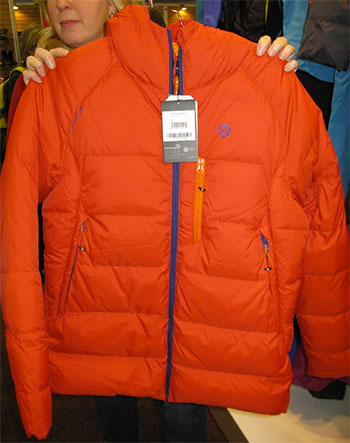 Purify Water with the Sun

Puralytics makes big claims for its SolarBag. The reusable 3-liter bag promises to destroy pathogens and chemical contaminants and remove heavy metals in water through a combination of solar energy and nanotechnology.
The BPA-free bag weighs just 4 ounces empty and is currently undergoing the process for EPA certification.
More OR Photos & Videos!
Want more gear news and updates from Outdoor Retailer? Check out:
With reporting and photos thanks to Seth Levy.