This Month's Featured Prizes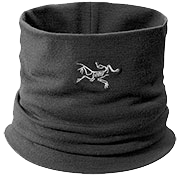 Our 10 Essentials insulation prizes for 2016 are the wool
Arc'teryx Rho LTW Neck Gaiter
and Trailspace-
Ibex Zepher Skull Cap
. The merino wool/spandex Arc'teryx neck gaiter traps in heat and keeps out snow. The Ibex Zepher is made with midweight 18.5-micron fabric for versatility.
Each of our 2016
Reviewers of the Month
get these as part of their
Year of Essential Gear 10 Essentials prize packs
.
Review your gear today
and you might be our next Reviewer of the Month!
Our modern outdoor apparel—with its synthetic fabrics, shiny shells, and windblocking layers—may look a bit different than a simple animal skin. But clothing has been an outdoor essential since humans lost their body hair and needed to find other protection from the cold, heat, and rain.
Extra clothing has allowed mankind to explore farther, migrate to new climates, and stay warm and dry around the campfire.
What you bring on your treks depends on the season. However, extra insulation remains an outdoor essential year-round, especially if you'll be above treeline or out after dark. As The Mountaineers recommend, ask yourself, what would I need to survive the worst conditions I would realistically encounter on this trip?
To see how we got from skins to synthetics, and to celebrate extra clothing (#3 of the 10 Essentials of outdoor gear), we took a brief look at the origins of some classic outdoor insulation, like wool and polypro baselayers, down and synthetic jackets, and the ever-popular fleece.
---
Wool Base Layers (10,000 B.C.)
Both of our 10 Essentials insulation prizes we're giving away in 2016—an Arc'teryx Rho LTW Neck Gaiter and a Trailspace-Ibex Zepher Skull Cap—are made with wool.
And with good reason; the natural fiber is an excellent insulator, breathable, and odor resistant, thanks to the antibacterial properties in lanolin. Wool stays warm even when wet, regulates temperature, and is even biodegradable and fire-resistant.
Wool cloth existed as far back as 10,000 B.C., and around 6,000 B.C. in Mesopotamia sheep began to be bred for woolly fleece rather than hair. Sheep spread across continents in the following centuries, many with the help of Romans building their Empire. And as early as 55 B.C. Britons had developed a wool industry.
Breeding selection and technology have continued to make improvements in the wool we wear. Nowadays you can find wool base-, mid-, and outer layers for year-round use. Wool clothing comes in a variety of weights and gauges (diameter in microns), and can even be woven with other fibers for durability.
Merino wool, which originated in Spain and was domesticated in Australia in the 1800s, is among the most popular in outdoor clothing due to its softness, which comes from having finer fibers and smaller scales.
Thousands of years after its first wearing, wool's insulating properties remain and are appreciated by new generations of outdoor explorers, especially when worn as next-to-skin baselayers.
---
Quilted Down Jackets (1936)
While on the trail or around town, the ubiquitous down jacket can seem like it's always been around. It's warm, lightweight, breathable, and compresses well for outdoor use, making it a super versatile piece.
Credit for the first quilted down jacket in North America goes to sportsman Eddie Bauer and a near-death experience. On a 1935 winter fishing trip, Bauer nearly died of hypothermia after removing his heavy wool jacket for the arduous trek out. After the ordeal, he was inspired to design a jacket that would keep you warm and be light enough to wear when hiking. He also recalled his uncle's stories about the down-filled coats Russian army officers wore when his uncle served in the Russo-Japanese War in Manchuria.
Bauer, who had already been working with feathers and down for fishing flies and badminton shuttlecocks, created the Blizzard Proof Jacket. He tweaked it in 1936 to become the Skyliner, and in 1940 patented its external diamond quilting (see below), which kept the feathers evenly distributed. You can still buy a 1936 Skyliner Original Model Down Jacket from Eddie Bauer.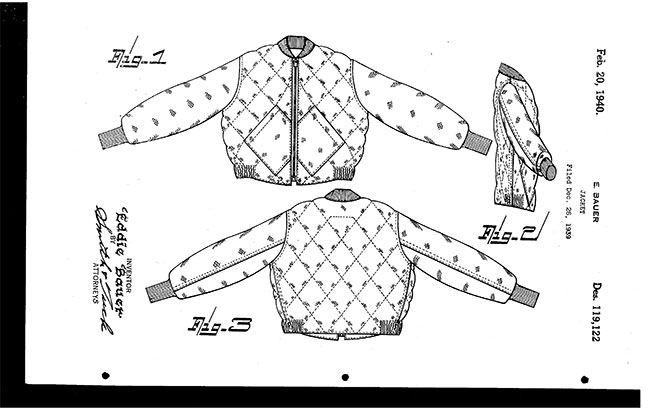 ---
Polypro Base Layers (1970)
Having a dry base layer makes for a warmer, more comfortable athlete, especially if that garment is also lightweight and dries quickly. Enter synthetic polypropylene, or polypro, which moves sweat away from one's skin.
Hydrophobic polypropylene was first spun into yarn in the 1960s. It didn't absorb water, it wicked moisture away from the skin for less chafing, and it was perfect for...baby diapers.
Norwegian company Lifa first used the hydrophobic fibers for that application, until fellow Norwegian company Helly Hansen bought them. Helly Hansen took those fibers and in 1970 launched the first technical polypropylene baselayers (see an original below).
The Lifa layers promised temperature regulation and moisture management by immediately moving sweat away from the skin to evaporate or be transferred to your next layer, keeping your skin dry. North Sea oil riggers, Nordic skiers, and eventually active outdoorsy people everywhere adopted the polypro layers.

Polypropylene baselayers are now abundant across active and outdoor brands, but you can still buy a Helly Hansen made with Lifa. The fabric has seen some updates though, more than 50 to its yarns and knitting structures in the last 15 years.

---
Synthetic Parkas (1970s)
Polarguard, PrimaLoft, Thinsulate, Thermolite. Synthetic insulation is now sold under various brand and proprietary names, all competing against one another and against down with their own performance claims. Synthetic insulation was developed specifically to offer better weather resistance, insulation, and warmth even when wet, compared to down.
In 1973, MSR founder, inventor, and Pacific Northwest climber Larry Penberthy debuted the MSR Mountain Parka. As an alternative to traditional parka fillings, like down, cotton, and wool, he made his with polyester batting insulation.
Penberthy was inspired to design the Mountain Parka by the U.S. Army Research Laboratory's decision to replace soldiers' wool overcoats with ones made of polyester fill. His Mountain Parka was available in three different weights of insulation—Medium, Heavy, or Extra Heavy—and featured side and underarm zippers (the first pit zips!) for venting on the go.
Penberthy wasn't the only one working on synthetic filled jackets though. The Snow Lion Polarguard Parka in 1977 was yet another early model. And in 1983, the U.S. Army Research Laboratory approached Albany International Corp to develop a water resistant synthetic alternative to goose down for military sleeping bags and clothing. In 1986, Patent 4,588,635 for "synthetic down" was approved. We now know it as PrimaLoft.
---
Fleece Pile Jackets (1960-1980s)
Look in a closet, anyone's closet, and you're likely to find some fleece. Whether it's a pullover or pajamas, synthetic fleece is widely appreciated for being warm, soft, lightweight, and hydrophobic. So from where did this man-made fabric come?
Taking credit for the first fleece is those innovative Norwegians at Helly Hansen. In 1961, they partnered with Norwegian Fiber Pile Inc. to develop the first Fiberpile, aka fleece, whose thick pile provided significant warmth. It's still available in an updated ProPile version.
The prominence of fleece as we know it, started in 1979, in Massachusetts. Malden Mills (now Polartec) first sold Polar Fleece, a polyester fabric made from weaving small loops on one side that have been brushed for thickness and that increased insulation without added weight.
Malden Mills went on to collaborate with Yvon Chouinard, founder of Patagonia, to create Synchilla (as in synthetic chinchilla), its first-generation fleece. The Synchilla Snap-T Pullover debuted in 1985, and fleece options proliferated by the 1990s. In 1993, Patagonia became the first outdoor manufacturer to make apparel with post-consumer recycled fleece.
The varieties of fleece used in outdoor garments have continued to expand; you can now choose from different classic weights, Power Dry, Power Stretch, Wind Pro, and Windbloc technical varieties, and in various combinations.
---
From woolly baselayers to synthetic fleece, the examples above include just a few of the outdoor fabrics, inventors, and products that directly influenced what we wear on a hike or climb today. Looking forward, outdoor apparel will continue to change, alongside technology and style.
Whether it's made from the newest synthetic or woven by hand, ultimately, that extra insulation you carry is there to keep you safe, warm, and dry—be it a fleece for evenings around the campfire, a synthetic insulated jacket for winter belaying, or the extra baselayers you packed for an unexpected summer night out in the backcountry.