Congratulations to Minnesota paddler Arnie Carlson, winner of a $400 LED Lenser lighting prize. For reviewing his outdoor gear in July, Arnie won both a 1,000-lumen H14R.2 headlamp and a 600-lumen M7RX flashlight, all thanks to LED Lenser.
Arnie's review of his Bending Branches Viper canoe paddle ("most comfortable paddle I've used for long distance paddling") was randomly selected from the 164 outdoor gear reviews submitted by Trailspace members July 1 through July 31.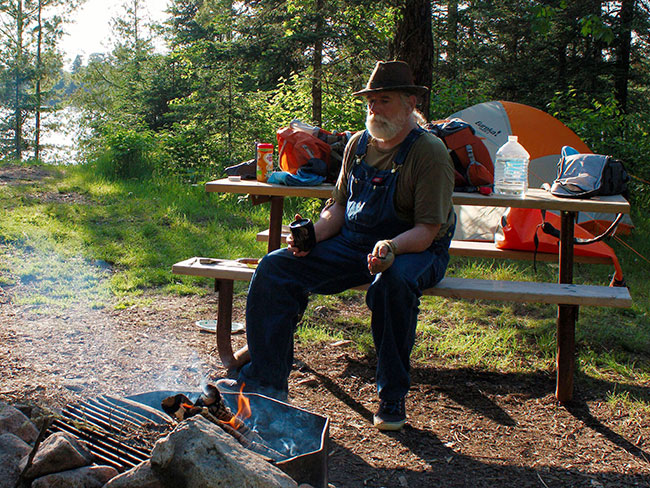 "Wow! What an honor to win a contest!" said Arnie after learning he won the LED Lenser lights. "I am excited, and surprised, to be the winner!"
We asked Arnie to introduce himself to the Trailspace community:
I live in Northern Minnesota about 60 miles from Canada. The Boundary Waters Canoe Area is just north of me. I grew up in Western Minnesota on a farm, and I spent most of my free time riding dirt bikes and snowmobiles. I was in the Navy for nine years and lived in Philadelphia, Guam, South Carolina, and Los Angeles.
I love the outdoors, and I have hiked and camped everywhere I've ever lived. I camped in the Pocono Mountains in Pennsylvania and the Angeles National Forest in California. While in Guam I snorkeled a lot on the reefs and explored the tunnels left over from WWII.
After the Navy I moved back to Minnesota, 45 miles north of the Twin Cities. My family and I went car camping and fishing nearly every weekend for years. In the winter we fish through the ice. I also hike and snowshoe in the winter, as long as it is not too windy; it makes a big difference when the temp is well below zero.
I bought my canoe about 25 years ago and I have made many trips into the BWCA over the years. A year ago I moved "Up North" and I am backpacking and canoe camping a lot again now. I have always been interested in photography, and I recently bought a much better camera and three lenses. I've never been a hunter, but I love to shoot all the animals I can with my camera.
LED Lenser Prizes
Thanks to the folks at LED Lenser, Arnie won two impressive outdoor lights:
The rechargeable H14R.2 headlamp weighs 12 ounces and boasts a maximum of 1,000 lumens (60 minimum). It features a scroll wheel to choose your brightness and a redesigned switch for ease-of-use, even with gloves on. In addition to a USB charger, it comes with a 120V wall charger ($140 MSRP headlamp, $20 MSRP charger).
The rechargeable M7RX flashlight is one of LED Lenser's most powerful and versatile handheld flashlights. It weighs 7.16 ounces, boasts a maximum of 600 lumens (85 minimum), and features Rapid Focus to transition from close to far. It comes with a stow-and-go wall charger and USB adapter ($250 MSRP).
Congratulations, Arnie!
We hope you enjoy your powerful, new LED Lenser lights on your paddling and backpacking trips.