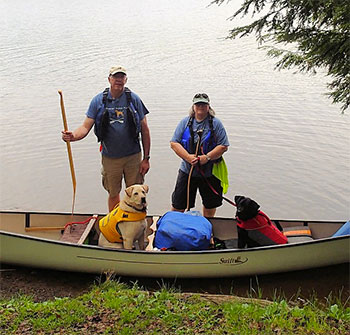 Congratulations to Sheila Bergin Goss of Vermont, winner of a year's worth of Nikwax products, plus a Rab Microlight Alpine Jacket insulated with Nikwax Hydrophobic Down. Sheila won this prize worth $425, thanks to the fine folks at Nikwax.
Sheila's review of her husband's L.L.Bean Trail Model Fleece Jacket ("a very good, solid addition to our outerwear collection") was randomly selected from the 150 outdoor gear reviews submitted by Trailspace members October 8 through 29.
"Woo-hoo, you guys are awesome!" said Sheila on learning she won. "Love the Nikwax!"
Sheila has been a member of Trailspace since 2014. She is retired and lives in northern Vermont where she, her husband, and their two rescue dogs (Gryphon and Edgar Allen Pup) enjoy paddling, bicycling, hiking, skiing, skijoring, kicksledding, and snowshoeing.
Sheila, a Tubbs snowshoe ambassador, is active in several local conservation organizations, including as a volunteer for the Stowe Land Trust Poo Crew, as a board member of Friends of Green River Reservoir and Friends of Waterbury Reservoir, and as a member of the Catamount Trail Association, Vermont Mushers Association, and Green Mountain Club.
In addition to all of that giving, Sheila deserves a shout-out for gifting that prize Rab down jacket to her husband. ("He actually needs the jacket more than me. He gets cold easily, so he will be able to write a great review.") May we all be so generous.
In addition to reading her reviews on Trailspace, you can follow Sheila's adventures at vermontpaddlepups.com.
A Year's Worth of Nikwax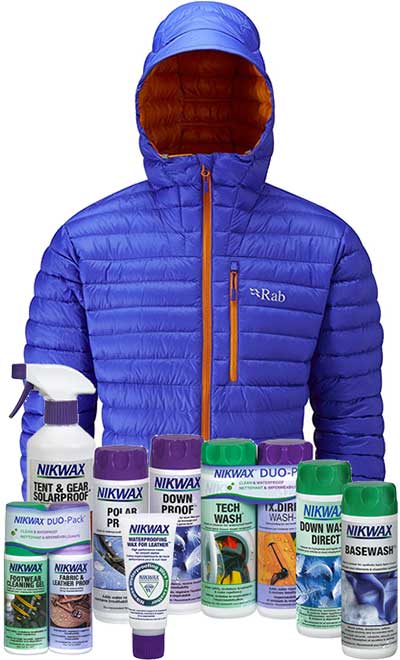 Sheila won $150 worth of cleaning, conditioning, and waterproofing products to maintain her outdoor gear and apparel, thanks to the folks at Nikwax.
Her prize include: Nikwax's Tech Wash, TX.Direct Wash-In, Softshell Proof Spray-On, Down Wash Direct, Down Proof, Tent & Gear Solarproof, Polar Proof, Cotton Proof, BaseWash, Wool Wash, Footwear Cleaning Gel, Sandal Wash, Waterproofing Wax for Leather, Fabric & Leather Proof, and Nubuck & Suede Proof.
Nikwax products are non-toxic, water-based, and do not contain propellant gases or fluorocarbons.
Rab Microlight Alpine Jacket
Her husband will get a warm, lightweight, weather-resistant Rab Microlight Alpine Jacket insulated with 750 fill Nikwax Hydrophobic Down.
The Microlight Alpine Jacket is breathable, windproof, and contains Nikwax's water-resistant, fluorocarbon-free goose down fill. It features mini stitch-through baffle construction, a Pertex Microlight outer fabric, down-filled hood, and YKK zipped pockets.
A minimal, uncluttered design makes it a great layering piece for alpine climbers, skiers, and winter hikers (MSRP $275).
Congratulations, Sheila! We hope you enjoy your Nikwax prize package and that it keeps you warm and dry in Vermont.
Finally, thanks to everyone who shared their helpful gear reviews during this contest period. Each of you helps make Trailspace the best community and resource for finding and selecting gear for human-powered backcountry recreation.