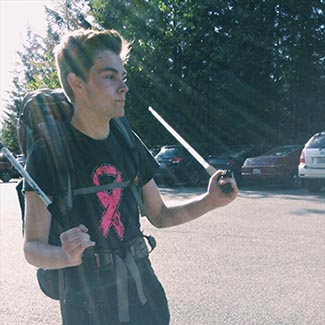 Congratulations to Kevin David from Washington state, winner of our $700 Leatherman multi-tool giveaway.
Kevin won a Leatherman Free P4 one-handed multi-tool, a Signal multi-tool, and a Tread Tempo LT multi-tool watch just by reviewing his gear, thanks to the generous folks at Leatherman.
Kevin's review of his Bahco Laplander Folding Saw ("It's my go-to folding saw. I absolutely love it.") was randomly selected from the 145 outdoor gear reviews submitted by Trailspace members June 1-28 (31 of those were by Kevin!).
Meet Kevin
"I can't believe it! I'm stoked to have won!" said Kevin when he heard the news. "Thank you for the opportunity. I love this community!"
We asked Kevin, to introduce himself: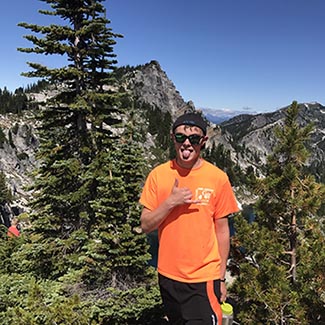 I started adventuring outdoors when I joined Boy Scouts in 2011. I immediately fell in love with camping, hiking, and backpacking. My favorite memories are with friends on camping trips.
I live just 30 minutes from the base of Mount Rainier in Washington, so campgrounds and hiking trails are everywhere! I love getting high up on a mountain to get an epic view, as well as getting down low to a beautiful lake nestled in a valley. And it's all just down the road from me. There is so much to explore, I wish I could see it all!
I love the outdoors so much that I actually have a job where I'm outside all the time. I work at a zip-line obstacle course near Mount Rainier. I'm up in the trees in my harness constantly. I help others have fun on the course, help them enjoy their time outside, and keep them safe as well. It's the best!
I'm pretty young at 19 years of age, so I have a lot more to see and a ton more to learn. I'm excited as life will be taking me to Arizona this fall to continue my education. I'm very much looking forward to exploring a totally different and new area! I can't wait to see what the Arizona desert has to offer.
---

Leatherman Multi-Tool Prize
Kevin will receive a Free P4 and a Signal multitool, plus a Tread Temp watch/multitool, worth $700 total, thanks to Leatherman.
Free P4: Leatherman calls its new Free P4 "the most advanced multipurpose tool ever." It can be used one-handed, has magnetic opening/closing, and all locking features. With 21 tools, including a saw and serrated knife, it weighs 8.6 ounces and is 4.25-inches long ($139.95).
Signal: Designed for outdoor adventures, the Signal multi-tool packs 19 handy tools into its 4.5-inch size and 7.5 ounces. The Signal includes a fire-starting ferro rod, 420HC combo blade, emergency whistle, customizable bit driver to tighten gear, and built-in hammer to anchor tent stakes ($119.95).
Tread Tempo or Tread Tempo LT: The Tread Tempo is the world's first multi-tool timepiece with customizable Tread links and a premium, Swiss-made watch. Its links include 30 hard-working tools (28 on the slimmer LT version), such as screwdrivers, box wrenches, hex drives, a Pozi-Drive, and more ($449.95).
Congratulations, Kevin! Enjoy your new Leatherman tools.
Thanks to everyone who shared gear reviews. You help make Trailspace the best community for finding and selecting gear for human-powered backcountry recreation.