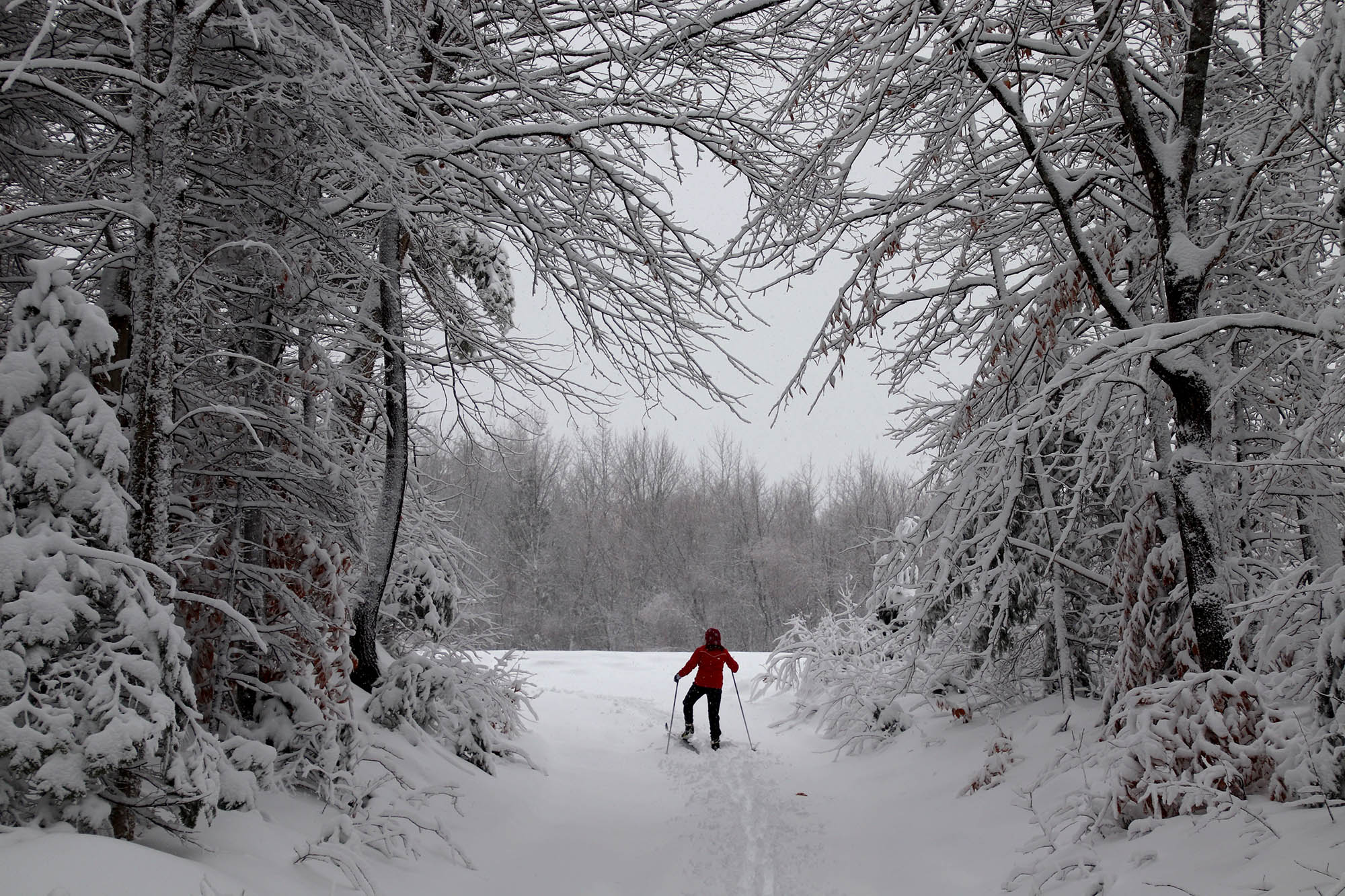 Skiing deep in the woods, snowboarding at the local hill, climbing above treeline, running a snow-covered trail—winter offers up unique adventures and challenges.
While last winter's ski season ended abruptly, over the past months resorts, guides, nonprofits, government groups, and coalitions have been adapting and planning for safe outdoor recreation this winter. Now it's up to us—the skiers, hikers, climbers, snowshoers, and other winter enthusiasts who get out there—to follow their leads and guidance.
Whether we're expert skiers, avid winter campers, or new trail runners, it's in all our best interests to help local mountains and trails stay open and accessible, and to keep communities safe and healthy. To recreate responsibly, consider the following before heading out this winter.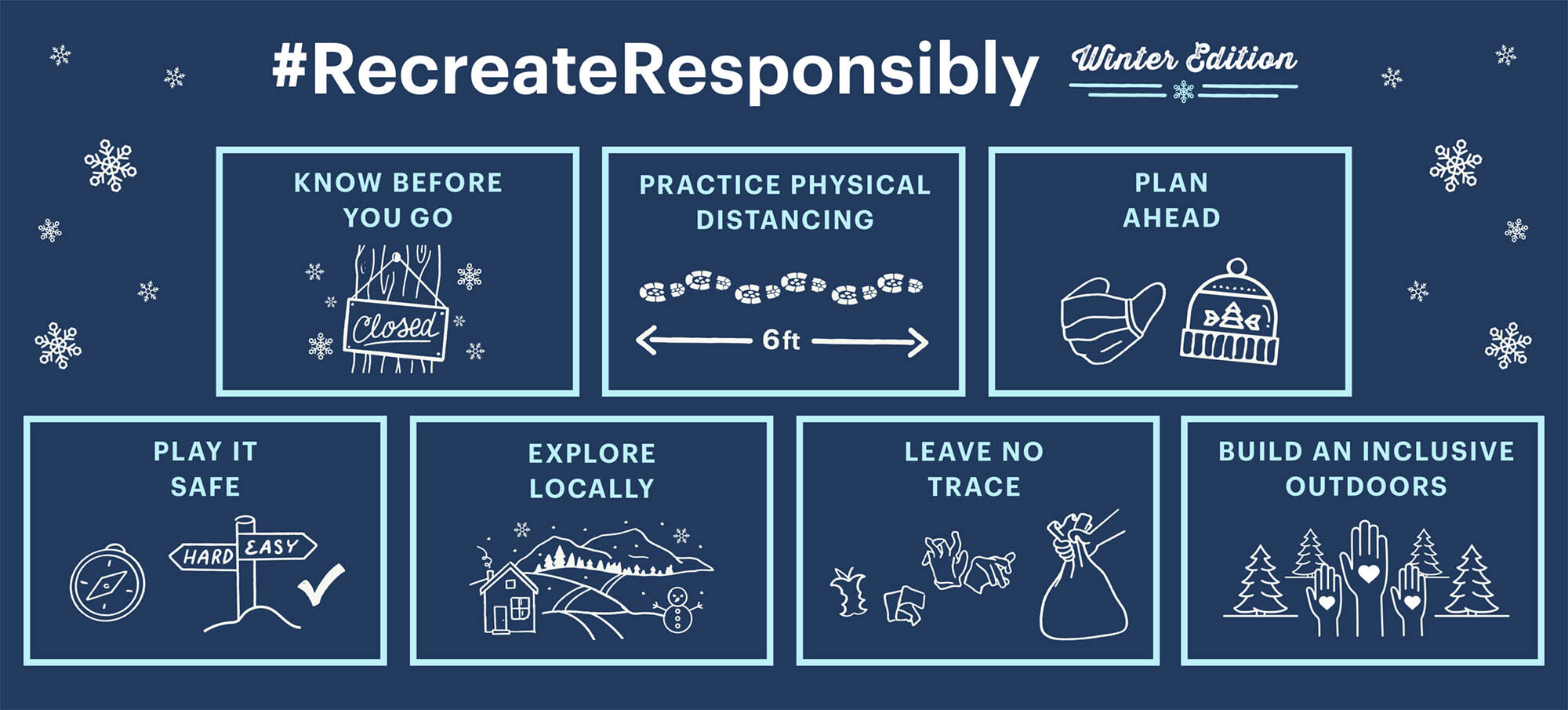 Where Can I Go to Hike, Ski, and Explore Outside this Winter?
Adventure locally–Local is still the spot to be. Get out at different times of the week if your schedule allows.
Discover new(-to-you) spots—This is a chance to explore less traveled locations—land trust preserves, state parks, trail centers, Wildlife Management Areas, etc. Check your state's Bureau of Parks and Lands, land trust network, and other online trail finder resources.
Have a Plan B—If a trailhead looks full or conditions change be flexible with alternatives. While it might feel like it, we don't actually have to run or hike that specific trail at that specific time.
If you must travel, know and have a plan to follow testing and quarantine protocols. Also, consider how you'll keep local communities safe once you arrive.
What Do I Need to Know Before I Ski, Snowshoe, or Hike?
Know what to expect—Research the plans of the ski resort, trail center, or land management area you're heading to in advance. Is it open only to pass holders? Do I need reservations for lunch? What's the bathroom situation? How will shuttles work?
Check conditions—Check current and forecasted conditions. What's the weather forecast? Is the road to that trailhead plowed? Will the parking lot be open? How thick is the ice on that pond? Have appropriate gear, clothing, and footwear for your activity. Keep assessing conditions while you're out there and adjust plans as needed.
Learn local trail etiquette—Know which trail is for which use, understand expectations, and read trail signs. Which trails are open to snowshoers and which to cross-country skiers? What about uphill traffic or fatbikes? Be courteous and don't ruin skintracks or posthole down a snowshoe trail.
Leave No Trace—No bathroom? Know how to do your business outside in winter and how to pack out waste, including your pet's. Be respectful of the lands we love to visit.
Make a plan—You may need to change your usual operating procedure. If there's no bag storage in the lodge, do you have a backpack to carry essentials while skiing all day? How will you keep water and food unfrozen in your daypack? Do you have a face mask that works on the trail with your winter layers? Being responsible means having a plan and the right gear for that plan.
How Can I Prepare for Winter Conditions?
Be prepared for shorter days—If you're new to winter hiking or running, it can be surprising how early it gets dark (but it's only 4 o'clock!). Start early, be prepared to turn around, and bring a headlamp, as part of your Ten Essentials.
Dress for colder temperatures—We all know winter is cold, but it can be dangerously so for the underprepared, especially at higher elevations. Bring extra layers, like a fleece or down jacket, hats and gloves. Avoid cotton. Consider emergency hand and toe warmers.
Be prepared to stay outside longer—Even at a resort you'll likely find yourself standing outside longer this season, such as in lines for a chairlift or a bathroom. Be prepared to boot up at the car and stay out on the mountain longer. Stash extra bars in your pockets and an insulated bottle with a hot drink and lunch in your backpack or car.
Be prepared for everything to take longer—Physical distancing, indoor capacity limits, new protocols, these take more time. And that means we all need to...
...Be patient and flexible.
How Can I Stay Safe Outside in Winter?
Allow plenty of time—If you're new to winter hiking, snowshoeing, or running, know that the local trails you traversed last summer will take longer and pose more challenges in snow and ice. You'll likely need traction or snowshoes, along with warmer, drier footwear and clothing.
Be self-sufficient—Especially in the backcountry, have what you need to survive overnight and the knowledge to stay safe in winter conditions, including avalanche terrain. If you don't know, learn through books, classes, and reputable outdoor groups.
Avoid major risks—Emergency Medicine and Search and Rescue workers and volunteers don't need additional demands. Know your limits, your gear's limits, and carefully consider whether to try new places and activities.
What About COVID-19 and Winter Recreation?
Continue physical distancing—At the trailhead and parking lot, in lift lines and lodges, atop that well-earned summit, keep your distance at least six feet from anyone not in your personal group.
Wear a mask—If you're inside or if you can't physically distance while outside put on a face mask. At ski resorts you'll need to wear one on the chairlift, in gathering spaces outside, in the lodge. Reminder—it goes over your nose.
Wash hands—Pack along some wipes or hand sanitizer if there's no bathroom access. Warning, the evaporating alcohol will cool hands quickly...brrrrr.

Stay home if you feel sick—We know it's a bummer, but a powder day is not more important than the health of yourself or others. Sorry.
Respect guidelines—Follow local, county, and state guidelines. Additionally, be respectful of local trail centers' and resorts' own guidelines and limitations as they endeavor to offer us safe opportunities to ski, snowboard, or snowshoe.
One more way to make a positive impact...
Be kind—Be kind to others also out hiking, skiing, or running by wearing a mask, practicing social distancing, and being welcoming (we can still wave and say hello!). Be kind to staff, patrollers, and volunteers by being patient and respectful, and following guidelines, so they can stay safe too.
Winter is a transformative time of year to be outside skiing, hiking, camping, running on snowy trails...and being outside in nature is healthy for our minds and bodies. By recreating responsibly we can help our mountains and trails stay open, enjoy our favorite winter activities when the snow falls, and keep our outdoor community safe.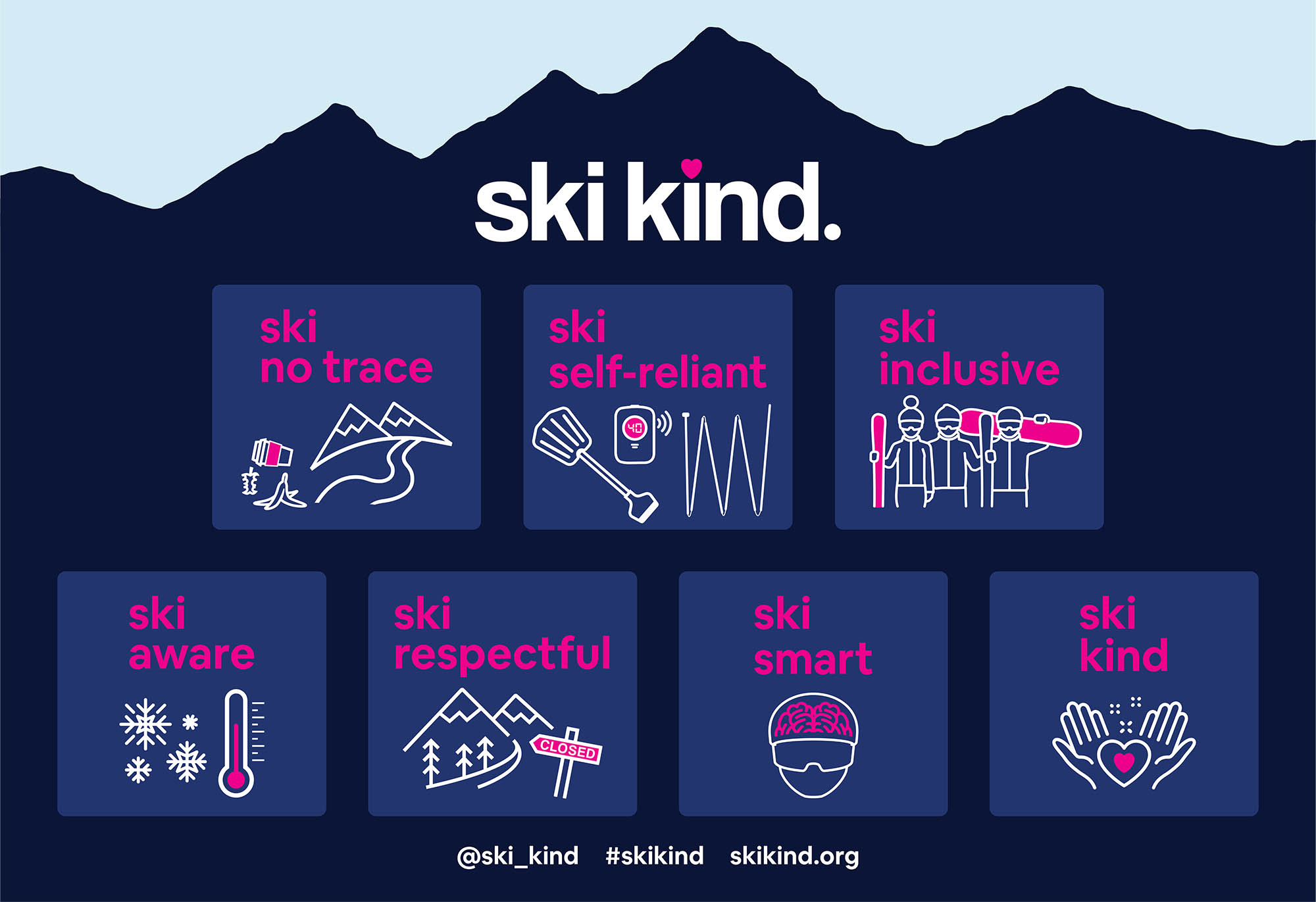 For more info: