Alico Tahoe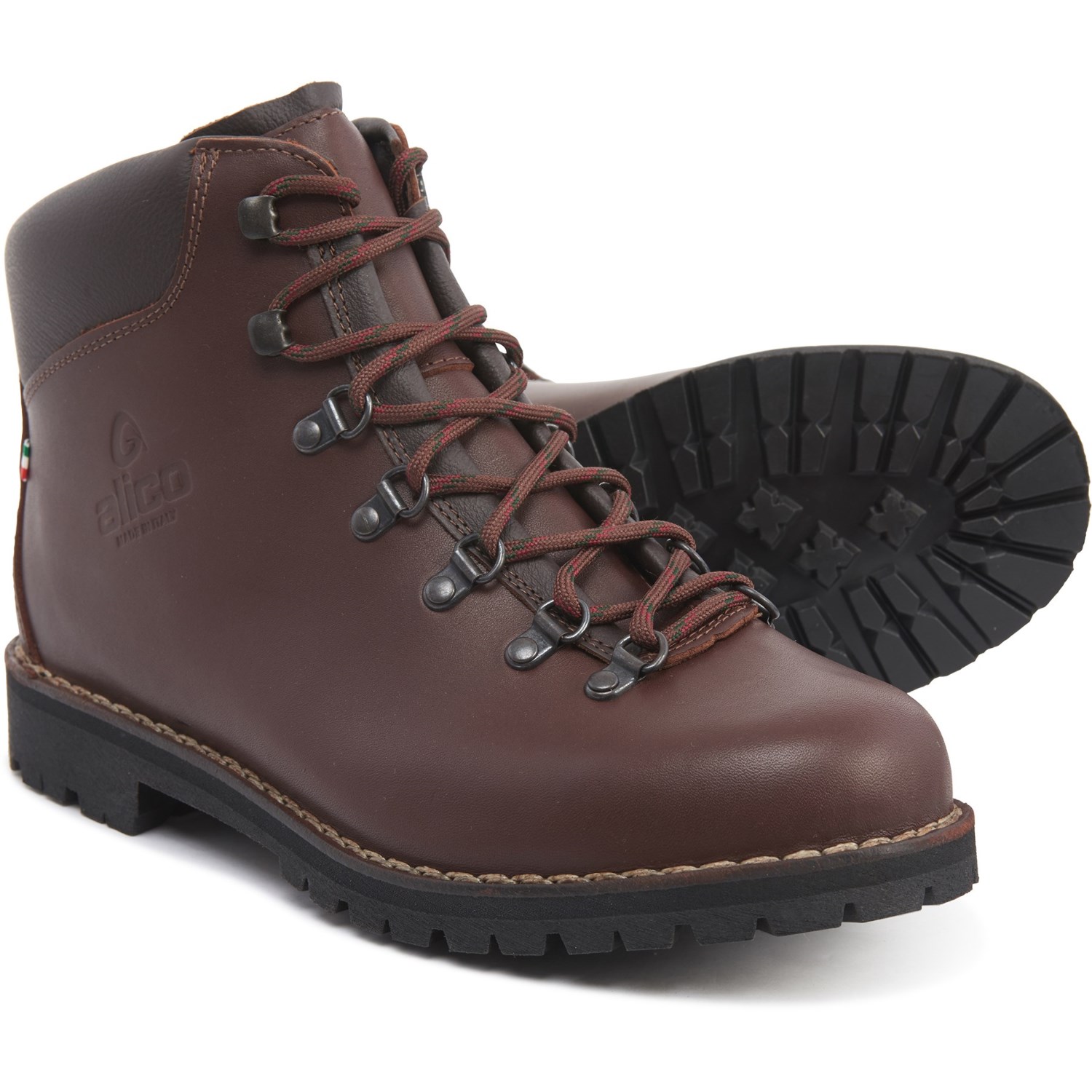 Specs
Men's
Price
Historic Range: $149.99-$199.95
Reviewers Paid: $79.00-$180.00

Women's
Price
Historic Range: $149.99-$199.95
Reviewers Paid: $119.00

Reviews
10

reviews

5-star:

8

4-star:

1

3-star:

0

2-star:

1

1-star:

0
Old school...in the best possible way. These boots hearken to an era when Noregian welt construction with top grain cowhide, Vibram Montagna lugged soles, and a full calfskin lining were all standard features on a top of the line Italian boot. Maybe these are the last of a vanishing species, so I'd recommend you get a pair now.
Pros
Italian craftsmanship
Top quality cowhide upper
Calfskin liner
Full Norwegian welt construction
Impeccable construction and finish
Cons
Weight: 4 lbs, 4 ozs, for my men's size 11 pair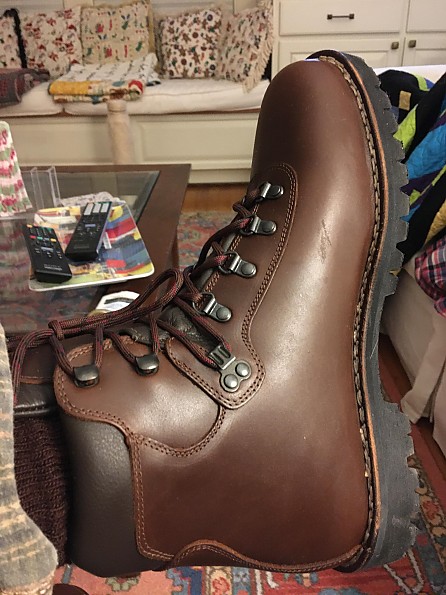 I am more and more convinced there's very little in the way of innovation that can improve upon a commitment to a time-honored and proven design, using the highest quality materials, and executed with hand craftsmanship to produce a well-made, durable, and attractive product.
Exhibit A is this pair of Alico Tahoes. While the competition's high-tech polymer soles and Goretex linings might provide immediate comfort right out of the box and cut weight, I think the real test of a hiking boot lies in how it will be performing a few years down the trail. Judging from what I see now, I'm betting this pair will still be performing well years from now.
This is very much a traditional pair of hiking boots:  Norwegian welt construction means a single piece of heavy top-grain leather comprises the entirety of the upper. The only flat seams found are at the heel of the boot. A double row of stitching attaches the upper to the midsole.
A look inside the boot reveals more top-quality leather, lining the entirety of the interior; other reviewers mentioned a Drilex or other man-made lining, so you can imagine my surprise and delight at what appears to be calfskin or another supple glove-quality leather—and it extends fully into the toe of the boot. But most remarkable of all is the fact that this glove-leather lining is seamless at the heel; in fact the only seams to be found in the lining are at the sides near the ball of the foot--well away from a friction or wear point.
The soles are traditional Vibram Montagna/Carrarmato, fully lugged. Fit and finish of the Tahoes is impeccable:  all seams are sewn straight and true, and the leather shows no blemishes or flaws. Quite frankly, I do not believe I have ever owned a better crafted pair of footwear.
These Alicos require a commitment to a prolonged break-in period, but I am convinced they will be worth the effort and time. I am likewise convinced that with proper care and application of waterproofing wax, they will remain as water resistant as can reasonably be expected.
I own a pair of Goretex-lined La Sportiva mid-weight hikers, which I intend to wear when I know the weather will be wet, but I suspect once the seams open on them or the Goretex lining wears or frays, I can expect to be wearing a water-resistant boot, not a water-proof one. I plan to keep the welt seam well waxed on these Tahoes and am confident the absence of seams elsewhere on the boot will keep water out within reason.
At 4 lbs, 4 ozs, per pair in size 11, these Tahoes are not in any way lightweight boots; they weigh only slightly less than the Alico Summits, which are classified as heavyweight. But one gets the sense that the weight is deployed in quality leather and durable soles. They could have saved some weight by going with a man-made lining rather than glove leather, but the leather lining is worth the extra few ounces.
Fit was spot-on for me; I ordered my usual street shoe size, and these fit perfectly. They extend fully over the ankle and have a padded leather collar that allows them to be tightened sufficiently to provide firm lateral support. They are stiff, of course, and I have begun the break-in process. I intend to wear them indoors before moving onto to progressively longer outdoor hikes.
When I have a full day to devote to break in, I will stand in ankle-deep water until I feel them start to leak, and then wear them continuously for the rest of the day, until they are dry on my feet. In my experience, this yields a boot perfectly molded to my foot.
I will be using these boots primarily for upland bird hunting but am sure they will perform well for hiking or other traditional off-pavement uses. Buy a pair while Sierra Trading Post still has them available. I got mine at a ridiculously low price during one of STP's sale offerings; they more than doubled in price, going up by an additional $100, two days after I placed my order. I don't know of any other retailer selling Alicos in the US besides STP.
In short, buy these boots for the long haul—and with the recognition that they are neither the lightest nor the most maintenance-free or high-tech boots available. In the long run, however, the highest quality materials, hand-assembled by Italian cobblers in a proven design, will outperform and outlast the higher-tech, lighter-weight competition.
Experience
I am 62 years old and have spent well over 50 of those years afoot afield—hunting, fishing, and hiking. I have become an educated student of outdoor footwear and have gained the utmost respect for quality in material and construction. These Alico boots epitomize what I have come to value in hiking boots.
Source: bought it new
Price Paid: $79

The Alico Tahoe is a hiking boot made by Alico sport, an Italian company. As far as I know, sierratradingpost.com is the sole US distributor of Alico boots, and they only carry a handful of the Alico line.  
I bought these boots because I was looking for a durable boot that would offer more protection during bushwhacks with a welt sole that could be replaced, as I have grown weary of the kabuki dance involved each time I needed to replace my trail runners du jour. At the time of this review, these boots have been used for day hikes ranging from 7-12 miles in length in order to break them in for longer treks, plus one overnighter.  
I currently have 175 miles on them, with a majority of these miles coming from on-trail use with short bushwhacks. I have had an opportunity to use these boots on ice and snow as well. The terrain I have hiked in has been mostly forest trails, marsh boardwalks, some bushwhacks through thicket, and the occasional hike through mud, snow and/or ice as nature dictates. I live in west Michigan, so steep rocky mountain trails are non-existent unfortunately.
I ordered these boots in a 10D (D being "standard width") from the aforementioned STP.com, which also offers a "2E" width.  According to STP, MSRP is $274.95 with a perpetual "sale price" of $199.  I got 50 bucks off since STP had a promotion where any first purchase through STP was 25% off.  
Straight out of the box, you can't help but notice that these are just a nice looking boot.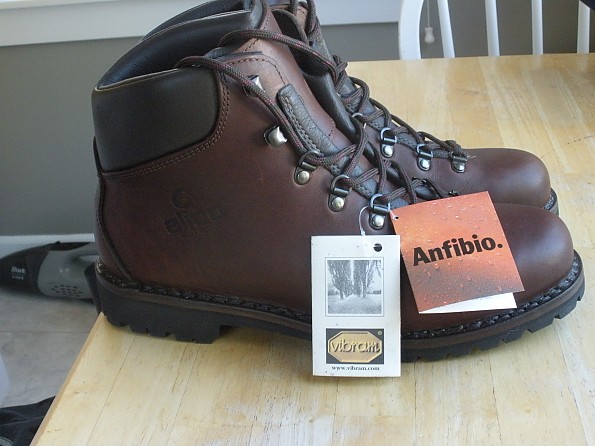 Alico's official site, alicosport.it displays a different version of this boot, so I didn't use any of the info provided there. Per STP.com, these boots weigh 3lbs 4 oz per pair, are 5.5 inches high, and feature a nylon and steel half-shank.  
These boots are 2.8mm full-grain Anfibio leather with a fully gusseted tongue.  The boots are lined with dri-lex, designed for "excellent moisture movement properties as well as outstanding abrasion resistance, hand-feel, and attractive patterns and textures" per dri-lex manufacturer website.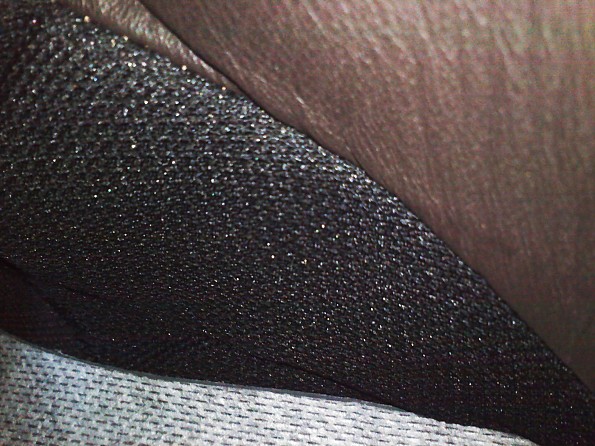 The sole is your standard Vibram Roccia block. 
Putting these boots on my feet for the first time, I was struck by how stiff they were (remember, I have used trail runners exclusively until getting these). I felt like I was wearing ski boots as I walked around my living room. During my first day hike, I made it about 4 miles until my feet began giving me serious grief.  
I have been able to progressively increase my mileage until I hit around 125 miles, at which point I felt comfortable finally taking these on an overnighter to get a feel for how my feet might tolerate them on a longer trip. Following the overnighter, I treated these boots with Obenauf's leather oil, as they looked like they needed some hydration.

I did stay mostly comfortable on the overnighter, but I think it will take all of 200 miles to fully break these in. Since the overnighter, I logged an additional 50 miles on them.
Things I love about these boots: They are obviously durable and well-made. I have kicked plenty of stumps and branches during hikes accidentally, as well as having to kick through some thick stuff on bushwhacks and the leather has held up well without anything more than scuffs. The Vibram sole is grippy in mud, ice, and snow.  The only surface I have slipped at all on would be wooden boardwalks covered in early morning dew, and I don't know of many soles that can keep you from slipping in that situation.  
The dri-lex liners manage moisture extremely well, as my early hikes were in late August and heat was not lacking. The laces on these boots do not slip, and double knots are not necessary.  The padded ankle support is very comfortable. I haven't done the "bathtub test" with these boots, but I have hiked in rain and through plenty of puddles following treatment with Obenauf's with no leaks.
I also like how these boots are Gore-Tex free, as Gore-Tex liners just wind up as sweatboxes on my feet. These boots run narrow, and are a perfect fit for my lower-volume foot (I believe European boot manufacturers generally make lower-volume boots than their American counterparts, but I am not certain). I also just like how these boots look. After 175 miles, a damp cloth following a hike makes these pups look virtually untouched.  
Things I am not as high on: These boots come with a cheap foot bed worth slightly more than paper towel. I replaced them with Sole Softec Response insoles. While I was planning on replacing the soles anyway, it was kind of disappointing to see the insoles as nothing more than a thin slip of fabric on top of cheap foam.  Also, I would prefer eyelets to D-rings for laces, but that is a minor nit to me.  Most people prefer a leather-lined boot over a synthetic material, so I would be interested in comparing the two.  For now I don't have a leather-lined boot for reference.
Based on the few negatives I have mentioned, I suppose it would be fair to give these boots 4 or 4.5 stars.  However, I feel that the discernible build quality and durability more than make up for any shortcomings elsewhere.
I plan on returning to this post with a follow-up after a planned 50-mile full-on backpacking trip in Ontario this coming Spring. Until then, I will continue working on breaking these in.

Price Paid: $154

I've worn them now for well over a year, and they show virtually no signs of wear. I wear them hiking here in Colorado Rockies, foothills, urban greater Denver trails, yard work, outdoor construction—EVERYTHING.
Pros
Wears like iron—if leather is well lubed and oiled
Good ankle support even after fully broken in
Cons
Only one—boot laces are harder than average to keep tight
I bought these in February 2013. I have literally put them through hell; hiking and climbing in Colorado Rockies, hiking urban trails in greater Denver, worn to office [look great as long as kept well lubed with Obenauf's Leather Oil — and in wet weather and hiking wet snow well daubed with Obenauf's Heavy Duty LP.
When doing continual spring walking/hiking in conditions with a lot of wet son and a lot of snow water [that's the kind that can go through leather like a dose of salts] I lightly apply LP at days end probably every other 2 or 3 days.
THAT IS ONE OF THE KEYS TO KEEPING YOUR TAHOES LOOKING LIKE NEW. PEOPLE QUITE OFTEN ASK ME WHEN I BOUGHT MY BOOTS, CUZ' THEY LOOK ALMOST NEW.
ANOTHER TIP TO KEEP THEM LOOKING THAT WAY: I've so far re-dyed them with cobbler's leather dye after they've been through a particularly wet experience. The toes can start to look a little washing out after a long series of such treks. So, after drying them completely for a few days, I mix brown and a little bit of black leather dye ill I get it to just match the factory stain, apply it liberally and voila, I got almost brand new looking boots THAT I DON'T HAVE TO BREAK IN.
If you younger folks have never owned a pair of Norwegian-welt [stitched soles] boots, you simply do not know what you are missing. That is the way ALL boots were made when I was a young man. in the 1960s. The only reason they began doing "glued" soles was to make dirt "cheap" boots. Before that, people didn't buy boots they didn't figure would last them at least 10 years [resoling required of course].
BUY AND ENJOY
Desmond
Source: bought it new
Price Paid: $128 on a fabulous sale at STP

So far 5 stars. I just got them a couple days ago, but I have been looking for a high-quality, all leather boot that will fit my "Birkenstock-toes" and my very narrow heel and I am so delighted to have found something that really fits and feels great with toe wiggle room and no pinching and my heel is snug. I'll update once I start hiking in them after the waterproofing ... I can't wait!
UPDATED JUNE 15, 2007
Hi, I wrote a quick review recently and since I have very much enjoyed these boots. My feet have stayed dry after waterproofing. The best part are the grippy soles on the slippery rocks—my Asolos do not compare and I slip around, my Vasques are soaked after a short time and my feet hurt from the soft soles.
The only not-perfect-part is that I feel they need a better foot pad, but I have been on rather long hikes with them out-of-the-box and they have been tremendous on the rocks, no foot-aches. There is enough support for my ankles, great padding when I wedge between rocks and they needed very little break-in time.
I love them!
Materials: leather
Use: hiking
Price Paid: $119

It's a modern version of the old '70s-'80s style of hiking boot.
Pros
Stitched sole
Soft leather liner
I don't know about you, but for me a good sturdy boot just makes me feel invincible. When things get tough you have to be able to depend on your gear. This is that kind of boot.
It is very stiff at first, but just like the boots of the past once you break it in to your foot there is nothing more comfortable. That's when you are confident that through thick or thin, creek or mountain, the boot is not going to let you down halfway to the top.
Source: Someone bought it for themseves and gave up on the break-in and passed on the best pair of boots they had ever had.

After my Garmont Syncro GTX hiking boots bit the dust (the BiUurethane midsole started deteriorating—very disappointed), I looked high and low for another Italian designed boot. I have "duck" feet: wider at the toes, narrow at the heel.
This boot is almost too roomy but I took out the old cushion insert from the Garmonts and placed in on top of the insert that came with the Alicos—perfect. Or just wear a thicker sock or purchase a nice new insert if you have the same problem.
I love everything about these boots: The Norwegian welt construction (almost impossible to find); the thick, oiled, top-quality leather; the Vibram soles; even the laces are extremely sturdy. And they're not made in China, as almost all footwear is today.
Break-in is time is minimal...just wear them around the house for a day or so. They're also quite attractive (they don't look like an SUV). Just a simple, time-tested design with quality materials and craftsmanship.
Grab these boots while you can get them. You won't be disappointed. I look forward to many years of enjoyment from these boots.
Materials: oiled, nubuck leather; vibram sole
Use: day hikes and everyday wear
Break-in Period: almost non-existent
Weight: approx. 1.58 kg / pair
Price Paid: $119

These boots are great. I have worn them for four years and hiked countless miles in the Sierra and Alaska with them. Almost no breaking required, Never once had a blister and they provided enough ankle support for "on trail heavy loads".
Off trail you'll want a heavier boot perhaps depending on the weight you are carrying, which is why they also make mountaineering boots. I just ordered a new pair, and am SERIOUSLY thinking of getting their mountaineering boot for my late-fall early-winter trips into the Sierra and Washington.
Materials: Leather
Use: On trail medium to heavy loads
Break-in Period: weekend trip
Weight: 175

I have owned a pair of these boots for eight years. I bought them from EMS when I don't think they were even called Tahoes.
I have worn them backpacking, working construction, and now occasionally to the office. At one one point they were the boots I wore every day for two years. They are still holding strong. With care and some resoling they will probably last another eight.
Price Paid: $180

I climbed three fourteeners with new boots and never had any problem breaking them in. I found the overall performance of the Alico Tahoe to be everything I desired.
Materials: leather
Use: non-technical mountain trekking
Break-in Period: 1 day
Price Paid: $110

Nice attractive uppers. Not suitable for use off smooth surfaces due to flimsy sole, retains moisture and too hot for a lightweight boot. Sole doesn't last very long. I would not buy this boot again for any purpose.
Materials: Leather
Use: walking
Break-in Period: 2 weeks
Weight: 3.5 lbs
Price Paid: $125

You May Like