Alico Summit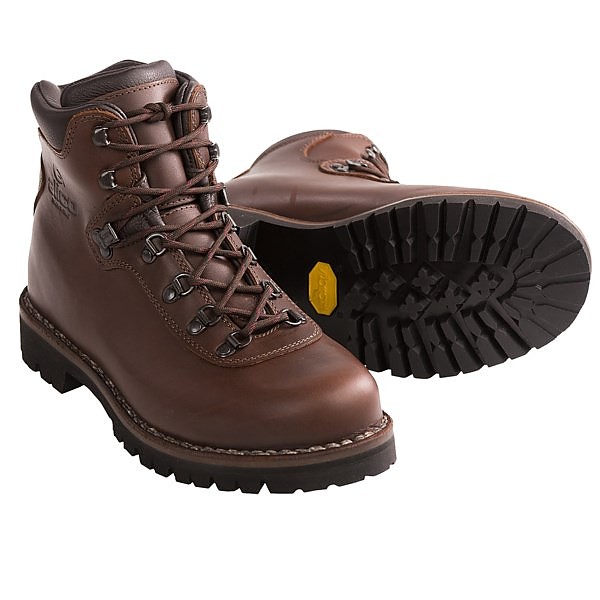 Today, three months after I first wrote it, I am amending my review with one crucial piece of information that has just come to my attention: these Alico boots are not Tahoes but Summits. They came brand-new, in a factory sealed box marked Tahoe, and the invoice from Sierra Trading Post listed them as Tahoes, but they are not: they are Summits. Read on, and you'll see why I'm not complaining in the least about this apparent mix-up by the factory or by Sierra. They are great boots.

Old school...in the best possible way. These boots hearken to an era when Noregian welt construction with top grain cowhide, Vibram Montagna lugged soles, and a full calfskin lining were all standard features on a top of the line Italian boot. Maybe these are the last of a vanishing species, so I'd recommend you get a pair now.
Pros
They are actually the Summit model
Italian craftsmanship
Top quality cowhide upper
Calfskin liner
Full Norwegian welt construction
Impeccable construction and finish
Cons
Weight: 4 lbs, 4 ozs, for my men's size 11 pair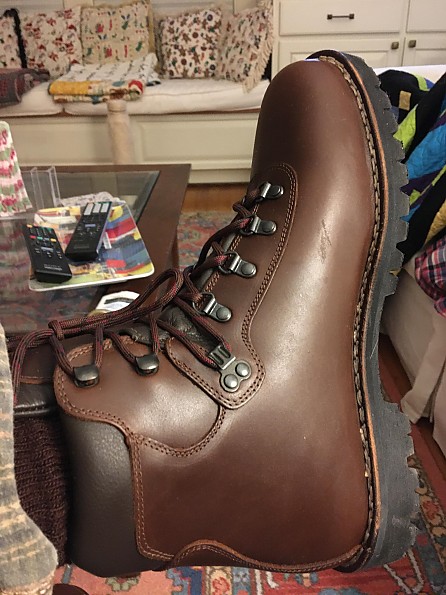 I am more and more convinced there's very little in the way of innovation that can improve upon a commitment to a time-honored and proven design, using the highest quality materials, and executed with hand craftsmanship to produce a well-made, durable, and attractive product.
Exhibit A is this pair of Alicos. While the competition's high-tech polymer soles and Gore-tex linings might provide immediate comfort right out of the box and cut weight, I think the real test of a hiking boot lies in how it will be performing a few years down the trail. Judging from what I see now, I'm betting this pair will still be performing well years from now.
This is very much a traditional pair of hiking boots: Norwegian welt construction means a single piece of heavy top-grain leather comprises the entirety of the upper. The only flat seams found are at the heel of the boot. A double row of stitching attaches the upper to the midsole.
A look inside the boot reveals more top-quality leather, lining the entirety of the interior; other reviewers mentioned a Drilex or other man-made lining, so you can imagine my surprise and delight at what appears to be calfskin or another supple glove-quality leather—and it extends fully into the toe of the boot. But most remarkable of all is the fact that this glove-leather lining is seamless at the heel; in fact the only seams to be found in the lining are at the sides near the ball of the foot--well away from a friction or wear point.
The soles are traditional Vibram Montagna/Carrarmato, fully lugged. Fit and finish of the Tahoes is impeccable: all seams are sewn straight and true, and the leather shows no blemishes or flaws. Quite frankly, I do not believe I have ever owned a better crafted pair of footwear.
These Alicos require a commitment to a prolonged break-in period, but I am convinced they will be worth the effort and time. I am likewise convinced that with proper care and application of waterproofing wax, they will remain as water resistant as can reasonably be expected.
I own a pair of Goretex-lined La Sportiva mid-weight hikers, which I intend to wear when I know the weather will be wet, but I suspect once the seams open on them or the Goretex lining wears or frays, I can expect to be wearing a water-resistant boot, not a water-proof one. I plan to keep the welt seam well waxed on these Tahoes and am confident the absence of seams elsewhere on the boot will keep water out within reason.
At 4 lbs, 4 ozs, per pair in size 11, these are not in any way lightweight boots. But one gets the sense that the weight is deployed in quality leather and durable soles. They could have saved some weight by going with a man-made lining rather than glove leather, but the leather lining is worth the extra few ounces.
Fit was spot-on for me; I ordered my usual street shoe size, and these fit perfectly. They extend fully over the ankle and have a padded leather collar that allows them to be tightened sufficiently to provide firm lateral support. They are stiff, of course, and I have begun the break-in process. I intend to wear them indoors before moving onto to progressively longer outdoor hikes.
When I have a full day to devote to break in, I will stand in ankle-deep water until I feel them start to leak, and then wear them continuously for the rest of the day, until they are dry on my feet. In my experience, this yields a boot perfectly molded to my foot.
I will be using these boots primarily for upland bird hunting but am sure they will perform well for hiking or other traditional off-pavement uses. Buy a pair while Sierra Trading Post still has them available. I got mine at a ridiculously low price during one of STP's sale offerings; they more than doubled in price, going up by an additional $100, two days after I placed my order. I don't know of any other retailer selling Alicos in the US besides STP.
In short, buy these boots for the long haul—and with the recognition that they are neither the lightest nor the most maintenance-free or high-tech boots available. In the long run, however, the highest quality materials, hand-assembled by Italian cobblers in a proven design, will outperform and outlast the higher-tech, lighter-weight competition.
Experience
I am 62 years old and have spent well over 50 of those years afoot afield—hunting, fishing, and hiking. I have become an educated student of outdoor footwear and have gained the utmost respect for quality in material and construction. These Alico boots epitomize what I have come to value in hiking boots.
Source: bought it new
Price Paid: $79

Strong, reliable, durable, comfortable backpacking boot. Finally, a dependable full leather boot that can be re-soled for "lifetime" use. Interior glove leather cradles the foot and ankle. Footbed needs a Superfeet (black) upgrade, but still works.
Pros
Full leather construction
Norwegian Welt sole stitching
Metal D-ring lace eyelets
Vibram sole
Fully padded tongue
Removable footbed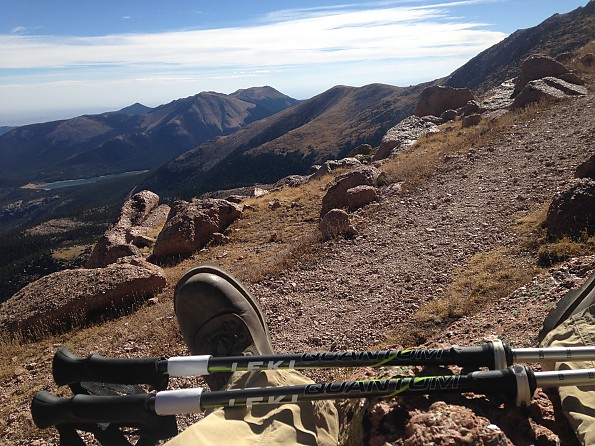 The Italian Alico brand boots are imported by Sierra Trading Post, and sold through their website and storefronts. Handmade in the Dolomites, by craftsmen.
The Summits are pretty stiff straight out of the box, but all good boots are. They break in fast and form to your foot nicely. After several "other name brand outdoor company" glued sole boot failures, I sought a boot with a stitched sole to alleviate this problem.
I bought the Alico Tahoes for my wife and daughter a couple of years ago, but wanted higher ankle coverage and leather interior. Along with my family members, I was impressed with the Tahoes, so I sprung for the Summits. So glad I did!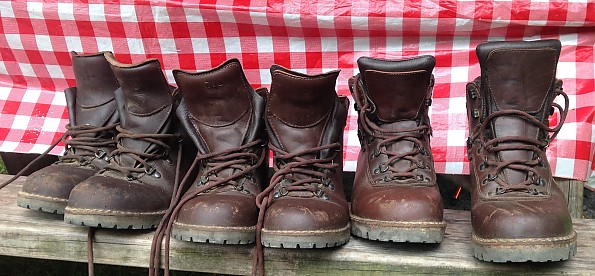 When paired with a decent Merino wool sock (Smartwool PhD), I put in 26 miles up and down the Barr Trail in 13 hours with no blisters...and that with a fairly new boot. I find that very impressive.
I wear 9.5 medium in all my shoes and found the Summit to fit true to size. The Summit offers some good wiggle room in the toe box as well. During descent, I laced the boot up tighter and did not experience my toes jamming the front of the toe box. I experienced no heel slippage or hot spots.
The height of the boot was perfect for keeping scree out, and offered solid ankle support and protection. While every foot is different, my foot was perfectly comfortable inside the boot for extended periods without overheating or undue sweating.
As will all my leather boots, I treat them consistently with Obenauf's Heavy Duty LP, so the leather stays conditioned and doesn't dry out or crack. I experienced no water penetration, but that could be due in part to the Obenauf's.
The padded, gusseted tongue eliminates unwanted pressure to the top of the foot and keeps debris from working its way inside the boot.  The metal D ring eyelets are robust and secure.
The Vibram soles are reliable and offer excellent traction and sure-footedness. Sole stiffness was much appreciated hiking in Colorado where sharp, half-buried rocks are the norm. I did mention the thin removable insole as a Con, but in reality I have not had issue with it. I may try a low profile insert like the black Superfeet, just to see what advantage I may gain.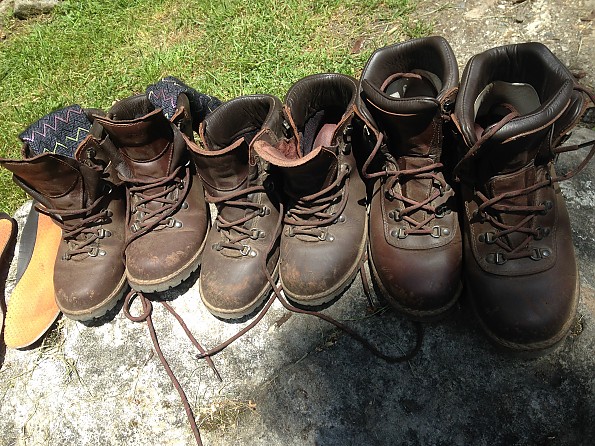 I have only had my Alico Summits for one year and I am thoroughly pleased. So much so, that I plan to purchase a pair of the Alico Guides to add to my stable of Alicos.
Source: bought it new
Price Paid: $125 from Sierra Trading Post

The Alicosport Summit is a great all leather boot for the money!
I have had these boots for two years and have put about 400 miles on them, mostly in rocky steep terrain. I was looking for a tough, rigid boot that would fit my wide feet and hold up to years of backpacking and hiking.
I am happy to report that the Summits have met my needs, they are a great old school backpacking boot. They show little signs of wear, all the stitching is just as neat and tight as the day I got them. They are like a good baseball glove.
If you are looking for boots that are lightweight, or flexible, or ready out of the box, don't buy these! These also do not have Gore Tex liners, which I do not like.
But, if you need serious protection from rocks, total waterproofness, rigidity for climbing steep rocky slopes, and the ability to use crampons or snow shoes, and are willing to waterproof boots the right way, take a serious look at these.
The Summits are a one piece full grain leather boot with a welted sole and Vibram Montagna Block tread. You will have to add aftermarket footbeds, and waterproof them with a waterproofer suitable for oil tanned leathers. I am using Superfeet Green footbeds and Obenauf's Heavy Duty LP waterproofer.
After a lengthy break in process of about three months, and adding footbeds, these boots became very comfortable, just as comfortable as my older Scarpas and Asolos. I love the rigidity provided by the half shank for kicking steps and edging rocks on trails. The built in rocker makes trails that are flatter and easier going, a breeze to walk down.
The glove leather liner in these boots has synthetic liners beat hands down as far as I'm concerned. The leather liner is cooler in summer, and if the liner is waterproofed along with the outside of the boot it makes getting some water inside less of a big deal, you just dry them out with a bandanna or pack towel. This helps with stream crossings on rocky streambeds where you might get some water over the top, just remove your socks, roll up your pants, and cross in the boots and wipe them out if needed, put the socks back on and go. I don't always carry shoes for stream crossings and a leather liner makes a big difference.
The padded tongue and padded scree collar are comfortable and show little signs of wear just like the rest of the boot.
The lacing system in these boots is rugged and I haven't had any problems other than having to replace laces.
I would say the Vibram Montagna Block sole on the Summits is not as grippy as my Asolo hikers (which wore out quick), but the more I wear them the better they seem to get.
The only place I could find these boots was Sierra Trading Post, I don't usually mail order boots, but after trying on a buddies pair I had to try them out for myself. I have wide feet and ordered the wide size, and a half size larger than what my feet measure. I got lucky maybe, but the Summits fit good.
I plan on buying another pair soon, I don't want to wait until they decide to quit making these!
Once again, these are great for backpacking on steep, and or rocky terrain, and a good boot for the money.
Price Paid: 220.00 USD

I love this boot. I am a Forester and need a boot with a sewn sole instead of glued to hold up to the adverse terrain that I deal with. My job is all bushwacking and no trail walking. These are my wet weather boots because of the thickness of the leather. Tip for break-in, neats foot oil. It will soften the leather and speed up the break-in. After broken in don't use the neats foot oil again until the leather needs rejuvination after extended wet/dry periods. Otherwise the leather will be to supple and lose its durabilty and supportiveness.
My two complaints with this boot is a wide is a little too wide and the sole is a little slippery. Fortunateley this can be solved by putting thicker insoles in.
As for the grip, they can be resoled for about $40 by you local cobbler with the classic and still the best vibram sole. I haven't resoled yet, because they aren't that slippery and after wearing them for awhile you adjust to the weakness and dig in with the sides and heel instead of the toe and ball.
They will keep you feet relativeley dry. I think on the trail they would keep you feet pretty dry. My experience has been that walking through brush and grasses will soak your feet a lot faster than puddles on a trail. I think it's a surface tension thing.
These are a bulletproof boot. I have worn them for three seasons now and will probably wear them for at least three more. I wear them at least 2-3 days a week for eight hours at a time for 26 weeks a year. The key to this boot is maintenace. It's all leather and must be oiled and waxed. Nixwax is not enough. Neither is bee's wax or sno-seal. The best treatment neats foot oil and then sno-seal over top.
DO NOT HEAT THE BOOT. It only cracks the leather. Wash the boots let them dry so that when you push the leather it feels damp, but no water squeezes out. Then apply a light coat of neats foot oil. By the time you have both boots treated the first boot will be ready to treat with sno-seal. Rub it in with you fingers or a leather glove. At this point I usually put them on my boot drier which uses very low heat circulating through the boot. By treating the boot while still wet and driing them from the inside with a boot drier I believe all the oil and wax is being sucked into the leather. I use the same process with Obenauf's leather perservative minus the neats foot oil because it contains oil.
You must treat them everytime you soak them or else they will dry rot. This is my ritual for boot care. Try it, it will work. I make my living on my feet and in my boots. One of my co-workers got the same pair and only got two seasons out them because he didn't treat them.
Materials: leather
Use: Walking straight compass lines through the woods
Break-in Period: 2 weeks for me
Weight: 235 lbs
Price Paid: $120

In my opinion, the Alico Summit is the best all leather, general purpose, hiking boot you can buy under $400.
Pros
All quality leather, including lining
Norwegian Welt construction
Technical hiking fit
Excellent flex point on the sole, easy stride
Very supportive, perfect ankle height
Cons
Not waterproof, no Goretex
Limited availability
Weight (if that's your priority)
Twenty years ago these boots had dozens of competitors. Now it's down to the Danner Mountain Lights, the Merrell Wilderness, and the non-custom Limmers for sub $400 all leather quality. I haven't worn the competitors, but I'm sure they're comparable. Each has pluses and minuses. Only the Limmer is still leather lined. All have a Norwegian welt or similar (Danner). 
I didn't find these boots needing 50 miles of breaking in. If they do for you, they're probably the wrong size or they just don't fit your feet. They should be comfortable when you first lace them up. The laces felt in just the right spot for me. I have a fairly high volume foot and my left foot is wider with a bunion so narrow boots are out of the question.
They are absolutely true to size lengthwise. I've been a 10 forever and these boots fit perfectly at size 10. Knowing my bunion might pose an issue, I opted for the wide and am glad I did. The interior volume and shape are perfect. The slight extra room in my right shoe is easily filled by a good sock and the laces.
The other critical dimension is where the boot flexes at the forefoot. It's ideal, in fact you'd never guess this boot has such a heavy duty sole and midsole. The stride is easy enough for casual walks on trails. The height at the ankle is perfect too. High enough for solid support yet not chafing at all.
Everyone gripes about the weight. No, they are not lightweight. But I grew up with 8 inch Herman Survivors with the same sole as this boot and probably weighing the same. They were my everyday footwear outside the gym. When you consider the technical hiking fit these boots have they feel quite nimble to me. I don't mind the lightweight "running shoe hikers" for quick, fair weather day hikes on easy paths. They're effortless and require no breaking in. But for rocks, wetness, climbing, kicking steps, and long term durability, these can't be beat.
So, as a fussy, boot obsessed hiker, I'm very impressed. With the right maintenance they should be on my feet for many, many years.
Source: bought it new
Price Paid: $180

An extremely durable, stiff, old school hiking boot that will last several years of hard use.
Pros
Stiff sole
All leather construction
No Gore-Tex
Long lasting sole
Cons
Heavy
Heel doesn't "lock in"
Very little cushioning
Traction is very poor on wet rock, snow and ice
I have a moderately wide foot and wear a size 11 to size 12, and if possible I prefer a wide width shoe. I bought the 11 W size in the Summit. They seem to run "true to size."
The first thing you'll notice about the Summit is the heft—due to the Vibram rubber sole, steel shank, and all leather construction. The sole is a very durable, hard rubber that wears like iron. The downsides are that traction in wet, snowy or icy conditions can be treacherous. There is very little energy absorption.
To compensate for this, it's advisable to get a half to a full size larger than you typically would. This will provide extra room for thicker socks and a cushier aftermarket insole. The Summit is definitely an old school hiking boot, with focus on durability not comfort.
There is very little flex in the forefoot area, which is a feature difficult to find in modern, comfort oriented boots. Because the sole is so stiff this boot is suitable for carrying moderate loads on rocky terrain. Also if you suffer from hallux rigidus or limitus or other foot problems this is an excellent choice.
The Summit is lined with smooth white leather, not fabric or Gore-Tex. They are water resistant though so you can still tromp through the occasional stream without getting a wet foot. They are also a great work boot which will provide ankle support for being on your feel all day long.
While not as comfortable as a other brands, they are super durable and will last probably as long as you maintain the leather. I've owned mine for a decade, have put probably a couple thousand trail miles on them without a resole. Meanwhile a pair of comfortable Vasque Breezes that I own have worn through first layer of the outsole in half that time/mileage.  
Source: bought it new
Price Paid: $160

I bought these on sale because I wanted a tough pair of "old-school" hiking boots that would A) fit my weird feet (EE wide at the ball, smallish at the heel with a tall instep) and B) last a good, long time. That these Alico Summit boots are made in Italy did make them more attractive to me. These boots are made with 3mm thick full-grain leather uppers with glove leather lining inside, along with a deep-lugged Vibram Montagna outsole and Norwegian welt construction (sole double-stitched to upper, not hot-glued on). They're quite impressive looking.
The design of the boot isn't as impressive as some -- for instance, the tongue is not of one piece with the upper, and I worry about seepage through the seams. I would have liked the lacing to extend more to the toe-box area for a more secure hold on the entire foot. But for only $130 (the cost of many lightweight cloth-and-leather boots), I think these are acceptable trade-offs.
These boots are heavy by today's standards, at a listed weight of 4 lbs. for the pair, and they feel even heavier than that. However, they are solid! It took a full week of walking around home and office to loosen them up to the point where I felt comfortable taking a hike in them. I never got anywhere close to getting a blister.
These boots have a lot of room inside, and I did have to experiment with aftermarket insoles in order to get a good fit. I've settled on a pair of Odor-Eaters Ultra flat insoles on bottom (to take up some of that extra room), with the original equipment insoles on top. These two insoles in combination with my usual thin liner socks and heavy wool hiking socks seem to have done the trick.
After taking them on some day hikes over snow and ice covered boulder fields in the Poconos, and some snowshoeing with a good amount of off-trail bushwhacking through rhododendron thickets, I can say that these boots are rugged and well up to anything I'll be throwing at them. They are very supportive and the outsole gives tremendous traction. The soles are just stiff enough to allow scrambling up snow-covered rocky inclines by kicking steps with the toes of the boots. The boots are waterproof enough, especially after a couple of applications of Nikwax.
My only problem with them is their weight. After I got home from my first full-day hike in these boots, my right hamstring went into spasms for a bit. I suspect that I wasn't used to tromping around in such heavy boots and my legs were a little traumatized as a result. I've never had this problem before or since, but I figured people should know that heavier boots like these require some extra conditioning of your legs. The extra weight is the only reason I gave these boots a 4 (one point off for being heavier than expected). But if you know you want heavier, extra-rugged, all-leather, Italian-made boots, then consider these a bargain!

Materials: Leather,
Use: rough trails, weekend backpacking, fair-weather mountain-climbing
Break-in Period: A good week of stomping around, with three applications of Nikwax
Weight: 4 lbs.
Price Paid: $130

This is the third installment of my review of these boots. I returned the size 9.5W I had griped about in my last review, and exchanged them for a size 10M. I was having problems with my toes slamming up against the front of the boot on steep downhills, and I wanted to make sure that didn't happen again. I also found the boot to be generally loose, so I went with a normal width instead of wide, even though I measure in at an EE width. It can get complicated getting a good fit, especially with my weird dogs!
Wearing my just barely broken-in size 10M's, I climbed Algonquin in the Adirondacks, 8.6 miles r/t with 3000 feet of climbing, in about 8 hours. I chewed the leather up pretty good, but a cleaning and a little Nikwax and they look great once more. The Vibram Montagna soles gripped the large bare rockfaces really well, and the boots gave me plenty of cushioning from the rocky trail. Ankle support was great. My feet felt fine for the next day's 8 miles in the woods around the Paul Smiths area, with some bushwhacking. The narrower width kept my toes from sliding forward, and I had plenty of toe-room, but the boots now feel a little long -- the arch area feels like it's too long for my foot. But like I said, my feet felt very good the next day. I had no blisters, not even close.
So far I have to say that these Alico Summit boots are really well-made, sturdy, and nice-looking in an old-fashioned sort of way.
The downsides are that the boots are heavier than most, and feel a bit 'big' on one's feet. But the wide footprint really feels stable. The heel area is a bit too roomy for my feet, but is close enough. The instep area is a bit tight, but bearable (there's not a whole lot of padding under the tongue, but enough to get by).
I've tried a more high-tech boot with cemented-on Vibram Bifida sole, but they don't feel right on my (weird) feet. They feel constricted in the toe-box. I also tried a traditional Italian forestry boot (very big and sturdy looking) but found that they are also too narrow in the toe-box and don't provide enough cushioning from the rocky trails I travel.
I think I need something with a wide ball, narrow heel, high instep and round, roomy toe-box. So far, the Alico Summit has turned out to be the best boot for me, but not perfect.
Happy trails!
Materials: 2.6mm leather upper, leather lining, Vibram Montagna outsole
Use: Long dayhikes, weekend backpacks over rugged terrain
Break-in Period: a short hike or two will do it
Weight: 4 lbs.
Price Paid: $129.95

Classic leather boot. Alico seems not to be phased by the countless companies that moved their manufacturing to China, Thailand, etc and changed the way they made their boots. Seem to have a strong devotion to traditional craftsmanship.
Pros
Resolable
Durable
Norwegian welt
Price
These are a very strong, very heavy durable and good looking boot. There aren't too many boots made like these anymore. They are a tad on the heavy side if you are not used to it, but that's what you are getting with this style of boot. I'd definitely recommend these for anyone who is looking for great craftsmanship. 
I will say you should definitely expect to purchase an additional insole as the one provided doesn't have a lot of support. I think Alico assumes that anyone investing in these boots will get their own insole. 
Overall, at this price you just can't go wrong with these boots. 
Source: bought it new
Price Paid: $150

Awesome old school type boots.
Pros
Tough as can be. They will take whatever you throw at them.
I wore them for 6 months in an automotive dealership parts department. Now they are my hiking boots. It took a month of wear at work to break them in but it was worth it.
I've only hiked about 150 miles of trail in them, but I've had no blisters. I hiked out from a waterfall walking in the stream on shale for a mile. I never slipped or had a leak. They remind me of my Vasque Venturer boots back in the '70s .
Not a lightweight or midweight option like my Hi-Tec or Lytos boots, I wear these in winter around town snow conditions or when I'm on a dirty, muddy, rocky mixed conditions hike without a well defined trail. They take the punishment. I can see them lasting 10 years or more with proper care.
(edit 10/2022) These now have about 500 miles on them and because they get cleaned and new wax sealer they still look near new. Love them.  Bought a pair of lightweight hikers by Hi-tec and the soles are nearly worn away in less than a year. Haven't reviewed those yet but should.
Experience
I'm a retired old guy. I hike when I get time, either local parks or trails in National Parks. I've hiked Grand Canyon trails and Colorado Rockies, camped in Ohio, NC, California, Baja MX, and Florida.

I worked in car dealerships and always wore hiking boots for work. I've had all five generations of Hi-Tec Altitudes, three other Hi-Tecs, Vasque of both all leather and nylon uppers, Asolo, Raichle, two pairs of Columbia, Merrell, Salomon, LLBean, Viet Nam issue jungle boots, and two REI brand boots. Those are the ones I can remember that I've worn for work, hiking, and yard work. I've used them in mountains, on trails, on beaches, in streams, in snow and rain.
Source: bought it new
Price Paid: $150

Well made Traditional Stitched Vibram sole backpacking boot. Leather lined, no Gore-tex here and a bit heavier than most. Since I wear construction boots every day the weight seems AOK. Other than Limmers, Norwegian Welt boots are getting hard to find and those fine shoes are beyond my budget. Danner still makes the Mountain Lights, but I'm no fan of Gore-tex, or its competitors, so they're out.
My fourth pair of BP boots in 15 years. The first pair were Fabiano Rios. I wore them to death, despite the tight toe box. Pair # 2. Salomons came apart at Philmont. Sierra Trading took them back, no issues. # 3's are Scarpa M3's, good boots, after 6 years they're goin down. Had these about a month and already I love them.
I should say I've not worn them outside yet. These are wider with more volume than most Italian made or designed boots. Also they're taller than any hiker I ever owned. I bought three different sizes. Normally I wear size 8.5/9 wide. The 8.5 Mediums fit great, a bit snug as new boots should be, but no issues of any kind. The 9M & 9W have gone back. I should note that skimpy footbead says 42M on it. Most shoes labled 42 carry a US size 9, or maybe a 9.5.
Why not five stars? Well the footbed for one thing, count on replacing it soon after break in. Also I worry the half shank, instead of a full nylon shank will allow too much flex, we'll see. At this price I'll take the risk on the shank.
Update: January 30, 2007
OK, so I lied, well maybe not. I had the experience as another poster here. The 8.5M seemed AOK, then as the boots broke they felt shorter. My toes started to move forward, bad things were afoot. Luckly STP still had the 9M, so I exchanged them. Next the unthinkable occurred, a pair of near new Limmer Standards on e-bay, Size 8.5M, in wink of an eye they were mine. I'll keep the Alico's as a back up plan.
Andre`
Materials: All Leather
Use: Heavy Pack
Break-in Period: 10 miles or so
Weight: 4.25 lbs.
Price Paid: $104+ shipping

These are rock solid no B.S. old school Backpacking boots. The quality of materials and craftmanship is excellent. Right out of the box plan to put in some cushion insoles under the existing insoles (Dr. Scholls Work boot insoles worked for me), they just seem to be designed to require this. It's also a good idea to treat them with a good waterproofing/conditioner. I used Grangers for smooth leather.
They must be broken in for about 10 or 20 miles and then go for it. You can forget about your boots and worry about your other gear.
I bought these boots because I had problems with sore ankles and feet with other Made In China boots that felt great right out of the box in the store but let me down when carrying a 40 pound pack on a tough rocky trail.
I have never used these boots in very cold or snowy weather but they stood up well to two days in the rain.
Materials: 2.6mm Leather Outers & Soft leather linings and tounge
Use: Backpacking, 40lb Pack, Tough Trail
Break-in Period: 10 to 20 Miles
Weight: 4.0 Lbs
Price Paid: $135

Old-school, old QUALITY. Your sole will not fall off mid-hike like so many modern shoe-boots.
Pros
Comfort
Long-lasting
Tough on trails
My husband is on his second pair and wants to buy a third because he's so afraid they will stop making boots like this! You just can't find boots like this anywhere.
His first pair was resoled once and it lasted as long as the original sole. I can only wear low hikers because of a vascular condition and I soooo wish they'd make these in a low rise boot.
Experience
8 years of experience with this boot
Source: bought it new
Price Paid: $220

This is a follow-up to my previous review. I've been on several winter day hikes in mountainous areas in the three weeks since then, and now have a better idea of how these boots perform.
- I made a mistake about the thickness of the leather used for the boots' uppers. It is between 2.6 and 2.8 mm, not 3.0 mm as I erroneously stated. That makes these boots more of a "midweight," but heavy for that class at 4 lbs. a pair. They are a bit heavy for long hikes on rolling trails, but not overly so. They are heavy and stiff enough for good support while climbing the many rock ledges in the Catskills.
- The shape of the boot has changed as they've broken in. My wide feet have stretched out the ball area, maybe a little too much. Also, the length seems to have shrunk a little, which has caused my toes to touch the front ends of the boots on steep downhills, especially when the boots have been wet for a while. Nothing serious, but a little worrisome. I'll have to return them if it gets any worse...
- The heel area of this boot seems too large. In order to keep my heels firmly seated in the boots, I've had to crank down hard on the laces. This has caused some slightly painful pressure spots on my rather high insteps and at the front of my ankles, as there isn't much padding on the back of the tongues to protect them from the pressure of the laces. A thicker tongue would help.
- I was hoping that this heavy of a boot would provide lots of ankle support, but I find that it's only adequate, not great. But I can't complain, as the leather is soft enough to be quite comfortable.
The Alico Summits have done very well for me on steep, rocky trails in the Catskills and with snowshoes in deep snow. I've only had the slightest hint of water seeping in (these boots are leather-only, no Gore-Tex in them) and my feet have stayed nice and warm at all times.
All in all, I'd be very satisfied with these boots if they fit me a bit better. But I have truly strange feet (bony, with a combination of smallish heels, high insteps and EE-width balls), but those of you with fairly high-volume feet should find these boots to be a great fit.
I hope this has been helpful to somebody out there...
Materials: 2.8mm leather uppers, Vibram Montagna outsoles
Use: rough trails, light mountain-climbing, some bushwhacking
Break-in Period: a couple of weeks of hiking and walking around
Weight: 4 pounds for the pair
Price Paid: $130

Great sturdy boot. They say it's heavy, but I don't mind. I like the rigidity. They say it's hot, but I wear it mostly in Southern California and haven't been uncomfortable.


Pros
Strong, sturdy platform and support
Made to last
Can be resoled
Cons
Cheap standard issue insole wore through, and inner lining in heel area tore through.
Biweekly, regular use for two years—still going strong, with insole replacement and patch of inner heel lining. Sturdy platform, good ankle support.
Downside was the original insole was cheap and wore through at the ball of the foot within a year or so. Also, the soft glove-leather lining inside the heel area tore through in the second year. Shoe repair guy glued in a sturdier patch of leather–as good as new—better, maybe.
Experience
60-year life of frequent and regular fitness hiking and outdoor activity. Not a backpacker or through-hiker, but enjoy a nice hike, sometimes a nice long hike.
Source: bought it new
Price Paid: $120

Durability, trail traction, and load bearing ability.
Pros
Solid as any other boot!
Thick leather!
Wide sole
My buddy builds Web pages for STP, so naturally he was my go-to guy for hiking boots. And his choice for me was this set of Alicos.
I loved um right out of the gate. For me at 200 lbs, the weight didn't matter too much. I knew immediately by the construction that they could withstand my 50+lbs pack and my Labradors pulling me down the trail just fine.
And 6 years later they still go with me on every trip I take. Just oil um and dry um two times a year.
Source: bought via a "pro deal"
Price Paid: $25

Sore feet.
Pros
Beautifully made boot
Might be a good work boot
Cons
Hard on my feet
Sent them back after 500 miles
I backpacked the mountains of AZ and NM in the Summits and put on about 500 miles and I am surprised my feet forgave me. I sent them back to STP for credit and they credited me the full amount paid. STP is a solid company.
I used Lowa boots last year and they were great. I did just purchase the Alico Backcountry BP boot with a nylon shank instead of the steel shank of the Summit. A little softer ride maybe. Will give them a try along with some Lowa boots next trip to the SW Mtns.
Source: bought it new
Price Paid: $130

Had a size 11 that I loved. After about 15 years had to sell them because my feet grew. So I bought a pair of used size 12s.
Pros
Can resole several times, also durability. The newish hiking boots with the glued on Vibrams are not useful when you are miles from your car.
Cons
Weight
Have to waterproof every year
Experience
see above.
Source: bought it used
Price Paid: 75 dollars

The boots fit true to size. After applying Obenauf's leather protector, (best I've found), the boots broke in after two days and about 10 miles. They are expertly crafted and built to last a lifetime. I live where it is hot in summer and cold in winter. These boots never fail me.
Materials: Leather
Use: Work, meter reader 6-10 miles daily
Break-in Period: 2 days
Weight: 4lbs
Price Paid: $135

I love these boots! Though they are heavy, they treat my feet quite well. I've had mine for over two years, and they are still in great shape. The Vibram sole is tough and handles any terrain well. An added bonus, for me, is that they are old school. No plastic or any of that other garbage on the outside.
Materials: Leather
Use: Day hikes and some everyday use
Break-in Period: A couple weeks
Weight: 4 lbs
Price Paid: $130-140

Good multi purpose boot. Fits my wide foot well. Some might consider it to be to heavy. I much prefer this boot over a Gore-Tex boot. It is acceptably water resistant. This is a much better boot than the lighter duty Tahoe which has a poorly made sole and insole.
Materials: Leather, non Gore-Tex good Vibram tread
Use: all around use
Break-in Period: 2 weeks
Weight: 4 lbs
Price Paid: $135

Awesome boots. Got them as a gift my freshman year of high school, just as great 4 years later.
I expect these boots to last as long as i do.
Your Review
Where to Buy
Help support this site by making your next gear purchase through one of the links above. Click a link, buy what you need, and the seller will contribute a portion of the purchase price to support Trailspace's independent gear reviews.
You May Like
Specs
Price
Historic Range: $79.00-$229.95
Reviewers Paid: $25.00-$200.00

Purpose
hiking, trekking, backpacking

Upper
2,6 mm. oiled-tanned full-grain leather

Lining
brushed cambrelle or leather

Support
half shank

Insole
leather/ nylon midsole

Sole
Vibram Montagna

Sizes
men 7-13, women 5-10, European 39-48