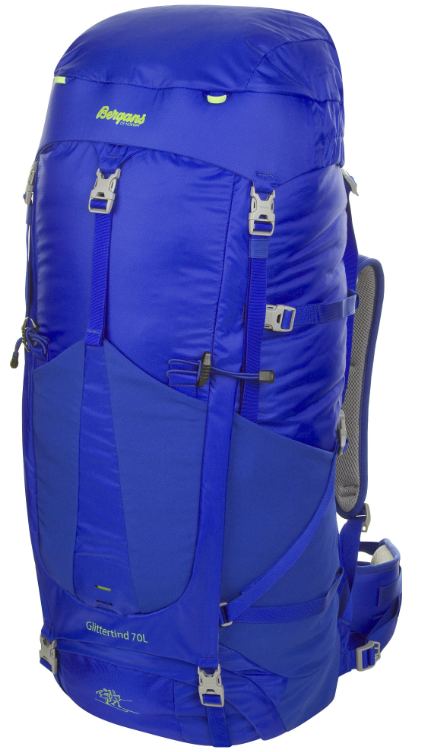 Specs
| | |
| --- | --- |
| Price | Historic Range: $103.58-$259.00 |
Reviews
1

review

5-star:

0

4-star:

1

3-star:

0

2-star:

0

1-star:

0
The Glittertind by Bergans of Norway is a well designed pack suitable for those who wish to carry large loads in relative comfort. The Bergans "SPINE" suspension system enables the pack to flex with the wearer's movements as they walk, reducing fatigue and back strain. I found that with careful adjustment this system worked well.
Pros
SPINE suspension system
Front access in addition to traditional top loading
Large capacity
Well designed with ample features
Comfortable to carry
Includes rain cover
Cons
Shoulder and load-lifter straps slip and require frequent adjustment
Side pockets design risks losing items
Small sleeping bag compartment relative to pack size
Most of the straps are longer than necessary and dangle while hiking
Introduction
The Glittertind is an internal frame pack series by Bergans of Norway.  It comes in 55L and 70L versions, and each model comes in Small, Medium, and Large.  I tested the 70L Large version.
I have to admit, when I first saw the Bergans name, it was new to me. I'm conditioned to recognize the "standard" names like Kelty, Osprey, Gregory, and others, since those are the ones I typically see in stores and on the trail. 
I wondered if Bergans was an "off brand", and was concerned about what I might be getting myself into by committing to test it in the backcountry.  However as I checked out the pack and then used it on the trail, I was pleasantly surprised by what I found.
I've tested the pack on two trips as follows:
a one-night (2 days of hiking) trip out of the Crabtree Trailhead in the Emigrant Wilderness of the Sierra Nevada in California; I hiked 16 miles on the first day and about 13 the second (higher than my typical mileage for overnighters) at elevations ranging from approximately 7-8,000 feet. My starting pack weight on this trip was 38 pounds with food and water.

a 3-night (4 days of hiking) trip at elevations from 5-10,000 feet in the Granite Basin/Granite Pass area of Kings Canyon National Park (the Copper Creek Trail), also in the Sierra in California. On this trip I averaged around 11 miles per day, with the exception of the first day climbing over 4,000 feet out of the canyon, in the early afternoon sun, in 90 degree+ temperatures. That day was only 6 miles.  My starting pack weight on this trip was 46 pounds with food and water (I actually carried 5 nights of food since I wanted to test the pack on a simulated 5-night trip even though I was only out for 3 nights).
Design
Through my testing of the Bergans pack, I have come to the following conclusion: "They thought of everything". The pack is well designed, and has just about any feature one could hope for in a pack of this type.
At first glance, it's a fairly typical pack design. It's an upright pack with an opening at the top for top-loading, and a detachable top lid with both internal and external pockets. However there are a couple key design features that really make this pack stand out.
First is the "SPINE" suspension system. Bergans claims, "cover longer distances, with heavier loads, on any terrain and have the greatest freedom of movement of any backpack on the market". They also claim the SPINE carrying system "follows all of your body's contradictory movements simultaneously, providing amazing comfort regardless of the length of your trip". I largely agree with these claims. I'll go into more detail in the next sections of this review.
The second feature, which in my opinion Bergans doesn't give the attention it deserves, is what they call the "half zip front entry." In other words, the pack is top-loading AND front-loading. I find this to be a huge plus.  Packs which are top-loading only are a personal peeve because they require the user to unload most of their gear in order to access items loaded first.
Another feature is that Bergans includes a rain cover with this pack. I did not experience rain on either test trip so I have not yet tested its waterproofness.
The pack weighs 80 ounces (5 lbs) plus just over 5 ounces for the rain cover. Bergans claims 4 pounds 10 ounces, so it is over by 2 ounces. The 5 pound weight is heavier than I'd like, but not surprising considering the capacity and features the pack offers.  It is also right in line with competitors like the Osprey Aether 70.
It is generally quiet while being carried. From time to time I've heard a bit of a mechanical squeak from the lower part of the pack — but it was inconsistent so may have had more to do with how it was loaded than anything else. Similarly I experienced squeaks from the upper portion but was able to correct those by adjusting the load. I have experienced the same thing with my other pack.
I ran into just a few downsides with this pack, most of them minor.
The most significant concerns the plastic fasteners for the shoulder and load lifter straps. Bergans uses what seem to be fairly typical plastic fasteners. Unfortunately they gradually slip and require continual re-tightening.  Toward the end of my second trip I found myself tightening them several times per hour.
On a related note, in my opinion, the plastic buckle on the hip belt is way too small. While I have not had any issue with it yet, I would far prefer a much larger buckle at such a crucial fastening point. If it were to break while carrying a heavy load on a long trip, the remainder of the trip would be difficult at best. Bergans, you've obviously put a lot of thought into the design of this pack, don't skimp on the fasteners!
The second downside is relatively minor, but calls for attention from the user. There is a large pocket on each side of the pack. There is a top opening for each pocket of course as you'd expect. Each pocket also has an opening toward the front of the pack. It appears like these opening were designed for holding water bottles to be within reach while hiking. 
In practice, the opening are too small for a standard 1L Nalgene bottle, and at least for me it's impractical to reach back to insert a bottle even if it did fit. Unfortunately the result is that any small items stored in these pockets are subject to loss as they might fall through the front openings. I almost did lose a couple items this way before I noticed the situation and changed the way I packed those pockets.
These are small issues, but I feel are important to the pack's usability (i.e. one should not have to tighten the straps several times per hour).
Fit, Comfort / Sizing, Adjustability
I have not had the best of luck in finding a pack I find comfortable. My old Kelty frame pack is built like a tank and rides like one.  My Deuter ACT Lite 65+10 is comfortable with a light load, but consistently hurts my back on long hikes, making me want to stop even before I'm tired.
However with the Glittertind is a different story. Even with my 13-16 mile days on the 2-day trip, the pack felt as good at the end of the day as when I put it on. Similarly, on the second trip, even though the mileages were lower, it wasn't due to pack discomfort (it was more about the logistics of the in and out trip, and ending each day where there was a campsite.
This isn't to say I didn't experience any discomfort with the pack. On the first trip I ended up with bruised hips — a function of carrying a new pack (like breaking in new shoes). On the second trip they were fine.
On the second trip I did experience some soreness between my shoulder blades after the trip. I attributed this to the way I had tightened the shoulder straps and load lifters — again in a manner to which my body was not accustomed. The way it was adjusted it rode very well and my plan would be to continue to carry it that way.
Ride & Suspension
I give the SPINE system high marks. Honestly when I first read about it I thought it might be a gimmick. But once I had the pack loaded and adjusted, I was impressed with how it rode, and continued to be impressed by it throughout each trip. When you flex with a walking motion, you can feel the pack flex with you. 
It does require careful adjustment;  the first time I tried it, my thought was, "this isn't going to work!" There was a lot of side to side movement as I walked (it felt unsteady). However the side to side motion is controlled by straps near the bottom of the pack and suspension. One can adjust these to allow for as much (or as little) motion as desired. I prefer a flexible yet snug ride so I kept the straps fairly snug.
Capacity (and external carrying)
One thing reviewers of packs struggle with is how to accurately assess manufacturers' capacity claims. There's no really reliable means by which to do this, so all we can really do is compare each pack to others we've used.  By way of comparison I'll refer to another pack of mine, the Deuter ACT Lite 65+10.  This pack is rated at 65L until the top collar is raised adding another 10L.
Compared to the Deuter, the Glittertind is cavernous! My gear for these summer trips seemed to get lost inside.  I could easily see using this pack on a cool weather trip when I need extra space to carry bulkier warm clothes.
There is some ability by way of small loops on the outside of the pack to carry items externally. Doing so might take some creativity depending on the size, shape, and weight of the object(s) to be carried, as the fasteners are limited in number and size. I have not had occasion to try this with the Glittertind.
Organization & Accessibility / Ease of Use
Overall I'd say the organization of this pack is fairly typical.  In addition to the huge main compartment, there are also:
stretch pocket on the outside

stretch pocket on each side (mentioned previously)

removable lid with large externally-accessible pocket and smaller internal pocket

front-opening flap allowing access to pack contents without unpacking from the top

mesh pocked on inside of front-opening flap

sleeping bag compartment at the bottom
A couple of notes are in order here. First, one thing I don't like is the size of the sleeping bag compartment. I used a Marmot Helium (15F) 850 fill bag on these trips.  It can pack to be very small. However I prefer to avoid compressing the down so severely, so I pack it in a lightweight 20L day pack that doubles as a stuff sack.  This fits just fine in the pack compartment in the Deuter.  However it's a fair chore to get it in and out of the compartment in the Glittertind. 
The compartment itself can expand upward due to the flexible design of the panel separating the compartments. However by default it is small, and the opening is sized to match. I find this a bit ironic since I'd want to use this pack on cool weather trips when I'd need to bring a bulkier sleeping bag. In that situation I might need to either load the sleeping bag from the top or work extra hard to squash it in through the sleeping back compartment panel. Neither is ideal.
The second point is minor — surprisingly there are no pockets on the hip belt.
While on the topic of minor points ... the "Cobalt Blue with Neon Green trim" is brighter than I'd like. A darker blue would be more in keeping with low-impact backcountry usage.
Construction & Durability
As described previously, the pack impressed me with its design and features. Aside from the slippage of the shoulder and load lifter fasteners, I didn't have any trouble with anything coming apart, breaking, or showing any signs of either. 
The one slight concern is that I noticed some very slight abrasion on the top of the pack lid. When I set the pack down, I tend to lean it against a convenient tree or rock. When I then open the lid, it may scrape against the tree or rock.  I haven't had any issue with this with my other pack. 
I'm surprised, however slight, to see the abrasion marks on the Bergans given the relatively few numbers of days of use it has seen so far.  This may be an aberration (maybe I scraped against a sharp rock) but it's something to watch.
Summary
Overall my impression of this pack is very favorable. As mentioned throughout the review, there are some areas for improvement, mostly minor. The fact that I can carry the pack for multiple days without any significant back (or other) pains is a big plus for me. I love the front-opening compartment.  The large size makes it suitable for use in a variety of conditions.
I do recommend this pack for the conditions I've described.  I scored it 4.0/5.0.  But for the shoulder/load-lifter strap slippage issue I'd have rated it 4.5/5.0, or even 4.75 if that were possible.
The images below illustrate points described in the preceding paragraphs.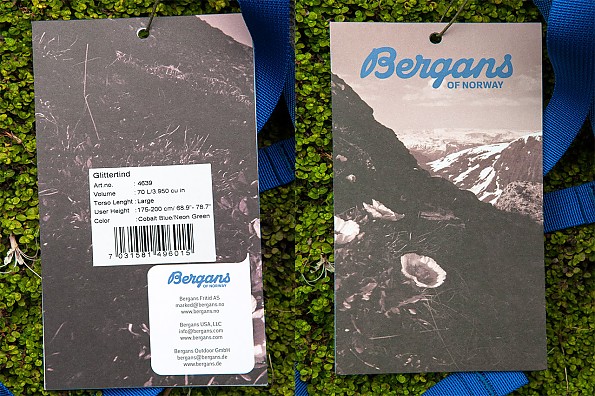 This photo collection shows the pack loaded with all of my gear for 3 nights (same as I'd use for longer trips), including a Bearvault BV500 (large) canister with 5 nights of food.  The Bearvault looks lost in there and the upper neck of the pack mostly folds down.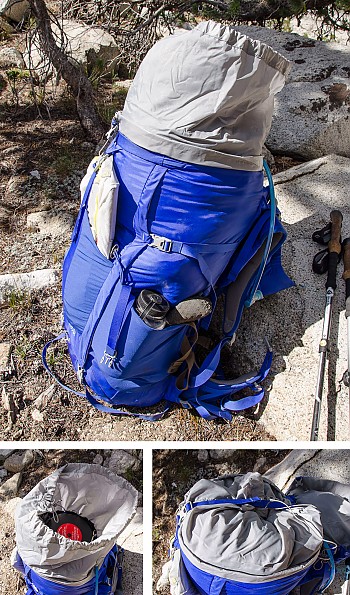 One of my favorite features of this pack ... the ability to conveniently access gear loaded at the bottom of the main compartment without pulling anything out from the top.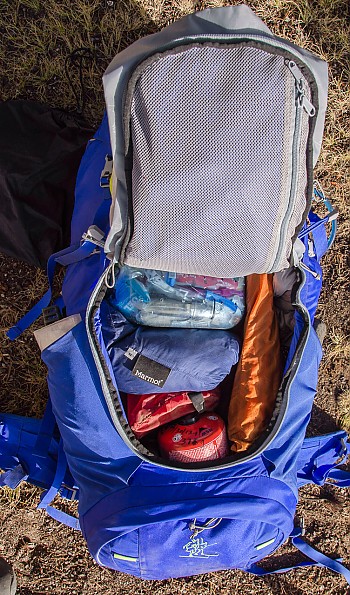 When the front-opening flap is closed (with its zipper) it can be further secured with two straps as shown here.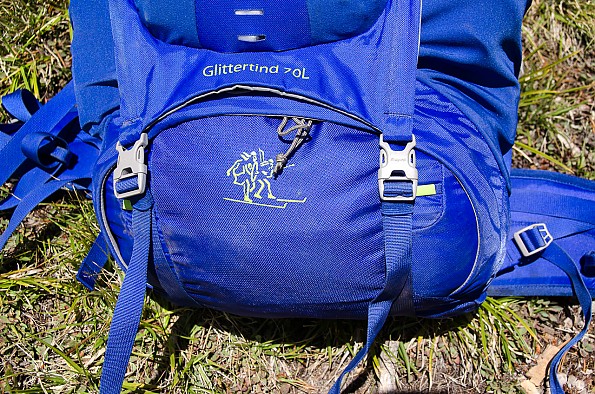 This is where the hydration bladder (not supplied) tube comes out.  It took me a while to find it as I didn't expect it to be on the pack collar, but thought it would be in the pack body.  It works fine in the collar.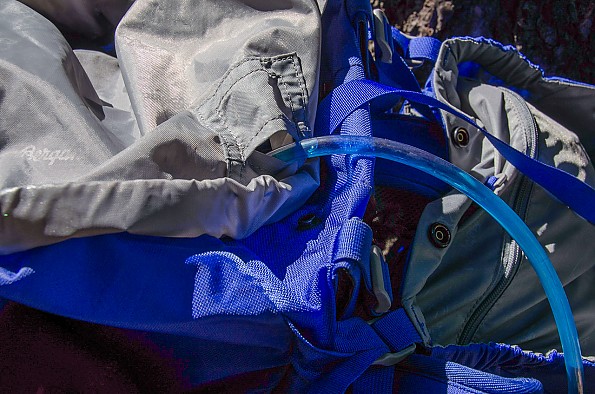 Here's how the pack looks safely stowed hanging from a tree to keep it away from ground critters overnight.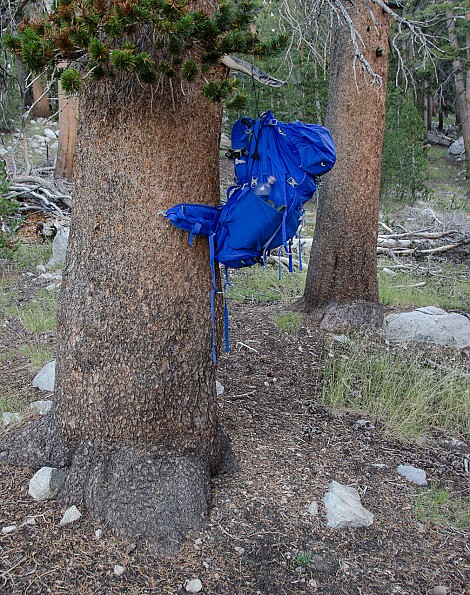 This is the external compartment in the pack lid.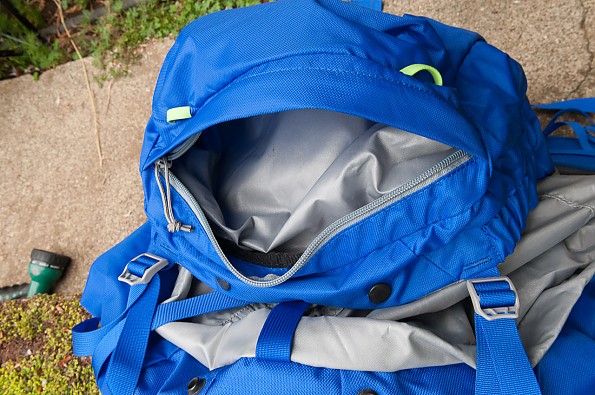 This shot illustrates the shoulder straps & load lifters, as well as the straps that attach to the lid.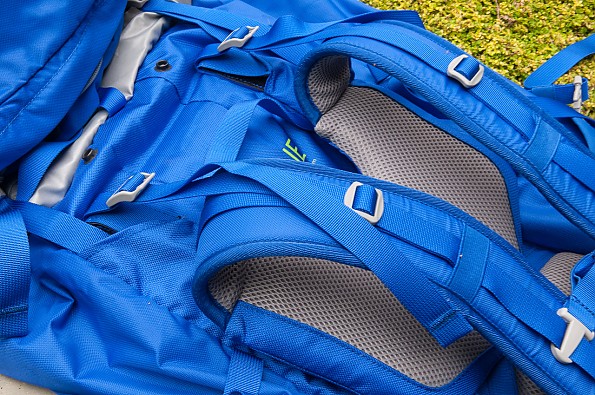 This is a shot of the upper part of the pack from a different angle.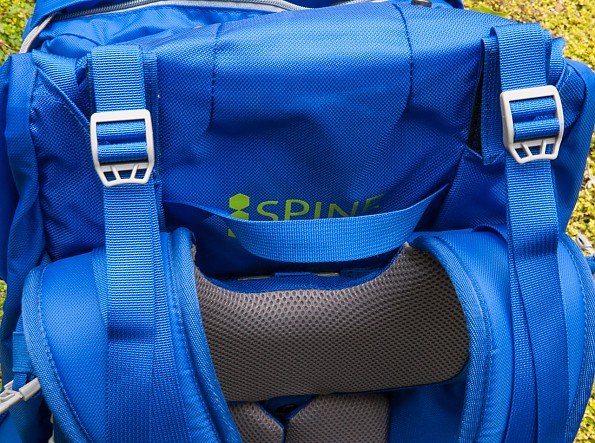 The next two shots show the hip belt (no pocket, though there are a couple loops for those who like to hang gear from their hip belt).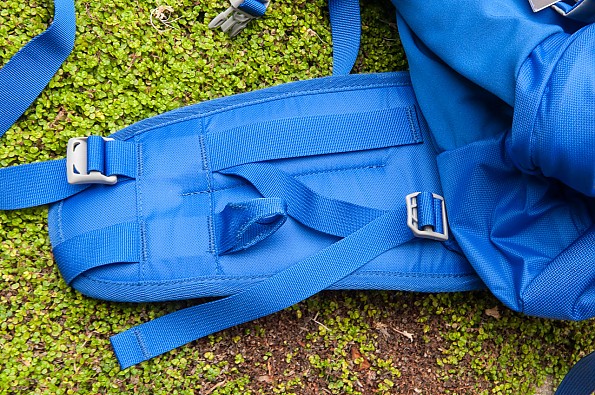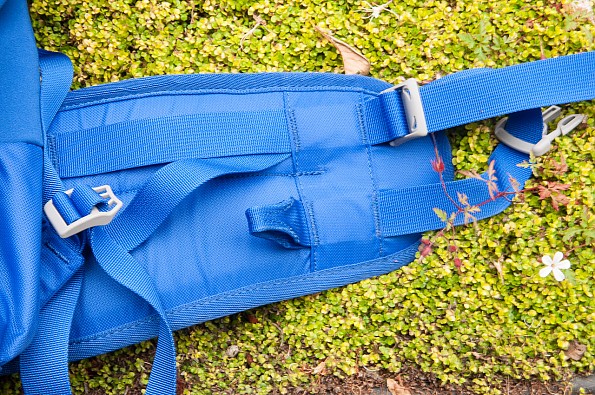 This is a (size) comparison between the Glittertind 70L and the Deuter ACT Lite 65+10.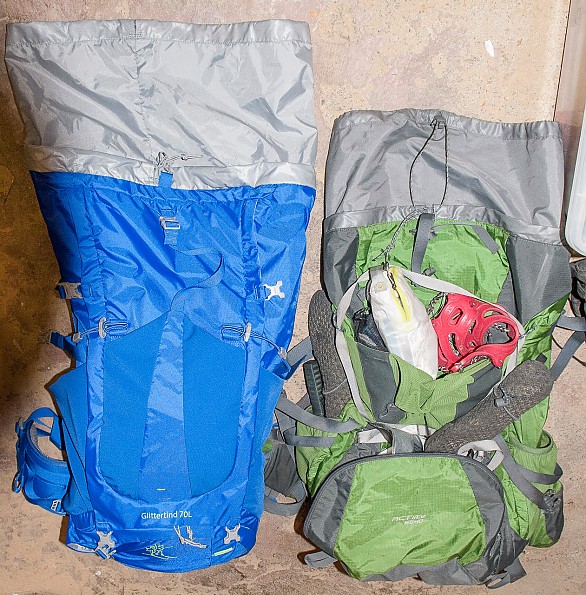 A Trailspace Gear Review Corps member (wearing the official cap) hard at "work" at the end of a 4-day trip.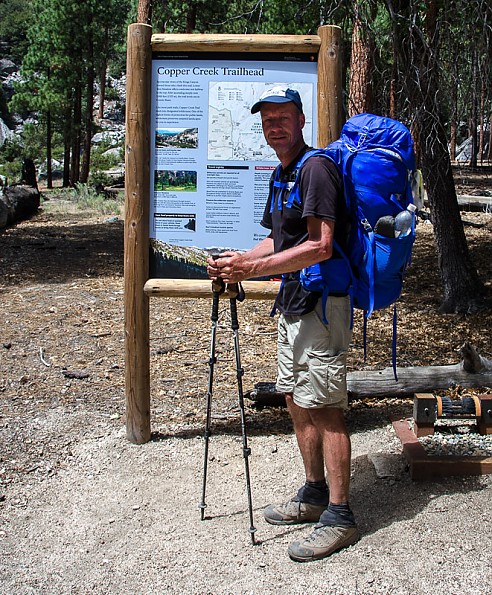 The same Trailspace Gear Review Corps member resting from his labors.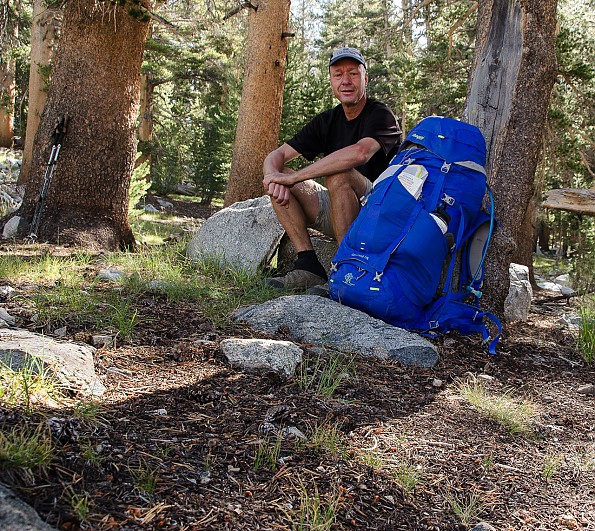 Source: received for testing via the Trailspace Review Corps (Sample provided by Bergans for testing and review)

You May Like
Recently on Trailspace