Big Agnes SLX Tent Floor Pad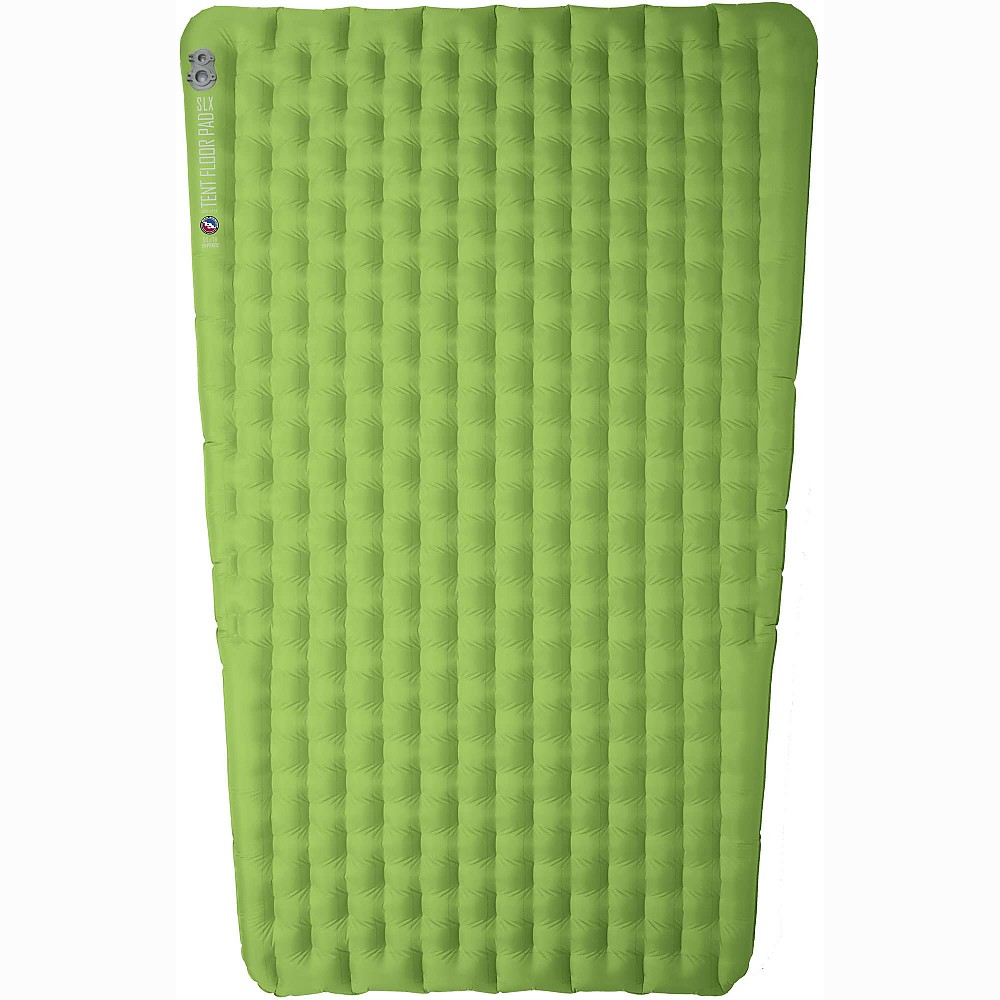 An extra-wide and cushy insulated air mattress for two in the backpacker weight class. Suitable for three-season use. Long enough for people in the 180 cm+/6 foot+ league, extra wide at the head end, 9cm/3.5" thick. No leaks after a solid month of use. Requires purchase of a Big Agnes Pumphouse for efficient and moisture-free inflation.
Pros
No gap between sleepers
Extra wide at head end
9 cm/3.5" of comfort
Rapid inflation via oversized, one-way intake valve
Cons
Exhaust valve hard to open
Single chamber design puts both sleepers at risk from a single leak...
...and increases bottoming out with a single occupant
Requires purchase of accessory for efficient and moisture-free inflation
My wife and I had a problem. It was all because of the Canyon. Not the Grand, Zion, or Bryce, but the much smaller gap that opened up between our backpacker's mattresses when we tried to cuddle, exposing hips or shoulders to the hard, cold, ground. Beyond cuddling, it could be the source of midnight turf wars, a demarcation line over which one Shall Not Pass! But we have a contract, 33 years and running, saying that We Will Always Sleep Together When At All Possible. And we save a lot of weight by cuddling under one opened-up sleeping bag or, more recently, a double quilt.
Over the years we have tried to solve the problem, with mixed success, with a succession of coupling straps and our own homemade mattress covers. Years ago, we had a double self-inflating mattress in the canoe-camping weight class, impractical for backpacking, so we eventually sold it off. The introduction of lightweight, insulated air mattresses has mostly worked wonders for our aging bones, except for that durn Canyon. But now a few manufacturers are offering double insulated mattresses in the backpacking weight class. With the prospect of a month of tent life during our Iceland trip this summer, we figured we could end the Canyon Wars by investing in one of them.
We decided to go with Big Agnes (BA) because the mattress is specifically sized to fit the floor in BA 2-person tents, including our Copper Hotel HV UL2, offering extra width at the head end.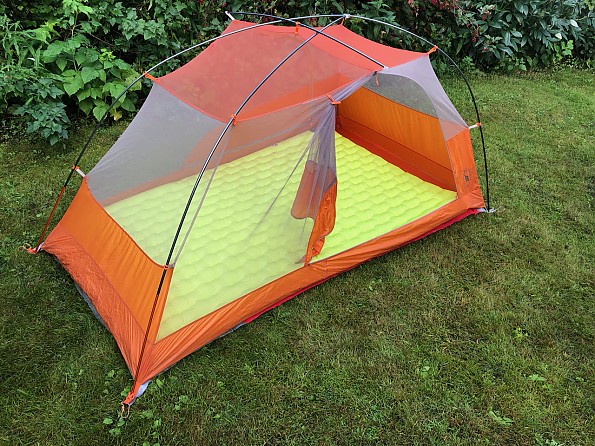 Construction and size
The mattress is made of a fine-grained ripstop nylon in a rather striking yellow-green color. It comes in only one size. At 198 cm/78" long it is happily long enough to accommodate all 193 cm/76" of me. It is 127 cm/50" wide at the head end, tapering to 101 cm/40" at the foot. With those dimensions, it fits rather precisely into BA's two-person tents, with about 25 cm/10" to spare lengthwise.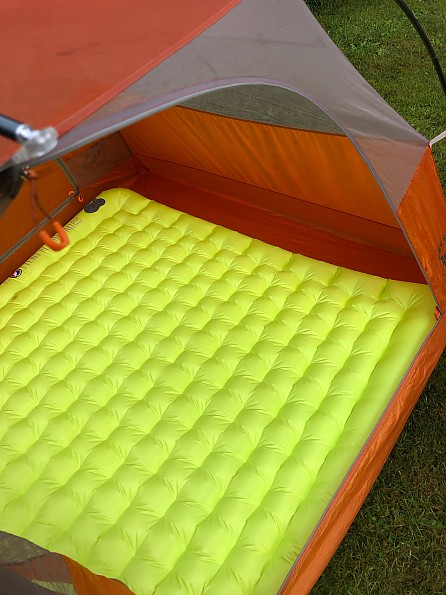 It should work well in other two-person tents with a similar tapered floor plan. Using it in a three-person tent would allow some room along the sides for stowage. The extra 25 cm/10" in width at the shoulders makes a big difference when whiling away some rainy afternoon hours or when one or both partners are tossing and turning through the night. At 9 cm/3.5" thick, it's on the deep end in the range of backpacker's mattresses. As BA touts, it's another 1-2 cm/ 0.5" thicker along the sides to keep users from rolling off, but I can't say I really notice one way or the other. The mattress has a single air chamber, which makes for one-step inflation but may also have some downsides, to be discussed later.
With no stuff sack, ours weighs 1227 g/ 43.3 oz. BA gives it 1219 g / 42 oz. Close enough. I first fold it from the foot to the head, starting with a ca. 18 cm/7" fold that gets a little bigger as I go, then roll it toward the valve to squeeze out remaining air. With this method I can get it down to a ca. 13 cm/5" diameter by 20 cm/8" long cylinder, in a single go, inside the tent. That fits sideways inside the BA Pumphouse Ultra inflation sack, which can then be rolled closed for a compact, waterproof package. Total system weight 1298 g/46 oz. Less than one pound of cushy comfort per person.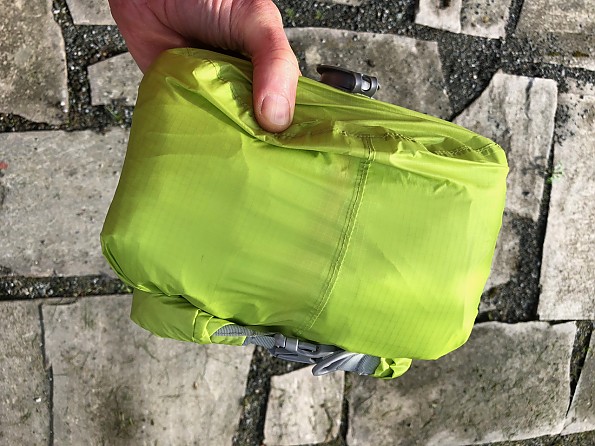 Insulation and warmth
BA does not currently specify R values for its mattresses, but plans to do so beginning in 2020 with the introduction of standardized testing. Based on examination of the mattress and our experience so far, I'd have put it in the R 2-3 range, but a little birdie at Trailspace told me that the 2020 version of this mattress will be rated at 3.5. The main insulation is a synthetic fiber. It must be pretty airy stuff, because it's hard to detect by feel in the deflated mattress or see with backlight when the mattress is inflated.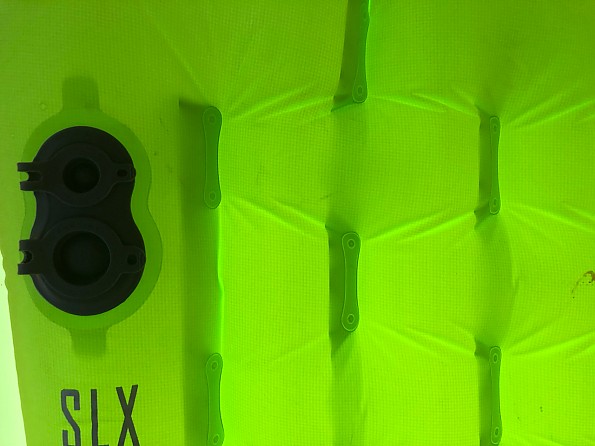 BA claims that the mattress also incorporates "built-in advanced heat reflective technology" without any further description. The ripstop lets lots of light through so is not reflective coated, but in the deflated mattress the baffle strips appear opaque—maybe they are reflective?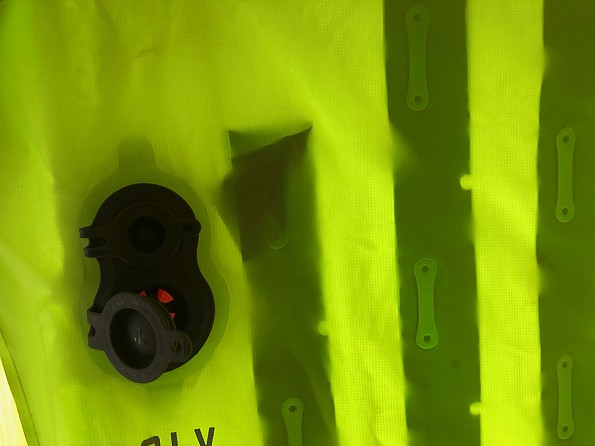 Whatever the case, we did not notice any cold spots when sleeping at high elevation sites in Iceland, where ground temperatures might have been around 10˚C / 50˚C. I wouldn't expect any mattress in this weight class to be warm enough on snow, and BA concurs, suggesting a closed-cell foam underlayer for colder conditions.
The inflation problem
Photos and videos illustrating mattress inflation often dodge the most stringent inflation scenario: sitting up inside a small tent with rain pounding down on the fly and a horde of whining mosquitoes blackening the netting. I deal with that scenario in my separate review of the BA Pumphouse Ultra inflation sack, including a video of inflation technique.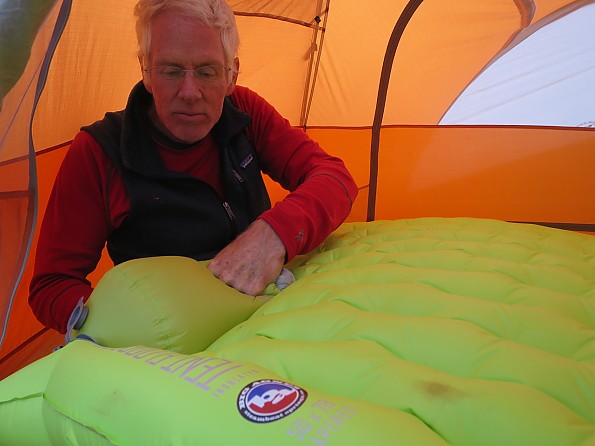 At least one seller's video suggests that you can inflate the mattress by mouth, but the inflation valve doesn't really offer any purchase for human lips, and, at any rate, moisture from repeated mouth inflation will gradually build up and compromise the insulation. Based on hard-won experience—a ruined mattress a few years ago—I have sworn to never inflate an insulated air mattress by mouth. The inflation valve is also not compatible with homemade or general-purpose inflaters, so for all intents and purposes the Pumphouse is the only efficient way to inflate BAs mattresses. In my opinion, BA should do as (some) other manufacturers do and sell it with the mattress, or perhaps at a steep discount with purchase of a new mattress, rather than as a necessary and rather pricey add-on.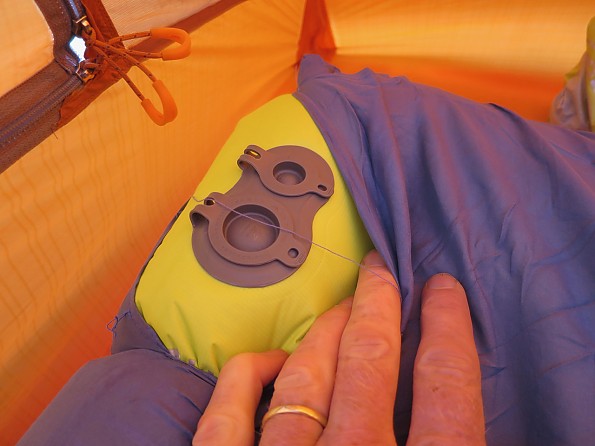 Despite all that, when inflating with the Pumphouse (with good technique), inflation via the oversized intake goes smoothly, without much back pressure or the sack popping off, and the one-way valve means that you don't lose air when refilling the sack. Deflation is also rapid, but the smaller exhaust valve cover is necessarily a tight fit and can be difficult to open—a bigger pull tab or some other leverage would be a welcome addition.
Comfort
When it comes to sleeping, I'd rate this mattress "cushy". At about 9 cm/3.5" it provides ample cushioning for side sleepers—provided the user's weight is distributed over a wide enough area. Like other air mattresses, sitting up can resulting in "bottoming out", with buttocks settling down on the hard, cold ground.
This problem may be compounded by the single chamber design because one person can't cover as much of the total area as two. The mattress doesn't have to be inflated to very high pressure for sleeping as long as the weight of two people is spread out over it, but one person in a sitting or lounging position, say propped up on an elbow for reading, may bottom out at hip and elbow.
For the slight added weight of an extra set of valves and a full-length baffle, a two-chamber design would reduce bottoming out, and might ensure that at least one person gets a good night's sleep in the event of a leak.
Depending on conditions, we have slept on the mattress partly clothed and more or less stripped down, and in the latter case with or without a custom silk mattress cover that we adapted from our old two-mattress system. With long underwear on it doesn't matter so much what you're sleeping on. At the other end, the material is not too objectionable against bare skin, maybe a little sticky when sleeping too warm as I often do. The silk sheet is the cat's meow, upping the comfort to luxury level at a weight penalty of a few hundred grams. I bet BA could sell silk mattress covers for a pretty penny!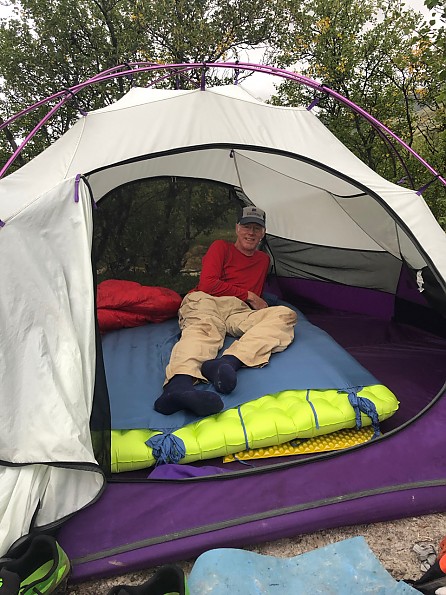 The quilt-style tacking prevents any kind of ribbed feeling even when the mattress is inflated hard, but to be honest I can't say that longitudinal ribs in other mattresses have been all that much of a bother for me.
When it comes to the primary goal of a good night's sleep, the Tent Floor Pad is probably the most comfortable of the four different models of air mattress that I have used so far.
Durability?
Vendor's websites are full of one-star reviews from people who have purchased an air mattress only to have it spring a leak early in its career. Because a flat inflatable is worthless for either comfort or insulation, a leaky mattress on the first night is a good way to ruin a trip. Furthermore, finding pinhole leaks for repair can be darn near impossible, even at home.
The Tent Floor Pad is new enough that there aren't many user reviews out there. I have looked at reviews of the similarly constructed SLX Q-Core on some vendor's sites and would say about 5 percent complain of leaks, but that rate may apply to other lightweight mattresses as well (and sometimes I wonder what these people do to their mattresses). Our Tent Floor Pad has held up through its first month of regular use. I will edit this review if that assessment changes.
Conclusion
Because of the compromises between weight, insulation, durability, and comfort, there is probably no backpacker's mattress that is going to get a perfect score on all those criteria. BA has juggled those parameters to come up with a cushy mattress that has plenty of space for two, solves the Canyon problem, is warm enough for three-season camping, and also saves a little weight compared to our old two-mattress system. As long as it continues to hold air, we'll be using it to cuddle so we can adhere to the terms of our marriage contract.
Experience
A month of use on backpacking trips and frontcountry camping in Iceland and the Faroe Islands, mostly on well-established tent sites on volcanic grit, compacted soil, or grass.
Source: bought it new
Price Paid: $240 (20% discount)

Your Review
Where to Buy
Help support this site by making your next gear purchase through one of the links above. Click a link, buy what you need, and the seller will contribute a portion of the purchase price to support Trailspace's independent gear reviews.
You May Like
Specs
Price
Current Retail: $299.95
Historic Range: $224.93-$299.95
Reviewers Paid: $240.00