Buff Lightweight Merino Wool Buff

At first glance, this is a simple neck gaiter that serves a pretty basic function. Yet this humble accessory has been an essential part of my various activities for almost 10 years and thousands of miles of outdoor travel. The merino wool version demonstrates superior performance over synthetic and cotton offerings. Breathability and temperature control make it much more tolerable in hot conditions, while it performs equally well for thermal protection when it's cold. Most importantly, it keeps the sun off my neck, face and head.
Pros
Multi-use / multi-wear
Stretchy and large enough to provide full coverage coverage of the neck, head, and face
Merino fabric is soft against skin, highly breathable, and handles moisture well.
Relatively inexpensive
Durable
Cons
Thin and highly breathable, a merino Buff probably doesn't do a whole lot to prevent the spread of coronavirus...but it's better than nothing (?)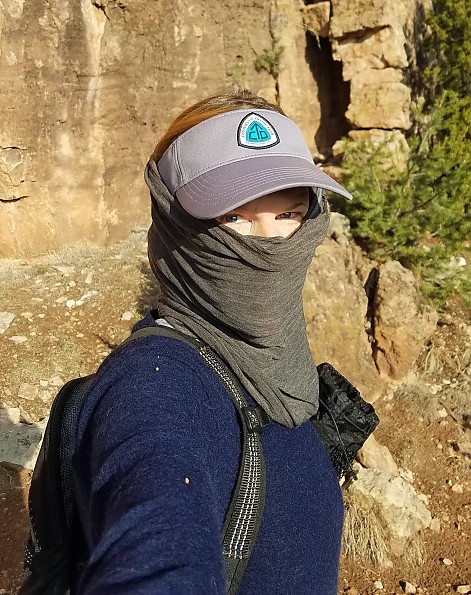 In the times of COVID, I thought it apt to review a product that has been an essential part of my kit long before face coverings ever became a (controversial) subject. It's my hope that this review sheds some light (pun intended) on other objectives for outdoor face coverings.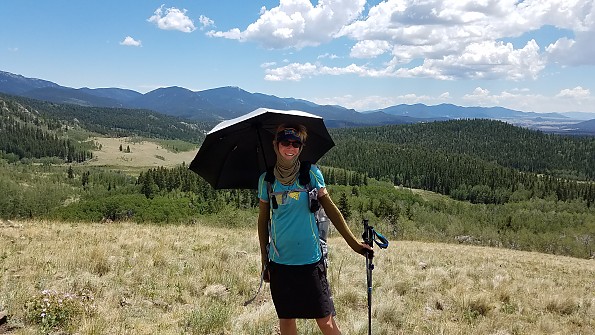 I cover my face (and many other parts) to keep the sun off...why else would I look so silly?

Background: Growing up in Colorado, fleece neck gaiters were a childhood essential for warmth...think Kenny of South Park. When my pursuits turned tropical and my education in Marine Biology steered me towards a career on ships and small boats, my focus shifted towards sun protection. Damaging UV rays reflect off the water (and snow) to the point where a hat and sunscreen just don't cut it.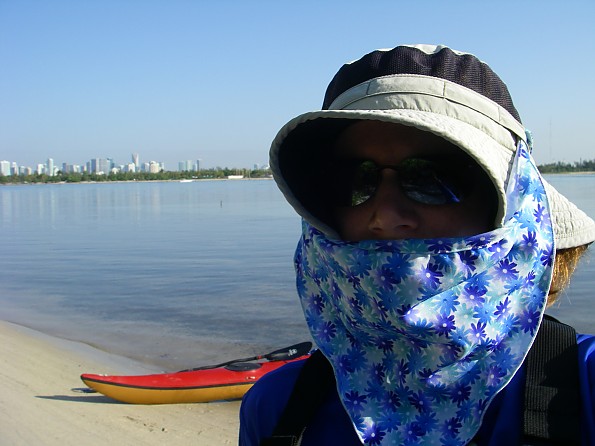 This was my first attempt at covering my face and neck...a modified hair bandana.

Buffs eventually became all the rage amongst paddlers and fishermen. But as most of us unfortunately know all too well these days, face coverings of synthetic or cotton material can be hot, uncomfortable, and make it hard to breathe. I certainly didn't tolerate my cotton Buff very well...especially in the places where I needed it most...the hot and humid tropics.
Luckily, I discovered the miracle properties of merino wool during my first visit to New Zealand in 2003 and later seized on a chance finding of a merino wool Buff in 2012. The rest is history.
 Function, Adaptability & Ease of Use: Let's start with one the most pertinent features of a Buff. How can a simple tube of fabric be so useful? Buff does a great job of marketing their product by depicting all the ways you can wear one, making multi-use fanatics swoon.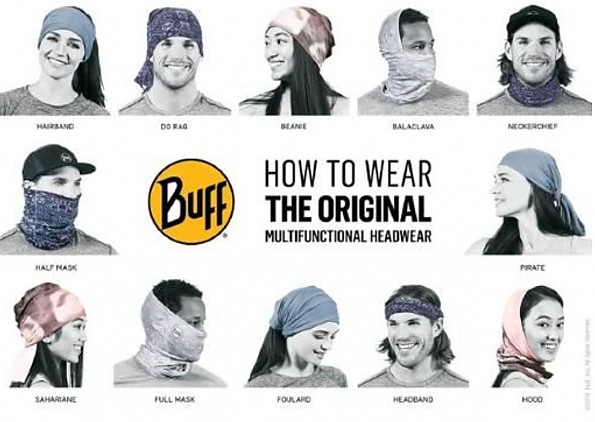 Admittedly, many of the depictions are very slight variations on the same concept...it's a hat / headband / hair tie / face covering /neck warmer. That's still a decently impressive list of configurations, most of which I've utilized extensively. For thru-hiking and traveling especially, I love such a versatile product because it allows me to get a lot "bang for my weight".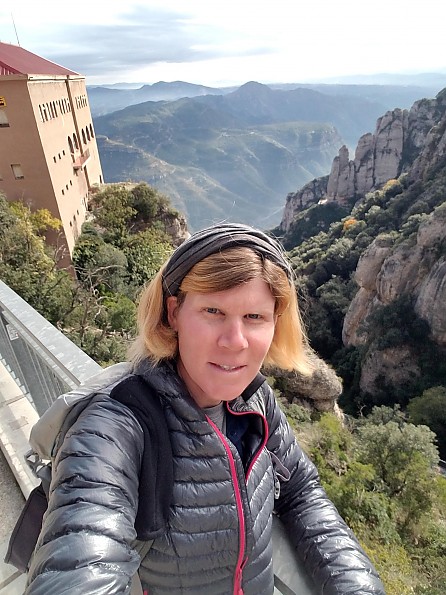 In headband/hair control mode during a visit to a Spanish Monastery. Incidentally, Buff is a Spanish company.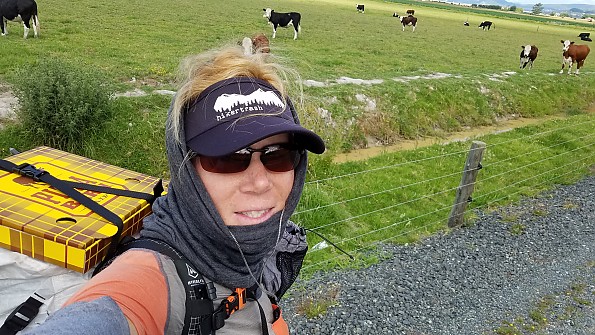 In sun-protection mode, thru-hiking the Te Araroa in New Zealand...yes, that's a take-away pizza strapped to my pack and the cows are envious.
Add to the mix the wonderful properties of merino wool and the list of uses grows. Such as a comfortable sleeve for my rubbery inflatable pillow. Or as a towel, which a traveler is often lacking. Or as a neck cooler, accomplished by dunking in a cold stream.
Somehow wet merino doesn't ever feel clammy yet still manages to cool the skin...I can't explain it, but it works. I've also found that the material breathes even easier when wet, so on a hot day, you'll see me repeatedly dunking it over the side of my kayak.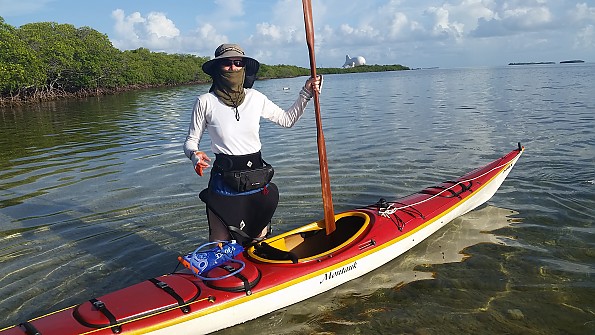 Arrgh, walk the plank matey...maybe I should try it in pirate mode.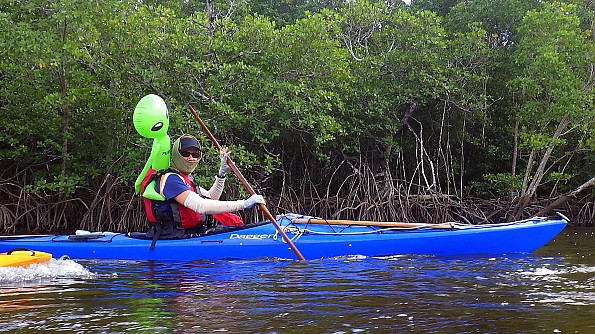 Is that an alien on your back? Yes, yes it is. Sometimes they just like to come along for the ride...
Fit & Comfort: If you've read a few of my reviews, then you probably already know I'm the biggest fan of merino wool fabric. For prolonged active-wear, I make an effort to cover myself in it from head to toe. I love that it resists odors, breathes, and feels so good against my skin, no matter what the conditions. I also appreciate that it's a natural, renewable, and biodegradable product.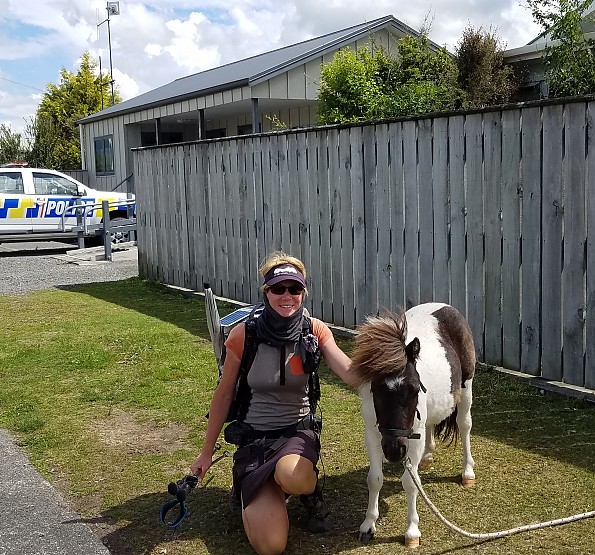 Are you where my merino wool comes from? No, I'm a New Zealand Police Pony, strategically tethered to guard the local station. Naturally.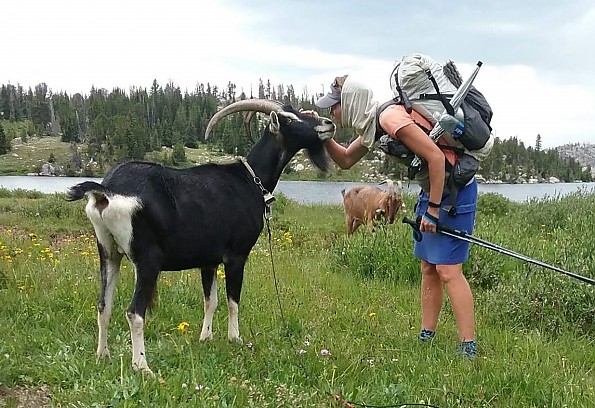 Are you the source of my merino wool? No, I'm a pack goat...but I'll schlep your stuff if you feed me grass.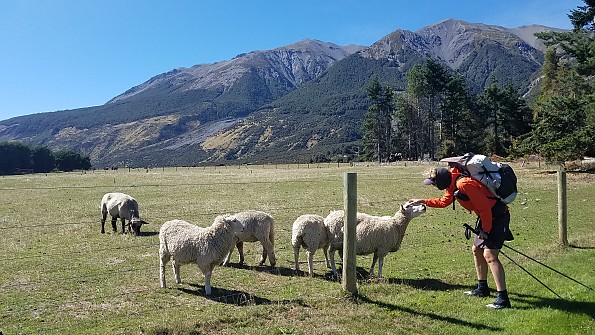 Ah, you must be it! Pardon my digression into random animal pettings...a theme from my travels, but relevant since I'm wearing my merino Buff in all the pictures!
In addition to the high performance of the material, a merino Buff is a fair bit larger than any other Buff product, as well as their competitors. The three I own are 21-23 inches long by 10 inches wide, which makes them perfectly suitable for pulling all the way over my head and face without my neck feeling constricted.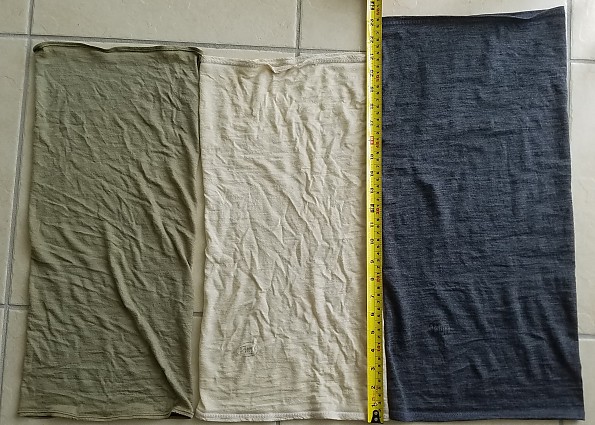 Three merino Buff samplings, amply sized for full coverage.. The newest addition is 2 inches longer than the others...or perhaps the old ones have shrunk a bit.
I recently tried a Meriwool neck gaiter (because I like to try new things and it was $10 cheaper than the Buff). While the fabric is on par with Buff's, it's 1 inch narrower, which makes a big difference. I find it too constrictive around my neck. Buff hits the sweet spot for me but for others, a narrower build may be perfect. My partner likes the Meriwool better because he doesn't have thick hair to have to pull it over.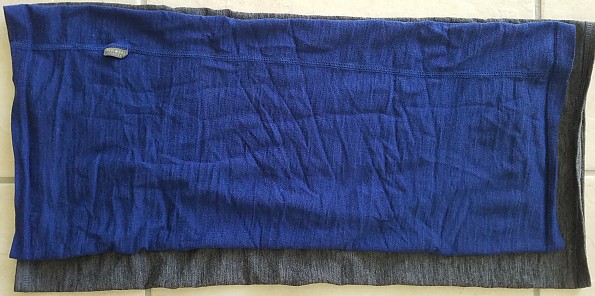 How the Meriwool neck gaiter stacks up to the Buff...no 2 tubes are the same.

Warmth & Layering: A merino Buff is perfect for layering. It can slide over hats and beenies and also under hoods. It's way more practical than a scarf in this regard. A little trivia, bufanda means scarf in Spanish, which is how the name Buff was derived.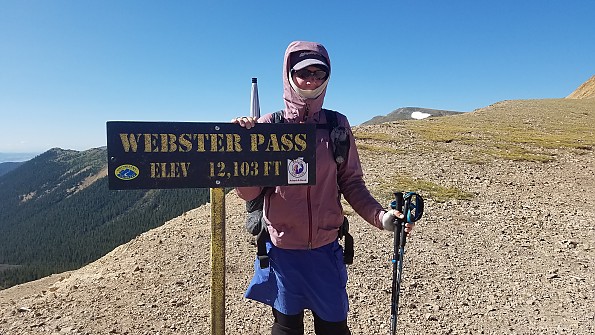 A Buff works great for keeping the chill at bay on ridgelines and mountaintops along the CDT.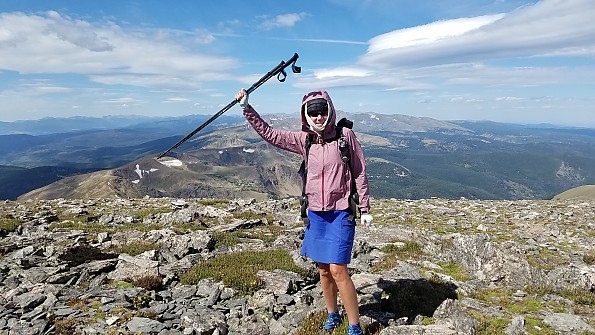 In this photo, I'm wearing a my Black Rock Gear down beanie, covered by my merino wool Buff , covered by my Gore H5 Active Hooded Jacket.

Ultraviolet Protection Factor:  Trust me, sunscreen and hats aren't enough! I'm a fair skinned person, genetically predisposed to skin cancer. I have spent thousands of hours in some of the harshest sun environments: on the ocean, at high elevation hiking the Continental Divide, through deserts on the Arizona and Pacific Crest Trails, and along the Ozone-deprived length of New Zealand. These adventures pretty much check every box for sun exposure.
Perhaps most poignantly,  my father died from stage 4 Melanoma cancer this year. In his memory and in the hopes that I don't suffer the same fate, I cover my face outside as much as I can.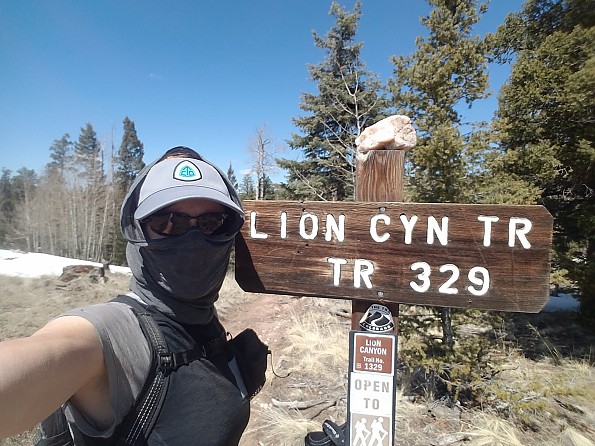 Recently, a stranger confronted a friend of mine about wearing a Buff over her face during a hike. Like me, she was wearing it for sun protection, minding her own business, and definitely not deserving of an interrogation from a random guy with an agenda. Hearing about this really upset me. Aside from issues of misogyny and intolerance that women sometimes face in outdoor spaces, this event was irrationally and politically motivated. So I'd just like to ask that people reflect on all the various reasons someone could have for covering their face and don't pass judgement.
Construction, Durability & Conditions: I have used three merino Buffs over 10 years. I have never experienced a seam coming apart or any other defects. The material does wear thin after repeated washings and excessive sun exposure. Just to give you an idea about longevity and durability, I wore my second merino Buff (grey) for the entire Te Araroa Trail (2000 miles), Pacific Crest Trail (2700 miles), a part of the Continental Divide Trail (700 miles), and many day hikes before finally retiring it.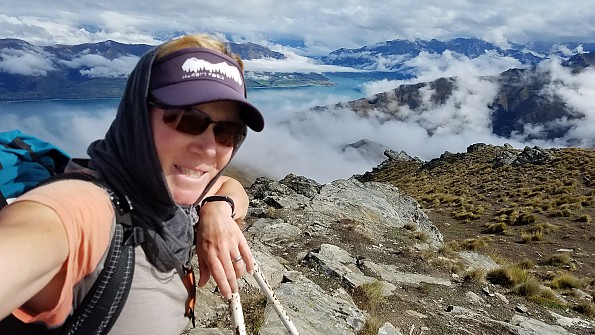 Background
I use a merino wool Buff primarily for sun protection for pretty much every outdoor activity, including thru-hiking, biking, skiing, kayaking and running. These days, I wear it around my neck almost everywhere in case I forget to also bring along a cotton face mask. In a pinch, I double up the fabric to cover my face indoors. However, a purpose-built face mask is still preferable for indoor use.
Source: bought it new
Price Paid: $25-29

An accessory that earns its keep—whatever you do, outdoors.
Pros
Great temperature modulation
Good fabric
Well constructed and finished
Multi-functional
It's a scarf, a head or wristband, a hat, balaclava, towel, pot gripper...It may be the loose neck covering you want, or tight draught excluder you need—depending on how you wear it. Wash it in the sink, with mild soap, and wear it again tomorrow.
I read Twig's detailed (outstanding) review and immediately upgraded my £3 polyester neck gaiter clone. The wool Buff can warm you up, or cool you down, so quickly supersedes cotton bandanas and anything made of poly-cotton, on your essential outdoor kit list. It's long enough to wear as a head and neck covering, or fold in half (warmer!) and still leave no gaps between your collar and chin. It doesn't irritate my sensitive skin, it weighs very little and takes up no space, in a pocket or pack.
I bought my Buff in May and have carried it most days since. It allows perspiration to pass freely and eradicates chills. Love it. Bought a heavier one for winter and a pastel coloured example for my wife.
Thanks, Twig. Thanks, Trailspace. Satisfied repeat customer!
Background
Most days, since May, for two or three hours at a time, walking in rural Scotland. Used mainly as a scarf, a couple of times as an under-hat bonnet/ear warmer, a few times as a headband, and once, to remove a kettle from my Optimus stove (when I mislaid my handkerchief).
Source: bought it new
Price Paid: £20

Your Review
Where to Buy
Help support this site by making your next gear purchase through one of the links above. Click a link, buy what you need, and the seller will contribute a portion of the purchase price to support Trailspace's independent gear reviews.
You May Like
Specs
Price
Current Retail: $21.01-$219.00
Historic Range: $13.83-$219.00

Recently on Trailspace