Crescent Moon Big Sky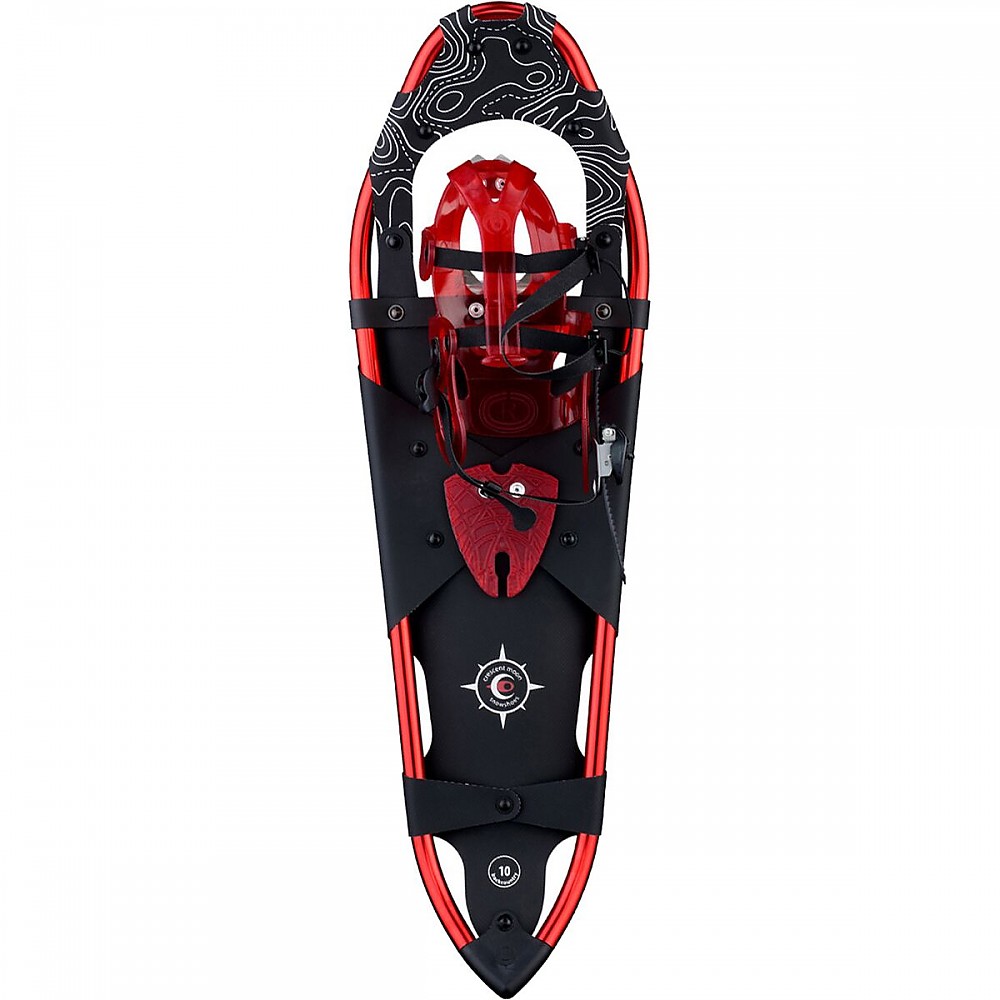 Version reviewed: Gold Series 10
Good all around shoe that excels in backcountry use. Fresh snow and off-trail adventuring benefit from the excellent float. Easy on and off with innovative one-handed binding.
Pros
Easy to use binding
Great float
Tapered tail
Good traction in most conditions
Pretty paint job :)
Cons
Flexible deck limits traction at times
Pretty paint flecks in the snow :(
The Gold 10 Backcountry snow shoes are part of a line by Crescent Moon, a Colorado company that has been at it since 1997. They manufacture a really wide variety of snowshoes there and have stayed on top of changing times and markets with the recently Trailspace Review Corps reviewed EVA All Foam shoe. The Gold 10s are a more traditional shoe, but with some unique innovative twists.
Specs:
Weight 5.43 lbs / pair on my scale
Dimensions: About 31" long and 10.5" at the widest point
6063 Aluminum tube with polyurethane deck
Bindings:
Let's start here because that is where the snowshoeing starts and ends. Struggling to get into and out of snowshoes is one of the biggest reasons more folks don't like to use them. Crescent Moon uses a nifty double front strap and a ratcheted heel strap to create a binding system you can operate entirely one-handed with a glove on. The user can step in, ratchet the heel tight, and pull the front strap tight in seconds. Exiting is just as easy.
The rest of the binding consists of a flexible plastic form that gets wrapped snugly around boots of all sizes. Low profile boots like the Oboz Bridger, mid range like the Vaque Lost 40s, or even huge like the Baffin Impacts were accommodated by adjusting the length of the heel binding. Combined with the straps this system holds onto the feet very well neither coming loose nor feeling uncomfortably tight, no matter what position the foot got into.
Float:
We'll go here next because float is why we put snowshoes on. The Gold 10s excel in this area due to their wide, teardrop shape. Designed for users weighing up to 225 lbs and with feet sized 10 or larger, this shoe puts a lot of deck on the snow. See the video at the end of the review for some demonstration of it in use.
While I didn't have the best powder to really test them out at home I did find some deep, undisturbed snow on some of my adventures in the mountains. I weigh a bit over 200 lbs in the winter and carried packs ranging from light day to heavy mountaineering. Even going well over their rated weight limit I still was riding pretty high. I don't usually bother weighing my winter packs, but I'd guess it went as high as 50lbs at times. The length of the tail seemed to help in that regard, spreading the weight out over more snow. I'm just sorry I didn't get a chance to see what they could do in two feet of fresh powder.
Traction:
The other reason we put snowshoes on. Looking at the underside of the Gold 10s you notice a lot of jagged stainless steel teeth looking back at you. At the toe there is a small crampon, then larger ones under the ball of the foot and the heel. In addition there is a claw on either side of the foot to help with lateral traction. Together this system works very well in most conditions. Exposure to hard ice and steep incline demonstrated that it does have its limitations, but under generally expected backcountry conditions they did the job pretty well most of the time.
Construction:
The frame tube of the Gold 10s is 6063 aluminum formed into a wide, teardrop shape. A bit over 10" at the widest point, the frame tapers to a gentle point over its 32" length. Stretched over the frame is a flexible polyurethane deck which wraps around and is riveted to itself. Running across the frame at the ball of the foot is a heavier strap of plastic which connects to the crampons and provides support under the foot to keep the deck from flexing more. The stainless steel crampons are each held by multiple rivets. The ones under the foot are all equipped with a plastic shield to prevent icing.
Durability:
Other than hard ice taking some paint off I'm seeing almost no signs of wear after a couple of months of use. I see a bit of fraying on one decking strap which I believe is from running into the other shoe which I'd protect with a bit of tape, but the flexible materials have not stretched or cracked under stress.
This video gives a quick overview of the shoes and shows them in action a bit.
Testing Conditions:
Unfortunately my testing opportunity started late in the season and I missed some really good, deep powder storms in the early winter. What storms we did have locally tended to be wetter and denser snow packs, but we did get several big dumps. Lots of day hiking in the local woods and golf course made for good casual testing. Serious testing was done on trips to the Mahoosucs here in Maine and to the White Mtns in New Hampshire. Shoes were tested hiking with and without a pack and also while pulling a sled.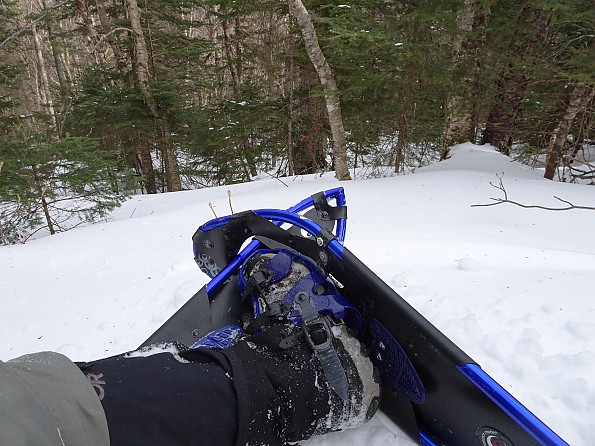 One unusual thing did come up during testing and I'm sharing this as part of my personal testing experience only. Based on my research I may be the only human capable of making this happen, but under very specific circumstances, I was able to unintentionally lock the shoes together as seen in the picture above. The first time it happened I thought it was a funny oddity. After it happened a few more times I noticed the pattern.
The only time this would occur was when I was descending a steep slope with my sled behind me and needed to guide the sled around a right turn. Steps needed to perform that maneuver repeatedly put the shoes in a position where the right toe would snag the left heel and drive it home. Once in that position the toe cleat made it very hard to free.
Reporting the issue led to a quick phone call with Jake Thamm, President and Co-Founder of the company who seemed genuinely amazed that this had happened. While I certainly took his word for it that they had never heard of this before I did some more digging. My research supports the fact that nobody else has ever seemed to have this problem. This makes me feel very special :)
In all seriousness, I wanted to report this as part of my review because it happened. That is how I write my reviews, relating my experience as well as technical info. I really don't think this should dissuade anyone from trying these shoes. Not sure anyone else could do this if they tried, but if it ever happens to anyone else they will hopefully find this and not feel so alone heh.
Conclusions:
As you can tell from my 4-star rating, I liked these shoes. The shape, design, and feel on the foot are very different from my usual shoe, the MSR Revo Ascent. Once I got over that I began to notice the advantages these differences brought to some situations, though I also noticed some disadvantages.
First let's go back and talk about those easy in and out bindings. So many folks would rather post hole than wear shoes because they are so annoying to get on and off. I know this because I see them out there all the time messing up the trail heh. Those folks should definitely check out the Crescent Moon binding. No excuse not to put em on when you should and you can always take them off if conditions change because that is easy too.
The second thing that struck me about the Gold 10s was the freedom of motion the teardrop shape allowed. On a trail I felt like kicking up my heels and running at times. Off trail, feet were free to go where they had to without running into one another as much. The width requires a wider stance which works for me, but might bother some. The real problem with the width is when traveling a deep single track made by standard width shoes. Shoes are constantly bumping into the sides or one another as you stride which can definitely be annoying and probably accounts for the wear I mentioned earlier. In open, unbroken snow, or on a trail broken with these shoes they were a joy to stride in. Off trail in the backcountry is where these shoes seemed to be really happy.
There were a few other limitations I ran into worth mentioning to a prospective buyer. I found that steep inclines, especially in descent, were a challenge for the traction system. Using these shoes for climbing might require swapping to spikes more often than if using a climbing shoe.
Another climbing related issue I found had to do with the flexible deck. While the crampon system worked pretty well when fully functional, at times when scrabbling for traction on a serious pitch the foot would twist the deck in a way that negated some of the crampons. The flexible deck could also make dealing with frozen post holes and other chunky style trails a bit more work than a sold deck. Stomping down other folk's debris is hard work and the deck flex makes it a tad harder I think.
In contrast to that, in other conditions the traction could be fully applied to great result.  Bushwhacking up a ridge in the Pemi I was astounded by how well I could cut a trail up a steep slope. The difference being deep snow here vs hard pack and ice in the other examples. That flexible deck also felt great when you were wandering around on fresh snow.
I think those last few points sort of lead me to my final point. The Gold 10s are a really great tool when properly applied. They have some situations you might want to not use them for, but the rest of the time they are fun, easy to use, and functional. Stay within their limitations, really most folks will have no problem with that, and they will get you where you're going.
Source: received for testing via the Trailspace Review Corps (Sample provided by Crescent Moon for testing and review)

Your Review
Where to Buy
Help support this site by making your next gear purchase through one of the links above. Click a link, buy what you need, and the seller will contribute a portion of the purchase price to support Trailspace's independent gear reviews.
You May Like
Crescent Moon previously sold the Big Sky as the Gold 10. They are the same snowshoe.
Specs
Price
Current Retail: $219.95-$239.95
Historic Range: $139.75-$275.00

Recently on Trailspace