Crispi Svartisen GTX BC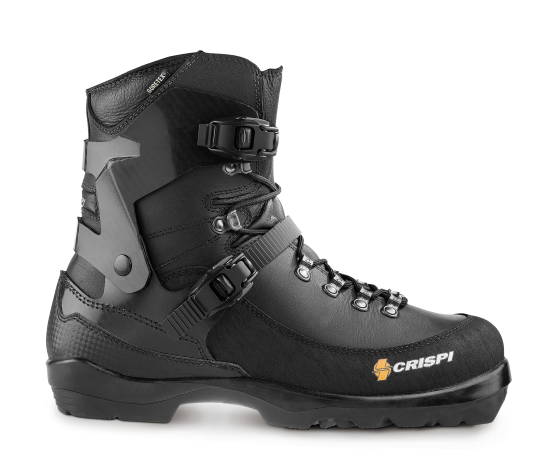 A solidly built, high-end NNN-BC boot that delivers on both touring and turning performance. The 2-buckle, hinged plastic ankle cuff boosts downhill control. A good choice for messing about in the Vermont woods or Norwegian style hut-to-hut touring with summits on the side.
Pros
Top quality workmanship
Touring and turning performance
2-buckle, hinged plastic ankle cuff
Torsionally stiff sole
Cons
Uncomfortable around ankles when buckled tight
Usual NNN-BC limitations in difficult snow conditions
Back in the '90s, as plastic boots were rising to their current dominance in the backcountry ski world, I was a regular on rec.skiing.backountry, an online bulletin board for back country skiers. I was then and remain a proponent of the NNN-BC (New Nordic Norm-Backcountry) boot-binding system as a good choice for a brand of backcountry skiing that involves a mix of kick-and-glide touring and downhill skiing in more or less friendly snow conditions.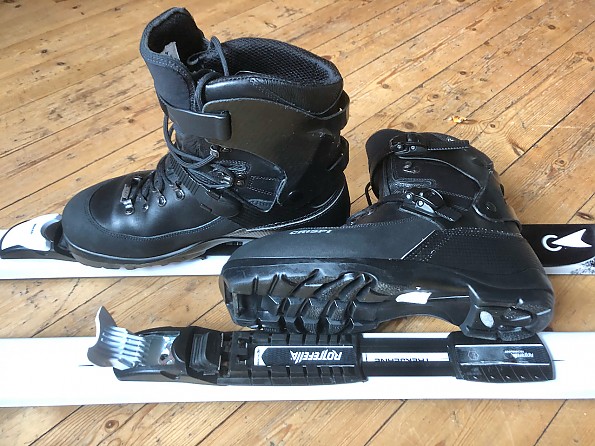 I got into a few online arguments over the pros and cons of the system, with one user arguing that no "serious" skiers use NNN-BC. Who's serious? I ski for fun, and try to find and use equipment that maximizes the FQ (Fun Quotient) in any given situation. I walked the talk, using NNN-BC as my main backcountry system throughout most of my Vermont years, and didn't own any plastic boots until a few years after I moved to Norway, where I began to encounter steeper terrain and more varied and difficult snow conditions (where beefier equipment gives a higher FQ).
But I suppose the guy was right. Most skiers interested in doing turns go straight to plastic boots and big skis, these days often rando rather than tele. Rando has exploded even in Norway in the last decade, but NNN-BC is still the most common choice for hut-to-hut skiing, which can involve long distances on relatively easy terrain. In my experience, a solid skier who knows his/her limits can go out in the right conditions and have a lot of fun on an NNN-BC rig, at a fraction of the weight and cost of today's full-on tele and rando gear.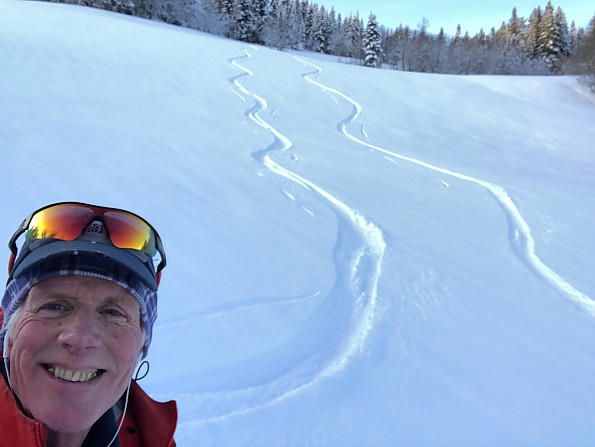 The problem is finding decent boots. Relatively high-end NNN-BC boots are admittedly a niche market, especially in the US, and some of my favorites have gone out of production. That's where the Crispi Svartisen comes in: a well-made, high-cut and stiff (for NNN-BC; Crispi's "soft" flex rating may be in comparison to its plastic boots) leather boot with a plastic ankle cuff and a pair of ratcheting buckles for eliminating slop, offering a little more control for when the going gets, well, tougher.
The boots are named after a small mountain ice cap ("the black ice", except it's not) in northern Norway. I bought my Svartisens to go along with my new Åsnes Kongsvold Jakt skis, and have been having a grand time this winter searching out powder shots in my backyard forest reserve in Trondheim and taking on some glades and easy summits in the Trollheimen Mountains, often with my dog, Harley, along for the fun.
Materials, Construction, Design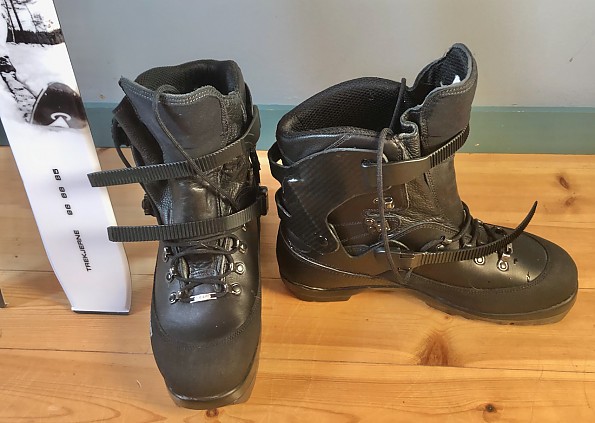 The Svaritisen is solidly built in grand Italian style. It has a two-piece, full grain leather upper with a full bellows tongue, locking lacing hooks at the bend of the ankle, and a second pair of hooks above the ankle. According to Crispi, the leather is impregnated with a synthetic wax with a low silicone content. A tough synthetic rand protects the forefoot, and an even tougher plastic layer wraps around the heel. Under that, a plastic heel cup is anchored to the boot sole via Crispi's Skeleton Frame system and ties into the articulated plastic ankle cuff via a pair of rivets.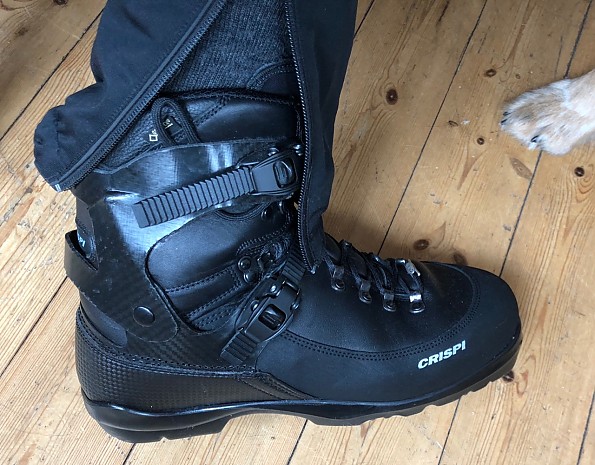 Lightweight, ratcheting plastic straps over the instep and around the ankle can be tightened to minimize slop in both heel and ankle. The ratchet can be disengaged via a toggle so the straps can be opened easily. The boot has a standard NNN-BC outsole, but Crispi seems to have worked in a stiff midsole, critical for downhill performance.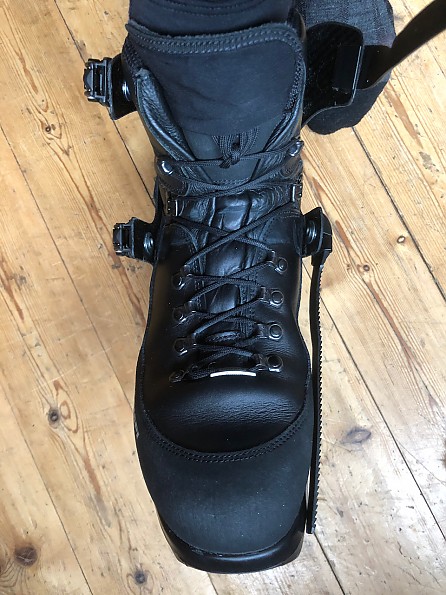 A downward facing pocket on the top of the tongue is used to tuck the laces away.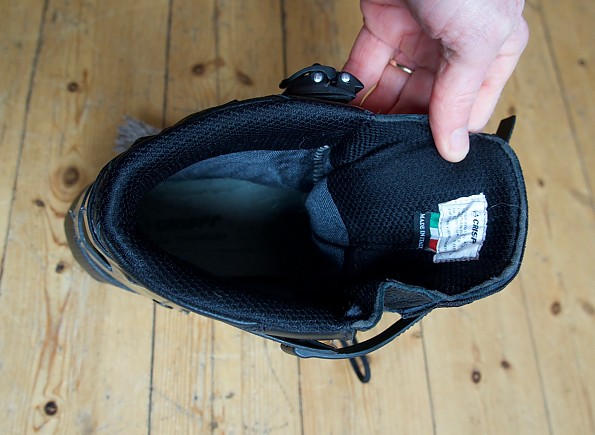 The boot is lined with a comfortable, breathable nylon material and is moderately insulated with Thinsulate with a Gore-Tex liner.

My pair of size 45s (US 11.5) weighs 1999 g (4.4 lb). For comparison, my plastic randonee (AT) boots weight 3239 g (7.1 lb) and my run-of-the-mill classic xc boots weigh 994 g (2.2 lb). For skis t boots + bindings, the weights per foot are 2253 g (4.9 lb), 3793 g (8.3 lb), and 1203 g (2.7 lb) for my current NNN-BC, rando, and light xc set-ups, respectively.
Fit and Comfort
I tried on a EU45 (US 11.5) and a 46 (12) and there was no question that my usual 45 was the better fit, so these boots are true to size. Below the ankle, they were supremely comfortable right out of the box. The ratcheting straps can be easily overtightened, so it's necessary to find the right amount of tension to minimize movement but no more. The tongue and ankle took a few days of use to start to mold to my feet and are now quite comfortable for touring, but can still be uncomfortable with the ankle strap cranked tight for a downhill run.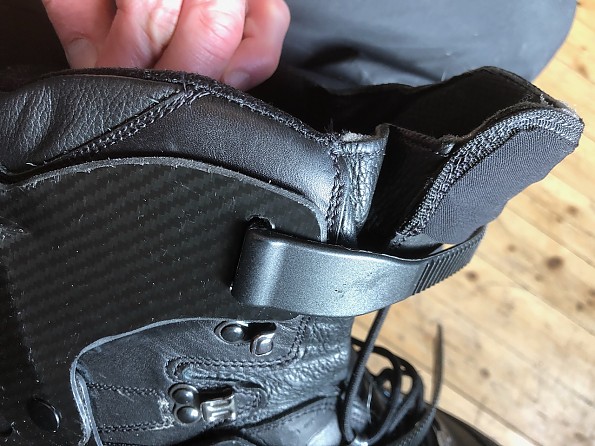 The reason: the ankle is nicely padded in the back, but the relatively hard full-grain leather extends right to the top in the front, creating a pressure point or rub when the ankle strap is tightened. I'd sure to see Crispi do something about that, perhaps just by extending the scree collar or padding all the way around to the front.
On one long day I raised blisters on both heels, but I'm now more careful to adjust the lacing and buckles to minimize heel movement and haven't had any further problems.
I haven't really used these boots in very cold temperatures—those are getting harder to find in Norway's global-changed, maritime winter climate. They are not intended for arctic conditions (but these boots are), but in other NNN-BC boots I have been able to keep my feet warm enough at temperatures down to about -20 C (-4 F) at least as long as I am active.
The first thing I do when I check out any NNN-BC boot is to grab the heel firmly in one hand and the toe in the other and try to twist the sole to test the torsional stiffness of the boot. This is the Achilles heel, so to speak, of the NNN-BC system and one of its main limitations when it comes to holding an edge on hard snow. The system is now about 30 years old, and I've often wished that Rottefella would come up with a 2.0 upgrade (their touring/racing system is now on version 3) to deal with this limitation, but instead they came out with NTN for heavy-duty telemark use. I was impressed by the torsional rigidity of the Svartisen in the shop, but now that I have them home and have used them a bit they seem only slightly more rigid than my old standby boots, the Fisher BCX6.
Touring performance
If I go out to link up a few of my favorite backyard powder runs, I end up having to put in 10 or 15 km on groomed cross-country trails, something neither my new skis or the Svartisen boots are really intended for, but can do well enough (although I get some funny looks from the skinny ski crowd). Kick-and-glide touring is where NNN-BC really shines compared to 75mm, because the toe bar on the boot and elastomer flexor on the binding allow a smooth kick and full leg extension without the boot toe having to do all the bending. The 75mm system was originally developed for touring and even racing, but then both boots and bindings were beefed up more and more to try to withstand the rigors of backcountry and telemark skiing.
In contrast modern xc boots and bindings on the one hand and rando systems (notably Dynafit) on the other were designed from the ground up to best serve their respective kinds of skiing. NNN-BC builds on the technology developed on the xc side and accordingly performs way better than 75mm at least on that side of the job. This is the system I want to ski 20+ km efficiently between huts in the morning, then bag a corn-encrusted peak in the afternoon.
The stiff sole on the Svartisen takes a little more work to flex in a kick than lighter boots, a basic trade-off for turning performance. The Svartisen is as good at touring as any NNN-BC boot that I have used over the years. My little blister event aside, they have remained comfortable on tours as long as 20 km, and I expect I can go a lot longer if needed.
Turning performance
I am using these boots on my 190 cm x 96-66-85 mm Åsnes Kongsvold Jakt skis. That's about as big a ski as I would expect to able to drive on NNN-BC, at least on hard snow. Most Norwegians use narrower skis in the Åsnes or similar lineups for hut-to-hut touring. I am satisfied, or even downright impressed, with how well these boots can drive such a wide ski.
So far I have mostly skied in heavy powder up to about 30 cm / 1 foot deep over a firm crust or base, but have done a little time on hard crust or windpack. In the powder I've been having a lot of fun, partly because the new skis turn well, but the Svartisens can definitely handle the action. On the hard stuff, well, a controlled skidded turn is what you get, a technique I know well from my earliest telemark days and still have in my bag of tricks. In that case, the Svartisens do as well as any NNN-BC boot I have owned.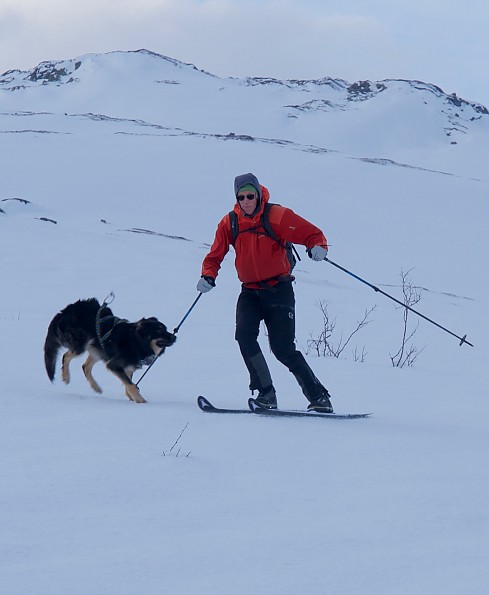 I've done a few runs in mashed potatoes, where they are at their limit in steered turns, and hope to ski some corn (if current virus-related lockdowns are lifted) as we move into spring, where I expect them to do well as long as the snow isn't too rotten. In fact, I'm looking forward to taking on a few bigger and steeper summits when public health and snow conditions permit.
Durability
Time will tell, but for the moment I can say that these are the most solidly constructed NNN-BC boots I have ever owned. The stitching on the rand may be subject to abrasion or cutting from steel ski edges, a common wear problem for ski boots in general. My 10 year-old Fisher BCX6s have suffered that fate, despite my putting a bead of seam sealer on vulnerable stitching to try to slow it down. I expect the Svartisens to hold up at least as long.
I fully expect these boots to get good and wet in spring snow conditions; I've never met a boot that doesn't. Crispi specifically recommends against using heat to dry the boots, but most Norwegian huts have warm to hot drying rooms, so some forced drying is unavoidable, if not downright desirable, if you want to start out with dry feet the next day. I expect they'll be able to handle it, and will keep them in good condition with a wax-based treatment as recommended by Crispi.
Conclusions
Depending on the mix of skills, preferences, terrain, snow conditions, and the like, the NNN-BC system can be a good choice for the backcountry skier. I have used the system on all my hut-to-hut tours in Norway since 1990, generally including side trips to accessible peaks (for example, last year's 10-day tour in Dovrefjell and Trollheimen). Anyone looking for a mix of touring and turning performance should lean towards bigger skis and beefier boots within the NNN-BC range. The Svartisen is at the upper end of that spectrum. Combined with an appropriate ski, it delivers a balance of touring comfort and efficiency with a reasonable amount of downhill control. Neither the system nor the boot is well-adapted to icy, crusty, or other difficult snow conditions or steep skiing.
Experience
I have been a skier for nearly 60 years, a backcountry skier for about 40 years, and an NNN-BC afficionado for 30 years, including 16 seasons in Norway. I use a broad spectrum of ski equipment, from xc racing to randonee/AT, and prefer NNN-BC for hut-to-hut touring with some peak bagging. I have been using the Svartisens for about a month, in close to home powder and a few mountain tours, logging about 160 kilometers and 6000 meters of vertical.
Source: bought it new
Price Paid: NOK 2,890 (about $300) including 25% VAT

Your Review
Where to Buy
Help support this site by making your next gear purchase through one of the links above. Click a link, buy what you need, and the seller will contribute a portion of the purchase price to support Trailspace's independent gear reviews.
You May Like
Specs
| | |
| --- | --- |
| Weight | 950 g |
| Flex | Soft |
| Upper | Water repellent leather |
| Sole | Rottefella NNN BC |
| Fastener | Laces+Buckles |
| Lining | Gore-Tex Insulated Comfort Footwear |
| Technologies | CSF CRISPI Skeleton Frame |
| Compatibility | NNN BC |