Katadyn Vario Microfilter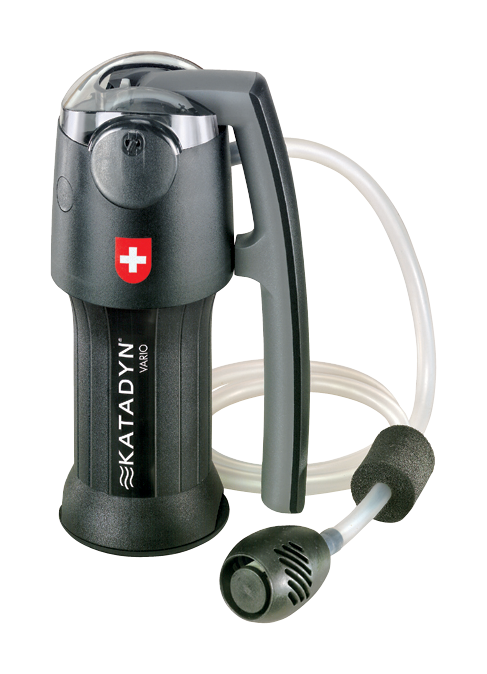 Great for group trips.
Pros
Fast flow
Two settings
Nalgene compatible
Cons
Expensive to operate
Heavy
Finicky pump
Lots to maintain
This is a big monster of a pump that is great for pumping super clean water fast.  
Effectiveness
I've always used the pump in the long life setting which involves both filter functions, the ceramic disk prefilter and the pleated glassfiber filter. The faster flow setting disengages the ceramic prefilter. The pump also has a carbon filter to make the water taste better, which is one of my favorite features.
Neither myself or anyone who has used the filter has ever been sick. The water that is filtered through this pump tastes noticeably better than all other varieties of filters I've tasted. I use no other methods in conjunction with the Vario, relying on it alone. 
Speed and Efficiency
Water flow in long life mode is excellent. It's much faster than a squeeze or gravity type filter, and noticeably faster than smaller pumps. I have not used the quicker setting as I prefer having as much filtration as possible.  
Capacity
This filter does a great job of making tons of water fast. It's perfect for a group water party.  
Ease of Use
Dipping the intake into a stream is much easier than filling a "dirty water" bag, and can really save the fingers on a cold day. Keeping the pump from freezing overnight, however, is not easy due to its size and bulk. Ditto for packing. This thing is about the size of a Nalgene bottle.
The clean water output is threaded to accept a Nalgene bottle or bag. By screwing a 2.5 liter Nalgene bag to the bottom of the pump one can make a ton of water for cooking or drinking quickly. The pump also comes with a long clean water line with a clip that can be used to fill bottles or bags. I carry a much shorter section of clean water hose for non-Nalgene use. The full length section of hose is too long and heavy.
The pump can be a bit finicky. Even when new, occasionally the pump would lock, or need to be primed. With a little fiddling the pump has always started and once flowing produces a steady stream of water.
Field maintenance on this pump can be a real pain. The included o-ring and lubricant kit is extensive, and troubleshooting with its myriad of parts is not something you want to do in the woods. Due to the unit's weight, I carry about half of the maintenance kit.  
Below the filter is mostly dissembled for cleaning and maintenance, everything but the green scrub pad for scouring the ceramic filter is shown: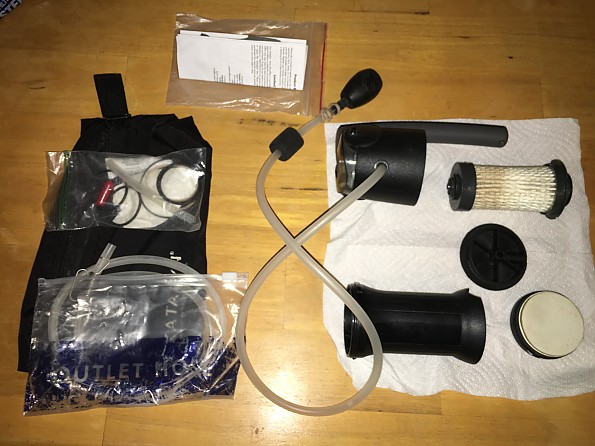 Features
The dual stage filter and carbon filtering are the reasons I purchased this pump. I was concerned about pesticides and agricultural runoff as much as crypto or giardia. The filter gives great tasting water that is reliably free of nastiness. The fast flow could be called a useful feature if one wanted an even faster flow.

Construction and Durability
The unit is constructed of sturdy plastic and mine hasn't broken. The plastic tubing can deform with use. The dirty water tube on my unit deformed to the extent that flow into the pump was almost entirely cut off. This was caused by the angle the tube was wrapped around the unit in storage.  
After 18 months it's time to change the filters as it's experiencing low flow. At $35 for a replacement cartridge, $12 for the ceramic disk, and $10 for the charcoal, I'm looking at spending almost the amount for a new unit! I'm not happy about this.
Conditions
Used in in silty creeks, muddied lakes, clear mountain streams, and algae choked wildlife ponds over a period of year and a half. Never had an algae problem, but fine, invisible sediments give the filter the most trouble.  Summer and winter use.
Summary
I have a love-hate relationship with this filter. I hate its weight and bulk. I hate the fact that troubleshooting can involve 6 or so o-rings, 2 filters, moving parts and many fittings. I hate the cost of the filter replacements.   However, I love the fact that I can gets a lot of clean, great tasting water quickly, and it works great for group trips.  
Source: bought it new
Price Paid: $100 US

I am a wilderness trips coordinator. We send trips into the BWCA. I purchased the Vario filter for our trips program after using the Katadyn Pocket filter for years (it worked and was field cleanable but was labor intensive to pump and clogged more and more quickly) and after hearing that other organizations had used the Vario successfully.
And because Katadyn rates the filter up to 500 gallons. I thought hey, that sounds like the right amount for our groups. Plus it has two settings, longer life with the ceramic filter, and faster flow using only the pleated glass filter. Sweet, right? Sounds great, right? Well...
I sent it out on several BWCA trips. Each of my experienced trip leaders came back with the same complaint — after filtering approximately 5-10 liters on longer life setting, and trying to clean the ceramic filter, water began to shoot out the top pump housing due to pressure. They tried switching to faster flow and found the same problem.
So I called Katadyn. They told me, "Oh yes, our microbiologist, who tests for us, reports red algae blooms in the BWCA — that is the problem." Red algae is not actually red — it is clear and acts like glue and sludge in the ceramic and pleated glass filter element. I then asked about the filter's rating of 500 gallons, and the rep corrected me, "up to 500 gallons."
Oh. So let me get this straight. Katadyn America, who is located in MN and retails and markets their product locally for users interested in BWCA travel, has a paid expert reporting that there is (and has been) a microorganism gumming up their filters, rendering them useless, and yet they continue to happily sell this product to people who want to use it per its stated capacity in the place (BWCA) that Katadyn knows will be problematic, if not impossible to use it. For shame. So, I went online, and a little more research reveals multiple and similar instances from many different users, dating back.
Katadyn's solution seems to be (as it was with me) an attempt at appeasement (they call it a customer service gesture). They offer a few filters. But I say, "How about you tell the truth about your product — put a consumer warning on it locally, like at the REI in Bloomington, MN, that says, "will not work reliably at all in the BWCA. Capacity of up to 10 liters during red algae blooms. Red algae is all but invisible to the user, which in effect makes using the Vario in the BWCA a crap shoot." Buyer beware.
Unless I can figure out a way to pre-filter out red algae, this unit is a piece of junk to our program. Currently, I have purchased some qualitative filters (10 micron pore size) to try to screen out the algae (reported 30 micron average size) by rubber banding them on to the existing pre-filter, but I am awaiting results from that experiment.
I am also awaiting reports from groups filtering Lake Superior water, Isle Royale water and Superior Hiking Trail river water. I would like to know if they have the same problems. I have a sneaky feeling they will.
I cannot stand the complete misrepresentation of this product. They use the capacity of 500 gallons as a selling point, but then throw the "up to" back in your face when it barely filters five liters, implying that it is the consumer's fault for not being aware of its liability and limitation. Come on!
Price Paid: $56 per unit

A great filter for filtering water for groups of people or for just getting out large volumes of filtered water fast.
Pros
Double-action pump system is amazing
.2 Micron makes it great for almost all of the U.S.
Can filter large volumes of water fast
Cons
Doesn't have a durable feeling to the pump
Pre-filter needs to be cleaned often
A bit heavier for a water filter
I've put a countless amount of gallons through this filter and have seen no drop in performance so far. To put an approx. number, I've probably put at least 100 Liters through this thing and no problems of failures have occurred so far. Couldn't be more happy with a filter like this.
I use my filter on longer life most of the time, I don't see a true need to get water out as fast as I can, I'd much rather extend the life of the filter instead. Using the longer life option, it activates the ceramic pre-filter which just helps lessen the workload for the main filter.
Because I use that option, I need to scrub the ceramic pre-filter every so often because of the junk that builds up. This can be done with a scrub pad that's included. Also, this filter includes active charcoal, which greatly improves the taste for me. While I appreciate the size and weight of my smaller Sawyer filters, I've become too used to the clean taste my Katadyn gives for me to give it up easily.
Because of the dual action pump system you can see through the top, this thing filters water fast. But because of this mechanism, I'd recommend applying the lubrication to all seams and moving parts as directed and needed, since there are a lot of mechanisms at play here. This is probably why I have not run into problems yet because I do this to all the seams routinely.
Another cool feature is that this filter can actually screw on top of your wide opening Nalgene bottle, which makes filtering water into that bad boy so much easier.
While pumping this filter, for some reason I do not feel confident in aggressively pumping the handle. When handling and using it, it doesn't give the impression that it can withstand abuse or even aggressive use. This may be because the plastic its constructed of seems rather brittle, and the handle action doesn't seem bomb proof. This may be just a silly idea of mine though, as it has not broke yet after dropping it a handful of times.
This is definitely not the lightest filter out there. Like mentioned earlier, I have a Sawyer Squeeze filter I use when weight is of importance. This filter comes in around 15oz, essentially being 1 pound. Now if you're counting your ounces on your pack, this may not be the filter for you. But if you're filtering water out for a group, or for an expedition or if you need large volumes of water filtered, this filter is for you then.
Source: bought via a "pro deal"
Price Paid: $46

6 1/2 years of use and this is still a great three stage water filter.
Pros
Fast, versatile, and effective
Simple to use
Easy to maintain
Cons
Weight (who doesn't want the lightest thing ever?)
My old treatment system was a great product, but my lovely wife bought me a new one. My old Katadyn Exstream XR was awesome in most respects, especially for its reasonable price. Actually, the Exstream isn't much less than this Katadyn Vario: $50 vs. $80. The Exstream was a bugger to use in cold weather though, although I didn't mind a little work to get clean, tasty water. However, depending on what kind of day I had it could be slightly bothersome.
I have only used the Vario once but am already convinced that it is a superb product. Water pools lined with this past year's oak, beech, and maple leaves, which tend to add a unique bitterness even to the taste of filtered water, was crystal clear and tasted better than my well tap water; the stream water I used was beyond messy after a tumultuous January downpour in the Allegheny National Forest.
This product is incredibly fast— up to two quarts per minute. It has two options for filtering: essentially based on fair or poor quality source. Apparently, its triple filter design sorts it all out. I highly recommend this water treatment system and would like to thank my wife for loving me enough to buy it. (She patiently listened to me bitch and moan while using my Exstream on the Sesquehannock Loop in north central PA. . .it was a long day and I was cranky after all the bushwacking on the way to Ole Bull State Park) I don't anticipate problems as Katadyn has a great reputation.
Even after one use, I would recommend this to anyone out there looking for a treatment system. The technical links for the Vario listed above will help with the geeky details. . . Again, it's well worth the money. Superb product, wonderful wife.
Update: March 13, 2007
Just an update: four more trips in with the new Vario and I have nothing more to add but praise...or more praise rather. I miss the lightweight aspect of the Katadyn Exstream, but that's about it. Simply re-stated: I'm a big fan of this filter system. Katadyn finally got the replacement filters (all three: charcoal, fabric, and ceramic) out in the stores last month, although I don't anticipate having to buy them in the near future. It's nice to know the filters are priced reasonably and available for future use. If you're in the market for a new water filter, this might be the product to keep you pleased in the backcountry.
Update: September, 23 2013
6 and 1/2 years of use and this product is still working great for us.  Lots of people reviewed this poorly over the years, but I can't see why from my own experiences. The triple filter system has cleaned some truly disgusting water and made it drinkable. I am out at least one weekend a month, and this has been along with me on each and every one for a long time now. 
I stand by my belief that this is one of the best filters out there and that it performs flawlessly for me.  The only times it hasn't operated flawlessly, there's a good reason for it.  When water leaks around the upper seals while pumping, the ceramic filter needs to be by-passed or taken out an scrubbed. Problem solved. . . 
A recent upgrade since we have the kids on the trail now. Since this is a filter, not a purifier, I bought a SteriPEN Ultra to negate any concerns about the safety of the water for the kids' sake. I have never gotten sick using the Vario but felt that the back-up UV purifier is well worth it.  One puke-filled weekend due to tainted water and my kids might never want to backpack again.
Source: bought it new
Price Paid: $80

Excellent filtration device for backcountry camping and expeditions. Easy to use, small compact design allows storing to be a breeze and not take up valuable pack room. Katadyn hits another homerun with this microfilter!
Pros
Super easy to use
Filters even the most questionable of water!!!
Compact and lightweight which is a godsend in the backcountry!!!
Easily adapts to a wide variety of water bottles on the market
Cons
Ceramic discs can clog quite easily if you're not mindful while pumping water.
If back-pressured too much the seal will leak around the top
I have used this outstanding filter for two years now and cannot speak highly enough of it. The folks at Katadyn really have mastered the craft.
Through two weeks of solid use in the Allegheny National Forest a party of six really got the chance to send this filtration system through the ringer. It was used all day, everyday.
Using the Fast-Flow mode, I was easily able to fill my Nalgene bottle in just a couple of minutes. Using the "Longer Life Mode," while taking a minute or two longer the filter still flowed very fast compared to other models on the market.
The Vario works well on multi-day canoe trips and while a little heavier (1 whole pound) and a larger than some other models such as the Hiker and Hiker Pro, with the type of camping and traveling my group did this model was perfect for our needs.
If someone is planning on an extended backpacking trip I would recommend a smaller model from Katadyn, but for group camping and traveling down river the Katadyn Vario cannot be beat!
Source: bought it new
Price Paid: $94

I have had this filter for over 2 years and 30 some odd trips. I have filter many many gallons of water with it. In the last 6 months it has really let me down.
At first, I was quite impressed with the unit. It is a little heavy compared to some filters, but it has both ceramic and carbon filtering. I liked the security of the double filter system. But after the first 3 over night trips I noticed that the unit began to weep water from around the head section. I attributed this to the silt content of the water I was filtering. I did a quick field cleaning and tried to be careful to not let the water drip into my container.
My wife had a seamstress at her job make some fabric covers with a drawstring attachment to help filter out silt. I thought this would help. But unfortunately I still had the problem with leakage around the head. Not every time at first, but often enough. After a years time, the seepage around the head occurred every time I pumped. I maintain my pump according to Katadyn's instructions, so I know it is not something I am doing. With the pumps ability to attach to a nalgene bottle (and to my hydration bladder) it kept the seepage out of the filtered product. It was not something that was too traumatic, so I lived with it.
In Feb. of this year I took a trip with 2 friends to the Pinhoti Trail in AL. The first time we tried to pump water, my pump completely failed. It would not get a suction going. I took it apart and tried every thing to make it work. Luckily, my friends both had Katadyn Hiker Pro's (old ones, more than twice as old as my Vario) and saved me on that trip.
When I got home I found if I removed the head and primed the pump by adding water to the underneath of the pump head, it would start to work. Unacceptable. I called Katadyn and they without any problem sent me a new head for the pump. It worked the first trip. It started to leak around the head again after the first trip.
I cleaned it tonight in preparation of a trip this weekend. I ran several liters of water through it. I is now leaking worse than ever. I have decided to replace the filter. I need to trust my filter to work. I am thinking of a Katadyn Hiker Pro, but haven't decided yet.
Unfortunately, I cant recommend the Vario. I believe a filter should last more than 2 years without the types of problems I have had (especially when I have changed the filters several times, and the carbon after every 3rd trip).
Price Paid: $89.95

I wish I could write a positive review of this filter to squelch the naysayers, but I really can't. I read the reviews before I purchased it and thought "hey, I'm no fool, I will put in the extra time and effort to make this filter work" it seemed like a high quality item by a reputable company so I went with it.
Fast Forward to the maiden voyage, 4 day trip with this filter. We did everything right. Got our water in a tote, let the particulates settle, covered up the input hose end with a bandana to act as an extra filter, everything. Water was tasty and crystal clear with a high flow rate even on the "longer life" setting the first few days of pumping, and was properly cleaned the entire way.
Then on day 3 the flow drops dramatically, and water is leaking profusely out of the seam between the filter halves. I spend a lot of time scrubbing the ceramic filter with the pad, reseat all the equipment, and the flow rate barely improved. Found a water source pristine enough to use the "faster flow" setting and bypass the ceramic filter, and water came out fine.
However, I'd really like to be able to use all those fancy filter components I paid good money for. Good thing I always keep iodine tablets in tow so none of us will be at risk for giardia.
I have been going back and forth with a customer service rep who insists I just have to troubleshoot the problem, with no avail. If they offered me a trade for a Hiker Pro (heck even a used one) I'd take it in a heartbeat, no question. Those babies seem to be bombproof.
Please be wary of this filter. It all seems to be hit and miss and I'd hate to see you take all the preventive measures like me and to end up with an 85 dollar item that does little more than a coffee filter at this point.
The only reason it gets half a star is because of the first 2 days of use i got out of it with it's good flow rate and its easy water bottle line clip. If you can't count on your gear out in the woods to be bombproof, it's useless to you.
Price Paid: $85

The Katadyn Vario worked for a day in the BWCA and we had all kinds of problems thereafter. The pump would not create ANY suction to pull water up into the filter by the second day of the trip and, despite taking it apart several times and carefully examining it, we could not find any cause of the failure. We repeatedly cleaned the prefilter, lubricated it, changed the o-rings, and checked the housing for cracks or damage. Adding to our frustration was that the instructions for the filter had no information on how to fix the filter if a complete loss of suction occurred.
Eventually, we found we had to take it apart and add water to the top so as to get it to pump water. It would not move water without first priming it and/or using a water bag raised above it and connected to the intake to create pressure that would aid the pumping. The rate of water output also became extremely slow as the trip progressed, although we were far from actually filtering the volume of water the filter is rated for and we were getting the water from pristine lakes in the BWCA.
The filter did not look like there was much of anything on it that should be causing it to become clogged. We feel that the water they used to state 500 gallons can be filtered is only if you use ultra purified water such as that for HPLC use.
This system should be rated to purify no more than 5 liters of water if the water source is clean like that of Clearwater Lake in the BWCA. We were lucky to get water out of the filter for the duration of the trip making a rig to feed water to it by gravity and purifying water became a far more time consuming endeavor than it should have been between hours of attempting to find and fix a mechanical failure and extremely slow water output.
From my personal experience, I recommend that anyone venturing into the backcountry with this unreliable water filter should be sure to have a solid backup plan for obtaining safe drinking water in the field because it can fail without warning at any time, suddenly leaving you in a very bad situation.
I love this filter. Works as it is supposed to. Each time I used it was for week long trips providing filtering for three people for trips in the Adirondacks, Grand Canyon, West Virginia, Pennsylvania. Easily field maintained, fits perfectly on Nalgene and sport bottles.
I have read the previous reviews, and one thing is clear...all you who have given it low rating are not maintaining it properly. The filter, like any filter, needs to be cleaned, and the dirtier the water, the dirtier the filter. Like a home hvac filter or car filter, you let that thing go and you will have performance issues. And if the filter gets dirty....guess what, it's doing its job.
For those who complain about water coming out the head, have you considered that you are pumping too fast and overwhelming the filter? Ever put too much water in a brita pitcher before it has time to filter thru?? It will overflow. That overflow on the Vario is a feature, not a fault. And priming...yeah, that's typical as well. It's a pump.
Seems the real problem with the pump is people's lack of common sense.
I have been using my pump for 5 years now. I'm sure it has a few years left.
Price Paid: $90

Know your equipment and it will preform for you.
Pros
After 3 plus years still works great!
Have used this filter for two years now, hiking, hunting, fishing and just about every time my family goes camping.
Have not had the trouble that others have had. You have to service it after every outing, but that's no different than any other piece of gear you own. You have to take care of your equipment if you want it to work when you need it.  
Update: August 15, 2011
This is an update of the Katadyn Vario filter. 
My wife took it on a four-day trip last week, with five others. There was a total of three water filters including our Katadyn. On the second day they missed a spot that they should have filtered water and by the time they reached the river most of the people had run out of water and one lady was in serious need to rehydrate.
The river was  glacier fed and very silty. The group started to filter water and one by one the filters all stopped. Now we had just bought a new filter and the ceramic filter, so I can't talk about the others. The Katadyn was the only one that was still functional the rest of the trip. Even after servicing and cleaning the others just didn't work. The Katadyn leaked a little but continued to filter for the group the rest of the trip.
When my wife got home we took it apart, the filter was pretty much shot even after a thorough cleaning. The other filters are good name brand filters, but it just show what a quality piece of equipment the Katadyn is.                                                                                                                                    
Source: bought it new
Price Paid: $90

Fast way to filter your water on the go. Easy to use and clean. Great for backpacking.
Pros
Fast pump action
Easy to clean
Fast pump for longer filter life
Cons
Heavy at 1lb 2oz
Freezing and busting
I got my Vario at a store for used outdoor gear called Second Gear. I use to boil my water or used iodine tabs. After a few trips and using other people's pumps I bought it used for about 30 bucks and bought a new filter for about $45 at REI.
The dual action piston pumps faster than any other pump. Two settings for the flow allows for fast flow or longer filter life. It is heavier than the chemicals, but with no waiting time before drinking.
In temperature below freezing, I have found it best to wrap it in a towel and place in the center of my pack in a dry/wet sack.
The boys in our troop ask to use mine all the time.
Source: bought it used
Price Paid: $30 for the pump, $45 for a new filter

This little pump saved me from dying and also fulfilled my picky water standard. It weighs some but the quality of the water pumped is just incredible.
Pros
Quality of water
Easy to use
Portability
I saw this as I went camping with a friend in a extremely hot weekend. It's not driven by electricity, nor does it require to purchase filter or nets regularly. Very easy to pack in the backpack and ready to use at all times.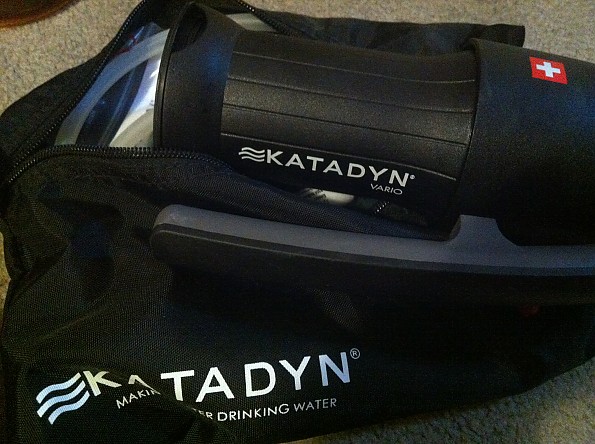 Source: bought it new
Price Paid: $80

Great pump for a single user or a small group. Love the screw-on water bottle connector.
Cons
Overall weight
Complexity
This is an awesome addition to your hiking / backpacking gear. It is good for a small group of 4-8 people but may be a bit too large for a solo hiker. The unit has two settings fast flow and slow flow (higher filter). The faster flow filters about 2 liters per minute.
The unit is designed to screw onto wide mouth Nalgene bottles for a simple refill process. No holding the pump and bottle AND trying to work the handle!   
This unit is easy to use and clean, though special care has to be taken with the ceramic filter so as not to break it.  
Katadyn has come up with a great product which is fast and reliable.  I highly recommend it.
Source: received it as a personal gift

This review is for everybody that is very smart and people who are not so smart. I read a lot about reviews of the Vario and people who do not give a 5 star to this product are people that are just not smart enough to figure this simple machine out.
#1 try this machine at home and like any gun you must practice and take it completely apart, grease it and put it back together.
#2 do not take the Vario into the woods and count on it if you don't know how it works. Would you go in the field and fight a war without knowing how your gun works?
#3 this product is the best on the market when it comes to filtering water.
The water that comes out of this machine is better then the water at my sink at home, because I take care of it, clean it when done with a little bleach and grease it and change charcoal it when needed. I'm a hard core camper, fisher, hunter and I don't leave home without it...
Price Paid: $90

I used this on a 3-day hike and climb in the San Juan Mountains of Colorado. It worked great the first day but with no warning, began to misfire pretty regularly after that. For the guy that said 'smart people' can use it and others can't, you are wrong. This is just not a 100% reliable product.
I was pulling water from the clearest lakes and streams and made sure to clear the pump after each use before storage. I changed no settings (flow rate) between uses and still would find it couldn't seem to prime. When I took the cap off and moved things around I could manage to get it working again but even then it would sometimes lose prime and barely trickle water into my bottles.
For this filter to have problems within the first 5 gallons of water is totally unacceptable. I hope it was specific to this actual one because when it worked, I liked it.
Price Paid: $89.99

An excellent compromise between performance, cost and weight, the Vario performs in a variety of different situations well.
Pros
Ceramic prefilter protects main element
Glass fiber main element is cheaper and lighter than a full ceramic filter.
Efficient pump moves water on both strokes for quicker operation.
Clamps to Nalgene threated bottles and bladders
Cons
Three different replacement elements
I have been very pleased with the performance of my Vario. It employs a similar glass fiber filter to the Hiker micro filter. The main advantages are the option to engage a ceramic prefilter to protect the main element.
Personally I leave the ceramic filter in the 'on' position all the time. Even with the filter engaged, the flow rate is very good.
Source: bought it new
Price Paid: $85

I have had this filter for a few years and have used it on several trips. I bought it in place of my older Katadyn Pocket which took an overwhelming amount of effort to pump. 
At first the Vario works great and pumps clean great water in no time even on longer life setting. It does slow down pretty fast. If you try to pump fast when it slows down you do get leaks pretty fast.  It can be frustrating.If you take the time to stop and clean the ceramic filter regularly it keeps working pretty well. 
It isn't everything I had hoped, but I don't thing there is such a thing as a perfect water filter. If I got another one I'd probably try the MSR Miniworks, but from reading reviews it sounds like it has some of the same problems.
Price Paid: $75

I used this filter on a two-week cycling trip in Cameroon. I have nothing but good things to say about it. It is quick and easy to use and I encountered no issues or clogs despite filtering water of dubious clarify on many occasions. By the end of the trip the flow had slowed a bit and a little water would leak over the top. However, I assumed that this was due to the ceramic pre-filter needing a quick scrubbing, which I didn't bother to do since it was so late in the game. Replacement carbon, pre-filter and filters are readily available which is nice, and I really appreciated the fact that it could easily screw onto my MSR Dromedary bags and Nalgene water bottles.
Price Paid: $85

I gave this product one star due to the fact that when I'm in the BWCA and the winds are too high to be out on the lake I would rather sit on shore for an hour pumping water then leaning over the side of my canoe with my bilge pump.
This product work one or two time before the seal popped the first time. Now even with removing the top and cleaning the ceramic filter several times during a pumping session the top seal pops due to too much pressure build up.
Personally I feel that this product for the cost that this was the biggest waste of money with my backwoods outfit. Back to bleach.
Bought brand new from Bass Pro. Tested at home before trip worked fine. First time I used on 10-day trip worked fine. Then every time after that I tried to use it would not pump water. This was a perfectly clear stream in Alaska and filter was not getting dirty. Would have to take apart unit several times to get to work but it was always braking and not pumping.
Very frustrating and created a real problem getting clean drinking water on this trip. I would not recommend this device for anyone looking for a reliable unit.
Price Paid: $90

I just spent 3 long days hiking the Bigelow Mt. range and used this filter for all my water needs. It's easy to use, easy to pump and easy to clean. Fills a 32 oz. water bottle quicker than other filters.
It comes apart easily and goes back together quick and slick. I like that fact that it fits to the top of my Nalgene water bottles. It's great for many days on the trail. The storage bag and extra O-rings are nice to have. I would recommend this filter to anyone in need of a clean drink!
Price Paid: $79

Great filter for the $$.
Pros
Multiple ways of filtering
Cons
Somewhat labor intensive to clean
We used this in the Smoky Mountains on a 22-mile hike. It worked fantastic for the fresh mountain water. Even though the water was clean and clear we still used the Long Life setting. The water tasted clean and flavorless.
I can see why others complain about the labor required to clean and dry the Vario but it is worth it. 
Source: bought it new
Price Paid: $80 <
I bought this product over the MSR version and am very pleased with it. I recently used it for 12 days in the Boundary Waters and it preformed well for 10 days of filtering all drinking water and some dish water (in a fire ban conserving liquid fuel) for a 4 person crew. After 10 days of filtering on the "fast" setting the filter became soiled and it turned it self to the "longer life" setting. However, it is well worth the price and am glad I purchased it.
Price Paid: $75

I have used this for a full season and it works very nice. If you take care of it, it will take care of you. If the water is extremely dirty you do get a hint of a mucky taste but no big deal. I put a piece of cloth over the pre-filter if the water is very dirty. I have never had any problems out of it so far even when the ceramic filter was dirty.
I would definitely recommend this product.
Price Paid: $75

This water filter left us without water. We only used this filter for 1 and a half trips when it started acting up and not pumping with much flow. Water started spewing out the top despite our best efforts to clean the ceramic filter and the main paper filter. With the instruction in hand in low 30s temperatures we could not get it to work. Don't buy this if you are looking for a dependable on the trail water filter.
Price Paid: $80

Product leaks and squirts water out of the top, bypassing the pump.
Pros
Removes bitter taste from water
Cons
Did not last very long under light use.
For the price, I was disappointed. Found it slow, leaked a lot. Used it under light conditions. Once camping for three days, followed by filtering well water at home.
Source: bought it new
Price Paid: $100

I love this pump. I used it about 12 times this summer and it pumped beautifully every time. Perfect fit for the nalgene and pumps super fast!! It saved me from carrying a lot of extra pounds of water on the 15+ mile day hikes in the DAKS.
Price Paid: $80

This is a great water filter...the adjustable flow is a great feature. It is maintained with ease and you do just a little to take care of it, it will take care of you. HIGHLY RECOMMENDED!!
Price Paid: $66.99

It worked for one trip and then problems began. Once the disc got dirty it started leaking and cleaning the disk helped little. Then one of the bellows broke... Junk.
Buy a Guide.
Price Paid: $75

Great product. It got the water perfect. The only problem is that it takes a long time to pump it.
Price Paid: $90

Your Review
Where to Buy
Help support this site by making your next gear purchase through one of the links above. Click a link, buy what you need, and the seller will contribute a portion of the purchase price to support Trailspace's independent gear reviews.
You May Like
Specs
Price
MSRP: $94.95
Current Retail: $54.95-$119.99
Historic Range: $30.79-$119.99
Reviewers Paid: $46.00-$100.00