Kayland Apex Plus GTX

The Apex Plus GTX has been discontinued. If you're looking for something new, check out the best mountaineering boots for 2023.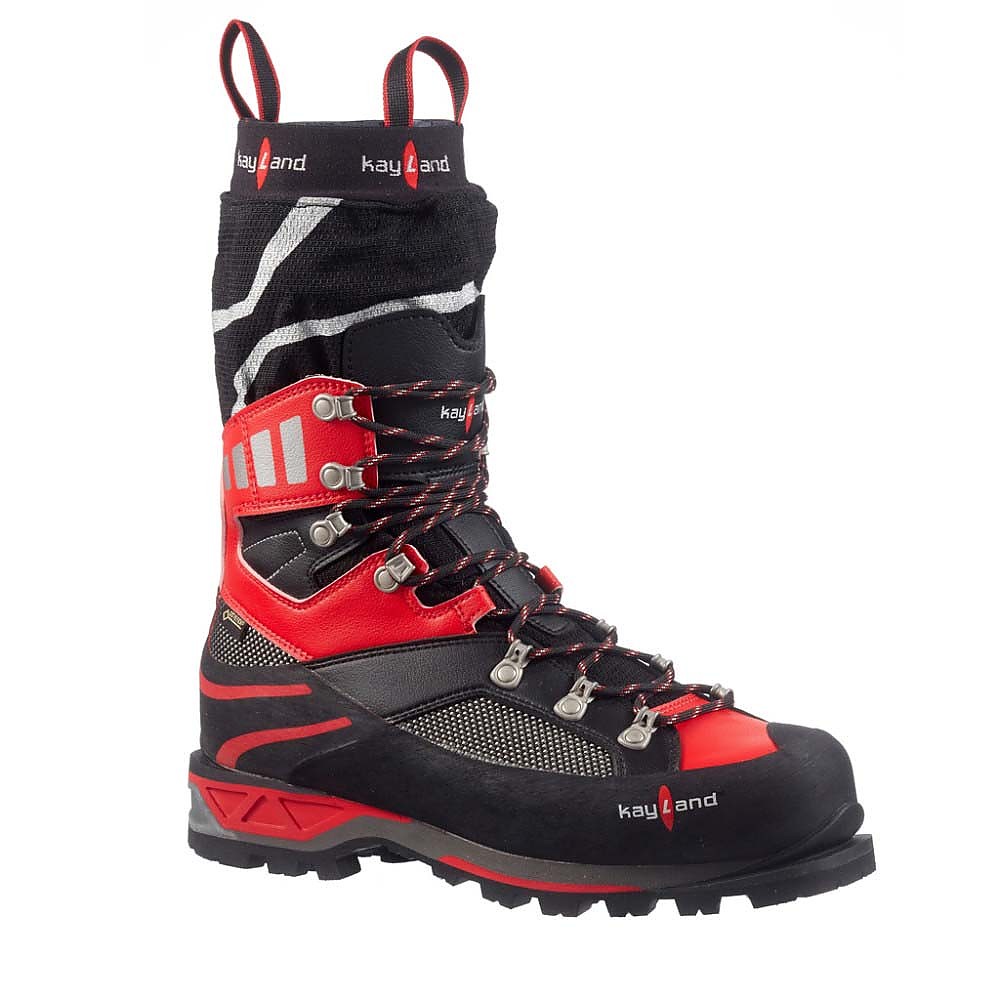 Technical insulated boot with integrated gaiter, developed for winter mountaineering and suitable for use on ice and mixed terrains. Only removable insoles, no inner boots.

According to my research, the Kayland Apex Plus GTX boots proved to be a worthy companion when tackling the snowy mountains. It was appreciated for its grippy sole, compatibility with crampons, and efficient waterproofing. The Kayland Apex Plus GTX boots meet the expectations of mountaineers.

Pros
Very inexpensive ($149–$224 see below); retail is 320 pounds, 445 dollars
B3 Technical climbing boots
Vibram Teton soles
Lightweight
Cons
The boots are made in Romania. (I never owned anything made in Romania before.)
Kayland has either stopped making them or Sierra just stopped selling them. These boots are still on the Kayland website.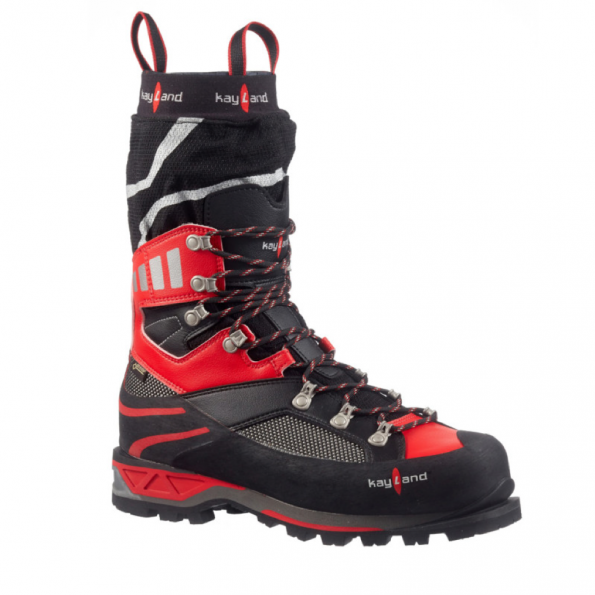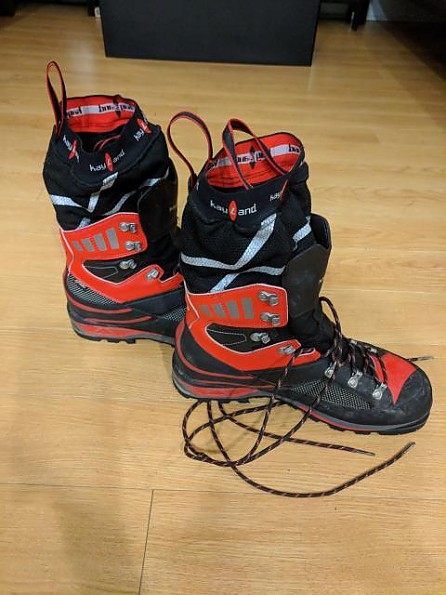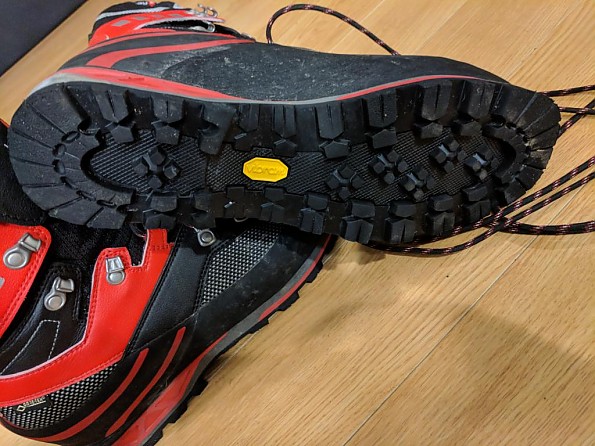 Do not walk on a fancy wood floor with these boots.


Kayland Apex Plus GTX Boots
Technical mountaineering boot with integrated gaiter, developed for winter mountaineering and suitable for use on ice and mixed terrains. According to my research, the Kayland Apex Plus GTX boots proved to be a worthy companion when tackling snowy mountains. It is appreciated for its grippy sole, compatibility with crampons, and efficient waterproofing. The Kayland Apex Plus GTX boots meets the expectations of mountaineers.
Features and Details:
These boot have built-in gaiters to keep snow and debris out. You can use the front and back top pull straps to assist putting these boots on. I was concerned that the straps would break, but they work.
Availability:
They are on sale for $173 at Kayland USA.
I purchased these boots from Sierra Trading Post during closeouts after reading an online review by Tom Ripley on UKClimbing.com in November 2018.
Italian designed, made in Romania © KAYLAND is a brand of M.G.M. S.P.A. - Via Trento e Trieste, 112C - 31050 Cavasagra di Vedelago (TV) Italy - Ph +39 0423 489310 - Fax +39 0423 489291 - P.IVA
Appearance:
Black and red (grumble)
The built-in gaiter is rather unique and works.
No animal products. These are vegan. The bottoms are rubber, kevlar, steel; uppers are synthetic; and the liners use Gore-Tex and plastic; laces are polypropylene.
The front and back have "ledges" to support clip-on crampons and fancy snowshoes. They work with all types of snowshoes, even the ones with straps. I do not think these work with skis. (I have not tried.)
The soles are Vibram Teton lugs. They will mark up a wood floor with black marks. I learned this at EMS on their fancy wood floor (duoh) ...
Weight:
Light (less heavy than the same size Lowa Alpine Ice GTX boots, for example)
Size:
They come in men's sizes 6-14 US. According to Tom Ripley they fit his wife really good. See the pictures. (See the website for UK or EU sizes.)
I wear a men's size 8.5. I figured on ordering a size 9 and just wearing heavy wool socks. The boots sold out very fast, so no size 9's. Plan B: I think I purchased the last men's size 8.5 in stock. This worried me since I was ordering boots online and some of the comments were that they are small. Two weeks later...
I tried them on and they fit great!
Little to no break-in required as opposed to my classic ALICO hiking/mountaineering boots that are constructed from heavy handmade leather and required a lot of breaking in. I saw these boots on GearTrade and they are always sold out on eBay. Several US web stores have them, but at a greater price.
Crampons:
The boots fit everything I tried them with. I went to EMS and they let me check out a LOT of crampons. These boots fit: Salewa, CAMP, Grivel, Petzl, Black Diamond. They also fit PETZL Sarken Leverlock crampons.
(They even fit my old SMC 12 points with all of the old leather straps and brass buckles. Of course these boots work on your Kahtoola MicroSpikes for walking around in the house).
Comfort:
I went for a quick walk to the US post office wearing these new boots. It's night, pouring rain, and only 28°F outside. These boots are warm and dry and best of all my feet don't hurt. I plan on taking these along this winter during my winter camping season. (I'll update this review if needed.)
Water Resistance:
No leaks. Ankle deep puddles under the leaves.
Ease of Use:
The last time I purchased technical mountaineering boots was when I went on a week-long glacier walking and roping and mountain climbing class whilst on vacation in Switzerland. I purchased a pair of Koflach Ultra boots with Lowe's Foot Fangs (the only size available in Gimmelwald shops).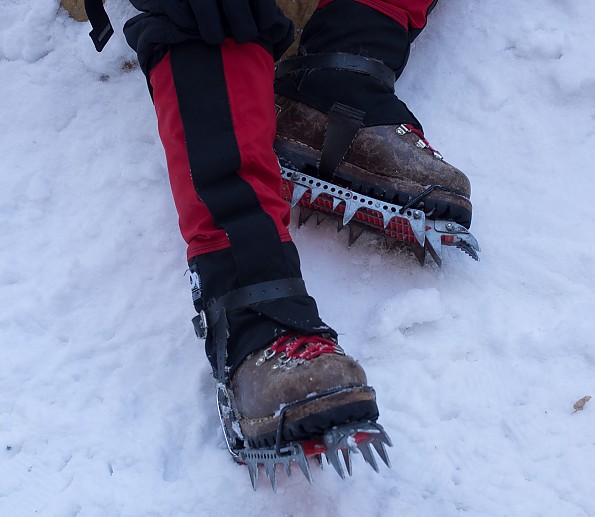 1984—Not my boots just a picture of some Foot Fangs.
                               What is it with mountain climbers and red and black?


The Koflach and Foot Fang combo were very uncomfortable. The Koflach inner boots hurt even without the Foot Fang torture devices and they stank after a week of class on the ice. I did not pursue ice climbing after that.
Experience
No fancy ice climbing nor any peak bagging yet. Plan is for winter camping. As my energy level increases and my weight decreases, I may be persuaded to bag yet another 4000 footer in the winter.
Source: bought it new
Price Paid: $149 free s&h

Looking for an inexpensive ice boot/light mountaineer boots, this is it! Low cost, fairly light, and burly!
Pros
Burly
Light
True to size
For those who care, synthetic material
Cons
Poor ankle support
Difficult proper lacing adjustment for small calf
Eyelets may alter fabric in long term use
I was looking to upgrade my Koflach mountaineering double boot, which I use to ice climb. Those boots are workhorse. I've been to the top of Mt Washington in winter, Aconcagua, and a lot more. I paired them with Charlet Moser (Petzl) crampons for climbing and Petzl Vasak to hike. I still used them until last year to ice climb and lead grade 4. For a few years now, I was looking for a lighter alternative, Koflachs weigh around 5 pounds a pair, which strengthen me, but have to confess that I'm getting wiser and needed to reduce my weight on some gear.
So I tried on single boots: La Sportiva Trango Tower, La Sportiva Trango Ice Cube, La Sportiva Nepal, and Lowa Weisshorn GTX. The major problem, which refrain me to get one of those pair was the price. So I started looking for cheaper (money wise) alternatives. I looked at Mammut Guide GTX, Mammut Norwad light, Salewa Vultur, Asolo Eiger, Scarpa Mont Blanc Pro GTX, Zamberland Eiger, Kayland Apex GTX, and recently the new La Sportiva Trango Tower Extreme GTX.
Don't forget that my prerogative was the best buy for my money. Since La Sportiva Trango Towers were not available yet and Trango Ice Cube were a bit too tight and too expensive, I saw on sale the Kayland Apex GTX for 200$ Canadian. So I had them shipped after reading a great review by Tom Ripley of the UKC gear.
After a month of hiking I can tell you that I made a great buy. They were comfortable after a few hikes once I dialed in the laces right. That problem was due to the fact that I have small calf. I ordered size US10 and my left foot fit almost perfectly (my right foot is slightly smaller). The counterpart is a low ankle support. I wear US10 in Asolo boot, US10 in La Sportiva Trango, and US9.5 in Lowa Renegade shoe.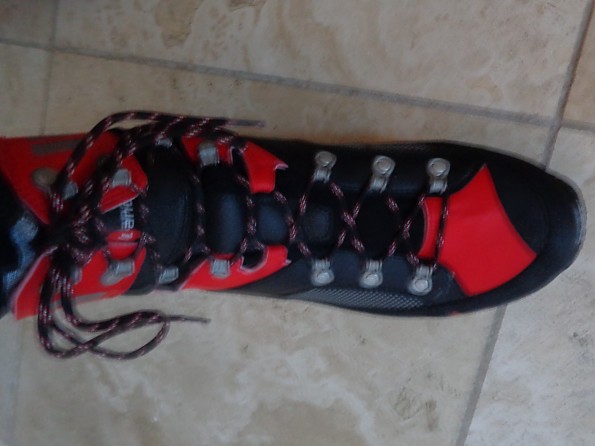 I used them from ranging 4°c down to -17°c using a Smartwool mid hiker sock. I found them warmer when the humidity level was low. They were very good in snow and at -17°c moving my toes let them in fair condition.
I tried on my Petzl Vasak, Charlet Moser grade 8, and Grivel Rambo first generation crampons and the all fit like a glove.
I've not been climbing with them yet, but I will upgrade my review when I do.
I have concern about the top rivet use to secured the eyelet which may in long term cause some hole in the fabric. Compare to the same eyelet on my Asolo boot, the Kaylands seem to be on the rougher side which may in long term use the synthetic leather. First image Kaykand, second Asolo eyelet.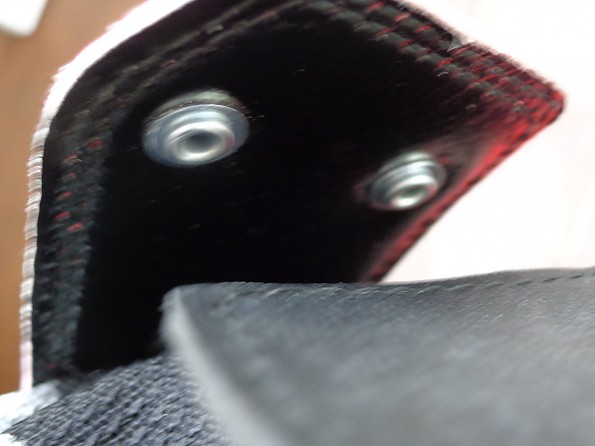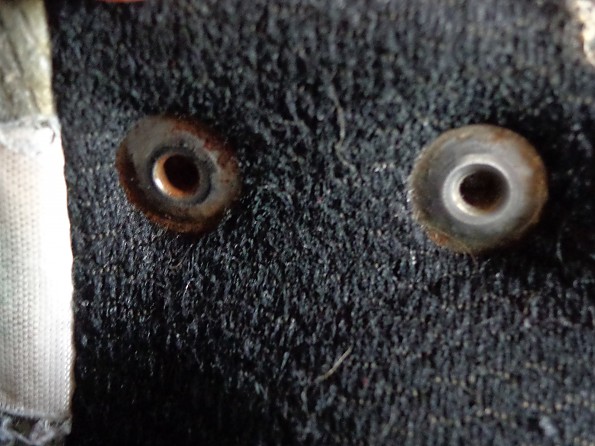 Overall I must say that I'm very satisfied, in term of comfort, weight, and price. Now they I have to be tested on ice climbing situation, but I suspect the boot to work as well has any other brands. So I will probably upgrade my ice tools with all that money I saved.
Kayland says:
Technical boot with integrated gaiter, developed for winter mountaineering and suitable for use on ice and mixed terrains. Extremely performing and dynamic, this model represents the perfect balance between comfort and performance, thanks to its advanced construction system and lightweight. Reduced volume and overall protection for this automatic crampons compatible, fully resolable boot.
Experience
Bought it a month ago, use it on hikes. Will upgrade the review after ice climbing.
Source: bought it new
Price Paid: 200CDN

Your Review
You May Like
Specs
Price
MSRP: $449.90
Reviewers Paid: $149.00