Kelty Cosmic Down 20


Massive bang for the buck...
Pros
Value!
Water resistant down
Quality construction
Cons
A little heavy by today's standards
Four and a half stars, so far.
I bought this bag a short while ago before leaving for my job as a medic in a summer camp in Maine. That being said, the mercury has hit between 90 and 101 everyday for about a week, so this bag with a European temperature rating of 19 degrees has not seen much use except as a bed throw. Even during early chilly nights I mostly used it as a blanket.
By today's standards, 600 fill duck down is not the greatest, but back in the day, any down rated at 600 was the bomb. But...this is Dri Down, treated for water repellency. I am overjoyed at the idea of a down fill that repels water. I have had limited use of down, since my poverty has historically limited me to synthetic bags (the major exception being an ancient GI bag that was perhaps a veteran of the Korean campaign). 
The big plus: a water repellant down bag that sells for under $150 (I paid like $100, it was an unused return, still had the tags). 
Quality, like Kelty products of old is first rate. Box construction, good materials, perfect stitching. The draft collar has a synthetic fill but it is not large enough for that to be an issue. The hood is preformed (unlike bags which have a flat shape and are drawn around the head with a drawstring). I like that quality, although admittedly you suffer some loss of flexibility in warmer weather.
The temperature rating is probably as close to accurate as most bags, although obviously I have not had an opportunity to try it in cold weather Having said that, most bags seem to slightly exaggerate the rating, but as our old friend Colin Fletcher noted, the real world rating of any bag is dependent on the pad underneath, the shelter/tent around you and other conditions like your nutrition and the state of the wind. Still, you do have a fleece or down jacket, right?
For me, this may be the answer. At the age of 66 and still working long hours in emergency medicine during the summer, I am largely limited by life to, at most, a few weekends whenever I can fit them in...late summer, early to mid-fall and just possibly late spring. So, this limiting schedule, combined with persistent poverty has me in need of a modern bag that will somewhat do it all. I think the Cosmic 20 may be it.
Even if the temperature rating is a tad optimistic, it should still do service until, say mid-November in southern Vermont or early November in the Adirondacks. I am unlikely to go out in colder weather. In hotter weather, it will become a quilt.
It was a pinch for me to afford this bag and if my wife had known there would have been a scene. Justifiable in her view for the few times I can get out, the size of the mortgage and the limitations of my income. Still, I refuse to give up my dedication to the out of doors and without a more modern bag that would just be a fact of life. I work constantly to get the weight down and this replaces for backpacking an old REI Biker bag that has done yeoman service for decades. 
It does not have the fine points of a $600 Big Agnes or similar bag, but even if I had $600 to throw away on gear, I would not do so. I have historically been cunning in my acquisition of decent gear at a price I can pay. 
This is the strong point of this bag. Value for the dollar. On the downside it is perhaps five ounces heavier than would be ideal, but the cut is wide enough for it to be comfortable for a big guy. I also have the long version, which at 5' 11" was not strictly necessary, but this is the version that was on sale. Much of the excess weight is probably due to the extra length. 
I am pleased so far. Stay tuned for an update this fall.
Source: bought it new
Price Paid: $100 or close to it

This bag packs small and keeps you warm. While it isn't the warmest bag on the market, it is a great option for the backpacker on a budget. In the balance of price and quality, the scales are tipped to quality.
Pros
Low price
Compressible
Relatively warm
Nice color
Cons
Passive draft collar
Some inconsistent baffle filling
Stuff sack is low quality
I bought the Kelty Cosmic Down 21 on sale a couple of months ago. It was on sale because Kelty just rolled out the new Kelty Cosmic Down, so I decided to go for it.
So far, I've been pretty happy with it, and the pros definitely outweigh the cons to me. I've used the bag in the Smokies on warmer weekends in January and February, so my review is based off use in a range of 30-50 degrees. 
This bag is warm considering its weight, fill, and price. Above 35 degrees, I've felt comfortable in it with nothing but a t shirt and shorts on inside the bag inside my MSR Elixir 2 tent. The baffles of the bag are not filled consistently, so there are some cooler spots, but time sitting out and shaking the bag a little bit seem to help redistribute the fill more evenly.
The hood isn't very warm though, so I have worn a knit cap on colder evenings. The passive draft collar seems to do well at trapping body heat inside the bag though. The footbox is also pretty warm, and its structure makes it feel as if I have plenty of room to adjust or put my shirt at my feet so that it is warm in the morning. 
I am 5'8", 140 pounds, and I feel comfortable in the regular size bag. I have some wiggle room, but it seems to fit well.
Getting in and out of the bag is pretty easy. The zipper works well, but it does snag at times if you are a bit twisted in the bag. I have found that trying to straighten the side of the bag with the zipper helps it unzip more smoothly.
The bag is very packable, probably the best you can find for the price. It packs down in its stuff sack to about 8" by 12", and I think it could get smaller with a compression sack. It packs smaller than my friend's North Face Furnace 20, even when he puts his bag into a compression sack. My complaint is that the stuff sack seems to be low quality though (a seam is splitting threads), so I will be buying a compression sack soon for the durability.
It weighs in at about 2.5 pounds, so it's not super light but it isn't too bad. All in all, it's pretty remarkable for the price. It maintains loft pretty well, but it doesn't have a ton of loft to begin with, so that is probably why. If you're looking for a super soft bag, this might not be the bag for you.
The bag has DriDown. I haven't gotten it very wet, but small amounts of condensation dry quickly. It seems to handle light amounts of moisture well. 
All in all, it seems to be a reliable, 3-season bag. I haven't been able to use it around 20 degrees, but I will update this review if I get the chance. Judging by feeling a little chilly at 30 degrees, I expect I will have to layer up around 20 degrees. But, I think that is a worthy tradeoff for the price of the bag. 
Also, I will take pictures the next time I take a trip and add those as well.
Source: bought it new
Price Paid: $140 (regular $200)

This bag is a good deal if you are looking for down, but aren't willing to pay a hefty price. It doesn't pack down quite as small as I would like, and sleeping at 32 degrees I have felt a little chilly. I am a cold sleeping, and I would rate this closer to a 30 degree bag.

The fit is comfortable, not too baggy and not too tight. The draft tube around the collar doesn't cinch, which would be a nice addition for a little extra security and warmth.
Overall, this is a decent bag. It sleeps a little colder then its 20 degree rating.  I have had to throw a liner in there for below 32 to keep me warm. It isn't drafty, but it could use a little more insulation around the torso. I also think that if there was netting between the seams, this would help prevent down from clumping or shifting from the top of the bag to the sides when you are sleeping at night.  
Overall fit and comfort of this bag is average.  The hood is a little big/flat for a loose fit, but if you cinch it down it fits nicely. Also, the draft tubes around the neck don't cinch and it needs a better tab to keep the cold zipper off your face at night.  There is plenty of room in the bag to move around, but it isn't too roomy.  
The bag doesn't compress as well as some other 20 degree bags that I have had in the past, and it is a little heavy, but for the price it is a good deal. The stuff sack, however is really awful. It is possible that the bag might compress smaller with a better sack. The clips don't stay on the straps at all and I have already lost one, so now I can only cinch three sides instead of four. I have only slept in the bag on one really really damp night, and it the shell was not very water resistant.
I have already put about 30 days on the bag this season, and so far it is holding up well.
Source: bought it new
Price Paid: $135

Version reviewed: Kelty Trekker
Bang for your buck, this bag wins, hands down!
Pros
Warmth
New version uses DriDown
Having used this bag for over a year now, for what I paid ($50) it can't be beat. Light, lofts up well, and keeps me warms right down to its 20 degree rating. (See 2016 update below.)
The fabric, zippers, and seams look like they're brand new. I've spent about 25 nights in it from backpacking on the AT to camping on the snow in the backyard. 
I would highly recommend this bag to anyone looking for a half decent down bag.
Update: February 26, 2012
I actually spent a few nights in the bag while it was in the 20s to see how low it would go. One night it hit 19 degrees F, and I was fine with a base layer and hat on. The draft collar is great, as I don't like to have the hood cinched tightly (though it does cinch down to golf ball size).
To be honest, my bag is called the "Kelty Trekker" and was purchased at Target.  The specs and bags are identical.  After speaking with Kelty, I found they make gear for Target made under the Kelty name — some with the same specs, but named differently.
Update: February 19th, 2016
The Cosmic/Trekker is still performing. We did two nights on the AT in December, with lows "supposed" to be in the mid 30s. We woke up to snow and moderate winds the second morning. I was snug in my bivy with this bag draped over me like a quilt. The quality-per-dollar rating of this bag is off the charts.
Source: bought it new
Price Paid: $50 at Target

Purchased this bag for my daughter to use this past summer. We went backpacking a couple of times and with the temps getting down to around 50 degrees she was totally warm. Unfortunately, I can't offer a judgment on it nearer its rating.
Pros
Lightweight due to the down
Packs down small when using a compression sack
Affordable, entry level down bag
My daughters had been using a couple of Marmot 30 degree synthetic bags for years and were always cold. Since they wanted to do more backpacking this past summer, I started looking for affordable down bags. The Kelty site has a Sale area and I found this bag there for around $110. It works well for one of my daughters but is a bit too short for my other daughter, so we only got one.
She says it kept her warm on all the nights we camped. I think the lowest temp was around 50 degrees. The backpack she used this summer is a TNF Terra 45 and this sleeping bag packed small enough to fit in the bottom pocket along with her camp pillow. We used a compression sack which made a big difference in packability.  
If I'm able to get her to camp this fall, I'll report on her comfort with these nights that are now in the 30s.
Source: bought it new
Price Paid: $110

This bag is a down sleeping bag provided to the hiker on a budget. Every hiker has been in a situation where he is shopping for gear and he starts salivating at the idea of owning a down bag instaed of his or her 5 pound synthetic. I know I have....Well wait no more!
Pros
Lightweight
Down bag for 100$ range
Warm and toasty
Cons
The zipper only goes to your knees
The fill count is on the lower side
For a down bag it could be slightly lighter
This product is probably the best deal out there. If you are trekking on a budget but don't feel like buying a bag through Wal-mart, this is exactly for you. For the average price of 100$ you can have your own down sleeping bag.
Even without a liner this bag has proved itself to me time and time again in the White Mountains of NH where I live. The rating is spot on and the 550 fill down ends up not weighing in over 3 pounds!!!!
Source: bought it new
Price Paid: $100

Version reviewed: Long
A down bag for $115—it doesn't get better.
Pros
Cost
Packed size
Excellent colors
Cons
Slightly heavier than other down bags, but lower cost offsets this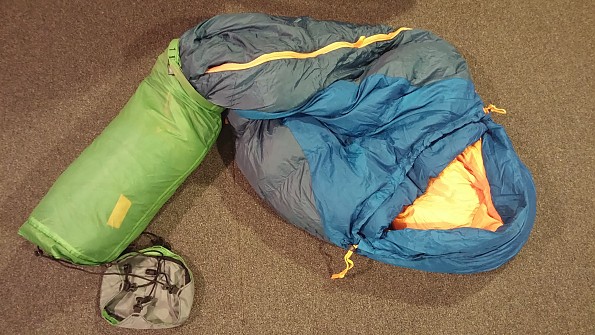 Got the long from Sierra Trading with deal flyer discount over $100 off retail price. Very nice looking bag, the two blues look great. Added a 13L Granite Gear eVent waterproof compression stuff sack, and when compressed the bag compresses to about the size of a large shoe box (7"x8"x12").
Have always bought/used synthetic bags (have 55, 35, 20 degree synthetic bags), because all but the 20 compress small enough that they don't take up a lot of space in a pack. And, cost played a roll also. Now that I own and have used the Cosmic I am sold on down's comfort, warmth, and small packed size.
The bag has DriDown, but I wouldn't let any bag—let alone down—get wet.
Source: bought it new
Price Paid: $115

This bag is great for its price. I have used it a few times already and only have a few complaints.
It's not as well designed as some other more expensive bags and the loft is uneven at places. The design is also not consistent as I've seen some that loft better than others so you don't know what you get until you get it (if ordered online as I did), but it does keep you warm at temperatures described if you dress for the occasion and sleep in a tent.
Also, it smells very strong like feathers. I have not washed it, maybe if I do the smell will go away a bit, but expect to smell like chicken feather (I know it sounds funny) for a while when you wake up. I don't know if this is common with every one of them or just the two I got, since I haven't heard people complain about it, but I've slept in other down bags and never had that problem.  
It is very light, it beats any other bag of its price range, anyone under a budget looking for a nice 20 degree bag should jump on this one with no regrets! I'm happy I bought and am looking to buy another one for my brother and sister who are beginning to backpack too.
Price Paid: $65

A warm well made bag that packs down small, and is priced for value.
I settled on this bag for several reasons including: price, stuff size, and weight. 
The day after I got this sleeping bag I tried it out in the yard on a 25 degree spring night. The bag was plenty warm fit well, and seemed well made. I am 6-feet 215# and the regular fit well. I really liked the hood and the internal collar.
The only negative I found were the tiny cord lock for the drawcord. I have never seen one so small. And the zipper had a tendency to snag some.
The Kelty Cosmic Down 20 is a great bag meeting my need for a lite, small warm bag for less than a hundred bucks.
Source: bought it new
Price Paid: $90

Very durable, well fitting bag, but it holds condensation in the loft.
Pros
very tough
durable
good wind resistance
I have had two winter deployments to Afghanistan in the Marine Corps. I'm pretty rough on gear, and this bag held up GREAT! Sleeping with boots in full uniform, always on rocks or hard ground and not one sign of wear.
My only complaint is that it holds moisture from perspiration in the down like cazy, but if you have time to let it sit out to dry before the next night, that's not a huge deal. Always kept me warm, even when guys with our issued bags couldn't sleep at night for being cold.
The bag will compress down to slightly larger than a softball if you try, and puffs right back up like new again. 
Source: bought it new

Warmth and packable.
Pros
Warmth
Great price
Packable
Cons
I have not seen a con yet
I own a sea kayak guide business and was looking for a warm packable sleeping bag for my guests. "Packablity" is a huge factor for me since I have limited space in the kayaks. I had the opportunity to look at this bag in a retail store before I ordered it on line.
I was very impressed with the loft and stuffed size. Not to mention the price for a down bag! My girlfriend and I test drove this bag a few days ago in a kayak camping trip in Glacier National Park. The bag exceeded my expectations!!!
There is no doubt that the comfort rating for this bag is very accurate and the packed size will easily fit in just about any pack to include a decent size day pack.
Source: bought it new
Price Paid: $139.95

This is an amazing bag!
Pros
Lightweight
Packable
Warm!
This bag has gotten me through 18-degree weather while on a sleeping pad and insulated against the ground without any trouble. Easily the warmest lightweight I have ever had. AND that might be the best part as it IS lightweight and very packable.
The zipper is mostly snag free. The bag is a little snug if you are a big guy (if you are I suggest a Big Agnes). The bag is well made and has given me many cold nights "snug as a bug in a....Cosmic Down?"
Anyway this is a great bag for the price. Look at the ratings. Consistently highly recommended.
Source: bought it new
Price Paid: $100

Bought this bag to replace my bigger, heavier synthetic bag on sale this summer. I have now "test driven" it in the backyard twice, and I don't think I could have found a better bag for the money. 
The first night it got down to 35 and I slept inside a tent. I had to take off my thermals and socks because I was sweating. The second night it got to 26 and I slept on a ground tarp and Therm-a-rest ProLite 4, no tent.  I was very comfortable with my thermals and socks on. I think it would be comfortable down to 10 or 15 with a liner, but I haven't tried that yet. Both nights, I slept better than I ever did with my old bag. 
Finally, I weighed it with my scale and it weighed exactly 2.5 pounds, just as Kelty says. I would recommend this bag to anyone looking for a good, light, small, warm sleeping bag.
Price Paid: $70

Just can't say enough nice things about this bag. I got it for winter camping on the PNW coastal area. The duck down lofts up nicely.
I bought the med size. Head to foot near perfect. Girth is a little wide for me, but tight enough to keep me snug and warm.
The temps here have been on the mild side so I have not tested down to its temp rating as of yet. But with temps in the mid 30s this bag has kept me very warm. It is light weight and compresses down nicely.
This is my first down bag since...well....My dad's old army bags in the 60s. I'm VERY pleased with it.
If you are in need of a new bag, run don't walk, buy this bag. You will not be disapionted with the bag. And will be thrilled with the price.
A best buy!
Price Paid: $57

Love this sleeping bag.  It is my 1st down bag.  It compresses nicely, weighs about 2lb 8oz, and fits me well. 
I'm about 200lbs, broad shouldered and I can zip the bag up completely and not feel confined like I can't move. The bag is rated to 20 degrees and I slept in my ENO hammock with a Thermarest, and a Heet sheet wrapped around me at 21 degrees.  Actually got a little warm and had to pull my arms and upper body out of the bag. 
This is a fine sleeping bag. I plan on getting my son one when he outgrows his Jr. bag. 
Only complaint is it does not come with a compression sack. Had to buy one; Sea to Summit, size small works great.
Price Paid: $89

I got this bag to go camping with my son in the Boy Scouts. Tried it out for size at home and thought it might be too tight but I figured I had better try it out on the trail before making my decision (5'10"200 lbs).
When I got in the bag I was already cold and my feet were very cold but after a while I was able to warm up and sleep pretty comfortable. I am not sure what the temp was in my tent but the outside temp was 17f. The bag seemed to get more comfortable as the night went on.
It packs small and seems well made and is light.
Price Paid: $79

This bag is great!  2.5 lbs packs down small and keeps you warm!  
Camped last week in 30 degree weather, super comfortable.  Dropped down to low 20's tonight so I took it in the back yard and hopped in to see how warm it would keep me.  I was warmer than in my house!  
I only paid 70 bucks for this bag.  I'm not the foremost expert by any means, but how can you possibly get something this good for such a great price. Even at the MSRP of around 100 beans it's a steal!!!! I can't believe there aren't more reviews on this.
Price Paid: $70

Super affordable sleeping bag. It is perfect for a camper/backpacker on a budget.
Pros
Affordable
Lightweight
Compact
This bag is not only affordable, it's lightweight and compactable. This is the perfect bag for someone who wants decent performance without shelling out the $550 for the Western Mountaineering ultra lightweight bag (which is totally worth it if you don't have a budget).
Source: bought it new
Price Paid: $129

Your Review
Where to Buy
Help support this site by making your next gear purchase through one of the links above. Click a link, buy what you need, and the seller will contribute a portion of the purchase price to support Trailspace's independent gear reviews.
You May Like
Specs
Men's
short
regular
long
Price
MSRP: $159.95
Current Retail: $109.95-$184.95
Historic Range: $79.93-$219.95
Reviewers Paid: $50.00-$140.00

ISO Extreme Rating
-11°F / -24°C

ISO Limit Rating
21°F / -6°C

ISO Comfort Rating
32°F / 0°C

Insulation
550 fill down

Shell
20D Nylon shell fabric

Fits to
5' 6" / 167 cm
6' 0" / 183 cm
6' 6" / 198 cm
Weight
2 lbs 7 oz / 1.1 kg
2 lbs 10 oz / 1.19 kg
2 lbs 15 oz / 1.33 kg
Fill weight
14.64 oz / 415 g
16.37 oz / 464 g
18.8 oz / 533 g
Stuffed size
7 x 13 in / 18 x 33 cm
8 x 13 in / 20 x 33 cm
8 x 14 in / 20 x 36 cm
Women's
Price
MSRP: $209.95
Current Retail: $129.95-$214.95
Historic Range: $95.97-$214.95
Reviewers Paid: $110.00-$135.00

ISO Extreme Rating
-22°F / -30°C

ISO Limit Rating
13°F / -11°C

ISO Comfort Rating
25°F / -4°C

Fits to
5' 8" / 172 cm

Weight
3 lbs 7 oz / 1.56 kg

Fill weight
30.62 oz / 868 g

Stuffed size
8 x 13 in / 20 x 33 cm

Recently on Trailspace