Klymit Motion 60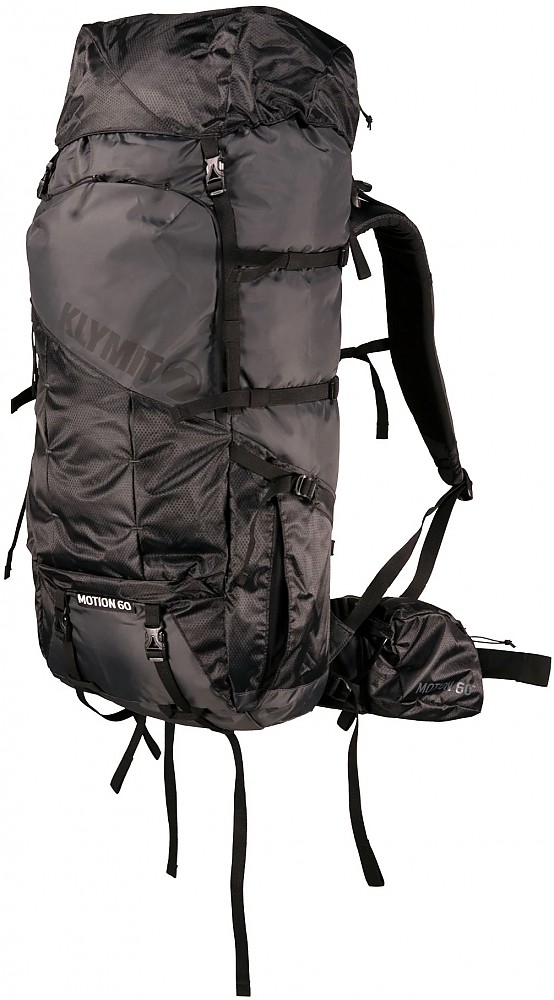 The Motion 60 is a lightweight, large capacity backpack built around the Airbeam Framesheet, that Klymit has become famous for. Its best features are the cavernous hipbelt and water bottle pockets, the Airbeam technology and the layout of the pack.

It is however, way oversized for an UL pack and suffers from excess in many areas. It would be best for someone needing a large sized pack without the need to haul big loads.

Pros
Airbeam Framesheet
Price
Water bottle and hipbelt pockets
Removeable stay, framesheet and hipbelt
Layout
Cons
Oversized
Straps too long
Lid, pump for framesheet not removeable
Specs (from Klymit):
Weight: 2.6 lbs/ 1.18 kg
Volume: 55L +5L pocket
Waist Size: 28-40 inches
Torso Length: 16-23 inches
Fabric: 210D Nylon Base and 150D Silicone Impregnated Nylon upper
Features: YKK Aquaguard zips and Hydration Compatible
Warranty: Limited Lifetime
Fit And Comfort
I have a 20.5 inch torso and opted for the medium/large (19"-23") but the pack is also available in a small/medium size (16"-20"). I found the size, both with and without the hipbelt, to be perfect. The shoulders straps have a slight S curve to them which prevents any rubbing under the arms or chest. I did find the shoulder straps to be a little too close together and someone with broader shoulder may have more of a problem with this than I did.
My issue with the fit lies in the size of the hipbelt. The belt has a range of 28 to 40 inches, and being of the tall and slender variety, I have a 32 inch waist. That leaves almost 8 inches of webbing tangling off the end of the belt. I tried leaving it and it got too distracting. I tried tucking it into the belt and that created an awkward fit and rubbing.
What is someone to do with that much extra belt? Well, if you were to purchase the pack you could just trim it to fit, but when the Review Corps receives an item we never know whether we are able to keep, or have to return the product to the manufacturer, after testing. So I couldn't go modifying a pack that isn't mine.
What ended up being the best, albeit temporary fix, was to tie the extra straps off into a bow. Yes, it looked silly, but the bears enjoyed the fashion statement! The back panel, hipbelt, shoulder straps all do a mediocre job of venting heat. There is no space or cut outs along the 3D mesh so while that allows a lot of body contact, and a better carry, it also creates a lot of heat. Rather then venting that heat and moisture out the mesh seems to wick it. There was one hot and humid trip summer trip I felt I could almost wring out the moisture from the shoulder straps. I didn't.... for fear of what would happen.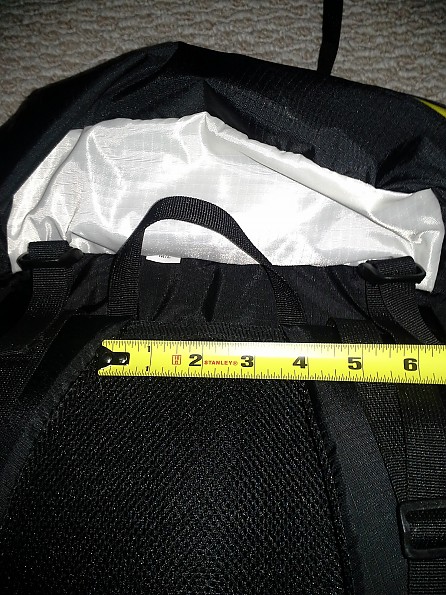 At the base of the neck the pack tapers down to less than 4 inches, caused a little rubbing.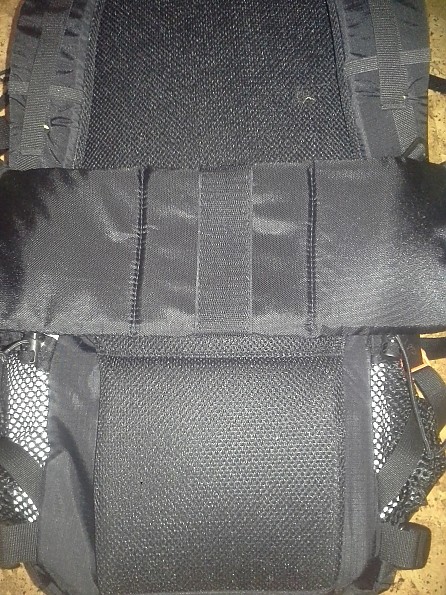 Removeable hipbelt with a view of the mesh back panel.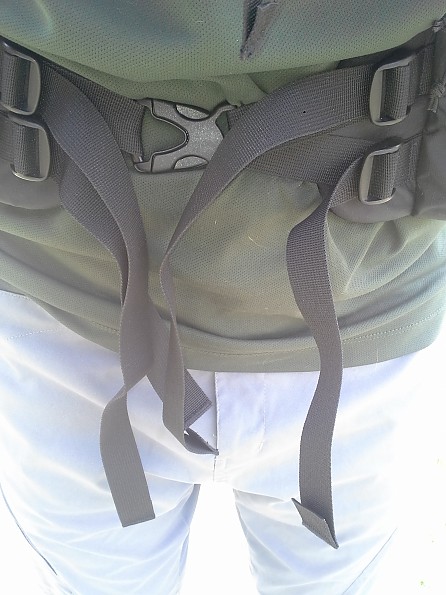 Amount of excess strap I had on my 33-inch waist.
The pack carries well, up to about 40lbs in my opinion. Klymit advertises the Motion at 55lbs "comfortably". I would say that's maxing out a single hoop stay and the Airbeam, do-able but not in the most comfort. The Airbeams biggest positive comes in uneven terrain when bending, twisting or ducking. Instead of a rigid pack, the Motion is more fluid and free to move with you, rather than against you.
The thing I found weird is that the Airbeam needs to be folded and, let's say negotiated, into the sleeve. In a pack designed largely around this selling feature it seems a little weird that this doesn't fit perfectly. It needs to be folded a couple inches at the top to fit. Not sure if this is on purpose or not. (Just did some research and apparently it was designed to do that to create a curve at the small of your back.)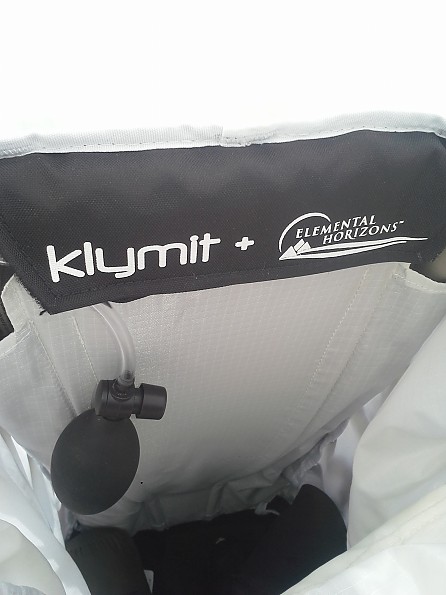 Capacity
This is where I hit the real paradox of this pack. 60L and ultralightweight just don't work together. They are like toothpaste and orange juice (c'mon we've all done that one!). It seems to be a massively fundamental flaw. One one hand you can stuff this pack full of all the creature comforts, and it fits alot, and it be outside the carrying comfort range of the suspension OR you can carry a true lightweight load and have massive amounts of volume wasted.
Most UL backpacking equipment takes up little to no space and becomes multi-purpose. Your hiking poles are your tent poles, your poncho is your tarp, for example. So why do you need 60L of space for that? The lowest backpacking weight I've carried in the pack was 16lbs (Hilleberg Unna, Therm-a-Rest Z-Lite, Mountain Equipment Co-op down bag, Vargo titanium stove, and MSR solo cookpot) excluding the pack weight. This stuff barely makes a dent in 60L.
I'm no gram weenie, but if someone tells me I could carry all my stuff in a 2.6lb bag, or in the same bag that weighs 2lbs, I'm gonna take less weight. Klymit could bring this down to a 45L pack and drop a little more weight, off an already impressive lightweight package.
I'm guessing they wanted some size differential as the pack I am describing is basically being made in their Motion 35L. Second Gear did a wonderful review of it here, and I think the reason she enjoyed it so much is it has all of the features of the 60L with none of the excess of the 60L.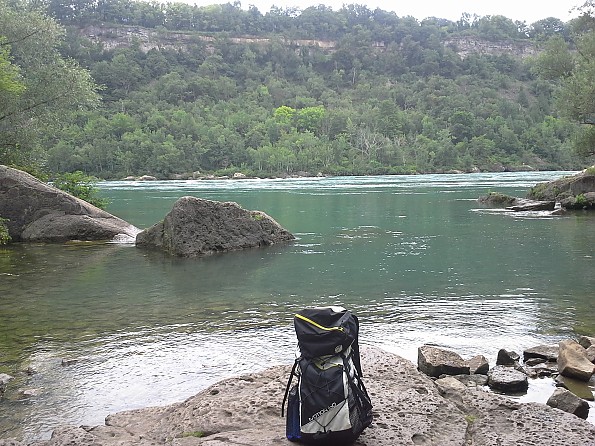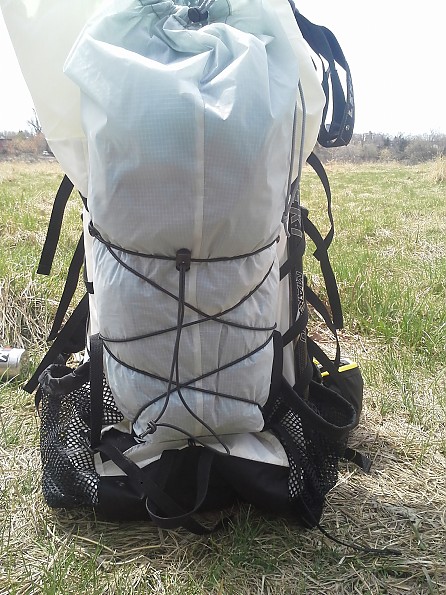 The water bottle pockets are the largest I've ever seen on a pack, two one liter bottles can fit with ease. On one trip I kept my 3L hydration bladder in a pocket. I loved having it easily accessible to both fill, and check my remaining stores, although it did slightly throw off the balance (to be expected).
I'd like to test this setup again carrying a little less, maybe 2L, as I hate having the bladder tucked away where it's a pain to pull out all your stuff to access it and you have no way of knowing how much you have left.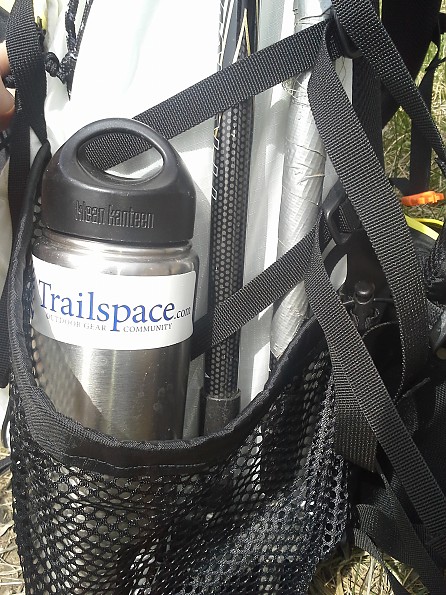 Construction and durability
The pack has held up pretty well after a couple months of abuse. The water bottle pockets on my test pack are mesh and have snagged on some brush resulting in a few small tears, nothing that effects its function. I have seen some models of the pack online with a stretch, spandex, side water bottle pocket. Not sure if mine is a pre-production model and they've switched to something a little more durable.
Some aspects of the pack look a little unfinished. A couple loose threads and a MYOG looking elastic closure on the water bottle pockets.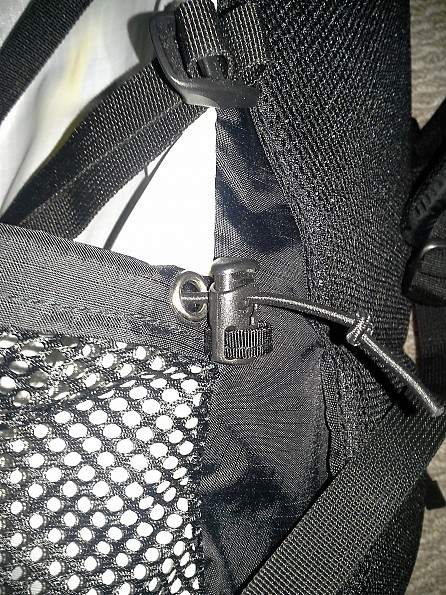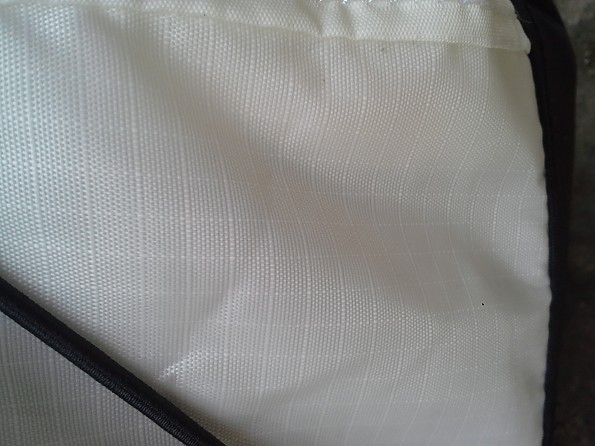 Compression
Yes, plenty of it. Four compression straps on each side, elastic bungee on the front, and top compression strap to accompany the draw cord closure. Why? Because this thing is so big, you need to compress down your bag to match your UL load! Same issue here — the straps are the right length if you need 60L of space, but when you compress it down to meet your 40L of needed space, you have excess cords dangling around. I'd also like to see only 3 compression straps on each side to reduce the weight even more.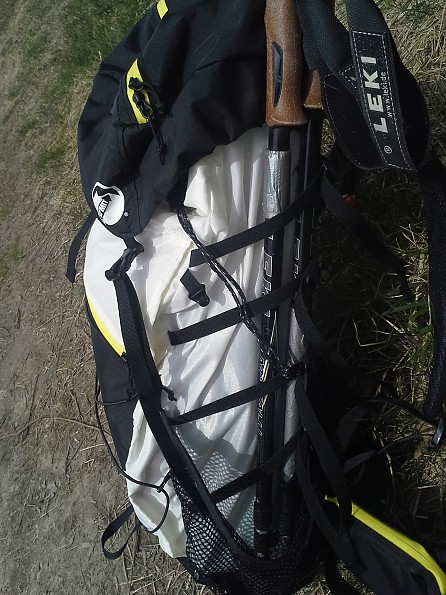 Organization and Accessibility
I love this aspect of the pack. The lid has two pockets, including a key fob in one, the front pocket can be used with or without stuff bungeed on and the water bottle pockets are big enough to store wet gear should you need it. The two hipbelts swallow more than you can throw at them.
I love being able to have my windshirt, a couple bars, camera, map/compass and chapstick available while on the move. All of those fit, with ease, between the two pockets. No stopping to rummage through the depth of the pack to find the essentials. That's not even taking the back pocket, water bottle pocket of two lid pockets into account, its easy to stay organized with this pack....and I need that!
Features
Airbeam framesheet- Here's the real gem of the whole pack. Increased comfort and lighter weight. I have pulled this thing outta the pack and transferred it to other climbing packs, travel packs, etc. It's worth the price of admission. Surprisingly durable too. I've rolled it up and used it as a pillow, sat on twigs and rocks and had my dogs accidentally walk across it.
I haven't been daring enough to try it as a ultra minimal bivy pad but between it and your backpack it could get you through a night or two. It reduces most bouncing and feels much more natural to carry. I'd call it more a dynamic, rather than a static carry. What I mean by that is that the pack seems to move with you rather than stay rigid against your back.
Trouthunter did a wonderful review on a framesheet Klymit produced for another backpack company if you want to read more about the technology here.
The pump is not removable on mine, slightly frustrating as it gets in the way most the time, both while using as a pillow, and while in the bag.
Single ice axe loop- Again with the theme of the review — too large. The loop is 9 inches around. They can shrink all this extra cordage, increase performance and reduce weight all at once. Here's hoping.
Conclusion
Klymit's first foray into backpacks is a relative success. I loved the layout, Airbeam framesheet and the pocket design but the pack is far oversized. If you have a large capacity need, which is not overly heavy, this pack is worth a look. If you have your UL kit fine tuned you might want to look at the smaller 35L Motion, I know I will.
Testing/ Tester
I have been testing the Motion 60L for over three months now in varying temperatures and conditions throughout Ontario, Canada. The peak temps it has seen were 33 degrees Celsius, down to a low of night hiking around 14 degrees Celsius. I generally kept a base weight between 18 to 22lbs on most trips, and once to test the upper limits, around 45lbs. I am a 6 foot male, 165lbs and ordered the size medium/large.
*Thanks to Trailspace and Klymit for the opportunity to test this pack. If you have any questions, please don't hesitate to ask
Source: received for testing via the Trailspace Review Corps (Sample provided by Klymit for testing and review)

Pros
Lighter than my other packs
Air suspension is...interesting
Cons
No back panel access to main compartment
Top loading
Not great for heavy loads
No external pockets
Hip "belt" is a joke
I really wanted to like this pack....but...
This is my first foray into lighter weight gear. I wasn't expecting to have design or performance concerns, but that's the reality. I tried this pack on several three-day weekend hikes and found it woefully small for my needs. I carried it on a winter one-nighter, and it still seems smaller than my other 60 L pack.
The compression straps are way too long and skinny, and pulling them tight stresses the buckles. I broke one and had to secure the strap with a carabiner until I could get home to fix it. The main compartment collar is also tight, and doesn't open to accommodate my three-season bag. This makes loading and unloading more of a task than it needs to be. With no side pockets, no interior separation baffles and no access to the main compartment other than the top collar, everything has to go inside....I even have to use a compression sack for my smallest 2p tent.
My biggest gripe with this pack is that it lacks a full hip belt. What they provide is a cheap, three-piece belt that's held in place with velcro on each side piece. This design just does not hold the belt to your hips or redistribute weight at all.
The pocket for the inflator bulb is (was) cool, but this design is more of a waist belt that's meant for articulated movement than load bearing. If that's all is was supposed to be, then huzzaaaaah...but...it doesn't carry my gear the way I'm accustomed to in any of my other packs. After my second use, I replaced the belt with a better, heat formed belt to improve (but not quite perfect) weight distribution—it also helped with stability over rocky terrain.
I'm an old school hiker, on the trails since 1972. I carry gear that I've become accustomed to, and most of it is durable, heavy, and older than most people reading this. I usually carry 60L, 90L, or 110L for overnight trips and longer excursions. Those packs ride a lot better and carry my gear with more ease than the Klymit "Motion" 60.
Experience
Not great, but far too modified to return to the factory for a refund.
Source: bought it new
Price Paid: $169 (factory sale)

Great for the weekend warrior or thru-hiker seeking a lightweight, yet durable and versatile pack.
I was able to test the Klymit Motion 60 backpack in exchange for a review. My husband was in the market to update his old backpack when I won the opportunity. I spent some additional money and purchased their top-of-the-line backpack for him to enjoy.
What we like most about this backpack:
Super lightweight and comfortable...a mere 2.7 pounds. His old backpack weighed at least 2x as much.
A few well-placed, exterior pockets make organizing and finding things much easier than one large dark tunnel of stuff. The two small hip pockets (one of which doubles as the air pump for the back comfort bladder) is large enough to hold a pocket camera or phone. The brain pocket has a clever diagonally placed zipper that makes accessing your stuff much easier. There is a secret dry pocket in the brain for keys, phone, and wallets. The large and very accessible pocket on the back is great for snacks, lunch, cameras, maps, or anything you want to get to regularly. It too has a diagonal zipper. The two somewhat stretchy neoprene pockets on either side are large enough to hold fuel bottles, tent poles, sleeping pad, water bottles, or a hammock.
The air frame bladder adds rigidity to the pack and lifts the bag off your back for air flow. This bladder can be pumped up and/or deflated while the bag is on your back to change how the weight of the pack is distributed between your shoulders, back, and hips.
Multiple compression straps help you can fine tune the backpack for your comfort and gear placement. Also, there are 4 straps on the hip belt to help distribute the weight on your hips.
There is a Velcro loop strap in which you can hang your water bladder inside the pack, as well as 2 slits for the hose to come through.
The pack is made from nylon and silicone impregnated nylon, making it durable and relatively waterproof. The zippers open and close easily.
Some concerns:
My husband was used to carrying a pack with a bit more volume, so found it a bit of a challenge to get everything he usually carries inside. With newer technology and lighter, smaller equipment, we look forward to the challenge of pairing down what we really need.
The only other concern is possibly puncturing the air frame bladder, but patching should be as easy as repairing any sleeping pad.
Source: tested or reviewed it for the manufacturer (I kept the product after testing.)

Disclosure: The author of this review received a sample of the product from the brand or its representative in exchange for a review.
Very poor durabiltiy
Cons
Durability. Will not hold up to solid use.
I bought this pack and used it on 4 overnight trips. After the last trip, there are three straps that have come apart from the pack and one of the main shoulder straps is about to come apart completely.
When contacted Klymit declined to cover it under their lifetime warranty, and said it was normal wear and tear, after only four trips and less than 60 miles.
I give it 1 star for durability and poor customer relations.
Experience
Took it on 4 overnight trips
Source: bought it new
Price Paid: $119

I bought this pack about a year ago to replace another ultra light pack I had worn out. (Wild Things AT pack, which I still like, but it is basically just a bag with straps on it).

I was hesitant to buy this Klymit Motion 60, without trying it on first, but I took a chance, and I must say I have been absolutely pleased in every way possible. This pack is very light, super comfortable, and carries everything I need for a few days of wilderness travel.

Excellent design! Well made pack. The price I paid was ridiculously cheap for such a quality piece of gear!
Pros
Well made, great design
Extremely light
Very comfortable to carry
Very well made pack, very adjustable, super light. I really like it a lot!
Source: bought it new
Price Paid: $119

Your Review
Where to Buy
Help support this site by making your next gear purchase through one of the links above. Click a link, buy what you need, and the seller will contribute a portion of the purchase price to support Trailspace's independent gear reviews.
You May Like
Specs
Price
MSRP: $209.99
Current Retail: $209.99
Historic Range: $114.99-$209.99
Reviewers Paid: $119.00-$169.00

Weight
3 lbs / 1.3 kg

Fabric
400D Oxford Polyester

Volume
60 liters

Waist Size
30-60 in / 76-152 cm

Torso Length
17-20 in / 43-50 cm

Load Rating
75 lbs / 34 kg

Recently on Trailspace