Klymit Pillow X Large

The Klymit Pillow X Large is based off the popular Pillow X, but is much more than just a larger version. The fabric is greatly improved and I prefer the valve position and function, as well. The X-baffle design works, as before, and the larger size increases comfort substantially. The Pillow X Large weighs just a little more than an ounce more than the Pillow X, but the improvements are worth the weight.
Pros
Fabric is much better (soft and stretchy) than original Pillow X
Takes only 4 breaths to inflate
Range of inflation/pressure to suite personal preference
Better valve than original PX
Weighs 3.2 oz
Good value
Cons
No attachment points—can slide around in a hammock
Fabric retains (campfire) smells
No patch kit included
What more is there to say about yet another inflatable pillow? Well, the Klymit Pillow X Large (from here on abbreviated PXL) deserves a decent shout-out. And in reflection, the humble inflatable pillow has made quite a few strides in recent years. Most remember the good ol' days of clothing-filled stuff-sacks, balled-up jackets, and even the rudimentary sacks of air that constituted an inflatable pillow. To my knowledge, Exped was one of the first to introduce a baffled air pillow design, a concept which has evolved into a variety of better editions today.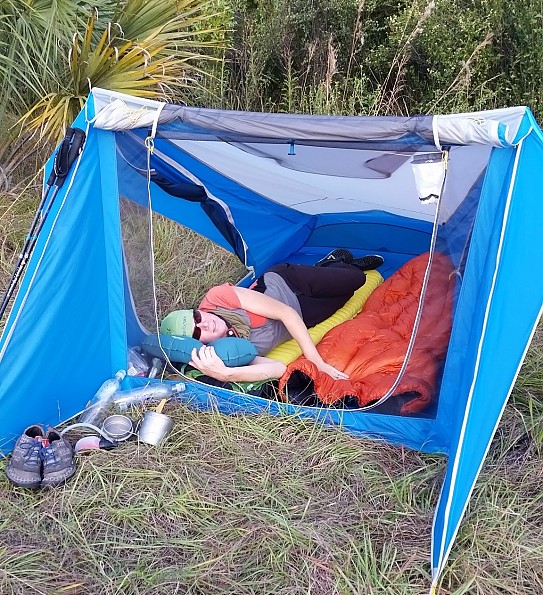 I enjoyed my first Exped air pillow for a number of years but I, and others, have experienced blow-outs of the internal baffles, relegating it back to just a sack of air. Go Time!'s recent review of the original Klymit Pillow X convinced me to try something new. It is one of the lightest and least expensive options on the market, and it has been my choice for the past year.
When Klymit provided a sample of their new PXL along with a hammock pad for testing, I was interested to compare this upgraded version to my original. It has not disappointed and is in fact, my new favorite. I have suffered the addition of a little over an ounce, but it makes up for this weight in comfort.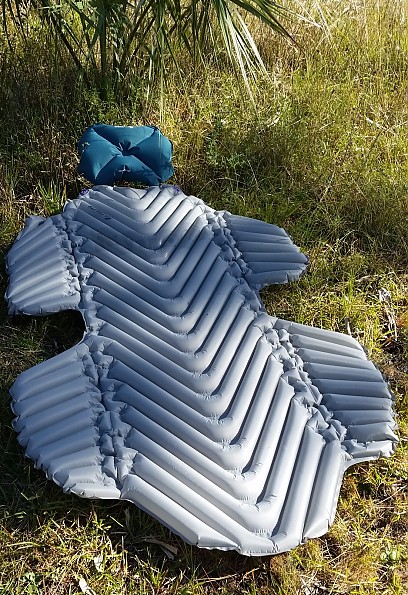 Ease of Use:  Inflatable pillow—the name implies simplicity, right? So I think it is with a bit of sly humor that Klymit refers to the Pillow X Large as technically advanced. But OK, I'll concede that it is technically better than their original Pillow X. It is also the best of the several I have tried in the genre so far.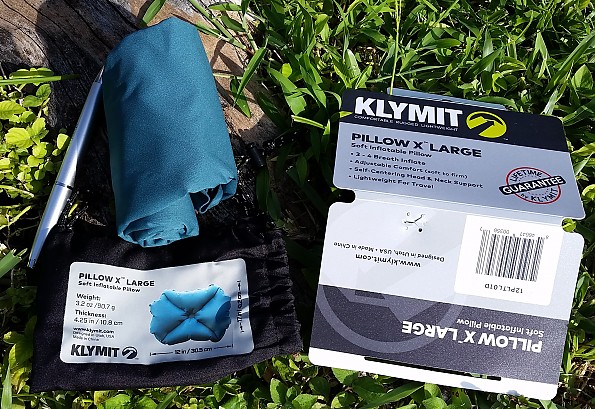 The PXL takes 4 full breaths to inflate, give or take. Firmness can easily be adjusted to personal preference. I generally like a slightly deflated pillow, just as in my sleeping pad. It is simple to fully deflate too, which I usually accomplish by opening the valve and squeezing it into a ball. The valve takes one full turn to open/close and is pretty standard in its function.
I prefer this valve to the one found on the original PX. You can see some of the differences in the comparison picture (PX valve positioned off the seam and is a ¼ push/turn/pop-out valve). Also, you can see how much bigger the PXL is (17"x12"x4.25").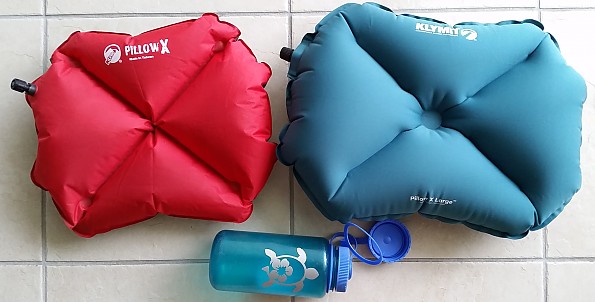 Features: The main feature of the PXL is the X-baffle design. It works pretty well in two ways: it provides space for the curvature of your head and ears, while at the same time cradling the head and effectively self-centering itself throughout the night. I find it very comfortable, whether I'm sleeping on my back, sides, or even stomach. The pillow will sometimes slide out of place, but not to the extent that previous pillows have. The fabric is the same on both sides and not slippery, especially compared to its predecessor.
The PXL does not have any loops/holes for attaching to a pad or hammock structure, so this is a feature that could stand to be added. Just one nylon loop would suffice for a hammock. Also, Klymit states that the PXL is shaped (rounded-corners) to fit inside the hood of a typical mummy sleeping bag. I did not test this claim, since I mostly use quilts now. I think it would be highly dependent on the mummy bag...the PXL may be a little too large to fit in smaller bags.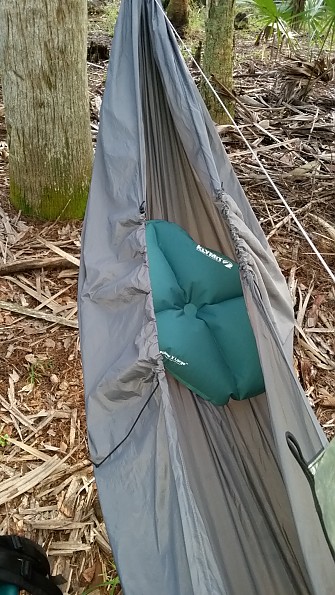 The dilemma of keeping your pillow from sliding to the middle when you get out of your hammock.

Incidentally, Klymit makes several sleeping pads with an integrated pillow. Some of their pads also include silicone strips to prevent slippage, but the PXL does not.
One setup that I recently stumbled on was placing the pillow inside the frame and sling of my Alite Monarch Chair. This adaption works to trap the pillow in place, elevate it slightly, and keep it at an ideal angle.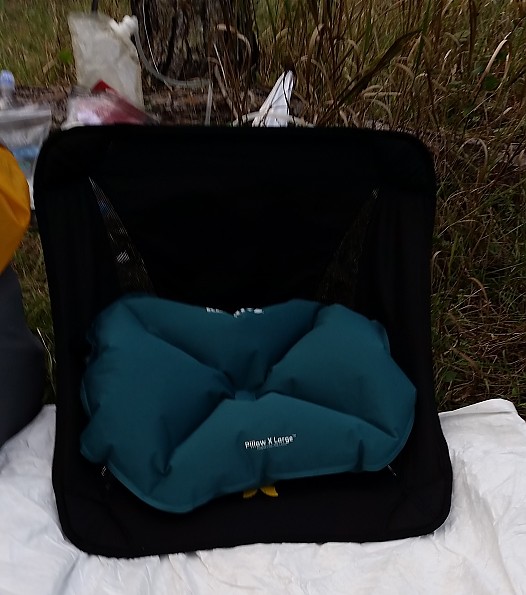 Another configuration I've struggled with is using the pillow with a Therm-a-Rest NeoAir XLite short (or torso) pad. My regular length XLite is long enough to place a pillow on top the pad, elevating my head. With a torso pad, the pillow must be placed at the head of the pad, flush with the ground. The elevation ends up being about the same as the pad (4.25" max thickness vs. 2.5" for the pad). This may actually be preferred by some, but it makes me feel like the blood is pooling in my head, especially lying on my side.
In using a torso length pad, I've had to prop stuff under the pillow. But the whole reason for going with a torso pad is to shave weight and space in a minimalist configuration, which by its very nature, doesn't involve much excess for stashing under the pillow. It's all part of the game of finding one's balance between carried weight and comfort, I guess.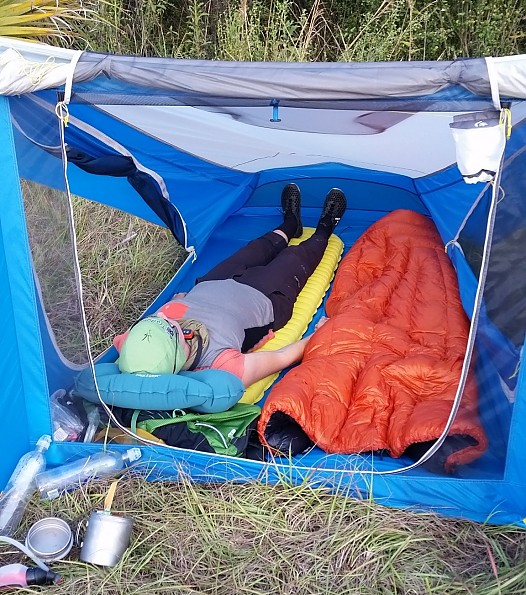 Maximum comfort with my pack stashed underneath the pillow and a full length pad.


Construction and Durability: I am exceedingly fond of the PXL fabric. It has a very soft feel against skin, along with a supple stretchiness, the effectiveness of which can't be overstated. It makes for an ideal experience for an air pillow and I wish the regular PX was made out of it too.
The fabric is the same on both sides and feels very durable, not cheap. It is also pretty quiet when I shift around, unlike my sleeping pads and other pillows. If it has one fault, it's that it holds odors…but so far only that insidious campfire smell. What piece of my gear doesn't smell like that?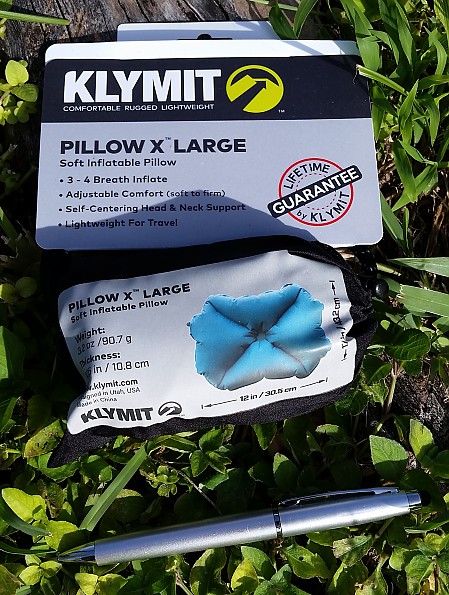 During my testing I have not had any leaks or problems with the PXL. I haven't been abusive to it (by sitting or lying on it around camp) but I don't feel like I've babied it, either. It may be relevant to note that I have never had a pillow or sleeping pad develop a leak, so it would seem that I am pretty gentle on my gear, in general.
Klymit did NOT provide a patch kit with the pillow, but one was provided with their sleeping pad. It's not a big deal to me, since after many inflatable sleeping gear purchases, I have a number of spare patch kits. But I do wonder how easy a patch would adhere to the material, given that it's not as smooth but rather, has a micro-fuzz texture.
The pillow does of course come with its own stuff sack (which promptly went into a drawer somewhere). Lastly, for those wondering, the pillow is made in China and Klymit offers a lifetime warranty.
Conditions: I tested the PXL from October 2016 through January 2017. I used the pillow on six multi-day backpacking and kayaking trips, in conjunction with a range of shelters: hammock, tent, and tarp.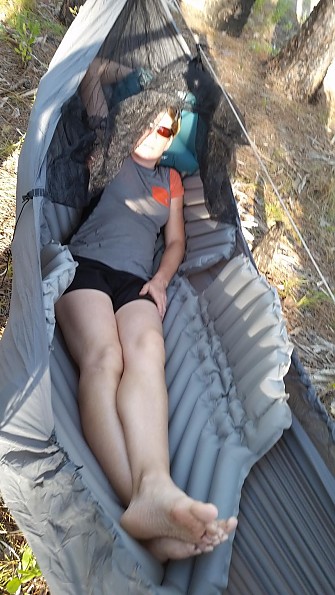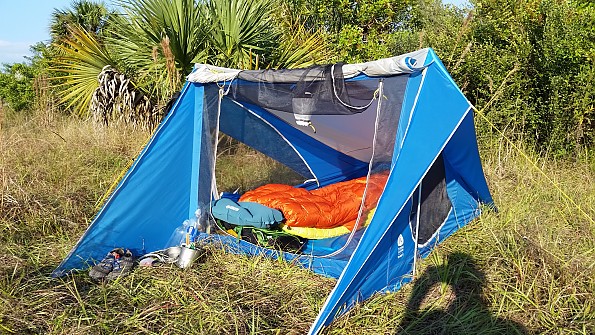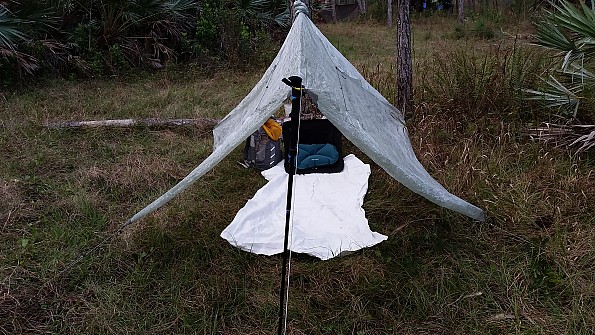 I also used it a lot at home (slept on for a week straight!) and on a trans-country flight to Portland, Ore., and back. It works pretty decent as a regular pillow at home and really good as a travel pillow, given its pack-ability.
Conclusion: The Klymit Pillow X Large is my top pick in inflatable pillows given its value and comfort and I would use it for all but the most super-ultralight of my expeditions.
For comparison, I have provided a list and specs of inflatable pillow products from Klymit, Exped, and Sea to Summit. This list is not exhaustive but offers an idea of how the PXL 'stack's up' (pun intended) against the competition:
Klymit Pillow X Large: 17 x 12 x 4.25", 3.2 oz, $29.95
Klymit Pillow X: 15 x 11" x 4"; 1.95 oz, $24.95
Exped M: 15 × 10.6 × 4.3"; 2.6 oz, $39.00
Exped L: 18.1 × 11.8× 4.7"; 3.2 oz; $45.00
Exped XL: 20.5 × 13.4 × 5.1"; 3.7 oz; $49.00
Exped UL M: 15 × 10.6 × 3.9"; 1.6 oz, $45.00
Exped UL L: 11.8 × 18.1 × 4.7"; 2.1 oz; $49.00
STS Aeros Premium M: 13.4 x 9.4 x 4.3"; 2.8 oz, $42.95
STS Aeros Premium L: 16.5 x 11.8 x 5.1"; 4 oz, $46.95
STS Aeros UL M: 14.2 x 10.2 x 4.7"; 2.1 oz; $39.95
STS Aeros UL L: 17.3 x 12.6 x 5.5", 2.5 oz, $42.95
STS Aeros UL Deluxe: 23.5 x 16 x 5.5"; 4.6 oz, $49.95
Source: received for testing via the Trailspace Review Corps (Sample provided by Klymit for testing and review)

Pillow does not hold air. Not good for long distance backpacking.

Cons
Does not hold air for more than 5 minutes
I did due diligence in reviewing this pillow. The other pillow I have had for my long distance backpacking trips is great, but not large enough.
I decided to purchase this Klymit X Large Pillow for an eight-day backpacking trip. It arrived within four days. I immediately took it out of the package and proceeded to blow it up. It took four breaths to blow up. It held the air for a couple minutes, so I thought it was good and deflated.
The first night on the mountains, after five minutes the pillow lost 90 percent of its air. Blew more air into it, sealed good, and same thing happened again. I checked for leaks all over. Nothing found or any hissing noticed. Blew up again and same thing. This went on for three nights. I got of trail and will not use it again.
This item might be fine for casual use around the yard or a picnic, but if you're a serious outdoors person, spending many nights in the woods, do not waste money on this pillow.
Experience
over 100 nights in backcountry camping
Source: bought it new
Price Paid: $24

Your Review
Where to Buy
Help support this site by making your next gear purchase through one of the links above. Click a link, buy what you need, and the seller will contribute a portion of the purchase price to support Trailspace's independent gear reviews.
You May Like
Specs
Price
MSRP: $29.99
Current Retail: $19.47-$32.99
Historic Range: $14.99-$32.99
Reviewers Paid: $24.00

Weight
3.2 oz / 91 g

Dimensions
12 x 17 x 4.25 in / 56 x 32 x 14 cm

Packed Dimensions
4 x 3 in / 10 x 8 cm

Material
75D polyester

Recently on Trailspace