Therm-a-Rest

NeoAir XLite

- Men's
Reviews
Man, this thing sure is light...and comfortable! I…
Rating:


Source: bought it new
Price Paid: $115

Summary
Man, this thing sure is light...and comfortable!
Cons
not self-inflating
pricey
I recently upgraded from an old Thermarest self-inflating pad, which at the time I bought it, it was the bomb. But I've been seeing people with these newer, trimmer, thicker, and lighter (did I mention lighter?) pads and started feeling envious. Given Cascade Design's track record (excellent), I decided to splurge for the best again, counting on another 15 years of service from this pad.
It sure is a different experience from my old Thermarest. For one, you have to blow it up. I always used to put additional puffs into my old mattress to give it the max 'cushyness' but you do have to huff and puff with this a lot more. It's not that bad though. I've found that you can open the value, go make dinner, and come back to find that it has self-inflated somewhat, so this helps.
Oh, but all those extra breaths are worth it when you lay down on this sucker! I have slept so comfortably, on my sides and stomach even, not bottoming out like I used to. I've never gotten a better night's sleep out in the wilderness, in fact.
And although I haven't really needed it down here in Florida, the pad is very insulative (almost too hot in fact). I also love the contoured shape...why carry around a square pad if you don't need it? Leaves more room in the tent and can be used inside a sleeping bag or bivy.
Also, this thing rolls up into the size of a Nalgene 1 L bottle...amazing. Just be sure to unroll it when you get home and let it breathe...you can actually see through the fabric to see all the condensation from your sweaty breaths, and in Florida, there is a lot of humidity too...don't want mold becoming a problem in there.
Some reviewers had a problem with the pad being noisy...due to the built in metallic material, kind of like a space blanket...but I don't find this to be a problem. The other concern is durability. Mine has had no holes yet but they will undoubtedly come with use...my old one got a few pin-pricks too, easily fixed if you have the skills to fix a flat on a bike. It comes with patches, the same glue-less type you can get at a bike store for tubes. Carry a few of these and you will be fine.
If you get a major rip, well, I'd be willing to bet that the company would replace it for free. They have repeatedly serviced or replaced my Platypus bladders when they went bad, all for free. So I feel confident they will stand behind this product too. Which is why I felt justified in spending so much on this pad. Wait for the 30% REI member discount as I did and the pain won't be so much. The lack of pain in your back will be worth it!
One final note, this pad is very temperature sensitive...keep in mind the scientific principles of gases and temps. On my first trip with this pad, I inflated it in the late afternoon while the Florida sun was beating down on my tent. The temp dropped about 20 degrees by the time I went to bed and the pad shrunk too...thought it already had a hole but no, was just the temp difference. A few more breaths and it stayed firm throughout the night. You may need to adjust accordingly.
UPDATE:
A few more nights using this pad and I am upgrading my rating to a full 5 stars. I have never been so comfortable sleeping outdoors...it truly is a revolutionary product.
The pad has also been invaluable during some freezing nights with an insufficient sleeping bag. I would have been very cold with any other pad. The space/weight savings, thermal properties, and comfort level are well worth the price of this pad. And so far, no problems with durability.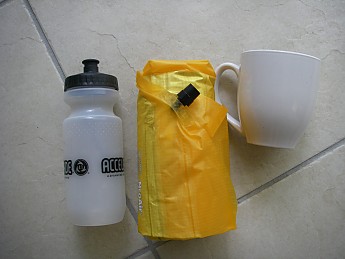 Small, light, Therm-a-Rest pretty much says it all.
Rating:


Source: bought it new
Price Paid: $120 (on sale)

Summary
Small, light, Therm-a-Rest pretty much says it all. An industry leader brings quality and function in a small package.
Pros
Light and packs small
Comfortable
Durable
Cons
Manual inflation
Limited thermal protection
Purchased as part of my go lighter to go higher effort last year, the Therm-a-Rest NeoAir XLite has worked quite well for me.  Replacing a 2.6lb TrailPro the XLite lives up to its name at 12.7 oz on my scale, including stuff sack and repair kit included with purchase.  After use in all four seasons I've found it surprisingly comfortable for an air mattress and have had no issues with leaks or other failures.
On first unrolling the NeoAir I was struck by how thin and light the material felt.  That made me a bit nervous about durability and I was really careful rolling over the first time I used it.  Since then I've grown confident it won't pop if I roll around a bit at night since there have been no problems.
The next thing that struck me was that unlike my trusty TrailPro, which mostly inflated itself, this one would require me to blow it up.  I learned quickly that getting some air inside, closing the valve and then pushing that air around to open up the cells a bit before trying to fully inflate made things easier by far.
Research prior to purchase had shown a lot of folks talking about how noisy this pad was.  Having been on a trip with someone using a Big Agnes pad that squeaked all night long I was expecting the worst but have found the XLite to be quiet enough not to really bother me.  It has quieted over time though still makes some noise and that can be damped if I use my Therm-a-Rest Fitted Sheet.
As a quilt user insulation is important to me in a pad and I have found the NeoAir XLite to work well enough for me down to about the freezing point. If I am expecting temps around there or colder I use the XLite on top of the Trail Pro. Combined I have used them down into the teens with great success.
Over all I have been very pleased with my purchase of the Therm-a-Rest NeoAir XLite and would definitely recommend it to anyone in the market for a full length inflatable pad.  I've found a lot of comfort on it and the weight/space savings have been worth the expense.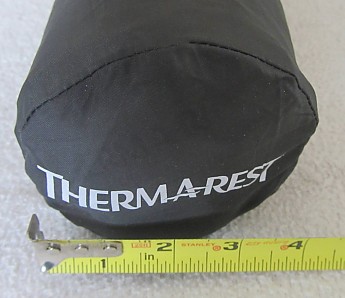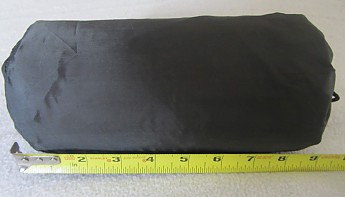 Folded and rolled to 9" x 4" it tucks easily into the sleeping bag compartment with my quilt.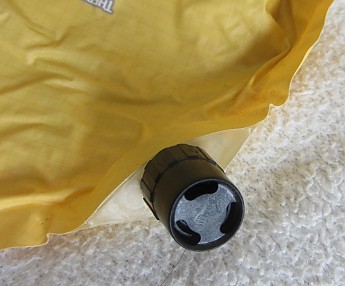 The valve design has long made me a fan of Therm-a-Rest pads. Used properly it really works to prevent damage to this vital part of the pad. I was glad to see it was carried over to the modern inflatable pads.
Ultralight and highly compact, this pad is exceptionally…
Rating:


Source: bought it new
Price Paid: $160

Summary
Ultralight and highly compact, this pad is exceptionally warm for its weight. It doesn't merit five stars because I don't feel personally confident about its longterm durability, and it's crackly enough that very light sleepers will need earplugs at night. At $159, I consider it worth the money. The 2016 model has new material and is rectangular, so check that out as well.
Pros
Ultralight—12 oz
Compact—rolls to 9"x4"
Warm for its weight—R 3.2
Durable for its weight
Cons
Crackly (may be less in newer models)
Not cheap—$159
Narrow—20" shoulder
This pad rocks for ultralighters and isn't half bad for the creature-comforts crowd. How do I know? I'm a picky, cold-sleeping, side-sleeping insomniac who sleeps well on this pad, and my two-week pack's skin-out weight is just over 9 lbs. 
I picked up this pad new, full price, at REI about two years ago because I was in aggressive ounce-shaving mode for ultralight backpacking, and liked it so much I later bought a friend the same one at the REI garage sale for 50% off. It's been worth it at full price. I've used it a dozen times--every time I don't use my Hennessy hammock.
Here are the pros and cons:
Pros:
It's very light for its warmth—at just 12 oz, it has an R value of 3.2. Compare that to some of the next steps up (Sea to Summit Comfort Light Insulated is 20.5 ounces, R 4.2, and Big Agnes Q-Core SL is 19.5 oz, R 4.7). If you're OK with a few more ounces, need to be really warm, and don't mind shelling out a 50 more clams, then go with the newer Therm-a-Rest NeoAir XTherm, which weighs 15 oz, insulates at whopping R 5.7, and costs $200.

It packs small: It rolls into a 9"L x 4"T cylinder, about the size of a Nalgene bottle

It's exceptionally comfortable for an ultralight inflatable: Despite the horizontal-only baffles, it works well for side-sleeping, at least for me (I weigh about 125 lbs). 

Durability: I'm very, very nice to my gear, so my personal experience with it is all tent-based. However, in my community of gear heads, I don't know one person who's had a leak from tent use, and some folks have put it on pine needles and dirt and still had no leaks.
Cons:
Narrow: The men's version, which I have, is just 20" wide (72" long, 2.5" thick). If you're a burly person, you'll need to go with their size Large, which is 5" wider. Because of those horizontal baffles, it also compresses more toward the edge.

Crackly: The 2015 version I have, which is mummy-bag shaped, is made of a plasticky material that feels OK to touch, but rustles and crackles when you move on it. I'm a very light sleeper, so I have to sleep in foam earplugs to keep from being woken up by it. I've read that the 2016 version is made of a new material that's both softer and quieter, but that folks still occasionally comment on the sound.

Not cheap: Buy new for $130-$160.
The real benefit is the warmth it adds. This is true…
Rating:


Source: bought it new
Price Paid: $149

Summary
The real benefit is the warmth it adds.
Pros
Light weight
Weight-to-warmth ratio
Ease of use
Comfort
This is true space age gift....light weight, rugged, and warm.
I am a big guy...250 lbs and a side sleeper. I do not have any issues with hard spots. I've been backpacking since 1971, and this by far is the best pad ever. I use a quilt and this pad keeps me comfortable well into the 20s.
This is a must buy addition in my humble opinion and extended experience.
Great pad. 45 now and love backpacking still but not…
Rating:


Source: bought it new
Price Paid: $130

Summary
Great pad.
Pros
Weight
Ease of inflation
Comfort
45 now and love backpacking still but not the ground. Have tried a number of different pads but have been unwilling up until this point to try the NeoAir, mostly due to price. Based on recommendations from others I decided to give it a try and have enjoyed my first good night's sleeping in a long time.
I'm a side sleeper, 6'1" and 220. I found filling it up and laying on it and then slowly letting out air until I'm almost touching ground at the low spot makes for the most comfortable bed.  
Concerned about durability but having a 4 year old jump on it didn't seem to phase it (probably not recommended).
Long trip planned this summer, interested to see how it holds up.
Better than other pads, still not perfect if you have…
Rating:


Source: bought it new
Price Paid: $137

Summary
Better than other pads, still not perfect if you have back pain.
Cons
Comfort for back pain
Price
I invested in this sleeping pad because I have a tough time sleeping well in the back country. This sleeping pad was a vast improvement over my last one and if you have a pain-free back it will probably be perfect for you.
It takes no time to blow-up and does a great job insulating from cold and protecting hips and shoulders from the ground. However, I still had pretty intense back pain using this mat and may look into a hammock to solve this issue in the future.
Light, but fragile and uncomfortable. It is a relatively…
Rating:


Source: bought it new
Price Paid: $149

Summary
Light, but fragile and uncomfortable.
Cons
Fragile
Small sized
Uncomfortable
Too thin for easy adjustment
Noisy
It is a relatively light pad, but you get what you ... ask for.
My pad had a leak on the first night. Just luck of the draw but it brought home the problem with this type of design: one tiny leak means your sleeping night is over. I am 172 cm (5'8"), relatively broad shouldered, and the pad was not large enough for my arms if I slept on my back; it is thin, and it has a very narrow range of inflation that somewhat works for comfort. Too little and you hit the floor, inflate a bit more and it is too stiff.
It might not matter much but it is very noisy, to the point of getting self-conscious about moving during the night and risk waking up my companion.
I sold it after four trips and seven very uncomfortable nights and I purchased a Sea To Summit Comfort Plus. This has two independent air chambers (no risk to sleep on the ground), it is incredibly comfortable, and as a bonus completely silent. Best pad I ever owned. Heavier but I want to sleep at night!
Experience
A large number of pads in the last...many many years. Foam, rigid, First generation self-inflatable, Therm-a-Rest self-inflatables, Neo-Air, Sea-to-Summit Comfort Plus
Perfect: ultraight, packs small, comfy, and not noisy.
Rating:


Source: bought it new
Price Paid: $103 on sale

Summary
Perfect: ultraight, packs small, comfy, and not noisy.
Pros
Light
Packs small
Low noise
Valve
Comfy
You will not find a lighter more comfy air pad at 12oz and 3 R-value. They updated the material so it hardly makes any noise and is slightly grippy so you don't slide off. I also like the old school simple screw valve. Dropped 7 oz from my previous air pad. I wouldn't change a thing.
p.s. I blow mine up with an older style Big Agnes Pumphouse that fits over the valve, which prevents moisture/mold inside the pad, and it doubles as a dry bag.
Best sleeping pad for the weight with incredible warmth.
Rating:


Source: bought it used
Price Paid: $75

Summary
Best sleeping pad for the weight with incredible warmth. Very comfortable.
Pros
Comfort
Warmth
Lightweight
My wife and I own two NeoAir XLites and have used them for four seasons now. Both were purchased used from eBay and both have functioned exceptionally.
It's quick to set up, taking 2-3 minutes to inflate. Comfort is superb, like being an actual mattress. Does a great job of keeping me warm even on cold nights.
I'm somewhat paranoid about punctures and have been very careful with it. That being said, it has performed without issue despite about 60 nights on the trail.
I would highly recommend it for anyone looking for a decently priced, very comfortable, inflatable sleeping pad.    
Best pad I've ever seen or used hands down. Packs…
Rating:


Source: bought it new
Price Paid: $179.95

Summary
Best pad I've ever seen or used hands down.
Cons
Goofy color?
Manual inflation
Packs smaller and lighter than anything I've seen. Insulates well. Long enough to fit me easily (6'1"). Tacky enough to keep my slick bag (HyperLamina) from moving around. Price isn't crazy, either. 
Only used it a few times, so I can't comment on durability. 
As badly as I hated to lose the Cadillac-comfort of…
Rating:


Source: bought it new

Summary
As badly as I hated to lose the Cadillac-comfort of my Big Agnes inflatable, I needed to shed a full pound from my pack even more. The NeoAir XLite was just the solution I needed. Ultra lightweight, with a weight of only 12 oz, it did the trick.

There's an annoying crackling sound that presents itself initially, but it's a quick adjustment period and the pad provides more than adequate insulation. I was so pleased with my purchase that I purchased a second NeoAir women's version for my spouse.
Cons
Crackling sound initially from the materials used
I recently purchased the Therm-a-Rest Men's NeoAir XLite as part of an overall effort to lower my total trail weight. (My knees are thankful!) We're preparing for a trip to Glacier and I wanted to cut several pounds from my pack weight.
I was replacing a much heavier but ultra-comfortable Big Agnes inflatable pad, so I was very skeptical that I could get as much comfort out of a 2-inch pad like the NeoAir.
Well, color me skeptical no longer. I took the NeoAir on a shakedown 2-night trip to the Ellicott Rock Wilderness test out several pieces of gear. The pad inflated easily, and deflated quickly when breaking camp. It packs compactly to the size of a wide mouth Nalgene bottle and surpassed my weight objectives nicely at 12 ounces.
Upon initial use, I was slightly annoyed with the crackling sound the pad makes when trying to settle-in. However, I didn't notice it much after the first 10 minutes, and I barely noticed it all all the second night.
This pad is a bit pricey, at $150+ for size Regular, but it was a price I was willing to shell out for the lighter weight objectives I required. I was pleasantly surprised with the pad's comfort level.
I would recommend the Therm-a-Rest NeoAir XLite to any backcountry enthusiast that desires to achieve lower pack weight without sacrificing a good night's sleep.
All that and a bag of chips... Other reviews seemed…
Rating:


Source: bought it new
Price Paid: around $100

Summary
All that and a bag of chips...
Cons
Sounds like your sleeping on a bag of potato chips
Price
Other reviews seemed spot on. It is noisy and not sure how it will hold up over the seasons, but for backpack camping, this style is the way to go.
Exceptional super lightweight sleeping pad that offers…
Rating:


Source: borrowed it

Summary
Exceptional super lightweight sleeping pad that offers a great night sleep.
Pros
Lightweight
Very comfortable
Warm
Cons
Crinkley sound
Expensive
Narrow
I recently had the privileged to borrow a NeoAir Xlite from a friend for an overnight trip after he was raving about it. I must say I am blown away by this product! Not only is the NeoAir super light, it's also thick and warm — the perfect trifecta when it comes to a sleeping pad on the trail. 
Lightweight: As any backpacker will tell you, it's very important to keep your weight down when putting your feet to the trail. At well under a pound and super packable this pad will not burden you over the long haul.
Comfortable: For years I have conceded that I would wake up with sore hips and back every morning after a long hike, because I sacrificed comfort for a lighter pad. The NeoAir is incredibly thick and still manages to stay warm even without the added weight of insulation. By far the most comfortable pad that I'd be willing to strap to my back.
Warmth: Just about every other pad is either cold, or heavy. This pad reflects your body heat back at you to stay reasonably warm without any heavy/bulky insulation!
While I do love the NeoAir, I have to mention a few things...  First of all it's expensive — about $120-150. Also, it can be pretty loud when you are moving around and can wake you or others up with 'crinkle' sounds. Also, while I didn't have any issues sleeping on it, it is a bit narrow. 
My final concern is the durability. Because it's so lightweight, it concerns me that it could get punctured or possibly pop a seam. While it does come with a repair kit, I would hate to be out the $120-150 that it would cost to replace.
This is a very comfortable and lightweight sleeping…
Rating:


Source: bought it new

Summary
This is a very comfortable and lightweight sleeping pad, good for sleeping in any position. Take basic precautions in where you set it down, as with any air pad, but it generally holds up well.
Cons
Can be noisy
Might need to be careful of material
The first time I used this sleeping pad, I got two holes in it. It was getting dark and starting to rain, and I was in a very rocky area. I tried my best to find a rock-free spot to set up my tent, but once I was inside, it turned out there was one very sharp rock underneath me.
I patched the two holes however, and the patches have held up and no more have appeared in two years, including three months of constant use on part of my Appalachian Trail thru hike. So the first two holes were very obviously user error and I believe the material is sturdy despite its light weight.
I've always set it up either in my tent or on a wooden shelter floor, sometimes with a tyvek ground sheet underneath, and sometimes on yet more rocks, roots, or what-have-you, and it's held up just fine.
Setup takes about 20 breaths and is quick. I like the horizontal baffles for comfort. I've slept on this pad on my side, back, and stomach. It's a bit crinkly in the noise department, compared to some other air pads, but it's not enough noise to bother me. It's very lightweight for a full length air pad.
Super comfortable—the best in my 45+ years of backpacking.
Rating:


Source: bought it new
Price Paid: $120 on sale

Summary
Super comfortable—the best in my 45+ years of backpacking.
Cons
Have to blow it up, no big deal
This was a large step up from the old Therm-a-Rest I got in early 1980. It packs so much smaller, is lighter, and fits in my Big Agnes bag. It is more comfortable and lighter than any other backpacking pad I have used. My best acquisition in 2011!
After seven years of extensive hard trail use from 9,000 to 14,500 feet, it has performed excellently.

All NeoAir XLite versions
In addition to the 15 men's reviews above, there are 7 reviews for other versions of the NeoAir XLite. Read all reviews »
Where to Buy
sponsored links
Help support this site by making your next gear purchase through one of the links above. Click a link, buy what you need, and the seller will contribute a portion of the purchase price to support Trailspace's independent gear reviews.
Therm-a-Rest Men's NeoAir XLite
currently retails for:
$129.95 - $199.95
MSRP: $179.95

Recently on Trailspace