Lowa Tibet Pro GTX

The Tibet Pro GTX has been discontinued. It was replaced by the Lowa Tibet GTX.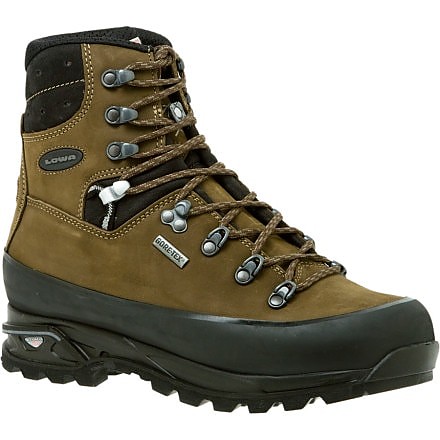 Specs
Men's
Price
MSRP: $340.00
Historic Range: $219.95-$349.95
Reviewers Paid: $165.00-$350.00

Women's
Price
MSRP: $340.00
Historic Range: $229.95-$349.95

Reviews
12

reviews

5-star:

9

4-star:

1

3-star:

1

2-star:

1

1-star:

0
Lowa men's Tibet Pro GTX boots are my best boots to date. I have been mountain hiking and hunting with heavy packs since the early '70s in my Vasque Whitneys. In all my equipment I pay for great performance and quality without, not just on highest price or name.
Pros
Great price (for its category)
Ankle support
Low twist soles
High wall rand
Cons
None for its performance attributes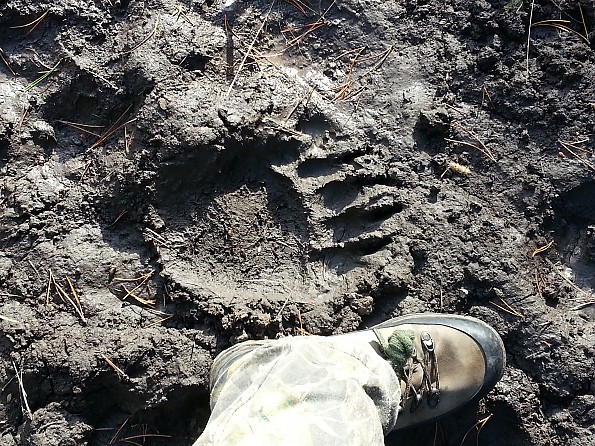 My Lowa men's Tibet Pro GTX's mid-height boots have four seasons of service and are my best boots to date for non-specialized hunting, backpacking, and hiking use. I have been mountain hunting/backpacking/hiking with heavy packs since the early '70s, originally in my heavy full grain leather Vasque Whitney mountain boots which weighed almost 6 lbs, when dry.
The German made Lowa Tibet Pro GTX boots have great ankle support, low twist soles, are light for a serious mountain boot (4 lbs – too light is not good for loads in tough terrain), and can be worn out of the box. The outsoles (the sole that touches the ground) are the Vibram Masai which are self-cleaning and have a stiff tread tip to assist in very steep ascents. I even succeeded with them in rock-climbing a necessary mountain ascent.
For me, these boots are true to its stated 8.5M U.S. boot size. I have an average width foot and wear a size US-8.5 in an outdoor boot, US-8 dress shoe, and US-9 running shoe. I have good feet; they have taken in 56 years of hard use, and partially credit the wellness of my feet to buying premium footwear and wool/synthetic blend socks and remembering to use polypropylene liners when needed. 
The previous attributes mentioned are a must for comfort and safe hiking/backpacking/hunting on mountain terrain which traversing and steep downhill conditions exist. The worst is having your feet moving around in a too soft or light boot causing blistering or having the sole twist under load causing a potential fall. The Pro GTX also has a tongue centering cleat above the ankle level for the lace to partially circle and return to the same side, next cleat up, for further lacing.
Another point which attracted me to the Tibet Pro GTX is its full high rand (the exterior rubber strip that that goes all the way around the boot on the lower portion of the upper and mates with the top outside edge of the out sole. It greatly enhances abrasion protection in rocky conditions and the eventual unavoidable slide. It also gives another inch or so of absolute water protection.
Of practical importance to me, these boots have excelled in securing a sure foothold on dry and wet surfaces while traversing across rocky and more importantly soft vegetation terrain. Don't get me wrong, I am not portraying these as "Superman" boots, but with some experience and caution these boots will keep you comfortable and safer from slipping which many lesser boots experience.
My four-year-old Pro GTX's just returned from a rainy 10-day backpack elk hunt in mountains of NW MT near Glacier Nat'l Park and my feet did become damp after several hours of tromping through the wet heavy brush. Any Gore-Tex is "waterproof" only to a degree. For "absolute" protection from water, snow, and/or cold I also own several models of Schnee's Pac Boots for differing conditions which I also used.
I can comfortably handle mid-teen Fahrenheit weather, but only to the 40s F if I am still. You will lose a few degrees more of comfort if it is damp. On any excursion and in any temperature, if I am sweating my feet will become damp, but much less so than in a full-leather or rubberized Pac boot.
With that said, I have comfortably hiked in 80°F weather without overly wet feet or blistering. In fact, I have never blistered in my Pro GTX's or experienced any discomfort. As reference, I have a narrow heal but it doesn't slip up-and-down, a small bunion near my right small toe, but no other foot disorders. Also, in the past I have experienced a double spiral fractured of my leg near my ankle so it remains slightly enlarged from healing and have not experienced any hot-spots or discomfort in the that area.  
The Lowa Tibet Pro GTX's are comparable to other boots like the SCHNEE'S Absaroka, Kenetrek Hardscrabble, or Crispi GTX without having to pay the high end prices of other premium priced boots. If you are carrying extra heavy loads or wade across shallow mountain streams you may want to consider the Lowa Tibet Pro GTX Hi and/or Wiggy's Light Weight Waders or the NEOS River Trekker Overshoe with Vibram soles for heavy duty river crossings.
With all my equipment I make a purchase on best performance and quality, not on name only or highest price. I conduct research starting with professional guides, read comments and reviews on specific internet blogs pertaining to the activity the equipment will be used for, and lastly speak directly to the tech dept.'s on the equipment maker finalist list. Since I am so active and scrutinizing, often I am the one others come to for opinion. I hope my review assists you in your important purchase.
Source: bought it new
Price Paid: MSRP

I am a boot person and over the years I have tried many different brands without finding what I was looking for, comfort, protection, stability and durability. About 3 years ago I stumbled across Lowa (Germany), made in Europe, and tried the Tibet Pro. I picked up a pair and found what I wanted.

I would recommend these to any person looking for a complete backpacking boot.
Pros
Comfortable
Extremely stable on all terrain
Waterproof (leather and Gore-tex) but breathes well
Durable
Cons
Heavy
Cut small. May need to go up 1 full size for toe box area
This is my second pair of Lowa Tibet Pro boots.  I replaced my first pair after several hundred miles because I found the toe box area a little snug. As normal, the first boots were a half size bigger than my normal shoes but when going downhill with a pack the toe area was still snug. The second pair I purchased a full size larger than my normal shoes and they are perfect.
I have 2 years and about 800 miles of varied terrain on my second pair with no blisters, hot spots or sore feet. There was no break-in, the nubuck leather molds to the foot and they are comfortable and stable on the trail.
I wear them with a light to mid weight Merino wool sock and liner.  The Merino wool seems to wick the moisture from my foot and the breathability of the boot keeps the moisture to a minimum, even in 90+ degree heat. The high cut gives me very good ankle support which is appreciated with a mid to heavy weight pack and rough terrain. The boots grip all kinds of trail, wet or dry, and breath well in cold or hot weather.
They have worn very well.  Take care of them and they will take care of you.  Another 800 miles and more should be no problem.  The factory insoles are comfortable but I replaced them with custom insoles.  
The only thing to be careful of is being European they tend to be cut small.  I went up a full size from my regular shoes to get a proper fit in the toe box area.
Sure, they are just shy of 4 pounds for the pair but well worth the weight. 
Source: bought it new
Price Paid: $340

A high quality boot for when the going gets tough, light enough for long walks, robust enough for rocky terrain, extremely comfortable and hard wearing.
Pros
Build quality
Lightweight for the class
Ball bearing Lace Holes
Two area lacing tension
Cons
There is a hook at the ankle joint on a material fastening that is the boots' weak point.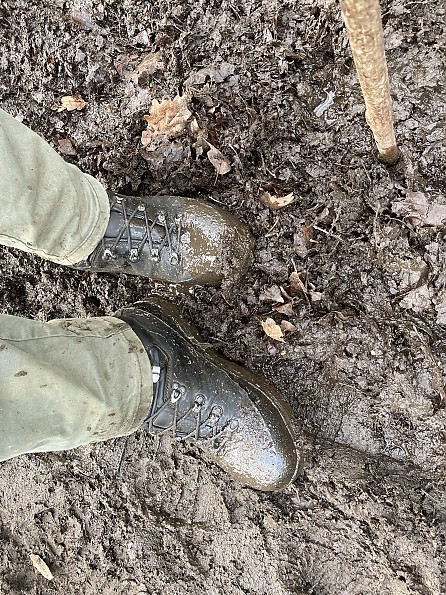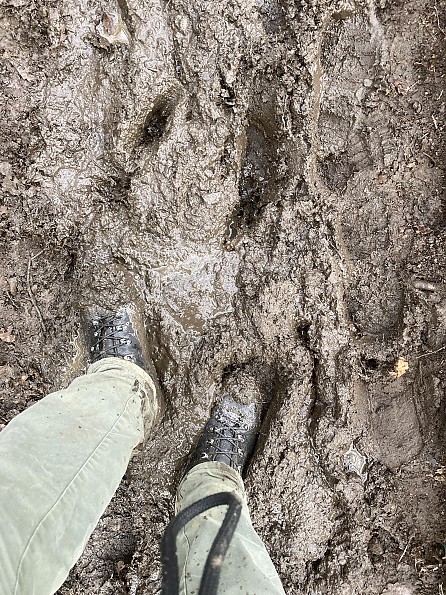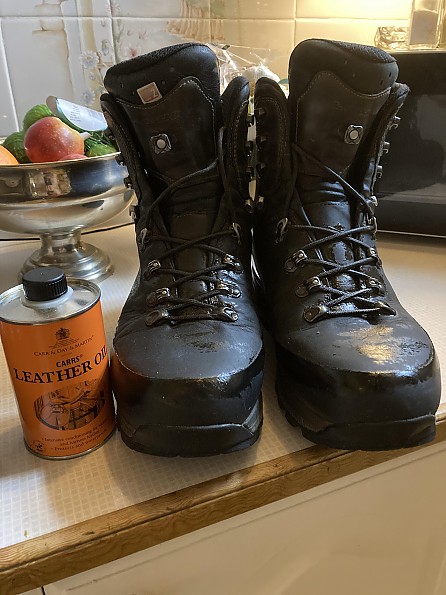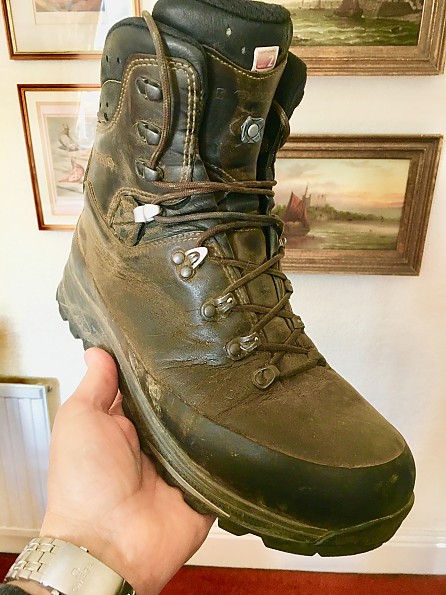 I use my boots for hunting. I purchased a pair of Lowa Hunter GTX boots a few years ago and had a few issues. Firstly, they were too high which made long walks very tiring, they were also cut small, I had asked the question of the supplier before buying them and was assured that they came "up to size." It became clear after my first outing they were a half size too small which irritated me no end. I ended up wearing them with no socks and was surprised to find that even if out for hours in snow my feet stayed warm and comfortable. Anyway, that supplier has lost a lot of business from me since, so my advice is buy at least a half size bigger than you need, or normally take.
So, after I sold the Hunters at a substantial loss, I purchased the Lowa Tibet boots, in a 45, which fitted me perfectly.
One thing that has particularly bothered me, and it wasn't until I received the boots that it was apparent, is the hook at the ankle joint that is attached on a fabric loop. On earlier models it was riveted in the leather like one would expect. Now Lowa say that it's on this loop to provide adjustment.
This is BS as it never moves and it is just a designer's tweak to make them different from previous models. I find myself morbidly checking this loop for it coming loose as it eventually will I'm sure. This is the only thing that I don't like, apart from the fact that Nubuk leather just turns black when you oil it, which you must do as it soon cracks if not lubricated. So why not do a chrome leather version?
Otherwise these are my favourite hunting boot.
Experience
I'm pushing 70, I have worn every type of boot imaginable, I always buy the best I can afford and I look after them.
Source: bought it new
Price Paid: £245

Returned the boots after two days.
Pros
Strong boot with real support.
Good fit, no slip in the heel.
Cons
Design flaw, please see below.
I was looking for a new pair of boots, preferably a more robust boot than the one I've been using for the last four years (Zamberlan 308 Trekker RR). 
Most of my hikes are in the Northeast, in the high peaks area of the Adirondacks and in the White Mountains.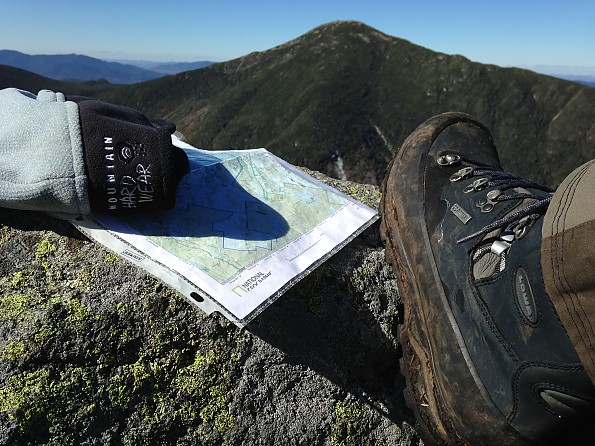 When I tried on the Tibet Pro, I tried both the narrow and regular width. I have narrow feet, but the regular width fit me perfectly, although, I have to say I couldn't feel much difference. I use size 10 ½ and they feel true to size. I also tried two different pairs of AKU boots, but liked the Lowa the best.
The Lowa fitted me so well that I decided to break them in on a two-day backpack hike of the Great Range with a 55-lb backpack. Overall, everything went well. No blisters. They stayed dry, but a bit moist from my own sweat. My old pair of boots were without GoreTex; I still prefer my boots without GoreTex, but wanted to try GoreTex this time. This boot might be too warm in the summer.
The Lowa Tibet Pro are made in Germany, and as such made with perfect attention to craftsmanship. But there's a big but!! Once back home from my hike, I notice that the stitching that keep the middle shoelace hook in place, had come loose and had started to unravel.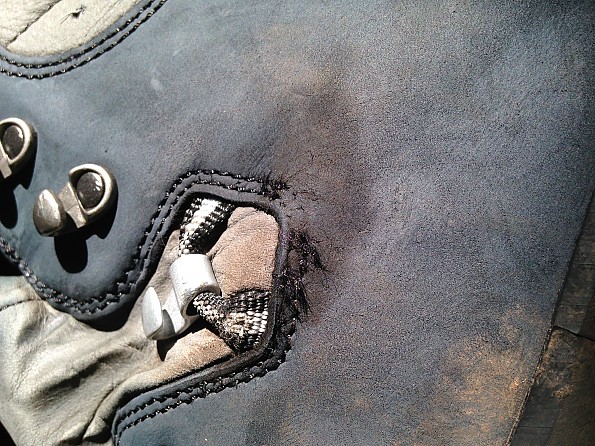 .
This had happened from normal use in a rocky environment. I notice that the boots (both of them) would bulk out a bit in that area and that the stitching therefore was extra exposed.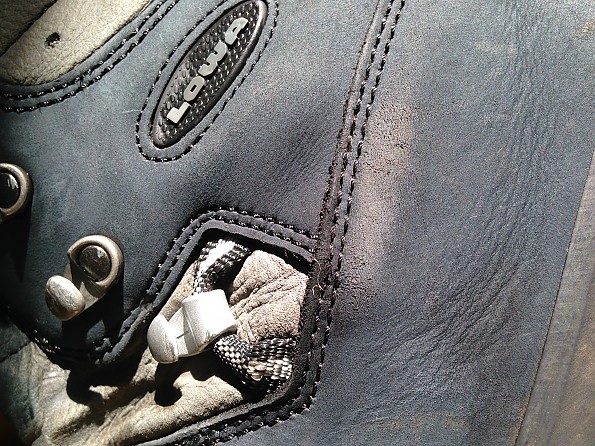 Other side.
Other boot.
I don't think its a manufacturing flaw. From my POV, this is a huge design flaw. I have used my old boots in the same environment for years, and I've yet to see anything break on the Zamberlans. I'm sending the Lowas back to SierraTradingPost. STP are great, (they have the best customer service I've ever experienced). If they read this, Thank You ;)
Of other things worth mentioning is that the soles are outstanding. Superb grip. The Tibet Pro felt very comfortable after just two days of hiking. I like the extra high ankle support.
On a side note, I think my next pair of boots will be made from a more glossy leather instead of the matted leather used on these boots. It seems like dirt sticks a bit better to the matted leather.
It's a pity that they broke after just two days of hiking. If it wasn't for the unraveling, I think they would have been the perfect boots for hiking in the Northeast.
What I don't understand is how this issue has not been corrected after many years of production.
Source: bought it new
Price Paid: $240

I was looking for a boot with excellent support. This boot being higher than most backing boots offer this. Once you walk in them you will notice the comfort that these boots have. They might be for carrying heavier loads and rough trail but for support these boots are the best.
I recently had ankle fuse surgery and was looking for a boot with support. These boots offer this. I wore these boots for one week before I hit the trail and and could have gone backpacking before the week was over. The boot is higher then hiking boots that I have had before and with the lacing they keep the rocks and snow out. With the Gore-Tex lining your feet stay dry.
These boots are well constructed and I believe they will last.
My hiking varies, but mostly I'm off trail and walking over rocks and other debris, usually carrying a daypack or a backpack for a 3- to 7-day trip. These boots have been with me for 6 months and they still hold up to what Lowa ads claim.
If you want a boot with excellent ankle support and willing to spend a bit more for quality then this boot is the one to choose.
Source: bought it new
Price Paid: $350

I have bought these boots for winter hiking and backpacking. They really fit well and I found them really comfortable. They kept my feet dry and warm in deep snow.
The sps anti-shock and forefoot are awesomely good. They didn't hurt my foot even for first use (as my friends say, first shoes hurt!). For the price I've paid they worth it! But in my place there is no warranty... so that's why they're cheaper than what should be!
Price Paid: $300

Serious boot for serious environments!
Pros
Sturdy
Waterproof and breatheable
Great ankle support
Awsome lacing system
These boots are great for the serious tramper (or hiking/backpacking if you're not in New Zealand) or hunter. Very rugged boot and very well made (not made in China but handcrafted in Europe(Germany)).
The boots are not insulated, so if you're going into snow country then you best have warm socks or an insulated boot.
Breathes exceptionally well — have not had a problem with sweat buildup. Just make sure you take care of them I.E wash them when you're back from a trip and always condition the Nubuk leather to keep it supple and they will look after you!
Source: bought it new
Price Paid: $700 NZD

The Tibet Pro GTX—about as good as it gets!!! Although touted as a heavier-duty backpacker's hiking boot, I purchased these as a replacement for a wonderful pair of 6" tall Mephisto GTX hikers that I used as everyday casual/sportswear boots as well as light on and off-trail hikers.

These Lowa Tibet Pros might be a bit of overkill for my intended uses and I did also purchase a lighter pair of Dachstein hikers, but I am more than satisfied with the Lowas in every way!
Pros
Overall quality of design and construction
Superior comfort
Sharp design
Cons
A bit bulky or heavy for some users.
Nubuck vs. full grain upper, but I'm really nitpicking to find any real cons.
In short, these boots are beautifully designed, impeccably constructed, comfortable and practical. Although I have no need for a heavy-duty backpacking/hiking boot, I do like to have a robust non-specific, everyday walking and light hiking boot in my closet, and these fit the bill perfectly.
They have been quite comfortable from the first wearing, but do require more extended wear than lighter duty boots to fully break in as opposed to a more dedicated light hiking boot.
Great support overall and the X-lacing really secures the ankle area especially well without being overly restrictive of movement. The tread is truly self-cleaning and affords great traction over a broad variety of surfaces. My 9 1/2 D feet have a slightly higher than normal arches, nonetheless these fit me superbly well and, when fully broken in will accommodate two pair of light to midweight pair of socks or sock liners with heavyweight socks in cooler weather, as needed.
A bit heavy at first, however easy to get used to for any reasonably fit person. I've worn my Tibets in several deluging rains and dipped them under a fully opened hose bib for 30+ seconds—they have proven to be totally waterproof so far. Add'l waterproofing of the nubuck upper is recommended to aid in long-term durability and appearance of that material.
I am confident that this fantastic footwear will serve me well for a long, long time to come given their first 5 months of moderate usage.
Source: bought it new
Price Paid: $165 (July, 2015 from Sierra Trading Post)

Very comfortable boot no matter where or on what I hike/backpack. I like to bushwack and these allow that anywhere. Beautiful quality, but heavy and limited to temps above about 40 deg F for my feet when I stop moving.

Lowa will resole including new rand for $85, so take care of the leather. I paid $165 new.
If they were lighter they'd be nearly perfect for an uninsulated boot.
Fit is nearly ideal for my foot shape. Put multiple loops before and after the ankle lace loops to keep your heel in place.
No real break-in needed for mine, no chafing or pressure points. Comfort is best attribute of this boot (stock footbed).
Support is excellent, although I don't have ankle problems.
No leaks in mine. Have not waded streams yet though.
Temp control is good ~40-90 degrees. Outside this my feet get cold (not moving) or hot.
Ankle lace loops allow for great fit.
Excellent quality, comfort no matter what, and cheap resoling make these hard to beat.
Lighter (and cheaper) and they'd be perfect.
Source: bought it new (Sierra Trading Post)

The most comfortable boot you will ever wear. Great fit, waterproof, and super durable.
Pros
Comfort
Durability
Waterproof
I have been wearing Lowa shoes for over 10 years. I am on my second pair of Tibet Pro GTXs, but I still wear my first pair for day-to-day activity and save my new pair for bigger excursions.
If you have never worn a pair of Lowa boots then you have been missing the most comfortable hiking boot on the market. My Lowas always seem to fit my foot like a glove, one of the first things I noticed about the shoe. I use my Tibets for both backpacking and hiking.
I started out with the Renegade GTX Mid but have since just stuck with the Tibet. Even though the Tibet is a heavier boot, I prefer it over the Renegade as much of the trails I hike are heavy rooted and rocky. I like the thicker sole and support offered by the Tibet even on a light hike. Don't get me wrong the Renegade is a great boot and I have been toying with the idea of getting another pair :-)
The soles have held up well in my Tibets and do a good job of keeping my feet where I want them to be in wet conditions, which is where I am most of the time. My first Tibets are on their 7th year and even though I cracked the leather by allowing them to dry in the sun one too many times they still do a nice job of keeping my feet dry in basic stream crossings.
Wonderful boot in my opinion. You owe it to your feet to give them a try.
Source: bought it new
Price Paid: $300

Pros
comfortable
sturdy
ankle protection
Put the boots through the test of two days of rain, were soaked inside even with leather treatment. I have never had a Goretex boot that didn't hold up as poorly as these boots did. Maybe it was extreme conditions but I've had better protection from cheaper boots.
Source: bought it new

I really love these boots. They perform well with a heavy load either on or off trail. I've heard some folks comment negatively about their weight, but I really don't notice it. They provide great support.
They are a bit pricey, but you get a lot of boot for your money. They fit well right out of the box. Best boots I've ever owned.
Materials: Leather
Use: Backpacking.
Break-in Period: One trip.
Price Paid: $325

You May Like
Recently on Trailspace